JESUS DOES NOT WANT MERE ADMIRERS. HE WANTS…
JESUS DOES NOT WANT MERE ADMIRERS.




HE WANTS ENAMOURED AND FAITHFUL FOLLOWERS.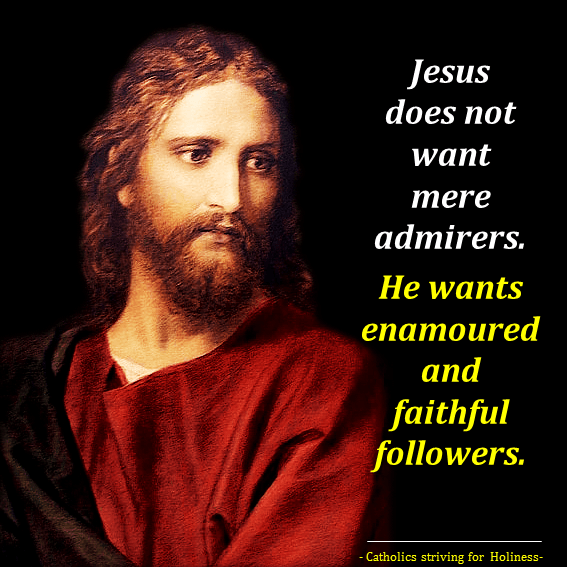 As a recently ordained priest in 1995, I came upon an article in a Spanish Catholic magazine, in which the author cited an idea which was engraved in my mind and which I have often used in my preaching. The idea, which he attributed to a German philosopher, is as follows:
JESUS DOES NOT WANT MERE ADMIRERS.
HE WANTS ENAMOURED AND FAITHFUL FOLLOWERS.
Our Lord Jesus Christ came into the world to save us and to show us the authentic way which leads to the Father, towards eternal happiness, being Himself, "the Way, the Truth, and the Life (Jn 14:6)".
Arriving at our ultimate goal for which God has created us and to which God has called us is what really matters most in this life for which we have to invert all our efforts, with the help of God's grace.
For this, AN INTIMATE AND PERSONAL RELATIONSHIP WITH OUR LORD JESUS CHRIST IS NECESSARY:
a relationship which is possible through His GRACE and our CORRESPONDENCE
by putting the means to reach this end: PRAYER, SACRAMENTS, SACRIFICE AND DAILY INTERIOR STRUGGLE to please Him and love Him by doing what is GOOD and VIRTUOUS even if we are tired, sick or the going gets tough due to some interior or exterior circumstances.
This relationship will begin as an ACQUAINTANCE then leads — through frequent dealings—  to  FRIENDSHIP, which will, in turn, blooms into LOVE, if one perseveres daily in putting the means into effect.
Then love will lead to a FAITHFUL FOLLOWING and IDENTIFICATION WITH THE BELOVED, as one wants the same things the Beloved wants, and rejects the same things the Beloved rejects — "idem velle, idem nolle" —; identification with Our Lord Jesus Christ which is nothing but HOLINESS
to which we are all called by virtue of our Baptism!
The question arises then:
AM I A MERE ADMIRER OF JESUS?
OR DO I STRUGGLE TO FALL IN LOVE MORE WITH HIM EACH DAY THROUGH PRAYER, FREQUENT RECEPTION OF SACRAMENTS, WANTING WHAT HE WANTS, REJECTING WHAT HE REJECTS, STRUGGLING DAILY TO LIVE THE VIRTUES HE LIVED AND TAUGHT US DURING HIS LIFE ON EARTH AND AVOIDING WHATEVER WHICH MAY SEPARATE MYSELF FROM HIM?
Dear friends: Let us ask Our Lady and St. Joseph to teach and help us fall more in love with Our Lord Jesus Christ as they were the creatures who loved Him most and best with a love which will lead us to be enamoured and committed followers. Let us repeat St. Josemaria's prayer:
"Aparta de mí, Señor, lo que me aparte de ti"
(Lord, set aside from me that which separates me from you).
I want to follow you faithfully for love till the end of my life here on earth so that I may be with you, my Beloved, eternally in the next.
Stay updated: subscribe by email for free TO OUR NEW WEBSITE www.catholicsstrivingforholiness.org (PUT YOUR EMAIL IN THE SUBSCRIBE WIDGET).
We are also in www.fb.com/Catholicsstrivingforholiness. Kindly help more people in their Christian life by liking our page and inviting your family, friends and relatives to do so as well. Thanks in advance and God bless you and your loved ones! Fr. Rolly Arjonillo
PHOTO SOURCE: https://commons.wikimedia.org/wiki/File:Christ,_by_Heinrich_Hofmann.jpg (BACKGROUND REMOVED, SOFT EDGES APPLIED)