WHICH TO FOLLOW: FEELINGS OR REASON?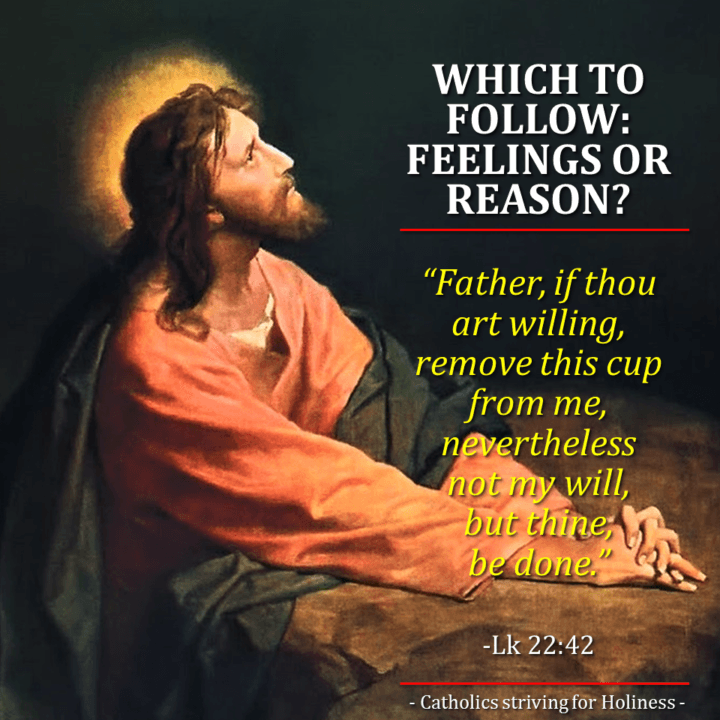 WHICH TO FOLLOW:
FEELINGS OR REASON?
In our path towards holiness ─which consists in falling in love more with Jesus and imitating the virtues He lived and taught─, we will often find ourselves "not feeling like" doing what God asks us to do. Let's not be surprised by it! Our Lord Himself "didn't feel like" doing God's Will during His agony in the garden such that He said: "Father, if thou art willing, remove this cup from me, nevertheless not my will, but thine, be done (Lk 22:42)." But Jesus fought against what He felt and did what He KNEW He had to do: what God wants, even though He didn't "feel" like it.
We, too, must have as THE RULE OF OUR CHRISTIAN CONDUCT WHAT OUR RIGHT REASON ENLIGHTENED BY FAITH tells us even if we don't feel like it.
The rule of our actions must be the moral good which our right reason tells us to do out of love for God and those around us. For this is what love is: doing that which makes the beloved (God) happy even if we have to go against our feelings, for example, feelings of laziness, comfort, sensuality, pride, envy, avarice…
Imagine the pernicious consequences if we allow ourselves to be swayed away and easily dominated by what we feel: I don't feel like praying… or going to Mass… or obeying my parents…or biting my tongue…or doing what is good…or what Our Lord is asking me at this moment and so on…
WE SHOULDN'T ALLOW OURSELVES TO BE SLAVES OF OUR FEELINGS AND PASSIONS BUT RATHER BE STRONG-WILLED TO DO WHAT IS GOOD. For this we have to say NO many times to ourselves, again, out of love for God.
Dear friends, let us ask Our Lord through the help of Our Lady and St. Joseph to DO THE GOOD WHICH OUR REASON (ILLUMINED BY FAITH) TELLS US FOR LOVE OF GOD in every moment during the day even if we have to overcome some feelings which lead us to the opposite direction. THIS IS OUR STRUGGLE AS CHRISTIANS IN OUR PATH TOWARDS HOLINESS: SAYING "NO" TO OURSELVES AND SAYING "YES" TO WHAT GOD WANTS FROM US IN EACH MOMENT, FOR LOVE. IN MATTERS OF GOOD OR EVIL, LET US USE OUR HEAD AND NOT OUR "HEART". 😀
Cordially inviting you to like and follow www.facebook.com/Catholicsstrivingforholiness and share our posts to help more people in their Catholic faith and love. Stay updated by subscribing to www.catholicsstrivingforholiness.org. Thanks and God bless! Fr. Rolly Arjonillo.