DON'T BE A SLAVE OF YOUR EGO. CHOOSE TO BE FREE!
DON'T BE A SLAVE OF YOUR EGO. CHOOSE TO BE FREE!
CHOOSE THAT WHICH IS GOOD EVEN IF IT NOT EASY!
Do you want to be free? Then, choose what is good. Choose well. During his homily at the Jubilee Mass for Teens, Pope Francis reminded us of the meaning of true freedom.
"FREEDOM IS NOT THE ABILITY SIMPLY TO DO WHAT I WANT. This makes us self-centred and aloof, and it prevents us from being open and sincere friends; it is not true to say "it is good enough if it serves me". No, this is not true. Instead, FREEDOM IS THE GIFT OF BEING ABLE TO CHOOSE THE GOOD. THE FREE PERSON IS THE ONE WHO CHOOSES WHAT IS GOOD, WHAT IS PLEASING TO GOD, EVEN IF IT REQUIRES EFFORT, EVEN IF IT IS NOT EASY. I believe that you young men and women are not afraid to make the effort, that you are indeed courageous! Only by courageous and firm decisions do we realize our greatest dreams, the dreams which it is worth spending our entire lives to pursue (Homily, Jubilee Mass for Teens, April 24, 2017)."
Dear brethren in Christ, let us choose to be free! Let us break the bonds of slavery of our disordered passions by saying "no" to them, thus exercising the true freedom by choosing that which is good and pleasing to God, choosing Jesus instead of the works of the "old man" within us. Only by emptying ourselves of our ego, by denying ourselves, by dying unto ourselves, shall Christ fill us with His life and grace and hence live His life.
After Our Lord Jesus Christ, Our Lady is the example par excellence of how to make good use of our God-given gift: our freedom.
To be authentically free, one must know and be capable of choosing the good. Though choosing what one arbitrarily wants is a manifestation of freedom, more often than not, that use of freedom, or abuse of freedom, as in the case of choosing evil, leads to slavery instead of being interiorly free.
Let us ask Our Lady to imitate her example in choosing what is morally good, in choosing what God wants from us and what makes Him happy.
MOTHER MARY, HELP US TO CHOOSE WELL IN ORDER TO BE REALLY FREE!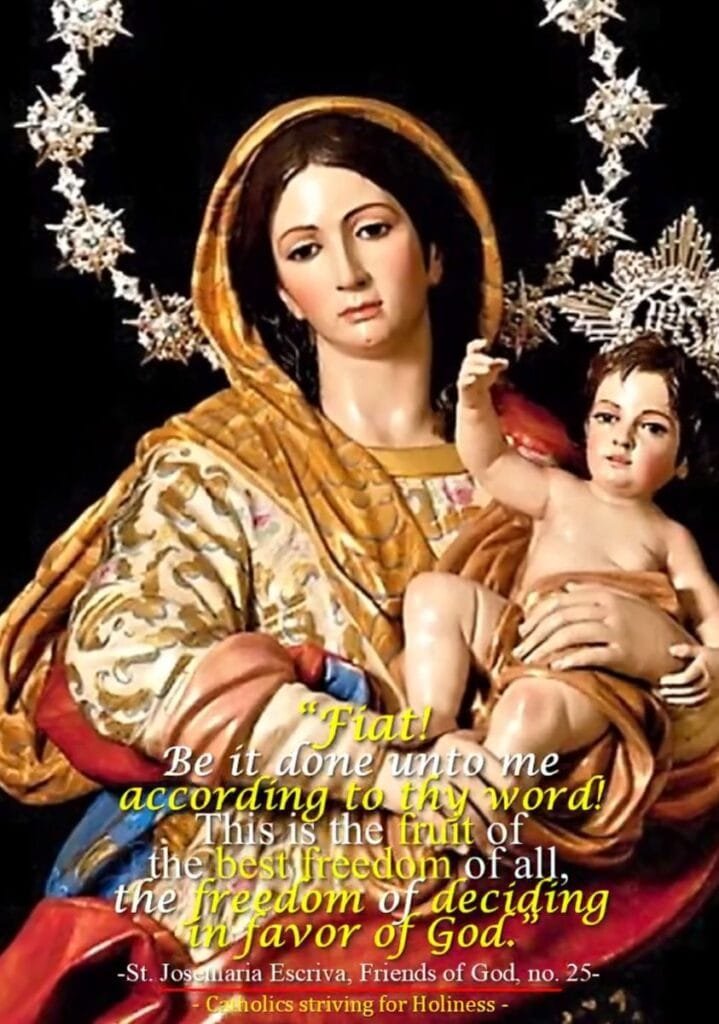 God bless you and your family! Fr. Rolly A., priest of Opus Dei.
SEE AS WELL:
FOLLOW CHRIST, CARRY THE CROSS, TRUE FREEDOM. https://catholicsstrivingforholiness.org/pope-francis-on-following-christ-being-a-disciple-of-jesus-means-to-take-up-ones-cross-and-accompany-him-in-an-uncomfortable-path-which-leads-to-true-freedom-and-full-life-with-god/
LIVE FOR GOD OR LIVE FOR ONE'S SELF in https://catholicsstrivingforholiness.org/21st-sunday-of-ordinary-time-b-accept-or-reject-jesus-live-for-god-or-for-ones-self-master-to-whom-shall-we-go-you-have-the-words-of-eternal-life-jn-6-68/
ORIGINAL PHOTO SOURCE: http://www.mygodpictures.com/wp-content/uploads/2015/08/Catholic-Church-Pope-Francis.jpg
Stay updated: subscribe by email for free TO OUR NEW WEBSITE www.catholicsstrivingforholiness.org (PUT YOUR EMAIL IN THE SUBSCRIBE WIDGET).
We are also in www.fb.com/Catholicsstrivingforholiness. Kindly help more people in their Christian life by liking our page and inviting your family, friends and relatives to do so as well. Thanks in advance and God bless you and your loved ones! Fr. Rolly Arjonillo