Homily for January 1: MARY, THE MOTHER OF JESUS CHRIST, GOD, OUR LORD AND SAVIOR!
Homily for January 1
MARY, THE MOTHER OF JESUS CHRIST,
GOD, OUR LORD AND SAVIOR!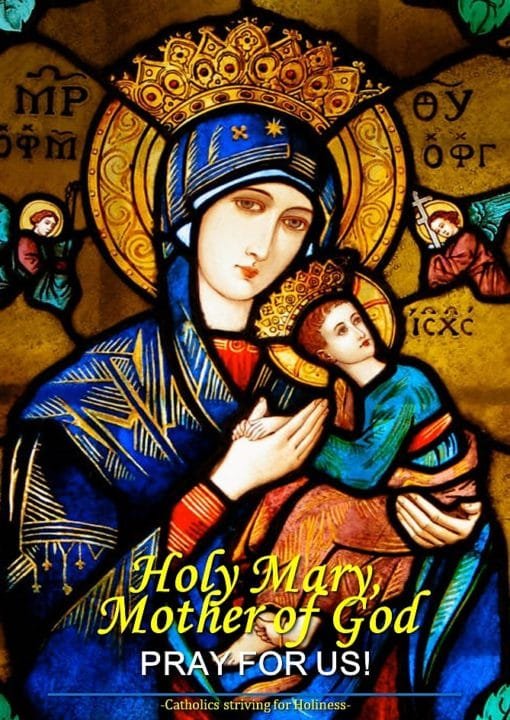 The Sacred Scriptures are eloquent enough to demonstrate that Mary is the Mother of God, through the wonderful mystery of the Incarnation of Our Lord, who took flesh in the womb of Mary. Mary's fiat was a fulfillment of the Messianic prophesies founr in the Old Testament and made God's desire to unite Himself with humanity forever tyo carry out His wondrous loving design of our salvation.
Again the Lord spoke to Ahaz: Ask for a sign from the Lord, your God; let it be deep as the nether world, or high as the sky! But Ahaz answered, "I will not ask! I will not tempt the Lord!" Then he said: Listen, O house of David! Is it not enough for you to weary men, must you also weary my God? Therefore the Lord himself will give you this sign: the virgin shall be with child, and bear a son, and shall name him Emmanuel. Is 7:10–14
Thus says the Lord: You, Bethlehem-Ephrathah too small to be among the clans of Judah, from you shall come forth for me one who is to be ruler in Israel; whose origin is from of old, from ancient times. Therefore the Lord will give them up, until the time when she who is to give birth has borne, and the rest of his kindred shall return to the children of Israel. He shall stand firm and shepherd his flock by the strength of the Lord, in the majestic name of the Lord, his God; and they shall remain, for now his greatness shall reach to the ends of the earth; he shall be peace. Mi 5:1–4a
During the Annunciation, Archangel Gabriel clearly stated in Luke 1:30-38:
""Do not be afraid, Mary, for you have found favour with God. And behold you will conceive in your womb and bear a son, and you shall call his name Jesus. He will be great, and will be called the Son of the Most High; and the Lord God will give to him the throne of his father David, and he will reign over the house of Jacob for ever; and of his kingdom there will be no end…
But Mary said to the angel, "How can this be, since I have no relations with a man?" And the angel said to her in reply, "The Holy Spirit will come upon you, and the power of the Most High will overshadow you. Therefore the child to be born will be called holy, the Son of God. And behold, Elizabeth, your relative, has also conceived a son in her old age, and this is the sixth month for her who was called barren; for nothing will be impossible for God." Mary said, "Behold, I am the handmaid of the Lord. May it be done to me according to your word."
And in Mt 1: 18-25:
All this took place to fulfill what the Lord had said through the prophet: Behold, the virgin shall be with child and bear a son, and they shall name him Emmanuel, which means "God is with us." When Joseph awoke, he did as the angel of the Lord had commanded him and took his wife into his home. He had no relations with her until she bore a son, and he named him Jesus.
With Our Lady's generous response to fulfill God's plans, the Incarnation of Our Lord came into reality.
St. Luke relates the Birth of Our Lord in Lk 2:1–14:
In those days a decree went out from Caesar Augustus that the whole world should be enrolled. This was the first enrollment, when Quirinius was governor of Syria. So all went to be enrolled, each to his own town. And Joseph too went up from Galilee from the town of Nazareth to Judea, to the city of David that is called Bethlehem, because he was of the house and family of David, to be enrolled with Mary, his betrothed, who was with child. While they were there, the time came for her to have her child, and she gave birth to her firstborn son. She wrapped him in swaddling clothes and laid him in a manger, because there was no room for them in the inn.
Now there were shepherds in that region living in the fields and keeping the night watch over their flock. The angel of the Lord appeared to them and the glory of the Lord shone around them, and they were struck with great fear. The angel said to them, "Do not be afraid; for behold, I proclaim to you good news of great joy that will be for all the people. For today in the city of David a savior has been born for you who is Christ and Lord. And this will be a sign for you: you will find an infant wrapped in swaddling clothes and lying in a manger." And suddenly there was a multitude of the heavenly host with the angel, praising God and saying: "Glory to God in the highest and on earth peace to those on whom his favor rests."
Our Lord Jesus Christ, who is the Son of God, Perfect God and Perfect Man, was born of the Virgin Mary, and is without doubt the Savior announced by the Angel to the shepherds. For those who read the Scriptures without prejudice, clearly, Mary is the Mother of God, for she is the Mother of a Divine Person, Our Jesus Christ, who possesses two natures-human and divine- in one person or substance.
Brothers and sisters: When the fullness of time had come, God sent his Son, born of a woman, born under the law, to ransom those under the law, so that we might receive adoption as sons. As proof that you are sons, God sent the Spirit of his Son into our hearts, crying out, "Abba, Father!" So you are no longer a slave but a son, and if a son then also an heir, through God.
Gal 4:4–7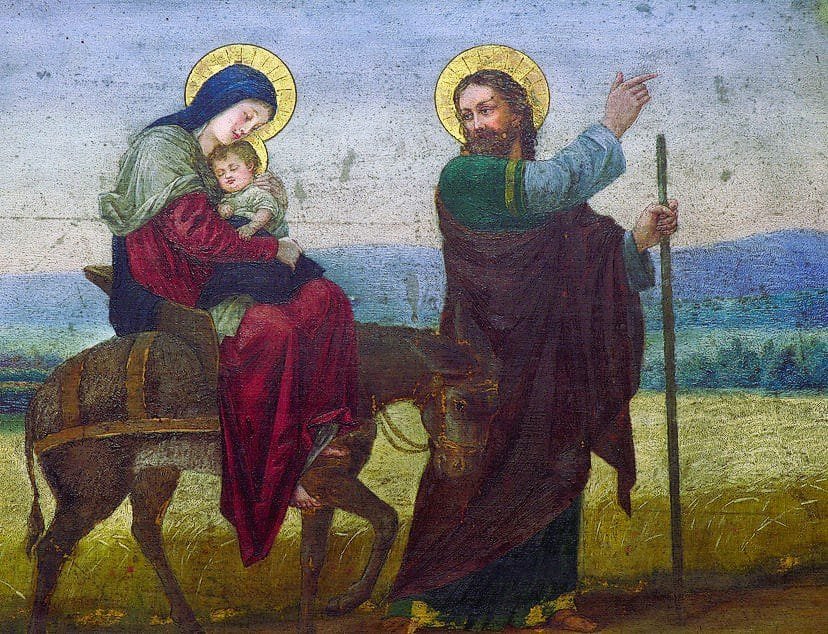 Pope Francis, reflecting on the words of Saint Paul which point out that the Son of God was "born of a woman" (Gal 4:4) wrote.
In these few words, he tells us something amazing: that the Lord was born like us. He did not appear on the scene as an adult, but as a child. He came into the world not on his own, but from a woman, after nine months in the womb of his Mother, from whom he allowed his humanity to be shaped. The heart of the Lord began to beat within Mary; the God of life drew oxygen from her. Ever since then, Mary has united us to God because in her God bound himself to our flesh, and he has never left it. Saint Francis loved to say that Mary "made the Lord of Majesty our brother" (SAINT BONAVENTURE, Legenda Maior, 9, 3). She is not only the bridge joining us to God; she is more. She is the road that God travelled in order to reach us, and the road that we must travel in order to reach him. Through Mary, we encounter God the way he wants us to: in tender love, in intimacy, in the flesh. For Jesus is not an abstract idea; he is real and incarnate; he was "born of a woman", and quietly grew.
Pope Francis, Homily, Jan. 1, 2021.
Let us thank God Almighty for not only giving us blessings, but above all, for giving us the Blessing Himself, Our Lord Jesus Christ, His Only-Begotten Son, born of the Virgin Mary, and thus, uniting Himself with us forever to accompany us in our earthly pilgrimage towards eternal happiness.
A Happy Solemnity of the Divine Maternity of Mary, Mother of God, and a Blessed Year ahead!
Fr. Rolly Arjonillo
Stay updated: subscribe by email for free TO OUR NEW WEBSITE www.catholicsstrivingforholiness.org (PUT YOUR EMAIL IN THE SUBSCRIBE WIDGET).
We are also in www.fb.com/Catholicsstrivingforholiness. Kindly help more people in their Christian life by liking our page and inviting your family, friends and relatives to do so as well. Thanks in advance and God bless you and your loved ones! Fr. Rolly Arjonillo