Homily for the 23rd Sunday in Ordinary Time C. WHAT IS TRUE WISDOM?
Homily for the 23rd Sunday in Ordinary Time C
WHAT IS TRUE WISDOM?
Video Summary and text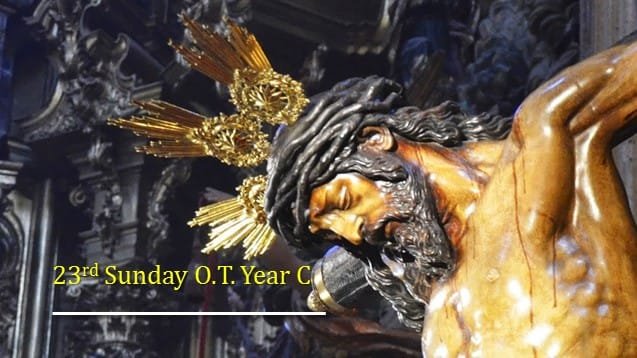 Dear brethren in Christ, today's 23rd Sunday in Ordinary Time Year C liturgy invites us to meditate on the meaning of our existence in the world. For this, we must be guided by the true wisdom. But what is true wisdom? True wisdom consists in seeking God's will (1st reading); in welcoming our brethren (2nd reading) and above all, in faithfully following Our Lord Jesus Christ (Gospel)
1.True wisdom consists in seeking and fulfilling God's Will for us. If we are to fulfill His Divine Will in our life, if we want to follow Christ, we must be ready to renounce everything which could constitute as an obstacle to follow Jesus. Our Lord reminds us in the Gospel (Lk 14: 25-33) that:
"If any one comes to me and does not hate his own father and mother and wife and children and brothers and sisters, yes, and even his own life, he cannot be my disciple. Whoever does not bear his own cross and come after me, cannot be my disciple… So therefore, whoever of you does not renounce all that he has cannot be my disciple.
The word "hate" towards our loved ones must not be interpreted literally. It must be understood, in the context of all our Lord's teachings (cf. Lk 6:27.35). Using a hyperbolic expression, Our Lord simply reminds that when it comes to loving God, we cannot be half-hearted. God must take priority over everything, even above our own preferences, because it is the only way to fulfill His Will, convinced that God knows and wants the best for each one of us. As St. Gregory the Great comments:
"In this world let us love everyone, even though he be our enemy; but let us hate him who opposes us on our way to God, though he be our relative…. We should, then, love our neighbour; we should have charity towards all; towards relatives and towards strangers, but without separating ourselves from the love of God out of love for them" (In Evangelia homiliae, 37, 3).
In the last analysis, it is a matter of keeping the proper hierarchy of charity: God must take priority over everything.
These are "hard words. True, 'hate' does not exactly express what Jesus meant. Yet he did put it very strongly, because he doesn't just mean 'love less,' as some people interpret it in an attempt to tone down the sentence. The force behind these vigorous words does not lie in their implying a negative or pitiless attitude, for the Jesus who is speaking here is none other than that Jesus who commands us to love others as we love ourselves and who gives up his life for mankind. These words indicate simply that we cannot be half-hearted when it comes to loving God. Christ's words could be translated as 'love more, love better,' in the sense that a selfish or partial love is not enough: we have to love others with the love of God" (St. Josemaría, Christ is passing by, 97).
When St. Thomas More was in prison waiting for his execution, he wrote to his daughter, Margaret saying:
"Cheer up, my daughter, and do not worry about me and about what might happen to me in this world. Nothing will come about me which God does not want. And all He wants, no matter how bad it may seem, is actually the best. "
Obviously, this requires a daily struggle to give primacy to what God wants over what we want and "strive to please God rather than men, always ready to abandon everything for Christ (Vatican II, Apostolicam actuositatem) Rest assured that God gives us the grace to carry this out if we ask Him.
2."Who can know God's counsel, or who can conceive what the Lord intends? (Wisdom 9:13)" We all know that many times, God's plan for our lives do not always coincide with our own plans. If we live according to God's Wisdom through the Holy Spirit, our "paths on earth" will be made straight".
When Eduardo Wojtyla (St. John Paul II's brother) died in mysterious circumstances, Karol was just about to finish high school. Their mother died when Karol was just 9 years of age. Eduardo, who just finished medicine and landed a job in a hospital, was the hope to uplift the family's financial condition.

Helen Szcepanska, Karol's teacher, recounts that, when she visited him in his home, she hugged him and said: "Poor Karol! You've lost your brother!"
Karol serenely replied: "I accept God's Will!"
The woman commented: "I was confused because I realize that his faith was much more profound than mine."

The filial fidelity to God's Will, however, is possible to the extent that, with faith, humility and prayer, man opens his conscience to the Lord and wants what Our Lord wants.
This also includes fulfilling and respecting His Will for our brethren whom we must treat with dignity and receive with fraternal charity, as St. Paul recommends to Philemon to welcome the slave, Onesimus, as he would with St. Paul (2nd reading). For this, we must renounce our egoism out of love for God.
Let us ask Our Lord for the grace of true wisdom to want and fulfill His Will for each one of us, putting our faith and hope in God above everything else convinced that He knows what is best for us. Let us also follow Jesus wholeheartedly struggling daily to renounce ourselves, our own plans, our egoism, and every obstacle which impedes us from doing so.
Holy Mary, Seat of Wisdom, help us want and fulfill what Our Lord wants from us.
Mother Mary, pray for us so we could faithfully follow Your Son, Our Lord Jesus Christ!
Fr. Rolly Arjonillo, priest of Opus Dei.
VIDEO PHOTO SOURCES IN FB POST (KINDLY CLICK ON THE VIDEO)
Stay updated: subscribe by email for free TO OUR NEW WEBSITE www.catholicsstrivingforholiness.org (PUT YOUR EMAIL IN THE SUBSCRIBE WIDGET).
We are also in www.fb.com/Catholicsstrivingforholiness. Kindly help more people in their Christian life by liking our page and inviting your family, friends and relatives to do so as well. Thanks in advance and God bless you and your loved ones! Fr. Rolly Arjonillo
FOR TODAY'S SUNDAY MASS PRAYERS AND READING, CLICK ON THIS LINK https://catholicsstrivingforholiness.org/23rd-sunday-of-ordinary-time-year-c-mass-prayers-and-readings/