FRIDAY 2ND WEEK IN ORDINARY TIME GOSPEL, COMMENTARY AND READING. "HE CALLED THOSE WHOM HE WANTED" (Mk 3:13-19).
FRIDAY 2ND WEEK IN ORDINARY TIME GOSPEL, COMMENTARY AND READING. "HE CALLED THOSE WHOM HE WANTED" (Mk 3:13-19).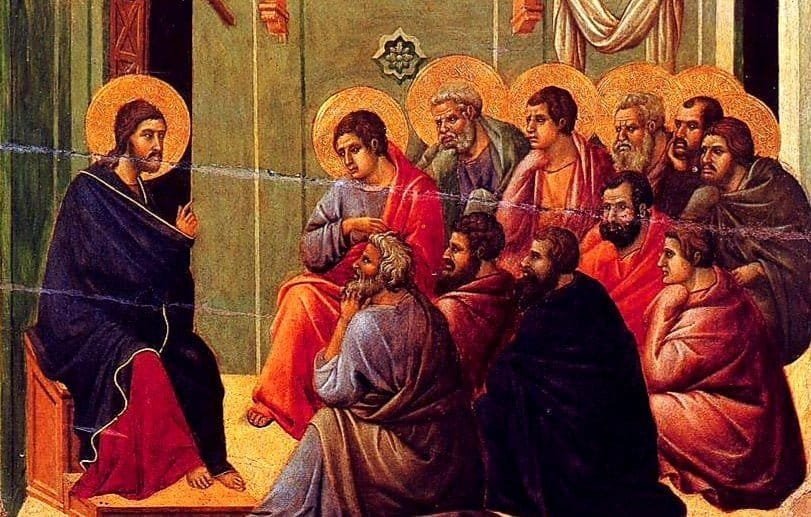 GOSPEL OF FRIDAY OF THE 2ND WEEK IN ORDINARY TIME
Mk 3:13–19
Jesus calls his twelve Apostles
Jesus went up the mountain and summoned those whom he wanted and they came to him. He appointed Twelve, whom he also named Apostles, that they might be with him and he might send them forth to preach and to have authority to drive out demons: He appointed the Twelve: Simon, whom he named Peter; James, son of Zebedee, and John the brother of James, whom he named Boanerges, that is, sons of thunder; Andrew, Philip, Bartholomew, Matthew, Thomas, James the son of Alphaeus; Thaddeus, Simon the Cananean, and Judas Iscariot who betrayed him.
GOSPEL COMMENTARY
Today's Gospel narrates the calling of the Twelve Apostles. It is noteworthy that before summoning and appointing the Twelve, Jesus spent some time of prayer as his custom before making a very important decision. This also shows us that all who have received their divine vocation were a fruit of prayer of Our Lord. But not only that…
He called those whom he wanted. This is the reason of every divine calling. Why me? Because God wanted. He chose me. It is not the result of my efforts nor merits, but rather the fruit of divine love and will: a divine gift.

This shows that the initiative and desire of any divine calling comes from Our Lord. It is not we who chose him, but I chose you so that you may bear fruit…(Jn 15: 16); He chose us in Him even before the foundation of the world. (Eph 1:4)

Each one of us has a divine calling, and whatever it may be, our attitude must be of gratitude and correspondence to God for giving us this unmerited gift, fruit of his predilection. As a concrete manifestation of our sincere gratitude and generous correspondence to God for our vocation, let us make sure that our divine vocation, as like any treasured gem, be always well-polished and well-guarded, protected by all means from infidelity and treachery.
If we consider the personality traits of each of the apostle called by Jesus, we quickly realize that they are not the creme of the crop of the Jewish society but just that, ordinary people with their own personal defects. Nor were they well-educated and nor do they have a social status which could be helpful to influence the society. Nevertheless, Jesus called them because He wanted to. With the help of God's grace, this rag team was able to turn the world upside down.
Aside from Jesus calling those whom he wanted, St. Mark not only provided the "why" of the calling, but also the "what for" or mission of the calling: so that they might be with him and he might send them forth to preach and to have authority to drive out demons.
In sum, Jesus called us in order bring souls closer to Him, (to preach the Gospel…to expel the demons) wherever we may be, -whether at home, at work, among our neighbors and friends-, and whatever job we may have. This is our mission as Christians: to gain souls for Christ.
Let us remember nevertheless that the efficacy of our mission has its root in our intimate union with Jesus (to be with him). A disciple must first make sure that he is with Jesus through prayer, sacraments and interior struggle in order to make Jesus known and gain souls for Him.
Stay safe always. A great day ahead and God bless! Fr. Rolly Arjonillo
Almighty ever-living God, who govern all things, both in heaven and on earth, mercifully hear the pleading of your people and bestow your peace on our times. Through our Lord.

Collect prayer 2nd week in Ordinary Time
---
VIDEO COMMENTARY
TOPIC: WHY DO YOU NEED TO "SPEAK" URGENTLY ABOUT JESUS TO OTHERS?
Christianity is the biggest religion in the world today. But based on a study by Pew and following current trends, Islam will overtake Christianity by around 2100. Jesus chooses us as His apostles to spread the good news and make disciples of all men. Unqualified though we are, grace can empower and equip us to protect the future of the next generations.
TOPIC: IS THERE SOMETHING GOD WANTS YOU TO DO FOR HIM?
In today's gospel reading (Mark 3:13-19), Jesus chooses His twelve apostles. In every major decision and event in Jesus' life, He goes up a mountain to pray. We can see this in the Sermon on the Mount, the Transfiguration, after He feeds the 5,000. This time, it is to pick His core group of twelve.In our reflection today, we focus on three important points.First, we ask ourselves, "what is God calling me to do?"Second, He chose you and you should not doubt it. Third, believe and pray that God's grace is all you need to help you in serving Him.
---
Stay updated: subscribe by email for free TO OUR NEW WEBSITE www.catholicsstrivingforholiness.org (PUT YOUR EMAIL IN THE SUBSCRIBE WIDGET).
We are also in www.fb.com/Catholicsstrivingforholiness. Kindly help more people in their Christian life by liking our page and inviting your family, friends and relatives to do so as well. Thanks in advance and God bless you and your loved ones! Fr. Rolly Arjonillo