DEC. 12 OUR LADY OF GUADALUPE GOSPEL, REFLECTION AND COMMENTARY. AM I NOT YOUR MOTHER? (Lk 1:39-47).
DEC. 12 OUR LADY OF GUADALUPE GOSPEL, REFLECTION AND COMMENTARY.

AM I NOT YOUR MOTHER?

(Lk 1:39-47).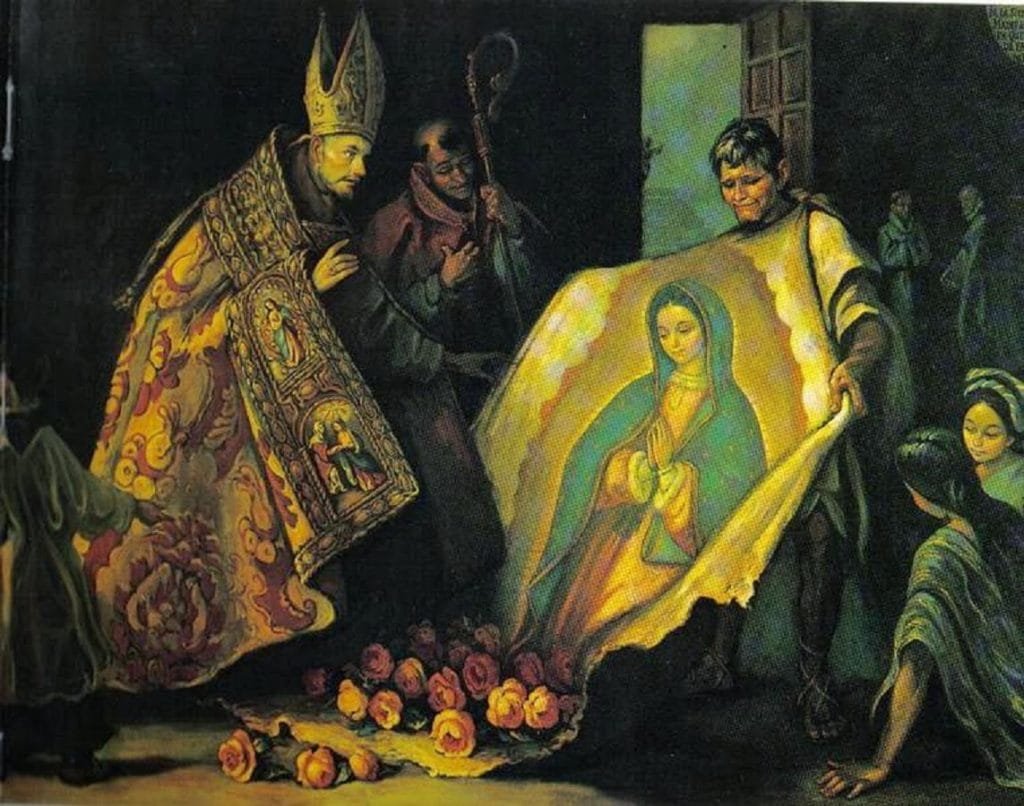 DEC. 12 GOSPEL
Lk 1:39–47
Mary set out and traveled to the hill country in haste to a town of Judah, where she entered the house of Zechariah and greeted Elizabeth. When Elizabeth heard Mary's greeting, the infant leaped in her womb, and Elizabeth, filled with the Holy Spirit, cried out in a loud voice and said, "Most blessed are you among women, and blessed is the fruit of your womb. And how does this happen to me, that the mother of my Lord should come to me? For at the moment the sound of your greeting reached my ears, the infant in my womb leaped for joy. Blessed are you who believed that what was spoken to you by the Lord would be fulfilled."
And Mary said: "My soul proclaims the greatness of the Lord; my spirit rejoices in God my savior.
GOSPEL COMMENTARY FROM POPE FRANCIS
We have just heard how Mary went to meet her cousin Elizabeth. She sets out without delay, without doubts, without lessening her pace, to be with her relative who was in the last months of her pregnancy. Mary's encounter with the angel did not hold her back since she did not consider herself privileged, or make her hesitate in leaving those around her. On the contrary, it renewed and inspired an attitude for which Mary is, and always, will be known: SHE IS THE WOMAN WHO SAYS "YES", A "YES" OF SURRENDER TO GOD AND, AT THE SAME TIME, A "YES" OF SURRENDER TO HER BROTHERS AND SISTERS. This is the "yes" which prompted her to give the best of herself, going forth to meet the others.
[…]
On that morning in December 1531, the first miracle occurred which would then be the living memory of all this Shrine protects. On that morning, at that meeting, God awakened the hope of his son Juan, and the hope of his People. On that morning, God roused the hope of the little ones, of the suffering, of those displaced or rejected, of all who feel they have no worthy place in these lands. On that morning, God came close and still comes close to the suffering but resilient hearts of so many mothers, fathers, grandparents who have seen their children leaving, becoming lost or even being taken by criminals.
On that morning, Juan experienced in his own life what hope is, what the mercy of God is. He was chosen to oversee, care for, protect and promote the building of this Shrine. On many occasions he said to Our Lady that he was not the right person; on the contrary, if she wished the work to progress, she should choose others, since he was not learned or literate and did not belong to the group who could make it a reality. Mary, who was persistent – with that persistence born from the Father's merciful heart – said to him: he would be her ambassador.
[…]
MARY TELLS US THAT SHE HAS "THE HONOUR" OF BEING OUR MOTHER, ASSURING US THAT THOSE WHO SUFFER DO NOT WEEP IN VAIN. These ones are a silent prayer rising to heaven, always finding a place in Mary's mantle. In her and with her, God has made himself our brother and companion along the journey; he carries our crosses with us so as not to leave us overwhelmed by our sufferings.
AM I NOT YOUR MOTHER?  AM I NOT HERE?  DO NOT LET TRIALS AND PAINS OVERWHELM YOU, SHE TELLS US.  TODAY, SHE SENDS US OUT ANEW; TODAY, SHE COMES TO TELL US AGAIN: BE MY AMBASSADOR, THE ONE I SEND TO BUILD MANY NEW SHRINES, ACCOMPANY MANY LIVES, WIPE AWAY MANY TEARS.  Simply be my ambassador by walking along the paths of your neighbourhood, of your community, of your parish; we can build shrines by sharing the joy of knowing that we are not alone, that Mary accompanies us.  BE MY AMBASSADOR, SHE SAYS TO US, GIVING FOOD TO THE HUNGRY, DRINK TO THOSE WHO THIRST, A REFUGE TO THOSE IN NEED, CLOTHE THE NAKED AND VISIT THE SICK.  Come to the aid of your neighbour, forgive whoever has offended you, console the grieving, be patient with others, and above all beseech and pray to God.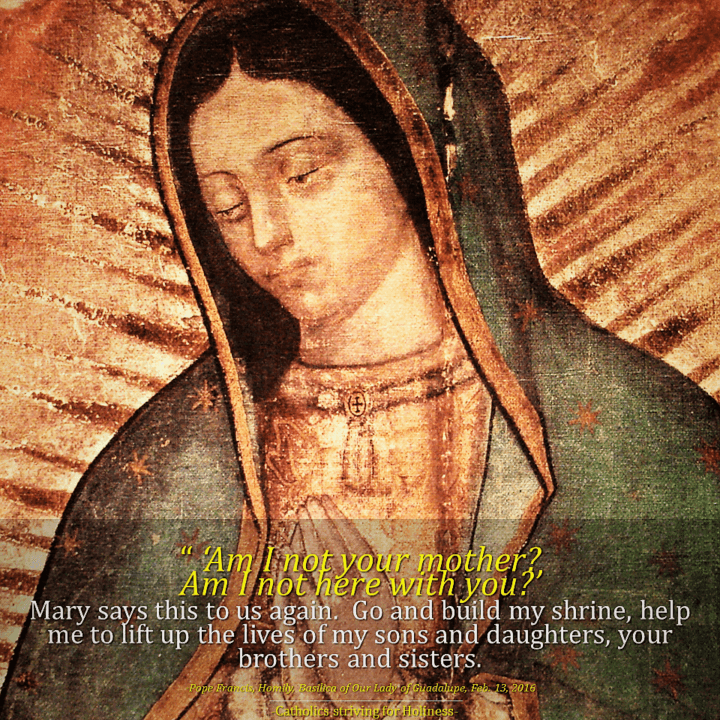 AM I NOT YOUR MOTHER? AM I NOT HERE WITH YOU? MARY SAYS THIS TO US AGAIN. GO AND BUILD MY SHRINE, HELP ME TO LIFT UP THE LIVES OF MY SONS AND DAUGHTERS, YOUR BROTHERS AND SISTERS.
For the entire homily of Pope Francis, click on this link https://catholicsstrivingforholiness.org/pope-francis-on-our-lady-of-guadalupe-am-i-not-your-mother-am-i-not-here-with-you/
WATCH
VIDEO COMMENTARY
TOPIC: DO YOU KNOW THAT OUR LADY OF GUADALUPE BECAME THE PATRONESS OF THE PHILIPPINES FOR A SHORT TIME BUT OUR BLESSED MOTHER'S INFLUENCE IS FOR A LIFETIME?
Today's gospel reading is a choice either of the Annunciation (Luke 1:26-38) or Visitation (Luke 1:39-47). Mary's importance in our lives is underscored by the countless miracles she has performed in the history of man.
SEE AS WELL:
DEC. 12 OUR LADY OF GUADALUPE. INSIGHTS AND AV SUMMARY HERE.
DEC. 12: OUR LADY OF GUADALUPE. TRADITIONAL NARRATIVE, NICAN MOPOHUA OF THE APPARITION (16th century) HERE.
POPE FRANCIS' HOMILY ON OUR LADY OF GUADALUPE HERE.
12 AMAZING FACTS OF OUR LADY OF GUADALUPE'S TILMA HERE.