Dec. 12: OUR LADY OF GUADALUPE MASS PRAYERS AND PROPER READINGS.
December 12
OUR LADY OF GUADALUPE
MASS PRAYERS AND PROPER READINGS.
[Memorial in America and the Philippines]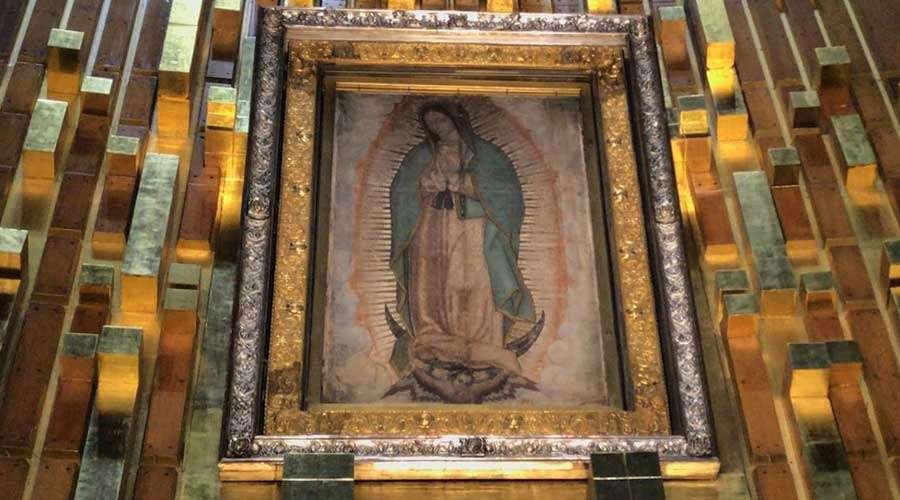 In 1531 a "Lady from Heaven" appeared to a humble Native American at Tepeyac, a hill northwest of what is now Mexico City. She identified herself as the ever virgin Holy Mary, Mother of the True God. She made a request for a church to be built on the site. When the Bishop hesitated, and requested her for a sign, the Mother of God sent Juan Diego to him with roses in his tilma, which became the imprinted miraculously image of herself. Juan Diego's tilma, a poor quality cactus-cloth, has shown no sign of decay in 481 years, defying all scientific explanations.
ENTRANCE ANTIPHON
Et signum magnum appa ruit in caelo: mulier amicta sole, et luna sub pedibus eius, et super caput eius corona stellarum duodecim.
A great sign appeared in the sky, a woman clothed with the sun, with the moon under her feet, and on her head a crown of twelve stars.
[–» Greeting]
The Glória in excélsis (Glory to God in the highest) is said.
COLLECT
O God, Father of mercies, who placed your people under the singular protection of your Son's most holy Mother, grant that all who invoke the Blessed Virgin of Guadalupe may seek with ever more lively faith the progress of people in the ways of justice and of peace. Through our Lord.
PROPER READINGS
READING I
Zec 2:14–17 [or Rev 11:19a; 12:1–6a, 10ab]
Sing and rejoice, O daughter Zion! See, I am coming to dwell among you, says the Lord. Many nations shall join themselves to the Lord on that day, and they shall be his people, and he will dwell among you, and you shall know that the Lord of hosts has sent me to you. The Lord will possess Judah as his portion in the holy land, and he will again choose Jerusalem. Silence, all mankind, in the presence of the Lord! For he stirs forth from his holy dwelling.
Or:
Rev 11:19a; 12:1–6a, 10ab
God's temple in heaven was opened, and the ark of his covenant could be seen in the temple.
A great sign appeared in the sky, a woman clothed with the sun, with the moon under her feet, and on her head a crown of twelve stars. She was with child and wailed aloud in pain as she labored to give birth. Then another sign appeared in the sky; it was a huge red dragon, with seven heads and ten horns, and on its heads were seven diadems. Its tail swept away a third of the stars in the sky and hurled them down to the earth. Then the dragon stood before the woman about to give birth, to devour her child when she gave birth. She gave birth to a son, a male child, destined to rule all the nations with an iron rod. Her child was caught up to God and his throne. The woman herself fled into the desert where she had a place prepared by God.
Then I heard a loud voice in heaven say: "Now have salvation and power come, and the Kingdom of our God and the authority of his Anointed."

RESPONSORIAL PSALM
R.You are the highest honor of our race.
Blessed are you, daughter, by the Most High God,
above all the women on earth;
and blessed be the Lord God,
the creator of heaven and earth.
R.You are the highest honor of our race.
Your deed of hope will never be forgotten
by those who tell of the might of God.
R.You are the highest honor of our race.

ALLELUIA
Osténde nobis. Dómine, misericórdiam tuam, salutare tuum da nobis.
Lord, let us see your kindness, and grant us your salvation.

GOSPEL
Lk 1:26–38 [or 1:39–47]
The angel Gabriel was sent from God to a town of Galilee called Nazareth, to a virgin betrothed to a man named Joseph, of the house of David, and the virgin's name was Mary. And coming to her, he said, "Hail, full of grace! The Lord is with you." But she was greatly troubled at what was said and pondered what sort of greeting this might be. Then the angel said to her, "Do not be afraid, Mary, for you have found favor with God. Behold, you will conceive in your womb and bear a son, and you shall name him Jesus. He will be great and will be called Son of the Most High, and the Lord God will give him the throne of David his father, and he will rule over the house of Jacob forever, and of his Kingdom there will be no end." But Mary said to the angel, "How can this be, since I have no relations with a man?" And the angel said to her in reply, "The Holy Spirit will come upon you, and the power of the Most High will overshadow you. Therefore the child to be born will be called holy, the Son of God. And behold, Elizabeth, your relative, has also conceived a son in her old age, and this is the sixth month for her who was called barren; for nothing will be impossible for God." Mary said, "Behold, I am the handmaid of the Lord. May it be done to me according to your word." Then the angel departed from her.
Or:
Lk 1:39–47
Mary set out and traveled to the hill country in haste to a town of Judah, where she entered the house of Zechariah and greeted Elizabeth. When Elizabeth heard Mary's greeting, the infant leaped in her womb, and Elizabeth, filled with the Holy Spirit, cried out in a loud voice and said, "Most blessed are you among women, and blessed is the fruit of your womb. And how does this happen to me, that the mother of my Lord should come to me? For at the moment the sound of your greeting reached my ears, the infant in my womb leaped for joy. Blessed are you who believed that what was spoken to you by the Lord would be fulfilled."
And Mary said: "My soul proclaims the greatness of the Lord; my spirit rejoices in God my savior.
SEE AS WELL:
DEC. 12 OUR LADY OF GUADALUPE. INSIGHTS AND AV SUMMARY HERE.
DEC. 12: OUR LADY OF GUADALUPE. TRADITIONAL NARRATIVE, NICAN MOPOHUA OF THE APPARITION (16th century) HERE.
POPE FRANCIS' HOMILY ON OUR LADY OF GUADALUPE HERE.
12 AMAZING FACTS OF OUR LADY OF GUADALUPE'S TILMA HERE.

PRAYER OVER THE OFFERINGS
Lord, accept the gifts we present to you on this feast of Our Lady of Guadalupe, and grant that this sacrifice will strengthen us to fulfill your commandments as true sons and daughters of the Virgin Mary.
[–» Eucharistic Prayer]
[–» Preface of the Blessed Virgin Mary or of Advent]
COMMUNION ANTIPHON
Deposuit potentes de sede et exaltavit humiles.
The Lord has cast down the mighty from their thrones, and has lifted up the lowly.
PRAYER AFTER COMMUNION
Lord, may the Body and Blood of your Son, which we receive in this sacrament, reconcile us always in your love. May we who rejoice in the holy Mother of Guadalupe live united and at peace in this world until the day of the Lord dawns in glory.
[–» Concluding Rite]