DAILY GOSPEL REFLECTION: THE WIDOW'S MITE (Lk 21:1-4).
DAILY GOSPEL REFLECTION: THE GENEROSITY OF THE WIDOW'S MITE (Lk 21:1-4).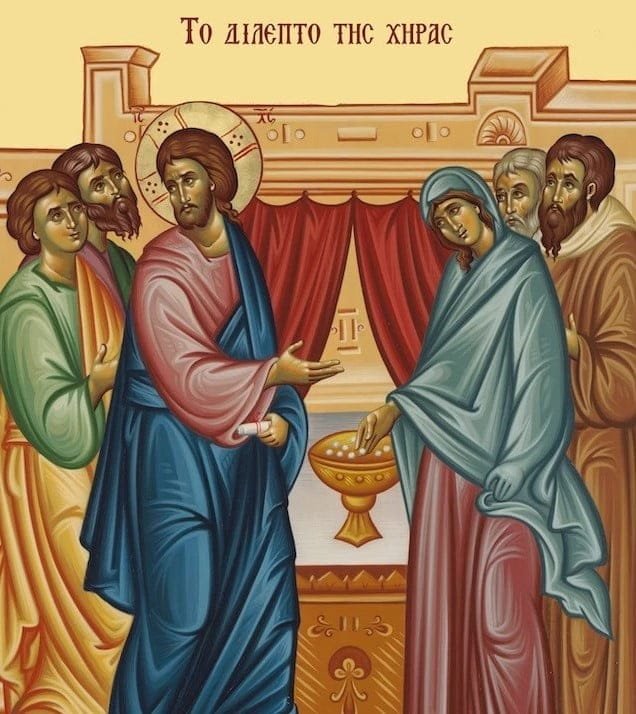 Gospel of Monday, 34th week in Ordinary Time
Lk 21:1-4
When Jesus looked up he saw some wealthy people putting their offerings into the treasury and he noticed a poor widow putting in two small coins. He said, "I tell you truly, this poor widow put in more than all the rest; for those others have all made offerings from their surplus wealth, but she, from her poverty, has offered her whole livelihood."
---
COMMENTARY FROM THE NAVARRE BIBLE, ST. LUKE (WITH PERMISSION)
---
1-4 Our Lord, surrounded by his disciples, watches people putting offerings into the treasury.

This was a place in the women's courtyard, where there were various collection boxes for the offerings of the faithful. Just then, something happens whose significance Jesus wants his disciples to notice: a poor widow puts in two small coins, of very little value.
He describes this as the greatest offering of all, praising the generosity of giving alms for this purpose, particularly that of those people who give part of what they need.
Our Lord is moved by this tiny offering because in her case it implies a big sacrifice.

"The Lord does not look", St John Chrysostom comments, "at the amount offered but at the affection with which it is offered" (HoM. on Heb, 1).
Generosity is of the essence of almsgiving. This woman teaches us that we can move God's heart if we give him all we can, which will always amount to very little even if we give our very lives. "How little a life is to offer to God!" (J. Escrivá, The Way, 42).
Dear brethren in Christ, God's heart is conquered by little things we give Him as long as we do them for love. May we learn from the generosity of this poor widow in our dealings with Him.
A great day ahead. Stay safe and God bless. Fr. Rolly Arjonillo
VIDEO COMMENTARY
Topic: DO YOU YOU KNOW WHAT GENEROUS AND JOYFUL GIVING WILL GET FOR YOU?
In today's gospel (Luke 21:1-4), while teaching in the temple, Jesus observed people offering their tithes. And here comes this poor widow putting her two and only coins into the tithes box. She gave all she had and put her hope and trust in God. Jesus said that the woman's gift was worth more than the huge sums offered by those who gave from their surplus wealth. Can someone who is poor give more than someone who is rich?
Stay updated: subscribe by email for free TO OUR NEW WEBSITE www.catholicsstrivingforholiness.org (PUT YOUR EMAIL IN THE SUBSCRIBE WIDGET).
We are also in www.fb.com/Catholicsstrivingforholiness. Kindly help more people in their Christian life by liking our page and inviting your family, friends and relatives to do so as well. Thanks in advance and God bless you and your loved ones! Fr. Rolly Arjonillo