BEATITUDES EXPLAINED 7: BLESSED ARE THE PEACEMAKERS
BEATITUDES EXPLAINED 7: BLESSED ARE THE PEACEMAKERS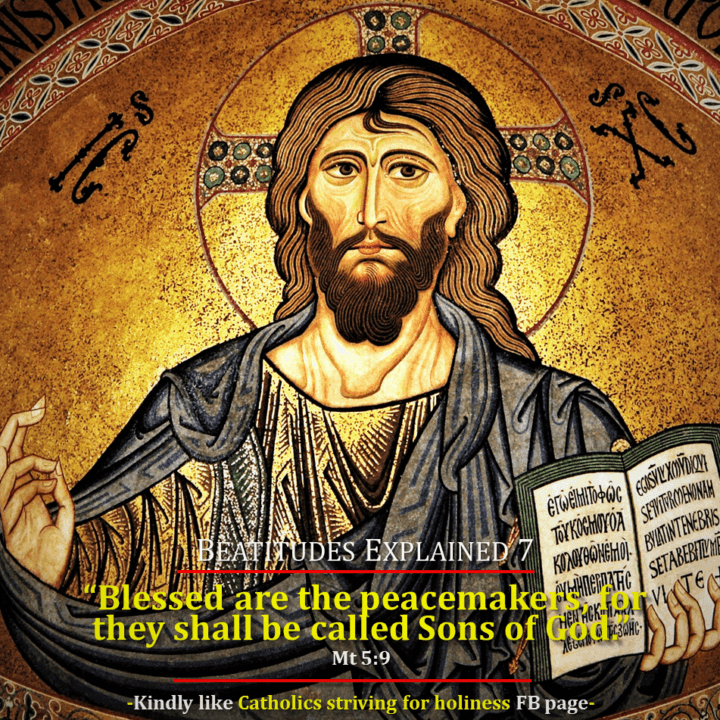 "The translation "peacemakers" well conveys the active meaning of the original text — those who foster peace, in themselves and in others and, as a basis for that, try to be reconciled and to reconcile others with God. Being at peace with God is the cause and the effect of every kind of peace. Any peace on earth not based on this divine peace would be vain and misleading.
'They shall be called sons of God': this is an Hebraicism often found in Sacred Scripture; it is the same as saying 'they will be sons of God'. St John's first letter (3:1) provides a correct exegesis of this Beatitude: 'See what love the Father has given us, that we should be called children of God; and so we are' (Commentary to the Gospel of St. Matthew, Navarre Bible, Sceptre Press)."
ARE WE AT PEACE WITH GOD, BEING IN THE STATE OF GRACE? DO WE STILL BEAR GRUDGES AND HATE TOWARDS A PERSON, NOT WANTING TO FORGIVE AND RECONCILE WITH HIM? DO WE REALISE THAT ONLY BY FORGIVING OTHERS SHALL WE BE RECONCILED WITH GOD?
Pope Francis, in his Apostolic Exhortation, Gaudete et exultate, comments:
Blessed are the peacemakers, for they will be called children of God"
87. This Beatitude makes us think of the many endless situations of war in our world. Yet we ourselves are often a cause of conflict or at least of misunderstanding. For example, I may hear something about someone and I go off and repeat it. I may even embellish it the second time around and keep spreading it… And the more harm it does, the more satisfaction I seem to derive from it. The world of gossip, inhabited by negative and destructive people, does not bring peace. Such people are really the enemies of peace; in no way are they "blessed".[73]
88. Peacemakers truly "make" peace; they build peace and friendship in society. To those who sow peace Jesus makes this magnificent promise: "They will be called children of God" (Mt 5:9). He told his disciples that, wherever they went, they were to say: "Peace to this house!" (Lk 10:5). The word of God exhorts every believer to work for peace, "along with all who call upon the Lord with a pure heart" (cf. 2 Tim 2:22), for "the harvest of righteousness is sown in peace by those who make peace" (Jas 3:18). And if there are times in our community when we question what ought to be done, "let us pursue what makes for peace" (Rom 14:19), for unity is preferable to conflict.[74]
89. It is not easy to "make" this evangelical peace, which excludes no one but embraces even those who are a bit odd, troublesome or difficult, demanding, different, beaten down by life or simply uninterested. It is hard work; it calls for great openness of mind and heart, since it is not about creating "a consensus on paper or a transient peace for a contented minority",[75] or a project "by a few for the few".[76] Nor can it attempt to ignore or disregard conflict; instead, it must "face conflict head on, resolve it and make it a link in the chain of a new process".[77] We need to be artisans of peace, for building peace is a craft that demands serenity, creativity, sensitivity and skill.
Sowing peace all around us: that is holiness.
Stay updated: subscribe by email for free TO OUR NEW WEBSITE www.catholicsstrivingforholiness.org (PUT YOUR EMAIL IN THE SUBSCRIBE WIDGET).
We are also in www.fb.com/Catholicsstrivingforholiness. Kindly help more people in their Christian life by liking our page and inviting your family, friends and relatives to do so as well. Thanks in advance and God bless you and your loved ones! Fr. Rolly Arjonillo