BEATITUDES 8: BLESSED ARE THE PERSECUTED.
BEATITUDES 8: BLESSED ARE THE PERSECUTED.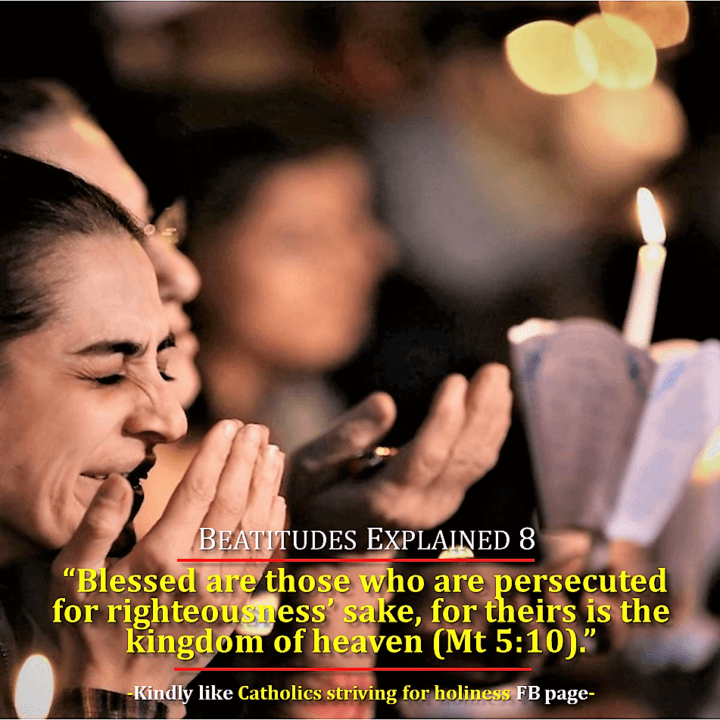 In the picture, you see displaced Iraqi Christians pray, light candles for a religious service in Arbil, northern Iraq.
"What this Beatitude means, then, is: blessed are those who are persecuted because they are holy, or because they are striving to be holy, for theirs is the Kingdom of heaven.
Thus, blessed is he who suffers persecution for being true to Jesus Christ and who does so not only patiently but joyfully. Circumstances arise in a Christian's life that call for heroism — where no compromise is admissible: either one stays true to Jesus Christ whatever the cost in terms of reputation, life or possessions, or one denies him. St Bernard (Sermon on the Feast of All Saints) says that the eighth Beatitude is as it were the prerogative of Christian martyrs. Every Christian who is faithful to Jesus' teaching is in fact a ''martyr'' (a witness) who reflects or acts in accordance with this Beatitude, even if he does not undergo physical death are' (Commentary to the Gospel of St. Matthew, Navarre Bible, Sceptre Press)."
Pope Francis, in his Apostolic Exhortation, Gaudete et exultate, comments:
Blessed are those who are persecuted for righteousness' sake, for theirs is the kingdom of heaven"
90. Jesus himself warns us that the path he proposes goes against the flow, even making us challenge society by the way we live and, as a result, becoming a nuisance. He reminds us how many people have been, and still are, persecuted simply because they struggle for justice, because they take seriously their commitment to God and to others. Unless we wish to sink into an obscure mediocrity, let us not long for an easy life, for "whoever would save his life will lose it" (Mt 16:25).
91. In living the Gospel, we cannot expect that everything will be easy, for the thirst for power and worldly interests often stands in our way. Saint John Paul II noted that "a society is alienated if its forms of social organization, production and consumption make it more difficult to offer this gift of self and to establish this solidarity between people".[78] In such a society, politics, mass communications and economic, cultural and even religious institutions become so entangled as to become an obstacle to authentic human and social development. As a result, the Beatitudes are not easy to live out; any attempt to do so will be viewed negatively, regarded with suspicion, and met with ridicule.
92. Whatever weariness and pain we may experience in living the commandment of love and following the way of justice, the cross remains the source of our growth and sanctification. We must never forget that when the New Testament tells us that we will have to endure suffering for the Gospel's sake, it speaks precisely of persecution (cf. Acts 5:41; Phil 1:29; Col 1:24; 2 Tim 1:12; 1 Pet 2:20, 4:14-16; Rev 2:10).
93. Here we are speaking about inevitable persecution, not the kind of persecution we might bring upon ourselves by our mistreatment of others. The saints are not odd and aloof, unbearable because of their vanity, negativity and bitterness. The Apostles of Christ were not like that. The Book of Acts states repeatedly that they enjoyed favour "with all the people" (2:47; cf. 4:21.33; 5:13), even as some authorities harassed and persecuted them (cf. 4:1-3, 5:17-18).
94. Persecutions are not a reality of the past, for today too we experience them, whether by the shedding of blood, as is the case with so many contemporary martyrs, or by more subtle means, by slander and lies. Jesus calls us blessed when people "utter all kinds of evil against you falsely on my account" (Mt 5:11). At other times, persecution can take the form of gibes that try to caricature our faith and make us seem ridiculous.
Accepting daily the path of the Gospel, even though it may cause us problems: that is holiness.
Stay updated: subscribe by email for free TO OUR NEW WEBSITE www.catholicsstrivingforholiness.org (PUT YOUR EMAIL IN THE SUBSCRIBE WIDGET).
We are also in www.fb.com/Catholicsstrivingforholiness. Kindly help more people in their Christian life by liking our page and inviting your family, friends and relatives to do so as well. Thanks in advance and God bless you and your loved ones! Fr. Rolly Arjonillo