AN INSPIRING CATHOLIC MEDITATION ON DEATH
AN INSPIRING CATHOLIC MEDITATION ON DEATH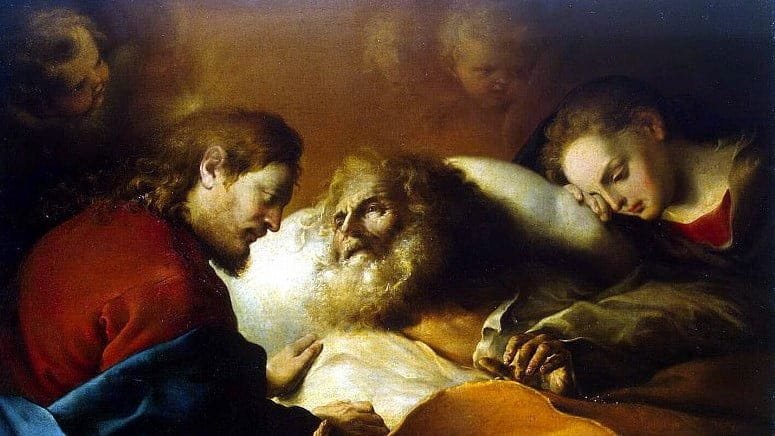 1. Our life on earth is transitory: one day we will die.
Nothing do men see so commonly as death, and nothing do they forget so easily as death. All of us have to die: this is one of life's great truths Sooner or later a day will come when we render an account to our Father God. Our time on earth is a period of trial that God grants us. For here we have no lasting city, but we seek the city which is to come.
Non habemus hie manentem civitatem – here we have no lasting city. And lest we forget it, St. Josemaria writes, this truth appears crudely, at times, at the hour of death: lack of understanding, persecution or being despised… And always loneliness, for even though we may be surrounded by affection, every person dies alone.
Now is the time to untie all the bonds that bind us. Let us prepare ourselves at all times for that step which will bring us into the eternal presence of the Most Holy Trinity.
Life is short, time is limited, and time is our treasure, the "money" with which to buy eternity. Our days will come to an end, and we'll be judged by our deeds. Nothing on earth has permanent value. All that this earth can offer us is continually passing away: hardly has pleasure begun than it is already ended. God will come for us only once. He should find us well prepared to enter happiness without end. Always, for ever! Words brought to our lips by the human desire to prolong – to make eternal – what is pleasant.
Lying words, on earth, where everything must end.
We are wayfarers. Therefore while treading firmly on the ground, we should always keep our gaze set firmly on the goal of our journey, on our Father God.
Death comes, St. Josemaria wrote, and cannot be avoided. What empty vanity it is, then, to centre our existence on this life. See how much many men and women suffer. Some suffer because life is coming to an end and it pains them to leave it; others because it goes on and they are sick of it. In neither case is there room for the mistaken view that makes our passage through this world an end in itself.
One must leave that way of thinking behind and anchor oneself to another, an eternal one. A total change is required, to empty oneself of self-centred motives, which pass away, and to be renewed in Christ, who is eternal.
2. We prepare for our definitive meeting with God by practising detachment from everything.
Christ was speaking to the crowd when suddenly he was interrupted by one of the multitude. This man wanted to raise a problem of pressing concern to him: Teacher, bid my brother divide the inheritance with me. Jesus takes advantage of the appeal to warn us not to place our trust in material goods: "Take heed, and beware of all covetousness; for a man's life does not consist in the abundance of his possessions." And he told them a parable, saying,"The land of a rich man brought forth plentifully…"
Jesus vividly describes the rich man's abundance of possessions, with which he could have done so much good. But the man was foolish and set his heart on his riches. Take your ease, he told himself, eat, drink, be merry. But God said to him, "Fool! This night your soul is required of you; and the things you have prepared, whose will they be?"
The lesson is clear: we have to be detached from material possessions, ready to render an account to God whenever he calls us. Whoever considers his own state at death … longs for nothing transitory, nor allows himself to be led by the present life's desires. Rather he considers himself almost dead, for he knows one day he must die.
Nothing we enjoy here will accompany us to the grave. Don't set your heart on loves here below […] Elsewhere are the loves that endure. Since we will enter God's presence empty-handed, why do we latch on to things? They are a dead weight, an obstacle on our journey. In the end, we'll have to abandon them anyway. Before God, only our good deeds have any value.
Therefore, we want to be completely detached from everything on earth. St Cyprian wrote: Nothing should abide in your heart except the divine precepts and heavenly counsels … Don't dwell on death but on immortality; don't call to mind temporal sufferings but eternal glory. Our Founder taught us how we should prepare for this decisive moment: You were consoled by the idea that life is to be spent, burned in the service of God. And spending ourselves entirely for him is how we shall be freed from death, which brings us the possession of Life.
3. If we are faithful, death will bring us complete happiness; but we should seek to die old, after a long life working for God.
Have you heard how sadly the worldly-minded lament that "Each day that passes is to die a little"?
Well, I say to you: rejoice, apostolic soul, because each day that passes brings you closer to Life.
For the children of God, for those who trust in the mercy of their Father in heaven, death is the definitive, long-awaited meeting with our Lord and his Blessed Mother. In the words of St Cyprian, "What man, after having been abroad, would not hasten to return to his native land? Who, when embarking to sail home to his family, would not eagerly hope for a favourable wind so as to embrace his dear ones sooner? Our homeland is paradise, our parents the patriarchs. Why, then, do we not hasten to see our homeland, so that we may greet our parents?
Many of our loved ones await us there. A great host of parents, brothers and sisters, and children are expecting us, certain of their own salvation, but still concerned about ours. How great will be their joy and ours when we arrive and embrace them! What happiness it will be to enjoy the kingdom of heaven without fear of death! What sovereign and perpetual happiness when we possess a life that never ends!
There we will find the glorious choir of Apostles. There the band of joyful prophets. There the countless multitude of martyrs crowned on account of the merits of their struggles and sufferings. There the virgins, who triumphed over the concupiscence of the flesh by the vigour of chastity. There we will see those who are rewarded for their mercy, who did good deeds and helped the poor by their alms, exchanging their earthly patrimony for heavenly treasures, in order to fulfil the Lord's precepts. Beloved brethren, to these let us hasten with eager longing! Let us pray that it may soon befall us to be with them. Let us desire to reach Christ without delay."
For "others", St. Josemaria says, death halts them and startles them. -For us, death – Life – is an encouragement and a stimulus.
For them it is the end: for us, the beginning.
It will be an awakening full of light, beauty, and Love, after we have worked many years here on earth for souls. It will come when God wants, but we should not wish for it. Blessed Alvaro wrote in a footnote to one of the Instructions: When the subject of death is mentioned, our Founder often exclaims: Dying – how comfortable! Commenting on those well-known lines of verse, "Come, O death, so silent flying, / That unheard thy coming be, / Lest the sweet delight of dying, / Bring life back again to me," our Father said he understood this desire to be with God, definitively and for ever, but that he does not share this longing for death, since he repeats, that would be too comfortable.
Our vocation leads us to want to die old, after working many years for the good of souls. This is why St. Josemaria says that when God our Lord takes a member of the Work while still young, his first reaction is to get cross in a filial manner with God our Father. He goes to the tabernacle and exclaims, Lord! How is it that you've taken him so young, if those who love you are so few and this son could still work so much for you? And then St. Josemaria prays: Fiat, adimpleatur… (let it be done, let it be fulfilled…), fully accepting God's will, although I don't understand it.
We ask our Lady to win for us the grace to accept death cheerfully, whenever Jesus wants it: Pray for us sinners, now and at the hour of our death. Amen.
SOURCE: BOOK OF MEDITATIONS (private collection) Monday, 29th week in Ordinary Time. Bold italic words are from St. Josemaria.
Stay updated: subscribe by email for free TO OUR NEW WEBSITE www.catholicsstrivingforholiness.org (PUT YOUR EMAIL IN THE SUBSCRIBE WIDGET).
We are also in www.fb.com/Catholicsstrivingforholiness. Kindly help more people in their Christian life by liking our page and inviting your family, friends and relatives to do so as well. Thanks in advance and God bless you and your loved ones! Fr. Rolly Arjonillo