WHAT IS THE CATHOLIC TEACHING ON DEATH? The Falling Leaf.
WHAT IS THE CATHOLIC TEACHING ON DEATH?
THE FALLING LEAF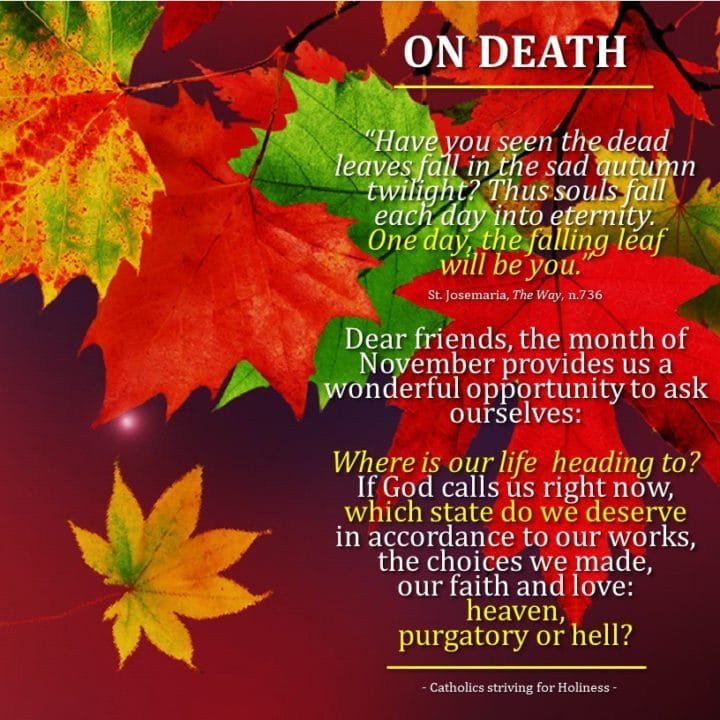 "Have you seen the dead leaves fall in the sad autumn twilight? Thus souls fall each day into eternity. One day, the falling leaf will be you."
(St. Josemaría, The Way, n. 736)
Death is an unquestionable and indiscriminate reality. Yes, one day, it will be our turn: that falling leaf will be you and me. The Catechism of the Catholic Church teaches that:
"1020 The Christian who unites his own death to that of Jesus views it as a step towards him and an entrance into everlasting life. When the Church for the last time speaks Christ's words of pardon and absolution over the dying Christian, seals him for the last time with a strengthening anointing, and gives him Christ in viaticum as nourishment for the journey, she speaks with gentle assurance:
Go forth, Christian soul, from this world
in the name of God the almighty Father,
who created you,
in the name of Jesus Christ, the Son of the living God,
who suffered for you,
in the name of the Holy Spirit,
who was poured out upon you.
Go forth, faithful Christian!
May you live in peace this day,
may your home be with God in Zion,
with Mary, the virgin Mother of God,
with Joseph, and all the angels and saints. . . .
May you return to [your Creator]
who formed you from the dust of the earth.
May holy Mary, the angels, and all the saints
come to meet you as you go forth from this life. . . .
May you see your Redeemer face to face. "
"Death puts an end to human life as the time open to either accepting or rejecting the divine grace manifested in Christ."

(Catechism of the Catholic Church, n.1021)
Immediately after death, each of us will be judged in accordance with our works and faith (Rev 20, 13).
"Each man receives his eternal retribution in his immortal soul at the very moment of his death, in a particular judgment that refers his life to Christ: either entrance into the blessedness of heaven-through a purification [purgatory] or immediately,–or immediate and everlasting damnation [hell]."
(Catechism of the Catholic Church, n.1022)
At the evening of life, we shall be judged on our love
(St. John of the Cross).
Dear friends, the month of November provides us a wonderful opportunity to ask ourselves: Where our life is heading to? If God calls us right now, which do we deserve in accordance to our works, the choices we made, our faith and love: heaven, purgatory or hell?
"'Blessed are the dead who die in the Lord from now on!' 'Yes,' says the Spirit, 'so that they may rest from their labors, for their deeds follow with them'."

(Rev 14:13)
Let us then live our life – knowing that this is the time and space which God gave us- to gain eternal happiness: live our life for God, for those
"who live in Christ, will die in Christ," knowing that He, "having been raised from the dead, is never to die again; death no longer is master over Him." (Rm 6:8)
Stay updated: subscribe by email for free TO OUR NEW WEBSITE www.catholicsstrivingforholiness.org (PUT YOUR EMAIL IN THE SUBSCRIBE WIDGET).
We are also in www.fb.com/Catholicsstrivingforholiness. Kindly help more people in their Christian life by liking our page and inviting your family, friends and relatives to do so as well. Thanks in advance and God bless you and your loved ones! Fr. Rolly Arjonillo