HOMILY FOR THE 4TH SUNDAY OF ADVENT YEAR A
HOMILY FOR THE 4TH SUNDAY OF ADVENT YEAR A
ST. JOSEPH AND HIS FAITHFUL FULFILLMENT OF GOD'S WILL.
Audiovisual summary and text.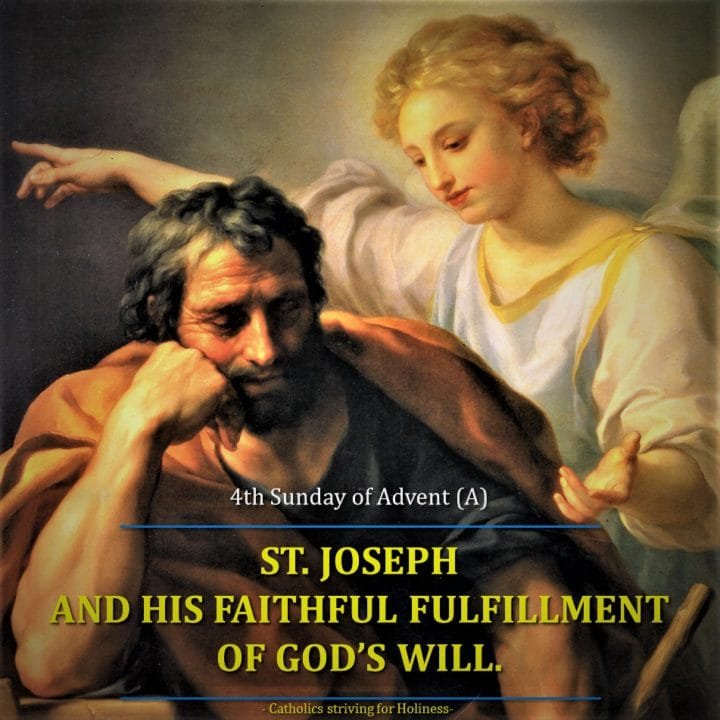 OUTLINE
1. The Virginal Conception of Mary and St. Joseph's Dream
The Gospel of last Sunday presented to us the figure of St. John the Baptist. In this 4th Sunday of Advent Year A the Gospel presents to us the figure of St. Joseph and his faithful fulfillment of God's will, and through it, the realization of Nathan's messianic prophecy (cf. 2 Sam 7:12) that the Messiah will arise from David's lineage.
St. Matthew recounts the virginal conception of Mary and the predicament which St. Joseph had to face prior to that.
"Now this is how the birth of Jesus Christ came about. When his mother Mary was betrothed to Joseph, but before they lived together, she was found with child through the holy Spirit. Joseph her husband, since he was a righteous man, yet unwilling to expose her to shame, decided to divorce her quietly. Such was his intention when, behold, the angel of the Lord appeared to him in a dream and said, "Joseph, son of David, do not be afraid to take Mary your wife into your home. For it is through the Holy Spirit that this child has been conceived in her. She will bear a son and you are to name him Jesus, because he will save his people from their sins." All this took place to fulfill what the Lord had said through the prophet: "Behold, the virgin shall be with child and bear a son, and they shall name him Emmanuel," which means "God is with us." When Joseph awoke, he did as the angel of the Lord had commanded him and took his wife into his home."
2. St. Joseph, the just and faithful servant of God.
We couldn't just imagine how much St. Joseph suffered upon seeing Mary, whom he considered holy and whom he loved with his entire life, with visible signs of bearing a child. Deep within him, he was in turmoil and confused and in the midst of this painful situation, I am quite sure that he prayed to God, for he was a "just" man.
"In Hebrew a just man means a good and faithful servant of God, someone who fulfils the divine will (cf. Gen 7:1; 18:23-32; Ezek 18:5ff.; Prov 12:10), or who is honourable and charitable toward his neighbour (cf. Tob 7:6; 9:6). So a just man is someone who loves God and proves his love by keeping God's commandments and directing his whole life towards the service of his brothers, his fellow men" (St. Josemaria, Christ is passing by, 40).
Because he loved Mary and because he was a just man, he decided to send her away quietly so as not to put Mary to public shame.
Until God heard Joseph's prayers sending an angel in a dream to reveal God's plans for him and for Mary and for the entire humanity through his free cooperation.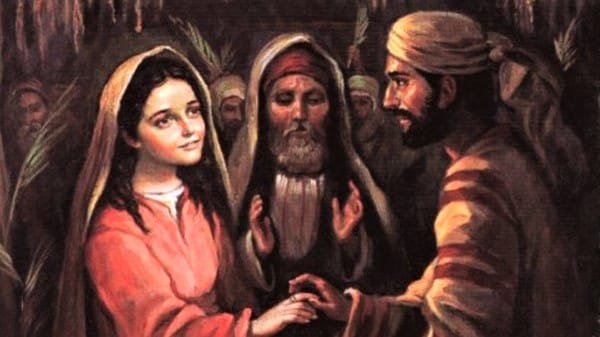 Joseph was such a righteous, better, a holy man, that "When Joseph awoke, he did as the angel of the Lord had commanded him and took his wife into his home." He listened, he believed, he obeyed and fulfilled God's will for he wanted to do exactly what the Lord wanted him to do, in each and every moment of his life.
This event shows us that God gives his light to those who act in an upright way, have recourse to Him, and who trust in his power and wisdom when faced with situations which exceed human understanding. Joseph understood that by calling him "Joseph, the son of David," that he would become providential link which joins Jesus with the family of David.
This is a motive for us to elevate our hearts to the Most Holy Trinity, thanking Him, for giving us Mary, the Mother of God, and St. Joseph, who were completely disposed to fulfill God's Will and who by their free action –the YES− made God's "PHYSICAL ENTRANCE" in the history of mankind a reality.
3. The far-reaching consequences of fulfilling God's Will for each one of us.
Dear brethren in Christ, this 4th Sunday of Advent Year A provides us a great occasion to examine and ask ourselves:
Like St. Joseph, are we open to God's plans? Are we willing to listen, reflect, and carry out what He wants from each one of us?
Are we entirely at God's disposal, in so far as doing what He wants from us in every moment of my life? Am I doing what God wants from me right now?" "Am I docile to God's insinuations in my soul?"
A Christian who really seeks to follow Christ must untiringly strive to seek and do God's will, overcoming our love of comfort, tiredness, and selfishness, for this is what Jesus Himself did, thereby giving us a clear path to follow:
"My food is to do the will of him who sent me, and to accomplish his work (Jn 4:34)."
Let us not forget that "this is the key to open the door and enter the kingdom of heaven: qui facit voluntatem Patris mei qui in coelis est, ipse intrabit in regnum coelorum — he who does the will of my Father… he shall enter!"
But the question arises: HOW DO I COME TO KNOW GOD'S WILL? God's will is made known to us in many different ways: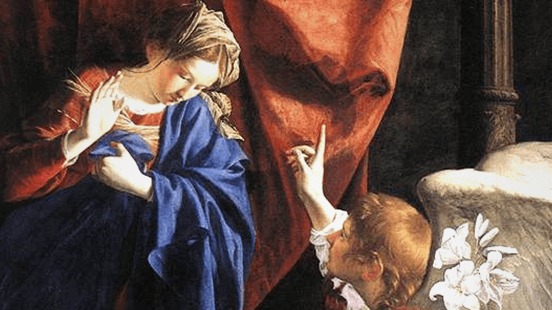 through His many INSTRUMENTS: the Church and her priests;
in spiritual direction and Confession;
through one's parents who have the primary obligation in educating their children in the faith; through one's well-formed conscience and its correct judgments;
but above all, through our PERSONAL PRAYER.
In one of the many conversations Our Lord had with St. Faustina, He said:
"When you reflect upon what I tell you in the depths of your heart, you profit more than if you had read many books. Oh, if souls would only want to listen to My voice when I am speaking in the depths of their hearts, they would reach the peak of holiness in a short time (St. Faustina, Diary of Divine Mercy in my Soul, n. 584)."
We could easily turn deaf to what God wants from us and unfortunately, we lose the great opportunity to carry out what is good, not only for us, but for a lot of people. St. Joseph and Mary's generous response exemplify this perfectly, as well as the lives of many saints: St. Augustine, St. Ignatius of Loyola, St. Teresa de Avila, St. Josemaria….and so on.
"Many great things depend — don't forget it — on whether you and I live our lives as God wants (St. Josemaria, "The Way" nn. 754-755)."
Let us ask the help St Joseph, Master of Interior Life and the Blessed Virgin Mary Mother Mary so that through their intercession, God may grant us the grace to listen attentively, and generously respond to His Will manifested to us in many different occasions throughout the day and thus, by living our lives for God, we become instruments of His Saving Plan.
Fr. Rolly Arjonillo, Catholics striving for Holiness.
WATCH
AUDIO CREDIT: Palestrina – Sicut Lilium Introduxit Me Rex by The Tudor Consort is licensed under a Attribution 3.0 International License.
ORIGINAL PHOTO CREDITS: PHOTOS USED IN THE VIDEO ONLY FOR DIDACTIC, NON-COMMERCIAL PURPOSES. MOST ARE OF PUBLIC DOMAIN. OTHERWISE, NO COPYRIGHT INFRINGEMENT INTENDED.
Philippe de Champaigne, The Dream of Saint Joseph, (National Art Gallery, London). Public domain. Mengs,_Traum_des_hl._Joseph (Public domain). Bartolomé Estebán Murillo, San José y el Niño Jesús (Public domain). Antoni Guerra the Younger" (1666-1711) — Saint Joseph and Trinidad, Chapel of the Carmelites Ille sur Têt, 1699 in pinterest.com
St. Joseph, Patron of the Universal Church, by Lawrence OP in https://c1.staticflickr.com/9/8698/16836216496_b2ec2b1d6a_b.jpg
SEE AS WELL:
https://catholicsstrivingforholiness.org/4th-sunday-of-advent-year-a-mass-prayers-and-readings/
Stay updated: subscribe by email for free TO OUR NEW WEBSITE www.catholicsstrivingforholiness.org (PUT YOUR EMAIL IN THE SUBSCRIBE WIDGET).
We are also in www.fb.com/Catholicsstrivingforholiness. Kindly help more people in their Christian life by liking our page and inviting your family, friends and relatives to do so as well. Thanks in advance and God bless you and your loved ones! Fr. Rolly Arjonillo