POPE FRANCIS ON THE 4TH SUNDAY OF ADVENT YEAR A
POPE FRANCIS ON THE 4TH SUNDAY OF ADVENT YEAR A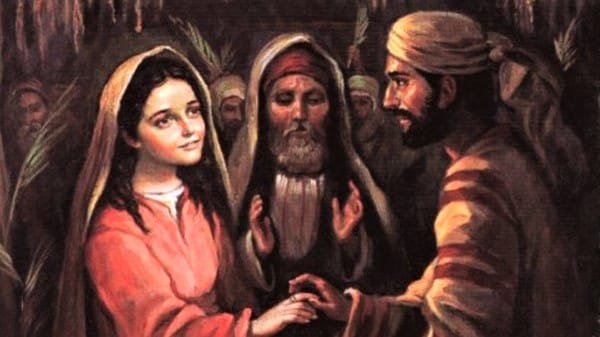 ANGELUS
Saint Peter's Square
4th Sunday of Advent Year A, 18 December 2022
_____________________________
Dear brothers and sisters, buongiorno!
Today, the fourth and final Sunday of Advent, the liturgy presents the figure of Saint Joseph to us (cf. Mt 1:18-24). He is a just man who is about to get married. We can imagine what his dreams for the future are – a beautiful family, with an affectionate wife and many wonderful children, and a dignified job – simple and good dreams, the dreams of simple and good people. But all of a sudden, these dreams come up against a disconcerting discovery. Mary, his betrothed, is expecting a child, and the child is not his! What would Joseph have felt? Shock, pain, confusion, perhaps even irritation and disappointment…. But… He experienced his world was falling apart all around him! And what was he supposed to do?
The Law gives him two options. The first is to accuse Mary and make her pay the price for her alleged infidelity. The second is to secretly annul their engagement without exposing Mary to scandal and to harsh consequences, taking upon himself, however, the burden of shame. So, Joseph chooses this second option, which is the way of mercy. And behold, at the height of his crisis, right when he is thinking and evaluating all this, God gives him a new light in his heart – he declares to him in a dream that Mary's motherhood did not come about because of a betrayal, but was the work of the Holy Spirit, and the baby to be born would be the Saviour (cf. vv. 20-21), and Mary would be the Mother of the Messiah, and he would be His guardian. On waking up, Joseph understands that the greatest dream of every devout Israelite – to be the father of the Messiah – was being fulfilled for him in a completely unexpected way.
To accomplish this, in fact, it was not enough to belong to David's lineage and to be a faithful observer of the law, but he would need to entrust himself above and beyond all else to God, welcome Mary and her Son in a completely different way than was expected, differently than had ever been done. In other words, Joseph would have to renounce all reassuring certainties, his perfect plans, his legitimate expectations, and open himself to a future that was completely to be discovered. And before God, who disrupts his plans and asks that he trust Him, Joseph says "yes". Joseph's courage is heroic and is exercised in silence – his courage is to trust, he welcomes, he is willing, he asks for no further guarantees.
Brothers and sisters, what does Joseph say to us today? We too have our dreams, and perhaps we think of them more, we talk about them together at Christmas. Perhaps we lament over some dreams that have been shattered and we see that our best expectations often need to be put together with unexpected, disconcerting situations. And when this happens, Joseph shows us the way. We do not need to give in to negative feelings, like anger or isolation – this is the wrong way! Instead, we need to attentively welcome surprises, the surprises in life, even crises. When we find ourselves in crisis, we should not make decisions quickly or instinctively, but let them pass through the sieve, like Joseph did who "considered everything" (cf. v. 20), and base ourselves on the underlying certainty of God's mercy. When someone experiences a crisis without giving in to isolation, anger, and fear, but keeps the door open for God, He can intervene. He is an expert in transforming crises into dreams – yes, God opens crises into new horizons we never would have imagined before, perhaps not as we would expect, but in the way He knows how. And these, brothers and sisters, are God's horizons – surprising – but infinitely more grand and beautiful than ours! May the Virgin Mary help us live open to God's surprises.
Source; https://www.vatican.va/content/francesco/en/angelus/2022/documents/20221218-angelus.html
Emphasis mine.
POPE FRANCIS
ANGELUS
Saint Peter's Square
4th Sunday of Advent Year A, 18 December 2016
---
Dear Brothers and Sisters, Good morning!
The liturgy for today, the Fourth and last Sunday of Advent, is characterized by the theme of closeness, God's closeness to humanity. The Gospel passage (cf. Mt 1:18-24) shows us two people, the two people who, more than anyone else, were involved in this mystery of love: the Virgin Mary and her husband, Joseph. A mystery of love, the mystery of God's closeness to humanity.
Mary is presented in the light of the prophet who says: "Behold, a virgin shall conceive and bear a son" (v. 23). Matthew the Evangelist recognizes that this happened in Mary, who conceived Jesus through the Holy Spirit (cf. v. 18). The Son of God "comes" into her womb in order to become man, and she welcomes him. Thus, in a unique way, God drew near to mankind, taking on flesh through a woman: God drew near to us and took on flesh through a woman. To us too, in a different way, God draws near with his grace in order to enter our life and offer us the gift of his Son. What do we do? Do we welcome him, let him draw near, or do we reject him, push him away? As Mary, freely offering herself to the Lord of history, allowed him to change the destiny of mankind, so too can we, by welcoming Jesus and seeking to follow him each day, cooperate in his salvific plan for us and for the world. Mary thus appears to us as a model to look to and upon whose support we can count in our search for God, in our closeness to God, in thus allowing God to draw close to us and in our commitment to build the culture of love.
The other protagonist of today's Gospel is Saint Joseph. The Evangelist highlights that alone, Joseph cannot explain to himself the event which he sees taking place before his eyes, namely, Mary's pregnancy. Just then, in that moment of doubt, even anguish, God approaches him — him too — through his messenger and [Joseph] is enlightened about the nature of this maternity: "the child conceived in her is of the Holy Spirit" (cf. v. 20). Thus, in facing this extraordinary event, which surely gave rise to many questions in his heart, he trusts totally in God who has drawn near to him, and after his invitation, does not repudiate his betrothed, but takes her to him and takes Mary to wife. In accepting Mary, Joseph knowingly and lovingly receives Him who has been conceived in her through the wondrous work of God, for whom nothing is impossible. Joseph, a just and humble man (cf. v. 19), teaches us to always trust in God, who draws near to us: when God approaches us, we must entrust ourselves to him. Joseph teaches us to allow ourselves to be guided by Him with willing obedience.
These two figures, Mary and Joseph, who were the first to welcome Jesus through faith, introduce us to the mystery of Christmas. Mary helps us to assume an attitude of openness in order to welcome the Son of God into our concrete life, in our flesh. Joseph spurs us to always seek God's will and to follow it with full trust. Both allow God to draw near to them.
"'Behold, a virgin shall conceive and bear a son, and his name shall be called Emmanuel', which means, God-with-us" (Mt 1:23). Thus the angel says: "the child shall be called Emmanuel, which means God-with-us", in other words, God near to us. And to God who draws near, do I open the door — to the Lord — when I sense an interior inspiration, when I hear him ask me to do something more for others, when he calls me to pray?
God-with-us, God who draws near. This message of hope, which is fulfilled at Christmas, leads to fulfilment of the expectation of God in each one of us too, in all the Church, and in the many little ones whom the world scorns, but whom God also loves and to whom God draws near.
SOURCE: http://www.vatican.va/content/francesco/en/angelus/2016/documents/papa-francesco_angelus_20161218.html EMPHASIS MINE.
POPE FRANCIS
ANGELUS
Saint Peter's Square
4th Sunday of Advent Year A, 18 December 2016
Dear Brothers and Sisters, Good morning!
On this 4th Sunday of Advent, the Gospel tells us about the events preceding the birth of Jesus, and the Evangelist Matthew presents them from the point of view of St Joseph, the betrothed of the Virgin Mary.
Joseph and Mary were dwelling in Nazareth; they were not yet living together, because they were not yet married. In the meantime, Mary, after having welcomed the Angel's announcement, came to be with child by the power of the Holy Spirit. When Joseph realized this, he was bewildered. The Gospel does not explain what his thoughts were, but it does tell us the essential: he seeks to do the will of God and is ready for the most radical renunciation. Rather than defending himself and asserting his rights, Joseph chooses what for him is an enormous sacrifice. And the Gospel tells us: "Joseph, being a just man and unwilling to put her to shame, resolved to send her away quietly" (1:19).
This brief sentence reveals a true inner drama if we think about the love that Joseph had for Mary! But even in these circumstances, Joseph intends to do the will of God and decides, surely with great sorrow, to send Mary away quietly. We need to meditate on these words in order to understand the great trial that Joseph had to endure in the days preceding Jesus' birth. It was a trial similar to the sacrifice of Abraham, when God asked him for his son Isaac (cf. Gen 22): to give up what was most precious, the person most beloved.
But as in the case of Abraham, the Lord intervenes: he found the faith he was looking for and he opens up a different path, a path of love and of happiness. "Joseph," he says, "do not fear to take Mary your wife, for that which is conceived in her is of the Holy Spirit" (Mt 1:20).
This Gospel passage reveals to us the greatness of St Joseph's heart and soul. He was following a good plan for his life, but God was reserving another plan for him, a greater mission. Joseph was a man who always listened to the voice of God, he was deeply sensitive to his secret will, he was a man attentive to the messages that came to him from the depths of his heart and from on high. He did not persist in following his own plan for his life, he did not allow bitterness to poison his soul; rather, he was ready to make himself available to the news that, in a such a bewildering way, was being presented to him. And thus, he was a good man. He did not hate, and he did not allow bitterness to poison his soul. Yet how many times does hatred, or even dislike and bitterness poison our souls! And this is harmful. Never allow it: he is an example of this. And Joseph thereby became even freer and greater. By accepting himself according to God's design, Joseph fully finds himself, beyond himself. His freedom to renounce even what is his, the possession of his very life, and his full interior availability to the will of God challenge us and show us the way.
Let us make ourselves ready to celebrate Christmas by contemplating Mary and Joseph: Mary, the woman full of grace who had the courage to entrust herself totally to the Word of God; Joseph, the faithful and just man who chose to believe the Lord rather than listen to the voices of doubt and human pride. With them, let us walk together toward Bethlehem.
EMPHASIS MINE. SOURCE: http://www.vatican.va/content/francesco/en/angelus/2013/documents/papa-francesco_angelus_20131222.html
SEE AS WELL:
Stay updated: subscribe by email for free TO OUR NEW WEBSITE www.catholicsstrivingforholiness.org (PUT YOUR EMAIL IN THE SUBSCRIBE WIDGET).
We are also in www.fb.com/Catholicsstrivingforholiness. Kindly help more people in their Christian life by liking our page and inviting your family, friends and relatives to do so as well. Thanks in advance and God bless you and your loved ones! Fr. Rolly Arjonillo