POPE FRANCIS ON THE 33RD SUNDAY IN ORDINARY TIME C.
POPE FRANCIS ON THE 33RD SUNDAY IN ORDINARY TIME C.
WORLD DAY OF THE POOR
HOLY MASS
HOMILY OF HIS HOLINESS POPE FRANCIS
St Peter's Basilica
33rd Sunday of Ordinary Time, 13 November 2022
________________________________________________
While some were speaking of the outward beauty of the Temple and admiring its stones, Jesus draws attention to the troubled and dramatic events that mark human history. The Temple built by human hands will pass away, like everything else in this world, but it is important to be able to discern the times in which we live, in order to remain disciples of the Gospel even amid the upheavals of history.
To show us the path to such discernment, the Lord offers us two exhortations: beware that you are not led astray and bear witness.
The first thing that Jesus says to those listening to him, who are concerned about the "when" and the "how" of the terrifying events of which he speaks, is: "Beware that you are not led astray; for many will come in my name and say, 'I am he!' and 'The time is near!' Do not go after them" (Lk 21:8). He then adds: "When you hear of wars and insurrections, do not be terrified" (v. 9). This is consoling especially in the present time. But what does Jesus mean by not letting ourselves be led astray He means avoiding the temptation to interpret dramatic events in a superstitious or catastrophic way, as if we are now close to the end of the world and it is useless to commit ourselves to doing good. If we think in this way, we let ourselves be guided by fear, and we may end up looking for answers with morbid curiosity in the ever-present chicanery of magic or horoscopes – today many Christians go visit magicians; they consult horoscopes as if they were the voice of God. Or again, we rely on some last-minute "messiah" who peddles wild theories, usually conspiratorial and full of doom and gloom – conspiratorial theories are bad, they cause us a lot of harm. The Spirit of the Lord is not to be found in such approaches: nor is he found by going to a "guru" or in the conspiratorial spirit; the Lord is not there. Jesus warns us: "Beware that you are not led astray". Do not be gullible or fearful, but learn how to interpret events with the eyes of faith, certain that by remaining close to God "not a hair of your head will perish" (v. 18).
If human history is filled with dramatic events, situations of suffering, wars, revolutions and disasters, it is also true, Jesus tells us, that that is not the end of the world (cf. v. 9). It is not a good reason for letting ourselves be paralyzed by fear or for yielding to the defeatism of those who think that everything is lost and that it is useless to take an active part in life. A disciple of the Lord should not yield to resignation or give in to discouragement, even in the most difficult situations, for our God is the God of resurrection and hope, who always raises up: with him we can lift up our gaze and begin anew. Christians, then, in the face of trials – whatever cultural, historical or personal trial – ask: "What is the Lord saying to us through this moment of crisis?" – me too, I ask myself the same question today: What is the Lord saying to us, especially in the midst of this third world war? What is the Lord saying to us? And when evil events occur that give rise to poverty and suffering, the Christian asks: "What good can I concretely do?" Do not run away, ask yourself the question: What is the Lord saying to me and what good can I do?
It is not by chance that Jesus' second exhortation, after "do not be led astray", is positive. He says: "This will give you an opportunity to testify" (v. 13). An opportunity to testify. I want to emphasize this fine word: opportunity. It means having the chance to do something good, starting from our situation in life, even when it is not ideal. It is a skill typically Christian not to be a victim of everything that happens – a Christian is not a victim, and the psychology of victimhood is not good, it is harmful – but to seize the opportunity that lies hidden in everything that befalls us, the good – however small – that can come about even from negative situations. Every crisis is a possibility and offers opportunities for growth. Every crisis is an openness to the presence of God, openness to humanity. But what does the spirit of evil want us to do? He wants us to turn crisis into conflict, and conflict is always closed in, without a horizon; a dead-end. No. Let us experience a crisis like human persons, like Christians, let us not turn it into conflict, because every crisis is a possibility and offers opportunities for growth. We realize this if we think back on our own history: in life, often our most important steps forward were taken in the midst of certain crises, in situations of trial, loss of control or insecurity. Then we understand the words of encouragement that Jesus today speaks directly to me, to you, to each one of us: when you see troubling events all around you, while wars and conflicts are on the rise, while earthquakes, famines and plagues are happening, what are you to do; what do I do? Do you distract yourself in order not to think about it? Do you amuse yourself in order not to get involved? Do you turn away in order not to see? Do you take the road of worldliness, of not being proactive and of not taking care of these dramatic situations? Do you simply resign yourself to what is happening? Or do these situations become opportunities to bear witness to the Gospel? Each one of us should ask himself or herself: in the midst of these calamities, in the midst of this terrible third world war, in the midst of hunger affecting many people, especially children: can I spend my money, my life and its meaning without being courageous and moving forward?
Brothers and sisters, on this World Day of the Poor God's word is a forceful admonition to break through that inner deafness, which we all suffer from, and which prevents us from hearing the stifled cry of pain of the frailest. Nowadays we too live in troubled societies and are witnesses, as the Gospel told us, to scenes of violence – we only have to think about the cruelty that the people of Ukraine are experiencing – injustice and persecution; in addition, we must face the crisis generated by climate change and the pandemic, which has left in its wake not only physical, but also psychological, economic and social maladies. Even now, brothers and sisters, we see peoples rising up against peoples and we witness with trepidation the vast expansion of conflicts and the calamity of war, which causes the death of so many innocent people and multiplies the poison of hatred. Today also, much more than in the past, many of our brothers and sisters, sorely tested and disheartened, migrate in search of hope, and many people experience insecurity due to the lack of employment or unjust and undignified working conditions. Today too, the poor pay the heaviest price in any crisis. Yet if our heart is deadened and indifferent, we cannot hear their faint cry of pain, we cannot cry with them and for them, we cannot see how much loneliness and anguish also lie hidden in the forgotten corners of our cities. We have to go the corners of the cities, for in these hidden and dark corners we see great misery and pain and abject poverty.
Let us take to heart the clear and unmistakable summons in the Gospel not to be led astray. Let us not listen to prophets of doom. Let us not be enchanted by the sirens of populism, which exploit people's real needs by facile and hasty solutions. Let us not follow the false "messiahs" who, in the name of profit, proclaim recipes useful only for increasing the wealth of a few, while condemning the poor to the margins of society. Instead, let us bear witness. Let us light candles of hope in the midst of darkness. Amid dramatic situations, let us seize opportunities to bear witness to the Gospel of joy and to build a fraternal world, or at least a bit more fraternal. Let us commit ourselves courageously to justice, the rule of law and peace, and stand always at the side of the weakest. Let us not step back to protect ourselves from history, but strive to give this moment of history, which we are experiencing, a different face.
How do we find the strength for all this? In the Lord. By trusting in God our Father, who watches over us. If we open our hearts to him, he will strengthen within us the capacity to love. This is the way: to grow in love. Indeed, after describing scenarios of violence and terror, Jesus concludes by saying, "Not a hair of your head will perish" (v. 18). But what does this mean? It means that he is with us; he walks with us to guide us. Do I have this conviction? Are you convinced that the Lord walks with you? We should always repeat this to ourselves, especially at times of greatest trouble: God is a Father, and he is at my side. He knows and loves me; he does not sleep, but watches over me and cares for me. If I stay close to him, not a hair of my head will perish. And how do I respond to this? By looking at our brothers and sisters in need; by looking at the throw away culture that discards the poor and people with few possibilities; a culture that discards the old and unborn… by looking at all of them; as a Christian, what should I do in this moment?
Since he loves us, let us resolve to love him in the most abandoned of his children. The Lord is there. There is an old tradition, even in some Italian regions, and I am sure some people still follow it: leaving an empty chair for the Lord at the Christmas dinner, and believing that he will surely come knocking at the door in the person of a poor person in need. Does your heart have a space for such persons?  Is there a place in my heart for such people? Or are we too busy attending to our friends, attending social events and other engagements which will never let us have a space for such people. Let us care for the poor, in whom we find Jesus, who became poor for our sake (cf. 2 Cor 8:9). He identifies with the poor. Let us feel challenged to care for them, lest even a hair of their head perish. Let us not be content, like the people in the Gospel, to admire the beautiful stones of the temple, while failing to recognize God's true temple, our fellow men and women, especially the poor, in whose face, in whose history, in whose wounds, we encounter Jesus. He told us so.  Let us never forget it.
Source: https://www.vatican.va/content/francesco/en/homilies/2022/documents/20221113-omelia-giornatamondiale-poveri.html
ANGELUS
Saint Peter's Square
Sunday, 13 November 2022
____________________________
Dear brothers and sisters, buongiorno, blessed Sunday!
Today's Gospel takes us to Jerusalem, in the most sacred place: the temple. There, around Jesus, some people speak about the magnificence of that grandiose building, "adorned with costly stones" (Lk 21:5). But the Lord states, "there will not be left a stone upon another stone that will not be thrown down" (Lk 21:6). He then adds to the story, explaining how in history almost everything collapses: there will be, he says, revolutions and wars, earthquakes and famines, pestilence and persecution (cf. vv. 9-17). As if to say: one should not place too much trust in earthly realities, which pass. These are wise words, which can however make us somewhat bitter. There are already many things going wrong. Why does the Lord even make such negative pronouncements? In reality his intention is not to be negative, it is otherwise – to give us a valuable teaching, that is, the way out of all this precariousness. And what is the way out? How can we come out of this reality that passes and passes, and will be no more?
It lies in a word that will perhaps surprise us. Christ reveals it in the final phrase of the Gospel, when he says: "By your perseverance you will secure your lives" (v. 19). Perseverance. What is perseverance? The word indicates being "very strict"; but strict in what sense? With oneself, considering oneself not up to standard? No. With others, becoming rigid and inflexible? Not this either. Jesus asks us to be "strict", uncompromising, persistent in what he has at heart, in what counts. Because, what truly counts, very often does not coincide with what attracts our interest. Like those people at the temple, we often prioritize the work of our hands, our achievements, our religious and civil traditions, our sacred and social symbols. This is fine, but we accord too much priority to them. These things are important, but they pass away. Instead, Jesus says to concentrate on what remains, to avoid devoting our life to building something that will then be destroyed, like that temple, and forgetting to build what will not collapse, to build on his word, on love, on goodness. To be persevering, to be strict and resolute in building on what does not pass away.
This, then, is perseverance: building goodness every day. To persevere is to remain constant in goodness, especially when the reality around us urges us to do otherwise. Let us reflect on a few examples: I know that prayer is important, but, like everyone, I too always have a lot to do, and so I put it off: "No, I am busy now, I can't, I'll do it later". Or, I see many crafty people who take advantage of situations, who dodge the rules, and so I too stop observing them and persevering in justice and legality: "But if these scoundrels do it, so will I!". Beware of this! And again: I carry out service in the Church, for the community, for the poor, but I see that many people in their free time think only of enjoying themselves, and so I feel like giving up and do what they do. Because I do not see results, or I get bored, or it does not make me happy.
Persevering, instead, is remaining in goodness. Let us ask ourselves: what is my perseverance like? Am I constant, or do I live faith, justice and charity according to the moment: I pray if I feel like it; I am fair, willing and helpful if it suits me; whereas if I am dissatisfied, if no-one thanks me, do I stop? In short, do my prayer and service depend on circumstances or on a heart that is steadfast in the Lord? If we persevere – Jesus reminds us – we have nothing to fear, even in the sad and ugly events of life, not even in the evil we see around us, because we remain grounded in the good. Dostoevsky wrote: "Have no fear of men's sin. Love a man even in his sin, for that is the semblance of Divine Love and is the highest love on earth" (The Brothers Karamazov, II, 6, 3g). Perseverance is the reflection in the world of God's love, because God's love is faithful, it is persevering, it never changes.
May Our Lady, servant of the Lord, persevering in prayer (cf. Acts 1:12), fortify our perseverance.
Source: https://www.vatican.va/content/francesco/en/angelus/2022/documents/20221113-angelus.html
ANGELUS
Saint Peter's Square
33rd Sunday in Ordinary Time C, 17 November 2019
---
Dear Brothers and Sisters,
Good Morning!
The Gospel of this penultimate Sunday of the liturgical year (cf. Lk 21:5-19) presents to us Jesus' discourse on the end of time. Jesus delivers it before the Temple of Jerusalem, a building admired by the people for its grandeur and splendour. But He prophesied that all the beauty of the Temple, that grandeur, "there shall not be left here one stone upon another that will not be thrown down" (v. 6). The destruction of the Temple foretold by Jesus is not so much a metaphor of the end of history as of the purpose of history. Indeed, before the listeners who want to know how and when these signs will happen, Jesus responds with the typical apocalyptic language of the Bible.
He uses two apparently contrasting images: the first is a series of frightening events: catastrophes, wars, famines, riots and persecutions (vv. 9-12); the other is reassuring: "Not a hair of your head will perish" (v. 18). First of all, there is a realistic look at history, marked by calamity and also by violence, by traumas that wound creation, our common home, and also the human family that lives there, and the Christian community itself. Think of the many wars today, so many catastrophes today. The second image — enclosed in Jesus' reassurance — tells us what attitude the Christian should adopt in living this story, characterized by violence and adversity.
And what is the attitude of the Christian? It is the attitude of hope in God, which allows us not to be overwhelmed by tragic events. Indeed, they are "a time to bear witness" (v. 13). Christ's disciples cannot remain slaves to fear and anxiety; instead they are called to live history, to stem the destructive force of evil, with the certainty that the Lord's action of goodness is always accompanied by His providential and reassuring tenderness. This is the eloquent sign that the Kingdom of God is approaching us, that is, the realization of the world as God wants it. It is He, the Lord, Who guides our existence and knows the ultimate purpose of things and events.
The Lord calls us to cooperate in the construction of history, becoming, together with Him, peacemakers and witnesses of hope in a future of salvation and resurrection. Faith makes us walk with Jesus on the very often tortuous roads of this world, in the certainty that the power of His Spirit will bend the forces of evil, subjecting them to the power of God's love. Love is superior, love is more powerful, because it is God: God is love. The Christian martyrs are an example to us — our martyrs, of our times too, who are more numerous than those at the beginning — who, despite persecution, are men and women of peace. They hand on an inheritance for us to preserve and imitate: the Gospel of love and mercy. This is the most precious treasure that has been given to us and the most effective witness that we can give to our contemporaries, responding to hatred with love, to offence with forgiveness. Even in our daily lives: when we receive an offence, we feel hurt; but we must forgive from the heart. When we feel we are hated, we must pray with love for the person who hates us. May the Virgin Mary, through her maternal intercession, sustain our daily journey of faith, following the Lord who guides history.
Source: https://www.vatican.va/content/francesco/en/angelus/2019/documents/papa-francesco_angelus_20191117.html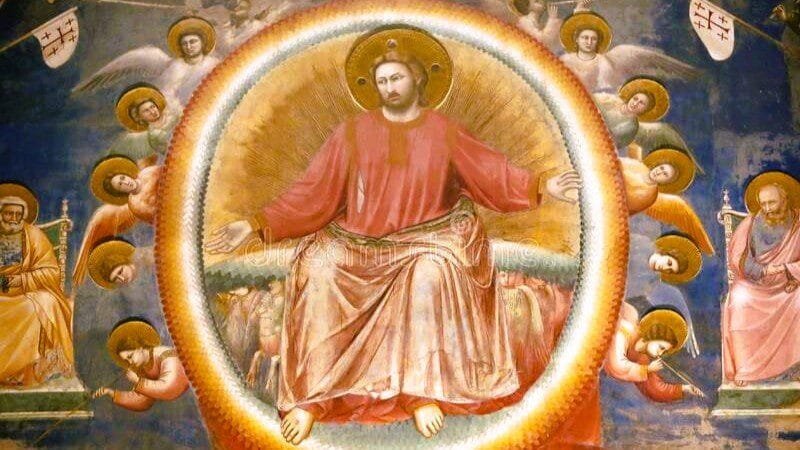 ANGELUS
Saint Peter's Square
33rd Sunday in Ordinary Time C, 13 November 2016
Dear Brothers and Sisters, Good morning!
Today's Gospel passage contains the first part of Jesus' discourse on the end times, [according to] the writing of Saint Luke (21:5-19). Jesus made this proclamation while standing before the Temple of Jerusalem, and was prompted by the peoples' words of admiration for the beauty of the sanctuary and its decorations (cf. v. 5). Then Jesus said: "the days will come when there shall not be left here one stone upon another that will not be thrown down" (v. 6). We can imagine the effect these words had on Jesus' disciples. However, he did not want to insult the temple, but rather make it understood — to them as well as to us today — that human structures, even the most sacred, are fleeting, and we should not place our security in them. How many supposedly definitive certainties have we had in our lives, which later were revealed to be ephemeral! On the other hand, how many problems have appeared to be a dead end, and then were overcome!
Jesus knows that there are always those who speculate about the human need for safety. For this reason, he says: "Take heed that you are not led astray" (v. 8), and guard against the many false Messiahs who will appear (v. 9). Even today there are these! And, he adds, do not be frightened and bewildered by wars, revolutions, and disasters, since even these are part of the world's reality (cf. vv. 10-11). The history of the Church is rich with examples of people who withstood tribulations and terrible suffering with serenity, because they were aware that they were firmly in God's hands. He is a faithful Father, an attentive Father, who does not abandon his children. God never abandons us! We must have this certainty in our heart: God never abandons us!
Remaining firm in the Lord, in this certainty that he does not abandon us, walking in hope, working to build a better world, despite the difficulties and sad circumstances which mark our personal and collective existence, is what really counts; it is how the Christian community is called to encounter the "day of the Lord". It is precisely within this context that we want to place the undertaking that we have lived with faith during these months of the Extraordinary Jubilee of Mercy, which concludes today in the Dioceses of the world with the closing of the Holy Doors in the cathedral Churches. The Holy Year impelled us, on the one hand, to fix our gaze toward the fulfillment of the Kingdom of God and, on the other, to build a future on this earth, working to evangelize the present, so we can make it a time of salvation for everyone.
In the Gospel Jesus encourages us to keep firmly in mind and in heart the certainty that God guides our history, and that he knows the final end of things and events. Under the the Lord's merciful gaze, history unravels in flowing uncertainty, and weaves between good and evil. However, all that happens is contained within him. Let us pray to the Virgin Mary that she may help us, through the happy and sad events of this world, to firmly maintain hope in eternity and in the Kingdom of God. Let us pray to the Virgin Mary, that she may help us deeply understand this truth: that God never abandons his children!
SOURCE: http://www.vatican.va/content/francesco/en/angelus/2016/documents/papa-francesco_angelus_20161113.html (EMPHASIS MINE).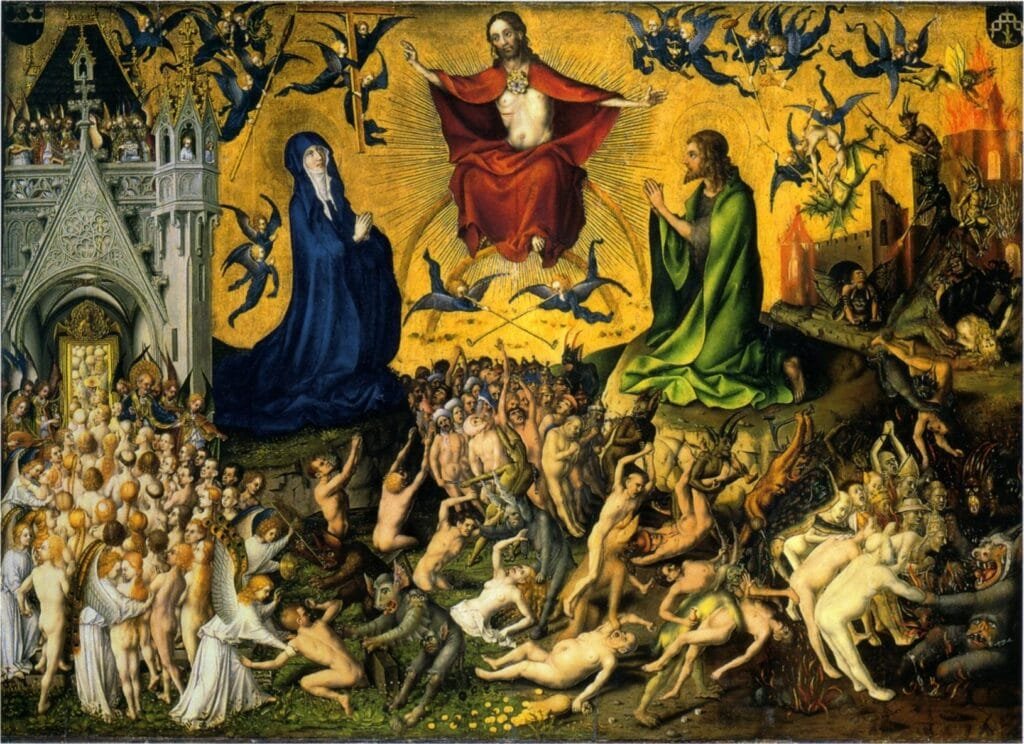 ANGELUS
Saint Peter's Square
33rd Sunday in Ordinary Time C, 17 November 2013
Dear Brothers and Sisters, Good morning!
This [33rd Sunday in Ordinary Time C] Sunday's Gospel passage (Lk 21:5-19) is the first part of Jesus' discourse on the end times. He delivers it in Jerusalem, close to the Temple, prompted by people discussing the Temple and its beauty. The Temple was very beautiful. Jesus says: "As for these things which you see, the days will come when there shall not be left here one stone upon another" (Lk 21:6). Of course they asked him: When will this happen? What will the signs be? But Jesus moves the focus from these secondary aspects — i.e. when will it be? What will it be like? — to the truly important questions. Firstly, not to let oneself be fooled by false prophets nor to be paralyzed by fear. Secondly, to live this time of expectation as a time of witness and perseverance. We are in this time of waiting, in expectation of the coming of the Lord.
Jesus' words are perennially relevant, even for us today living in the 21st century too. He repeats to us: "Take heed that you are not led astray; for many will come in my name" (v. 8). This Christian virtue of understanding is a call to discern where the Lord is, and where the evil spirit is present. Today, too, in fact there are false "saviours" who attempt to replace Jesus: worldly leaders, religious gurus, even sorcerers, people who wish to attract hearts and minds to themselves, especially those of young people. Jesus warns us: "Do not follow them, do not follow them!".
The Lord also helps us not to be afraid in the face of war, revolution, natural disasters and epidemics. Jesus frees us from fatalism and false apocalyptic visions.
The second aspect challenges us as Christians and as a Church: Jesus predicts that his disciples will have to suffer painful trials and persecution for his sake. He reassures them, however, saying: "Not a hair of your head will perish" (v. 18). This reminds us that we are completely in God's hands! The trials we encounter for our faith and our commitment to the Gospel are occasions to give witness; we must not distance ourselves from the Lord, but instead abandon ourselves even more to him, to the power of his Spirit and his grace.
I am thinking at this moment, let everyone think together. Let us do so together: let us think about our many Christian brothers and sisters who are suffering persecution for their faith. There are so many. Perhaps more now than in past centuries. Jesus is with them. We too are united to them with our prayers and our love; we admire their courage and their witness. They are our brothers and sisters who, in many parts of the world, are suffering for their faithfulness to Jesus Christ. Let us greet them with heartfelt affection.
At the end Jesus makes a promise which is a guarantee of victory: "By your endurance you will gain your lives" (v. 19). There is so much hope in these words! They are a call to hope and patience, to be able to wait for the certain fruits of salvation, trusting in the profound meaning of life and of history: the trials and difficulties are part of the bigger picture; the Lord, the Lord of history, leads all to fulfillment. Despite the turmoil and disasters that upset the world, God's design of goodness and mercy will be fulfilled! And this is our hope: go forward on this path, in God's plan which will be fulfilled. This is our hope.
Jesus' message causes us to reflect on our present time and gives us the strength to face it with courage and hope, with Mary who always accompanies us.
Source: https://www.vatican.va/content/francesco/en/angelus/2013/documents/papa-francesco_angelus_20131117.html
Stay updated: subscribe by email for free TO OUR NEW WEBSITE www.catholicsstrivingforholiness.org (PUT YOUR EMAIL IN THE SUBSCRIBE WIDGET).
We are also in www.fb.com/Catholicsstrivingforholiness. Kindly help more people in their Christian life by liking our page and inviting your family, friends and relatives to do so as well. Thanks in advance and God bless you and your loved ones! Fr. Rolly Arjonillo