HOMILY REFLECTION 11TH SUNDAY OF THE ORDINARY TIME YEAR B: THE PARABLE OF THE SEED AND THE MUSTARD SEED
HOMILY REFLECTION 11TH SUNDAY OF THE ORDINARY TIME YEAR B: THE PARABLE OF THE SEED AND THE MUSTARD SEED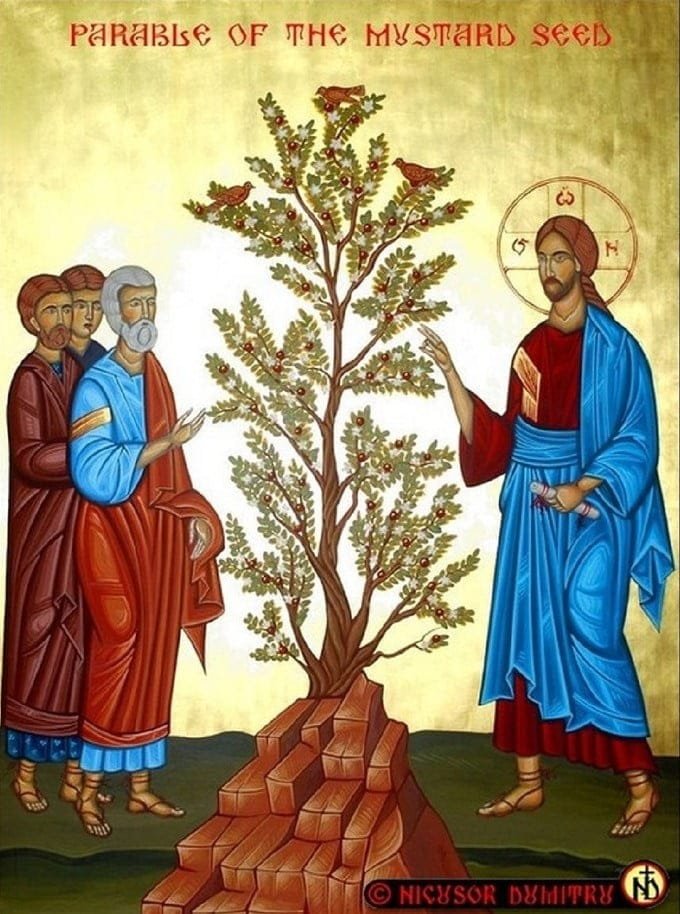 In tomorrow's Gospel, Our Lord presents two parables, that of the seed and the mustard seed ─BOTH OF WHICH ARE SYMBOLS OF GOD'S KINGDOM: HIS PRESENCE IN THE WORLD THROUGH HIS CHURCH AND IN OUR SOUL THROUGH HIS GRACE ─ in order to emphasize on the idea that the growth of the Kingdom of God be it in this world through His True Church, or in our soul as well, is in the first place a DIVINE ACTION: GOD HIMSELF IS THE ONE MAKES IT GROW AND SILENTLY ACTS IN HIS CHURCH AND IN US, WITHOUT US BEING FULLY AWARE OF IT.
This is a very important idea that we have to engrave in our heart, especially when pessimism intends to seep into our heart, when we see evil seemingly triumph in our society. We have to reject this pessimistic and hapless attitude immediately AND IMMEDIATELY REACT BY RENEWING OUR TRUST IN GOD WHO, THROUGH HIS DIVINE PROVIDENCE, IS PRESENTLY ACTING IN THE WORLD, IN HIS CHURCH, AND IN THE HEARTS OF MEN, COUNTING ON THEIR CORRESPONDENCE AS WELL. GOD IS FAITHFUL TO HIS PROMISES AND ONE DAY, THE KINGDOM OF GOD WHICH IS PRESENT ON EARTH THROUGH HIS CHURCH will arrive at the day of harvest (cf. Joel 3:13 and Rev. 14:15), that is, the Day of the Final Judgment (cf. Mt 25).
At the same time, GOD ACTS IN OUR SOUL IN GRACE, being the one responsible for our transformation into other Christs, but this and only IF WE LET AND ALLOW HIM TO SANCTIFY US. That is why it is necessary that we exert DAILY EFFORT REMOVE THE OBSTACLES IN OUR SOUL ─pride and sin─ and to have GOOD DISPOSITIONS ─remember the parable of the sower?─ so that Christ can sow his grace in us, grow in us, and transform us until we reach the "maturity in Christ" (cf. Eph 4:13). As St. Augustine said: "GOD, WHO CREATED YOU WITHOUT YOU, CANNOT SAVE YOU, WITHOUT YOU." The real initiative comes from God "BECAUSE IT IS THE HOLY SPIRIT WHO, WITH HIS INSPIRATIONS, GIVES A SUPERNATURAL TONE TO OUR THOUGHTS, DESIRES AND ACTIONS. IT IS HE WHO LEADS US TO RECEIVE CHRIST'S TEACHING AND TO ASSIMILATE IT IN A PROFOUND WAY. IT IS HE WHO GIVES US THE LIGHT BY WHICH WE PERCEIVE OUR PERSONAL CALLING AND THE STRENGTH TO CARRY OUT ALL THAT GOD EXPECTS OF US. IF WE ARE DOCILE TO THE HOLY SPIRIT, THE IMAGE OF CHRIST WILL BE FOUND MORE AND MORE FULLY IN US, AND WE WILL BE BROUGHT CLOSER EVERY DAY TO GOD THE FATHER. 'For whoever are led by the Spirit of God, they are the children of God' (Rom 8:14)" (J. Escrivá, Christ is passing by, 135).
Dear friends, LET US THEN ALLOW GOD TO ACT IN US AND AT THE SAME TIME PUT ALL THE MEANS TO FREQUENT THE FOUNTAIN OF HIS GRACE ─PRAYER, SACRAMENTS, SACRIFICES, DAILY STRUGGLE TO LIVE THE VIRTUES─ SO THAT OUR FAITH, HOPE AND LOVE MAY GROW AND REACH ITS PLENITUDE TO THE FULLNESS OF CHRIST'S LIFE IN US ─ HOLINESS─ AND AT THE SAME TIME GIVE STRENGTH AND CONSOLATION TO THE SOULS GOD HAS PLACED BESIDE US. We ask this through the intercession of Our Lady's Immaculate Heart: "O God, strength of those who hope in you, graciously hear our pleas, and since without you mortal frailty can do nothing grant us always the help of your grace, that in following your commands we may please you by our resolve and our deeds (Collect Prayer, Mass of 11th Sunday of Ordinary Time)."
Stay updated: subscribe by email for free TO OUR NEW WEBSITE www.catholicsstrivingforholiness.org (PUT YOUR EMAIL IN THE SUBSCRIBE WIDGET).
We are also in www.fb.com/Catholicsstrivingforholiness. Kindly help more people in their Christian life by liking our page and inviting your family, friends and relatives to do so as well. Thanks in advance and God bless you and your loved ones! Fr. Rolly Arjonillo