WHY DO CATHOLICS LOVE MOTHER MARY? HERE'S WHY.
WHY DO CATHOLICS LOVE MOTHER MARY?
HERE'S WHY.
Love for Our Lady has often been misunderstood by non-Catholic Christians for they have been erroneously taught that Catholics adore Mary. But really we don't for we do not adore but rather venerate Mary as the Mother of Our Lord Jesus Christ. Catholics reserve adoration and worship to God alone, the Most Holy Trinity: God the Father, God the Son and God the Holy Spirit.
Veneration is the honor rendered to the saints for their union with God and holiness. The Blessed Virgin Mary occupies the highest and most privileged place among all saints, being "full of grace (Lk 1:28)" and thereby deserves our admiration, honor and filial love. Why?
Why do we Catholics love Mother Mary?
Because she is the Mother of Our Lord Jesus Christ, true God and true Man;
Because Jesus gave her to us: she is also our mother. "Woman, behold your son," Jesus told Our Lady; Son, behold your Mother," Jesus told John at Calvary (Jn 19: 26-27). In John, we are all represented. With these words, Mary has become the mother of all believers in Christ. Through Baptism, the Mother of Divine Grace has become our Mother by giving birth to us into the spiritual life of divine grace,
Because she leads us to Her Son. "Do whatever He tells you (Jn 2:5)," she said at the Wedding of Cana;
Because as our mother, she loves us, and love is with love repaid;
But above all, because Jesus, God the Son, together with God the Father, and God the Holy Spirit, the Three Divine Persons, love her.
As Christians, we are called to imitate Our Lord Jesus Christ, the Way to the Father through the Holy Spirit. And this includes His love for Our Lady!
You as a Christian, do you love her?
---
SEE AS WELL: HONOR MARY. LOVE MARY
https://catholicsstrivingforholiness.org/honor-mary-love-mary/
---
READ MORE POSTS ON MOTHER'S DAY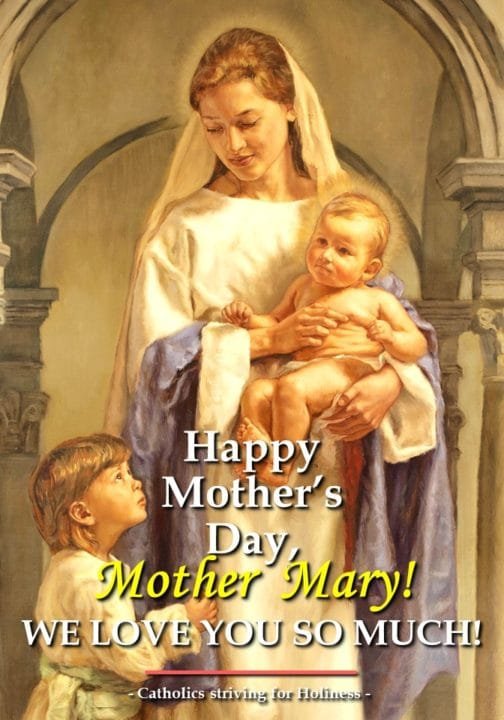 SEE AS WELL:
Stay updated: subscribe by email for free TO OUR NEW WEBSITE www.catholicsstrivingforholiness.org (PUT YOUR EMAIL IN THE SUBSCRIBE WIDGET).
We are also in www.fb.com/Catholicsstrivingforholiness. Kindly help more people in their Christian life by liking our page and inviting your family, friends and relatives to do so as well. Thanks in advance and God bless you and your loved ones! Fr. Rolly Arjonillo