WHAT DOES THE NAME "MARY" MEAN?
WHAT
DOES
THE NAME "MARY" MEAN?
"And the Virgin's name was Mary (Lk 1:27)."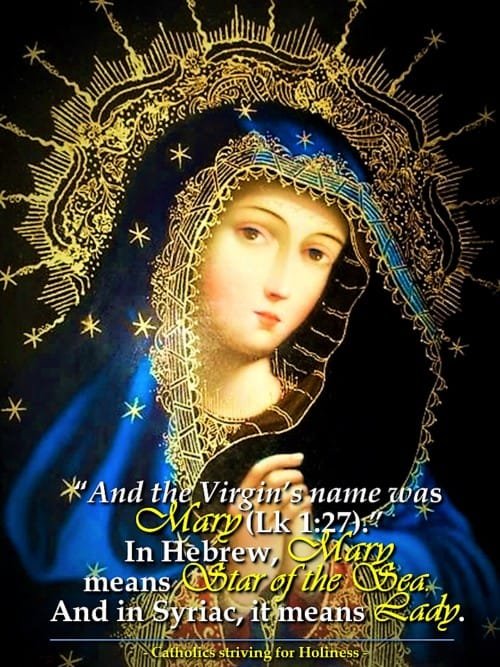 In Hebrew, Mary spiritually means the "Star of the Sea". (Literally, the Hebrew word "Maryam" could mean drop of sea, beloved, rebellious, bitterness or beautiful)
And in Syriac, it means "Lady".
And with reason for in her womb she bore the Lord of the universe and the undimming Light of the world to all peoples.
Throughout the centuries, the saints had different interpretations of the name of Mary.
"Mary means enlightener, because She brought forth the Light of the world. In the Syriac tongue, Mary signifies Lady." [St. Isidore of Seville +636]
"Let me say something concerning this name also, which is interpreted to mean Star of the sea, and admirably suits the Virgin Mother." [St. Bernard +1153]
"Mary means Star of the sea, for as mariners are guided to port by the ocean star, so Christians attain glory through Mary's maternal intercession." [St. Thomas Aquinas +1274]
"This most holy, sweet and worthy name was 'eminently fitted to so holy, sweet and worthy a virgin. For Mary means bitter sea star of the sea, the illuminated or illuminatrix. Mary is interpreted Lady. Mary is a bitter sea to the demons; to men She is the Star of the sea; to the Angels She is illuminatrix, and to all creatures She is Lady ." [St. Bonaventure +1274]
God the Father gathered all the waters together and called them the seas or maria [Latin, seas]. He gathered all His grace together and called it Mary or Maria . . .This immense treasury is none other than Mary whom the Saints call the 'treasury of the Lord.' From Her fullness all men are made rich;" [St. Louis de Montfort +1716]
"Which shall we admire first? The tremendous submission of the Son of God, or the tremendous God-given dignity of the Mother of God? Both are marvels: both amazing. When God obeys a woman, it is humility without precedent. When a woman commands her God, it is sublime beyond measure." [St. Bernard, First Homily on the Missus Est]
As all mothers desire that their children are always near them, even if they are already grown-ups, let us always have recourse to our Mother, calling her name, not only when we are in need, but in every moment of our life, as a manifestation of our filial love and devotion.
Mother Mary, we call upon you as always. Despise us not in our necessities, but ever help us in all our endeavours. Lead us safely to our heavenly port. A great day ahead, united with God through Jesus, Mary and Joseph. Fr. Rolly Arjonillo
SEE AS WELL THIS BEAUTIFUL VIDEO ON THE HISTORY OF THE FEAST OF THE HOLY NAME OF MARY. Best with sound.
Stay updated: subscribe by email for free TO OUR NEW WEBSITE www.catholicsstrivingforholiness.org (PUT YOUR EMAIL IN THE SUBSCRIBE WIDGET).
We are also in www.fb.com/Catholicsstrivingforholiness. Kindly help more people in their Christian life by liking our page and inviting your family, friends and relatives to do so as well. Thanks in advance and God bless you and your loved ones! Fr. Rolly Arjonillo