TUESDAY 3RD WEEK IN ORDINARY TIME GOSPEL, COMMENTARY AND READING. "WHO ARE MY MOTHER AND MY BROTHERS?" (Mk 3:22–30)
TUESDAY 3RD WEEK IN ORDINARY TIME GOSPEL, COMMENTARY AND READING. "WHO ARE MY MOTHER AND MY BROTHERS?" (Mk 3:22–30)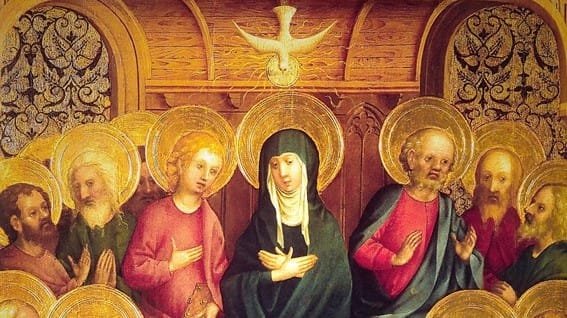 GOSPEL OF MONDAY OF THE 3RD WEEK IN ORDINARY TIME
Mk 3:31–35
"Who are my mother and my brothers?"
The mother of Jesus and his brothers arrived at the house. Standing outside, they sent word to Jesus and called him. A crowd seated around him told him, "Your mother and your brothers and your sisters are outside asking for you." But he said to them in reply, "Who are my mother and my brothers?" And looking around at those seated in the circle he said, "Here are my mother and my brothers. For whoever does the will of God is my brother and sister and mother."

GOSPEL COMMENTARY FROM THE NAVARRE BIBLE, GOSPEL OF ST. MARK
31-35 In Aramaic, the language used by the Jews, the word "brethren" is a broad term indicating kinship : nephews, first cousins and relatives in general are called 'brethren' (for further explanation cf. note on Mk 6:1-3). "Jesus did not say this to disown his mother, but to show that she is worthy of honour not only on account having given birth to Jesus, but also because she has all the virtues" (Theonhilactus, Enarratio in Evangelium Marci, in loc.).

Therefore, the Church reminds us that the Blessed Virgin "in the course of her Son's preaching received the words whereby, in extolling a kingdom beyond the concerns and ties of flesh and blood, he declared blessed those who heard and kept the word of God as she was faithfully doing" (Vatican II, Lumen gentium, 58).
Our Lord, then, is also telling us that if we follow him we will share his life more intimately than if we were a member of his family. St Thomas explains this by saying that Christ "had an eternal generation and a generation in time, and gave preference to the former. Those who do the will of the Father reach him by heavenly generation… Everyone who does the will of the Father, that is to say, who obeys him, is a brother or sister of Christ, because he is like Him who fulfilled the will of his Father. But he who not only obeys but converts others, begets Christ in them, and thus becomes like the Mother of Christ" (Commentary on St Matthew, 12, 49-50).
---
In another Gospel passage, St. Mark writes 6: 3: Is not this the carpenter, the son of Mary and brother of James and Joses and Judas and Simon, and are not his sisters here with us?" And they took offence at him.
In the above passages, the words "brother and sisters" appear. As explained above, let us not forget however that IN ARAMAIC, THE LANGUAGE USED BY THE JEWS, THE WORD "BRETHREN" IS A BROAD TERM INDICATING DIFFERENT DEGREES OF RELATIONSHIP AND KINSHIP: NEPHEWS, FIRST COUSINS AND RELATIVES IN GENERAL ARE CALLED 'BRETHREN'.
THE WORD "BROTHER" DOES NOT NECESSARLY MEAN SON OF THE SAME PARENTS. IT CAN ALSO INDICATE OTHER DEGREES OF RELATIONSHIPS — COUSINS, NEPHEWS ETC. Thus in Gen 13:8 and 14:14 and 16 Lot is called the brother of Abraham (translated as "kinsman" in RSV), whereas we know that he was Abraham's nephew, the son of Abraham's brother Haran. The same is true of Laban, who is called the brother of Jacob (Gen 29:15) although he was his mother's brother (Gen 29:15); there are other instances: cf. 1 Chron 23:21-22, etc. THIS CONFUSION IS DUE TO THE POVERTY OF HEBREW AND ARAMAIC LANGUAGE: IN THE ABSENCE OF DISTINCT TERMS, THE SAME WORD, BROTHER, IS USED TO DESIGNATE DIFFERENT DEGREES OF RELATIONSHIP.
From other Gospel passages we know that James and Joses, who are mentioned here, were sons of Mary of Cleophas (Jn 19:25). We know less about Judas and Simon: it seems that they are the apostles Simon the Cananaean (Mt 10:4) and Judas the son of James (Lk 6:16), the author of the universal epistle, in which he describes himself as "brother" of James.

In any event, although James, Simon and Judas are referred to as brothers of Jesus, it is nowhere said they were "sons of Mary", which would have been the natural thing if they had been our Lord's brothers in the strict sense.

Jesus always appears as an only son to the people of Nazareth, he is "the son of Mary" (Mt 13:55). When he was dying Jesus entrusted his mother to St John (cf. Jn 19:26-276), which shows that Mary had no other children. To this is added the constant belief of the Church, which regards Mary as the ever-virgin "a perfect virgin before, while, and forever after she gave birth" (Paul IV, Cum quorumdam). THIS IS WHAT THE CATHOLIC CHURCH BELIEVES AND TEACHES: THE PERPETUAL VIRGINITY OF MARY, MOTHER OF GOD.
Mary is ever virgin in the sense that she "remained a virgin in conceiving her Son, a virgin in giving birth to him, a virgin in carrying him, a virgin in nursing him at her breast, always a virgin" (Saint Augustine). Therefore, when the Gospels speak of the "brothers and sisters of Jesus", they are talking about the close relations of Jesus, according to the way of speaking used in Sacred Scripture.

Compendium of the Catechism, n. 99. See as well Catechism of the Catholic Church, nos. 499-507; 510-511.
Hence, as to the question whether JESUS HAD BIOLOGICAL BROTHERS AND SISTERS, the answer, based on the Scriptures, Tradition and Magisterium is: NO, HE DIDN'T.
Furthermore, Jesus' reply "Here are my mother and my brothers. For whoever does the will of God is my brother and sister and mother," rather than a disrespect, is a great praise towards his mother, for there is no ther human person who knew how to fulfill and put God's will as the priority of her life like she did.
Her fiat was highly meritorious and effective for the salvation of humanity. Abandonment in God brings with it a trust in God without limits. God is seen as a Provident Father in everything and in each moment of one's existence, even during moments of tribulation or at the Cross. This is the only thing which provides us a great peace and joy.
Stay safe and healthy. God bless. Fr. Rolly Arjonillo.
Almighty ever-living God, direct our actions according to your good pleasure, that in the name of your beloved Son we may abound in good works. Through our Lord.

Collect prayer 3rd week in Ordinary Time
---
VIDEO COMMENTARY ON JAN. 25 GOSPEL
TOPIC: DO YOU WANT TO KNOW HOW TO ENDURE HARDSHIPS?
Today, we have two alternative gospel readings – one for the 3rd week in Ordinary Time (Mark 3:31-35) and the one for the Memorial of St. Timothy and St. Titus (Luke 10:1-9).In the gospel according to Mark, Jesus was alerted by some in the crowd about the presence of His relatives outside the house. He seems to ignore His own relatives, busying Himself in preaching to those gathered. Let us not be misled into thinking that He did not love and respect His relatives, especially Mary. But He used this opportunity to teach His listeners about a higher reality – one's relationship with God. The zeal of Timothy and Titus ((Timothy 1:1-8 or Titus 1:1-5) and the 72 disciples sent was evident in their burning desire to evangelize the places they went to. We, too, can have that fervor despite our own challenges if we know what we should have and do.
---
---
Stay updated: subscribe by email for free TO OUR NEW WEBSITE www.catholicsstrivingforholiness.org (PUT YOUR EMAIL IN THE SUBSCRIBE WIDGET).
We are also in www.fb.com/Catholicsstrivingforholiness. Kindly help more people in their Christian life by liking our page and inviting your family, friends and relatives to do so as well. Thanks in advance and God bless you and your loved ones! Fr. Rolly Arjonillo