TUESDAY 2ND WEEK IN ORDINARY TIME GOSPEL, COMMENTARY AND READING. "THE SON OF MAN IS LORD OF THE SABBATH" (Mk 2:23–28).
TUESDAY 2ND WEEK IN ORDINARY TIME GOSPEL, COMMENTARY AND READING. "THE SON OF MAN IS LORD OF THE SABBATH" (Mk 2:23–28).
GOSPEL OF TUESDAY OF THE 2ND WEEK IN ORDINARY TIME
Mk 2:23–28 
The law of the Sabbath
As Jesus was passing through a field of grain on the sabbath, his disciples began to make a path while picking the heads of grain. At this the Pharisees said to him, "Look, why are they doing what is unlawful on the sabbath?" He said to them, "Have you never read what David did when he was in need and he and his companions were hungry? How he went into the house of God when Abiathar was high priest and ate the bread of offering that only the priests could lawfully eat, and shared it with his companions?" Then he said to them, "The sabbath was made for man, not man for the sabbath. That is why the Son of Man is lord even of the sabbath."
COMMENTARY FROM THE NAVARRE BIBLE, COMMENTARY TO THE GOSPEL OF ST. MARK.
The sabbath had been established not only for man's rest but also to allow him give glory to God: that is the correct meaning of the expression "the sabbath was made for man."
Jesus has every right to say he is lord of the sabbath, because he is God.

Christ restores to the weekly day of rest its full, religious meaning it is not just a matter of fulfilling a number of legal precepts or of concern for physical well-being: the sabbath belongs to God; it is one way, suited to human nature, of rendering glory and honour to the Almighty.

The Church, from the time of the Apostles onwards

, transferred the observance of this precept to the following day, Sunday — the Lord's day — in celebration of the Resurrection of Christ

.
"Son of man": the origin of the messianic meaning of this expression is to be found particularly in the prophecy in Dan 7:13ff, where Daniel, in a prophetic vision, contemplates 'one like a son of man' coming down on the clouds of heaven, who even goes right up to God's throne and is given dominion and glory and royal power over all peoples and nations.

This expression appears 69 times in the Synoptic Gospels; Jesus prefers it to other ways of describing the Messiah — such as Son of David, Messiah, etc. — thereby avoiding the nationalistic overtones those expressions had in Jewish minds at the time (cf. "Introduction" to the Gospel according to St Mark, pp. 63f above).
Stay safe always. A great day ahead and God bless! Fr. Rolly Arjonillo
Almighty ever-living God, who govern all things, both in heaven and on earth, mercifully hear the pleading of your people and bestow your peace on our times. Through our Lord.

Collect prayer 2nd week in Ordinary Time
---
VIDEO COMMENTARY
TOPIC: DO YOU WONDER WHY YOU CANNOT FIND PERMANENT FULFILLMENT AND HAPPINESS?
In today's gospel reading (Mark 2:23-28), Jesus teaches us how Sabbath day should be observed. The Pharisees accused Jesus and His disciples of violating the law of not working on a Sabbath day by cutting ears of corn. How man can complicate what God has originated – that of saving a day to have more time with Him (Exodus 20:8-11; 21:13 and Deuteronomy 5:14) – by coming up with 39 kinds of forbidden work (Navarre Bible Commentary).If we are to respond to God's call to holiness, there are three points we need to consider:
1. Is our spending time with God, especially on Sunday, just a duty or an ardent desire to know Him more, love Him more and serve Him more?
2. Are we truly modelling Christ here on earth for others to follow or are we a mediocre representation of holiness?
3. Do we really spend time to commune with God or are we more concerned of doing other things?
---
READING FROM WRITINGS OF SAINTS


Who can express the binding power of divine love?



by Pope St. Clement I to the Cointhians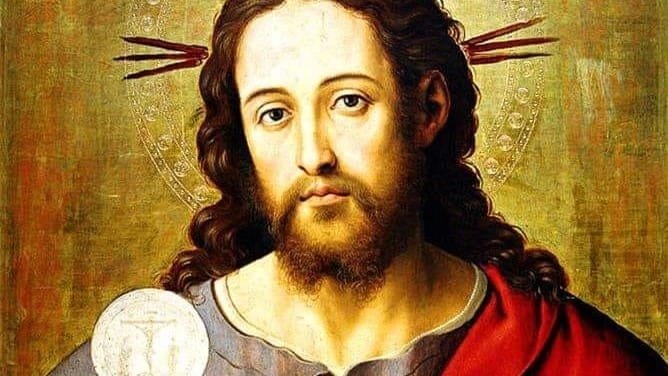 Let the man truly possessed by the love of Christ keep his commandments. Who can express the binding power of divine love? Who can find words for the splendour of its beauty? Beyond all description are the heights to which it lifts us. Love unites us to God; it cancels innumerable sins, has no limits to its endurance, bears everything patiently. Love is neither servile nor arrogant. It does not provoke schisms or form cliques, but always acts in harmony with others. By it all God's chosen ones have been sanctified; without it, it is impossible to please him. Out of love the Lord took us to himself; because he loved us and it was God's will, our Lord Jesus Christ gave his life's blood for us – he gave his body for our body, his soul for our soul.  
See then, beloved, what a great and wonderful thing love is, and how inexpressible its perfection. Who are worthy to possess it unless God makes them so? To him therefore we must turn, begging of his mercy that there may be found in us a love free from human partiality and beyond reproach. Every generation from Adam's time to ours has passed away; but those who by God's grace were made perfect in love have a dwelling now among the saints, and when at last the kingdom of Christ appears, they will be revealed. Take shelter in your rooms for a little while, says Scripture, until my wrath subsides. Then I will remember the good days, and will raise you from your graves.  
Happy are we, beloved, if love enables us to live in harmony and in the observance of God's commandments, for then it will also gain for us the remission of our sins. Scripture pronounces happy those whose transgressions are pardoned, whose sins are forgiven. Happy the man, it says, to whom the Lord imputes no fault, on whose lips there is no guile. This is the blessing given those whom God has chosen through Jesus Christ our Lord. To him be glory for ever and ever. Amen.
Stay updated: subscribe by email for free TO OUR NEW WEBSITE www.catholicsstrivingforholiness.org (PUT YOUR EMAIL IN THE SUBSCRIBE WIDGET).
We are also in www.fb.com/Catholicsstrivingforholiness. Kindly help more people in their Christian life by liking our page and inviting your family, friends and relatives to do so as well. Thanks in advance and God bless you and your loved ones! Fr. Rolly Arjonillo