THURSDAY DEVOTION TO JESUS IN THE HOLY EUCHARIST.
THURSDAY DEVOTION TO JESUS IN THE MOST HOLY EUCHARIST.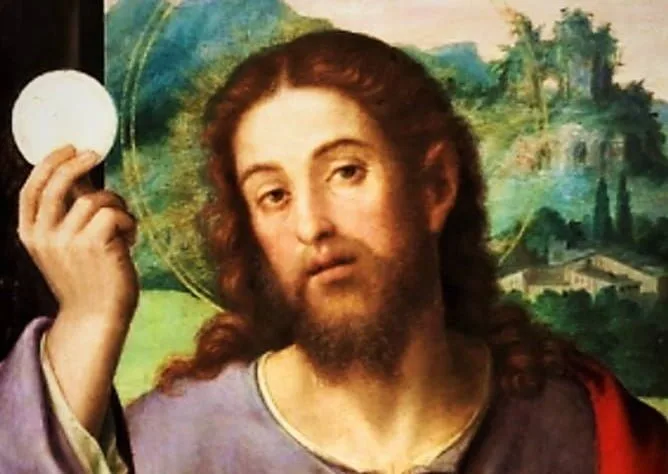 Dear brethren in Christ, Happy Thursday!
Thursday is devoted to the Most Holy Eucharist as it is when this Sacrament was instituted by Our Lord for the very 1st time during the Last Supper. As such, the entire Catholic Church in its tradition has dedicated this day to grow in our adoration, love and devotion to Our Lord Jesus Christ, really, truly and substantially present in the Holy Eucharist.
There are many ways to grow in one's love and devotion to Jesus in the Holy Eucharist:
One can go to Holy Mass;
make a visit to Our Lord in the Blessed Sacrament;
One can spend some moment in intimate prayer with Our Lord who awaits for us in the Tabernacle…
St. Josemaria taught people this wonderful Thursday devotion as well. He encouraged them to meditate in their prayer the Hymn, "Adoro te devote" composed by St. Thomas Aquinas. There are many translations of this hymn originally written in Latin. Nevertheless, for those who wish to have this prayer, here is a literal English translation:
I devoutly adore you, O hidden Deity,
Truly hidden beneath these appearances.
My whole heart submits to you,
And in contemplating you, It surrenders itself completely.
Sight, touch, taste are all deceived in their judgment of you,
But hearing suffices firmly to believe.
I believe all that the Son of God has spoken;
There is nothing truer than this word of truth.
On the cross only the divinity was hidden,
But here the humanity is also hidden.
I believe and confess both,
And ask for what the repentant thief asked.
I do not see the wounds as Thomas did,
But I confess that you are my God.
Make me believe more and more in you,
Hope in you, and love you.
O memorial of our Lord's death!
Living bread that gives life to man,
Grant my soul to live on you,
And always to savor your sweetness.
Lord Jesus, Good Pelican,
wash my filthiness and clean me with your blood,
One drop of which can free
the entire world of all its sins.
Jesus, whom now I see hidden,
I ask you to fulfill what I so desire:
That the sight of your face being unveiled
I may have the happiness of seeing your glory. Amen.
LORD JESUS, THANK YOU FOR INSTITUTING THE SACRAMENT OF THE HOLY EUCHARIST SO AS TO BE WITH AND IN US TILL THE END OF TIME
to accompany us, to strengthen and nourish us, to console us, to remedy our sins and our weakness, and above all, to show us your never-ending Love, unafraid of sacrificing Yourself and being "imprisoned" in the Tabernacle.
Truly, You are our strength, our hope, our consolation, our joy, our Love.
We adore You, we hope in You, we love You,
Lord Jesus truly, really and substantially present in the Holy Eucharist.
Blessed be Jesus in the Most Holy Sacrament of the altar!
WATCH AS WELL POPE FRANCIS GIVING THE BENEDICTION DURING THE WYD 2016 IN POLAND.
Stay updated: subscribe by email for free TO OUR NEW WEBSITE www.catholicsstrivingforholiness.org (PUT YOUR EMAIL IN THE SUBSCRIBE WIDGET).
We are also in www.fb.com/Catholicsstrivingforholiness. Kindly help more people in their Christian life by liking our page and inviting your family, friends and relatives to do so as well. Thanks in advance and God bless you and your loved ones! Fr. Rolly Arjonillo