The Passion of Our Lord Jesus Christ 1. THE AGONY IN THE GARDEN.
The Passion of Our Lord Jesus Christ.
THE AGONY IN THE GARDEN.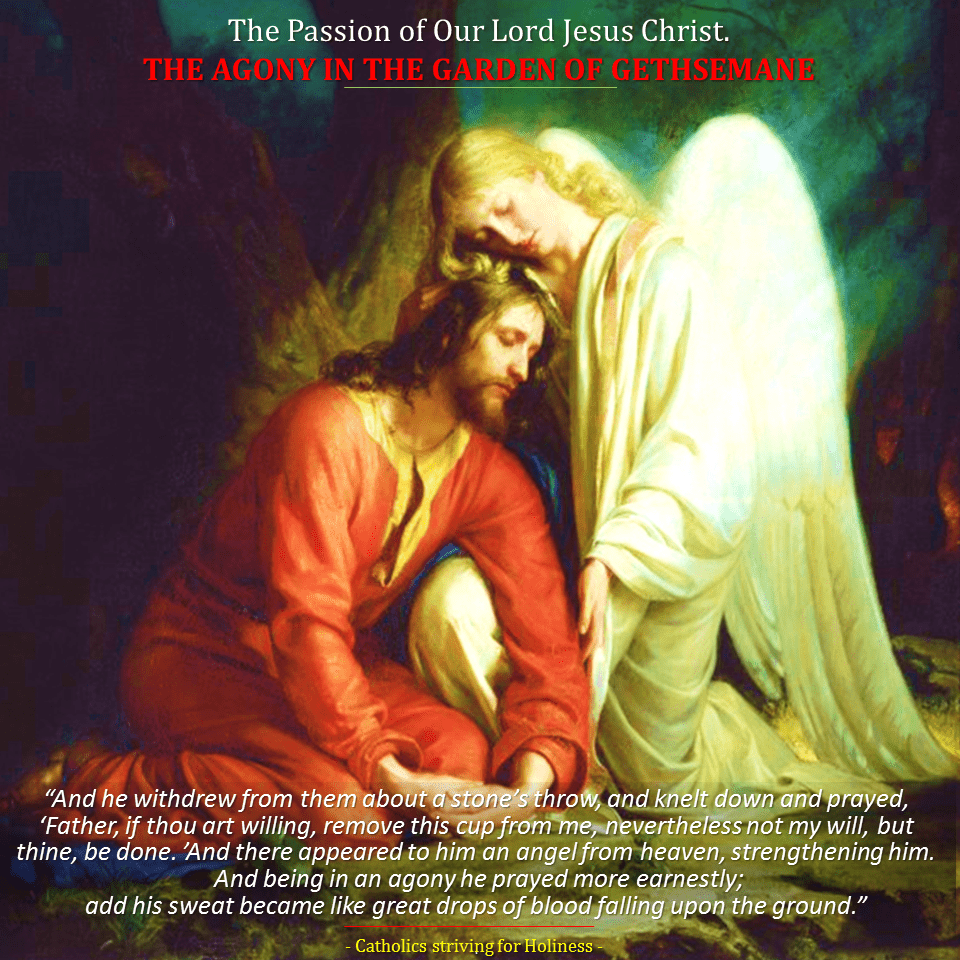 The Gospel of St. Luke 22: 39-46 recounts to us what happened after Jesus and the disciples observed the Passover meal: they went to Mount of Olives to pray.
"And he came out, and went, as was his custom, to the Mount of Olives; and the disciples followed him. And when he came to the place he said to them, 'Pray that you may not enter into temptation.' And he withdrew from them about a stone's throw, and knelt down and prayed, 'Father, if thou art willing, remove this cup from me, nevertheless not my will, but thine, be done.'And there appeared to him an angel from heaven, strengthening him. And being in an agony he prayed more earnestly; add his sweat became like great drops of blood falling upon the ground. And when he rose from prayer, he came to the disciples and found them sleeping for sorrow, and he said to them, 'Why do you sleep? Rise and pray that you may not enter into temptation.'"
---
POINTS OF MEDITATION:
Knowing that his Passion and Death are approaching, Jesus turned to God the Father to pray, and encouraged his disciples to do the same so that they "may not enter into temptation."
Teresa of Avila once said that he who does not pray does not need the devil to be tempted and fall.
We must try to be constant in our prayer for not only in it do we receive the graces in order to overcome temptations during the day, but also through it we grow in our knowledge, faith, friendship and love for God.
Jesus also taught us that in times of anguish and distress, we need to pray and turn to Our Father to open our heart, tell Him what troubles us: by doing so, we will obtain peace and serenity when we come to accept God's Will and abandon everything into God's hands.
While Jesus was praying, he underwent a severe mental anguish such that the physician Luke recounts that his sweat "became like great drops of blood".
Here, St. Luke was not speaking figuratively but rather literally.
According to a scientific study, "Although this is a very rare phenomenon, bloody sweat (hematidrosis or hemohidrosis) may occur in highly emotional states or in persons with bleeding disorders. As a result of hemorrhage into the sweat glands, the skin becomes fragile and tender. Luke's descriptions supports the diagnosis of hematidrosis rather than eccrine chromidrosis (brown or yellow-green sweat) or stigmatization (blood oozing from the palms or elsewhere). Although some authors have suggested that hematidrosis produced hypovolemia, we agree with Bucklin that Jesus' actual blood loss probably was minimal. However, in the cold night air, it may have produced chills (William D. Edwards, et al., "ON THE PHYSICAL DEATH OF JESUS CHRIST" in "The Journal of the American Medical Association," March 21, 1986, Volume 256). "
Jesus, Perfect God and Perfect Man! We could surmise such intense emotional state of anguish Our Lord suffered at Gethsemane with the thought of His approaching Passion and Death. But He willing accepted to suffer, for love of us: "Father…not my will, but thine, be done."
Lord Jesus, thank you for your generosity and willingness to suffer for me. May I imitate your example of prayer, not only during moments of distress, but incorporating it in my daily plan of life. May I also fulfill God's will, without being afraid to suffer for the sake of Love and for the salvation of souls.
Photo: Painting by Carl Bloch, Christ in Gethsemane
---
FOR MEDITATIONS ON THE MYSTERIES OF THE PASSION AND DEATH OF OUR LORD,
CLICK ON THE FOLLOWING LINKS.
SEE AS WELL:
1. THE AGONY IN THE GARDEN: https://catholicsstrivingforholiness.org/the-passion-of-our-lord-jesus-christ-the-agony-in-the-garden/
2. THE JEWISH AND ROMAN TRIALS: https://catholicsstrivingforholiness.org/the-passion-of-our-lord-jesus-christ-jesus-sufferings-during-the-jewish-and-roman-trials/
3. THE SCOURGING AT THE PILLAR: https://catholicsstrivingforholiness.org/the-passion-of-our-lord-jesus-christ-3-the-scourging-at-the-pillar/
4. THE CROWNING WITH THORNS: https://catholicsstrivingforholiness.org/the-passion-of-our-lord-jesus-christ-the-crowning-with-thorns/
5. THE CARRYING OF THE CROSS: https://catholicsstrivingforholiness.org/the-passion-of-our-lord-jesus-christ-5-the-carrying-of-the-cross/
6. THE CRUCIFIXION OF OUR LORD
https://catholicsstrivingforholiness.org/the-crucifixion-of-our-lord-meditation-on-the-passion-of-our-lord-jesus-christ-6-summary-vid-full-text/
7. GOOD FRIDAY: https://catholicsstrivingforholiness.org/good-friday-it-is-finished-jn-1930/
8. HOW TO MEDITATE ON THE PASSION OF OUR LORD: https://catholicsstrivingforholiness.com/2016/03/13/how-to-meditate-on-the-passion-of-our-lord/
9. SUMMARY OF CATHOLIC TEACHING. THE PASSION AND DEATH ON THE CROSS: https://catholicsstrivingforholiness.org/summaries-of-catholic-teaching-topic-10-the-passion-and-death-on-the-cross-of-our-lord-jesus-christ/
Stay updated: subscribe by email for free TO OUR NEW WEBSITE www.catholicsstrivingforholiness.org (PUT YOUR EMAIL IN THE SUBSCRIBE WIDGET).
We are also in www.fb.com/Catholicsstrivingforholiness. Kindly help more people in their Christian life by liking our page and inviting your family, friends and relatives to do so as well. Thanks in advance and God bless you and your loved ones! Fr. Rolly Arjonillo