TEMPTATIONS: NOTION, KINDS, WHEN IS IT SINFUL, AND POSITIVE VALUE.
TEMPTATIONS:
NOTION, KINDS, WHEN IS IT SINFUL, AND POSITIVE VALUE.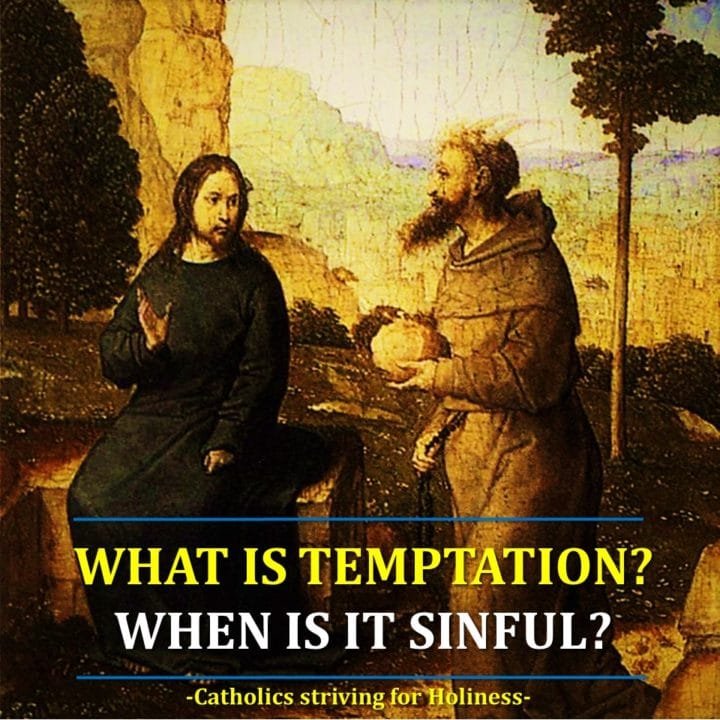 OUTLINE
Dear brethren in Christ, let us take advantage of this opportunity to review the topic on temptation, its kinds, when it is sinful and some helpful practical tips.
1. WHAT IS TEMPTATION?
The word "temptation" can signify "trial": TO TEST SOMEONE'S STRENGTH IN HIS CAPACITY TO DO WHAT IS GOOD (See Wis 3:5; Ex 16.4; Deut 13: 4; Ps 26:2).
On the other hand, it can also signify as an INCITEMENT TO COMMIT A MORAL EVIL WHICH IS PROPOSED AS SOMETHING APPARENTLY GOOD IN ORDER TO DECEIVE THE WILL. It is in this sense that we use the term.
2. WHAT ARE THE DIFFERENT KINDS OF TEMPTATIONS?
Catholic teaching differentiates between:
SUGGESTION, i.e. EXTERNAL temptation, which we can undergo WITHOUT COMMITTING ANY SIN; this is what Jesus had in the desert. He heard, noticed the temptations but he rejected them.
TEMPTATION TO WHICH WE CONSENT; this is ALWAYS SINFUL, and, since it affects the deepest part of the soul, it is definitely internal, with the involvement of one's choice or freedom.
3. IT IS IMPORTANT DISTINGUISH BETWEEN, FEELING AND THINKING, FROM CONSENTING AND ENTERTAINING TEMPTATIONS.
In order to avoid scruples, complications, doubts and unnecessary anguish, as to whether one has committed a sin or not, it is very important to distinguish between FEELING from CONSENTING to temptations.
To FEEL, to SENSE the temptation IS IN ITSELF NOT A SIN.
But, when one starts to become aware what is going on, and gives one's CONSENT AND ENTERTAINS THEM, only then it BECOMES a SIN.
If one, however, puts the means to reject the temptation, for example, one starts to pray, or remove his sight from something, changes a channel, or closes a pop-up, or thinks of something else, then, it is assumed that no consent is given, and thereby, no sin is committed, as long as one puts the means to reject them.
2. A prudent Christian must AVOID OCCASIONS OF TEMPTATIONS AND SIN as one logically avoids a rabid, ferocious dog. HE must NEVER DIALOGUE WITH TEMPTATIONS.
3. Oftentimes, temptations arise because one is UNOCCUPIED and does not guard his senses (especially the sense of sight). Hence, it is necessary to MAKE GOOD USE OF TIME and to be prudent in GUARDING THE SIGHT while reading, watching TV or using the internet…
4. POSITIVE VALUE OF TEMPTATIONS:
Temptations, IF THEY ARE NOT WILLINGLY SOUGHT AFTER and are CONVERTED INTO POINTS OF MORAL STRUGGLE have a positive value in Christian spiritual life:
"Blessed is the man who endures trial, for when he has stood the test he will receive the crown of life which God has promised to those who love him (Jac 1:12)."
They help us grow in HUMILITY, by understanding our weakness and THE NECESSITY TO HAVE RECOURSE TO GOD  AND TO OUR LADY to ask for the grace and help to prevent us from falling; thereby taking refuge in the arms of divine mercy.
Temptations are also a means to GROW in MERITS, to grow in VIRTUES and in our UNION WITH AND LOVE FOR GOD.
Dear friends, OUR LORD'S 40-DAY STAY IN THE DESERT was able to overcome the tempter with prayer and sacrifice, and thereby preparing for his Public Ministry which culminated on His Passion, Death and Resurrection. LET US IMITATE OUR LORD JESUS CHRIST BY BEING GENEROUS IN OUR LIFE OF PRAYER AND SACRIFICE, OVERCOMING WHATEVER TEMPTATIONS WE MAY CONFRONT DAILY OUT OF LOVE FOR GOD.
A blessed day to you and your loved ones! Fr. Rolly Arjonillo.
PHOTO SOURCE: Juan Flandes, Temptations of Christ http://roble.pntic.mec.es/jfeg0041/arte/test/ima/ten_02.jpg
---
SUGGESTED TEXTS FOR PERSONAL MEDITATION:
Reflection on the three temptations of Christ:
BENEDICT XVI, "Discourse, General Audience of Feb. 13, 2013" in http://w2.vatican.va/content/benedict-xvi/en/audiences/2013/documents/hf_ben-xvi_aud_20130213.html
BENEDICT XVI, "Angelus of Feb. 21, 2010" in http://w2.vatican.va/content/benedict-xvi/en/angelus/2010/documents/hf_ben-xvi_ang_20100221.html
Stay updated: subscribe by email for free TO OUR NEW WEBSITE www.catholicsstrivingforholiness.org (PUT YOUR EMAIL IN THE SUBSCRIBE WIDGET).
We are also in www.fb.com/Catholicsstrivingforholiness. Kindly help more people in their Christian life by liking our page and inviting your family, friends and relatives to do so as well. Thanks in advance and God bless you and your loved ones! Fr. Rolly Arjonillo