SPIRITUAL COMMUNION: HOW AND WHEN IS IT PRAYED
SPIRITUAL COMMUNION.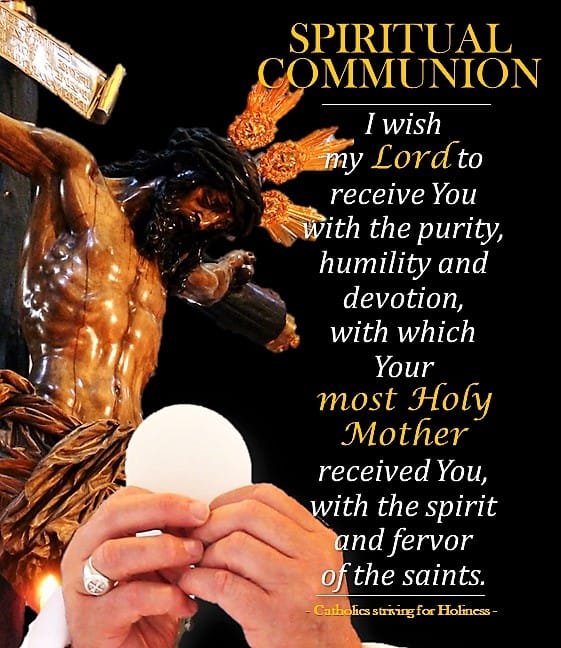 Dear brethren in Christ, here you have the spiritual communion, a prayer which expresses our deep and sincere desire to receive and be with Our Lord. It is a prayer learned by St. Josemaria as a child from a Spanish Piarist priest, and which he taught to a lot of people, including his spiritual children in Opus Dei, who in turn taught it to their friends.
I wish my Lord to receive You
with the purity, humility and devotion,
with which Your most Holy Mother received You,
with the spirit and fervor of the saints.
When could we say we could say the spiritual communion? We could pray it everyday all througout the year, especially:
when we prepare ourselves for the Holy Mass and to receive Our Lord in the Holy Communion;
when we are not in the state of grace and could not receive the Holy Communion;
when due to unforeseen circumstances such as illness, forced lockdowns, community quarantines, we couldn't attend the Holy Mass and receive Holy Communion;
when we are praying in front of the Most Blessed Sacrament;
during the whole day throughout the year to maintain presence of God;
when we see a dome of a church from afar; or pass by a Church while we are in a car, bus or jeep;
during the seasons of Advent as we prepare ourselves to commemorate the Nativity of Our Lord Jesus Christ;
SPIRITUAL COMMUNION, ACT OF FAITH, ADORATION, LOVE AND PETITION
Lord Jesus, truly present in the Blessed Sacrament, I adore You, I hope in You, I love You, O my God. I wish Lord to receive you in my soul.Purify it. Sanctify it. Render it like unto Your own. Amen.