CORPUS CHRISTI PRAYER: "MAY WE ALL BE LIVING MONSTRANCES."
SOLEMNITY OF CORPUS CHRISTI PRAYER:
"MAY WE ALL BE LIVING MONSTRANCES."
Dear brethren in Christ, let us prepare for the Solemnity of Corpus Christi. In the vid you have a beautiful prayer taken from St. Josemaria's meditation given on May 27, 1937, during the Spanish Civil War, at the eve of Corpus Christi, which I hope would help you grow in your love for Jesus in the Holy Eucharist as you consider it in your personal prayer.
N.B. A monstrance is a vessel in which the consecrated Host is exposed for the adoration of the faithful
TEXT OF ST. JOSEMARIA'S CORPUS CHRISTI PRAYER TO
OUR LORD JESUS CHRIST IN THE HOLY EUCHARIST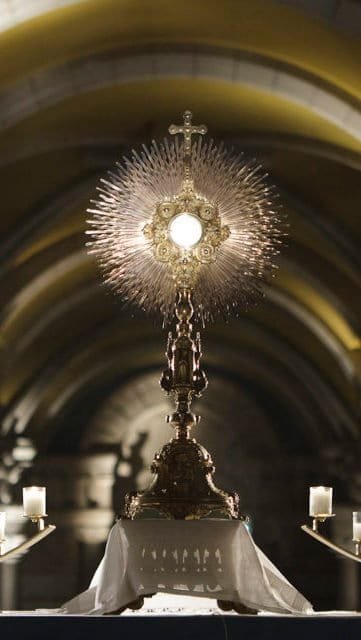 "My God, I want you to have
living monstrances; and I ask that my children and I, and all Christians, be monstrances who emit flashes of love and of mortification.

May we be monstrances
wrought of pure gold,
free from all worldly influence,
studded with rubies, which are like
the stains of blood from our sorrow and our sacrifice;
monstrances adorned with emeralds,
which signify our unshakeable hope, and embedded with
many other small stones
—that are barely noticed, but that You behold always, delighting in their brilliance—
and which are our small mortifications, our self-denial at every moment.

May these living monstrances
illumine those around them
by their apostolic charity.
Deign, my God,
living in each one of them, to
vivify with the rays of your Love
all those who come
into contact with us.

Mother of ours,
Mother of Eucharistic Love:
this is our petition today.
Present it, we beseech you,
at your Son's feet.
Obtain for us a life
imbued with a Eucharistic spirit,
so that love for the Holy Eucharist
fills our heart.

May all your children experience
in an ever renewed and heightened way
their love for God by their reception of the Sacred Body of Christ."
– St. Josemaria-
BELOW YOU HAVE THE AV VERSION OF THE PRAYER
SEE AS WELL: TODAY'S MASS PRAYERS AND READINGS. CLICK ON THIS LINK https://catholicsstrivingforholiness.org/solemnity-of-corpus-christi-or-the-body-and-blood-of-our-lord-jesus-christ-mass-prayers-and-readings/
PHOTOS: Custodia del Arfe (Monstrance of the Cathedral of Toledo, Spain), on procession. The best ostensorium/monstrance I've seen so far.
AUDIO CREDIT AND SOURCE: Ave verum corpus – W. A. Mozart – Organ solo – Alexander Jörk in https://www.youtube.com/watch?v=ct3YiKGuzm4
Stay updated: subscribe by email for free TO OUR NEW WEBSITE www.catholicsstrivingforholiness.org (PUT YOUR EMAIL IN THE SUBSCRIBE WIDGET).
We are also in www.fb.com/Catholicsstrivingforholiness. Kindly help more people in their Christian life by liking our page and inviting your family, friends and relatives to do so as well. Thanks in advance and God bless you and your loved ones! Fr. Rolly Arjonillo