Sept. 29: REFLECTION FOR THE FEAST OF THE ARCHANGELS ST. MICHAEL, ST. GABRIEL & ST. RAPHAEL. AV summary and full text
Sept. 29:
REFLECTION FOR THE FEAST OF THE ARCHANGELS ST. MICHAEL, ST. GABRIEL & ST. RAPHAEL
Bless the Lord, all you his angels, mighty in power, fulfilling his word, and heeding his voice!
Words which we pray in the Entrance Antiphon of today's Mass of the Feast of the three Archangels whom the entire Church venerates in its tradition. The Catechism of the Catholic Church teaches us that the "existence of the spiritual, non-corporeal beings that Sacred Scripture usually calls 'angels' is a truth of faith. The witness of Scripture is as clear as the unanimity of Tradition. St. Augustine says: 'Angel' is the name of their office, not of their nature…With their whole beings the angels are servants and messengers of God. Because they 'always behold the face of my Father who is in heaven' they are the 'mighty ones who do his word, hearkening to the voice of his word(nn. 328-329).'"
MICHAEL whose name in Hebrew means 'WHO IS LIKE GOD?' was the archangel who fought against Satan and all his evil angels. He is our protector against the devil. He is also known as "the prince of the heavenly host" and is usually depicted as a strong warrior, dressed in armor and wearing sandals. His name appears in the Scripture four times, twice in the Book of Daniel, and once each in the Epistle of St. Jude and the Book of Revelation. From Revelation 12: 7-12 we learn of the battle in heaven, with St. Michael and his angels combatting Lucifer and the other fallen angels (or devils). We invoke St. Michael to help us in our fight against Satan; to rescue souls from Satan, especially at the hour of death; to be the champion of the Jews in the Old Testament and now Christians; and to bring souls to judgment.
GABRIEL whose name means 'STRENGTH OF GOD' was sent to announce to Zachariah the coming birth of John the Baptist, and to Mary, the birth of Jesus. In the Old Testament, he was sent to Daniel to explain a vision concerning the Messiah.
RAPHAEL whose name means 'MEDICINE OF GOD' is the archangel who took care of Tobias on his journey, as a healer and fellow traveler (cfr. Tobit 3:17; 12:15). Tradition also holds that Raphael is the angel that stirred the waters at the healing sheep pool in Bethesda.
+++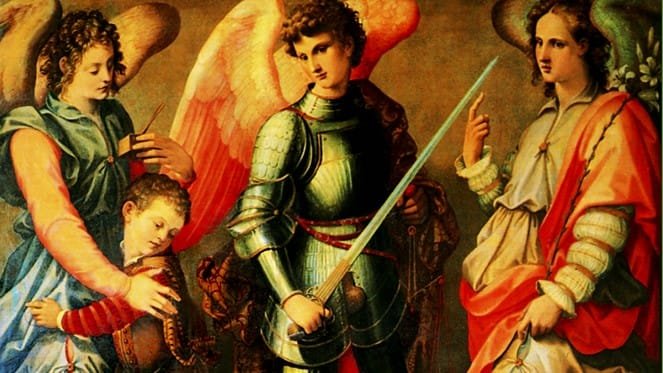 Dear friends, God, as a palpable sign of His Love for us, sent us his servants and messengers, the Archangels and the Angels, to protect and help us in our daily struggles against the evil one in our path towards heaven. St. Gregory the Great said: "Whenever something is to be done needing great power, Michael is sent forth so that from his action and from his name we can understand that no one can do what God can do." This is the reason why we should make it a habit to pray to St. Michael:
St Michael, Archangel, defend us in battle and be our safe guard against the wickedness and snares of the devil. May God rebuke him, we humbly pray. And do you O prince of the heavenly host, by the power of God thrust into hell Satan and all the evil spirits who prowl about the world for the ruin of souls. Amen (Prayer to St Michael).
Let us have recourse and devotion to the Archangels and Angels to help us make good use of our freedom, as they did, when they decided and chose God for eternity and with them, let us pray:
Lord, I want to serve you as well with my entire being and with all my life. I earnestly desire to make good use of my freedom: choosing what is good, choosing You, obeying and loving You in every decision, choice and action that I make, because You are my God whom I love and adore!
O GOD, WHO DISPOSE IN MARVELOUS ORDER MINISTRIES BOTH ANGELIC AND HUMAN, GRACIOUSLY GRANT THAT OUR LIFE ON EARTH MAY BE DEFENDED BY THOSE WHO WATCH OVER US AS THEY MINISTER PERPETUALLY TO YOU IN HEAVEN. (Opening prayer, Mass proper)
SEE AS WELL: PRAYERS TO
ST. MICHAEL in https://catholicsstrivingforholiness.org/prayer-to-st-michael-the-archangel/
ST. GABRIEL in https://catholicsstrivingforholiness.org/prayer-to-archangel-st-gabriel/
ST. RAPHAEL in https://catholicsstrivingforholiness.org/prayer-to-archangel-st-raphael/
-Fr. Rolly Arjonillo, priest of Opus Dei. CATHOLICS STRIVING FOR HOLINESS. Facebook page and website. Hope you like our page and invite your friends as well to do so in order to help more people.
PROFILE OF THE ARCHANGELS: Some parts were based on http://www.catholicculture.org/culture/liturgicalyear/calendar/day.cfm?date=2014-09-29
AUDIO SOURCE: "Gloria in excelsis" (Vivaldi) by the St Matthews Concert Choir/Vivaldi, Usage CC0 1.0 Universal in https://archive.org/details/Vivaldi_gloria2011
PHOTO SOURCE: Michael Tosini, "Three Archangels" in http://www.catholictradition.org/Angels/angels-60.jpg
THREE ARCHANGELS in http://www.crestinortodox.ro/files/image/diverse%20-%20poze%203/arhangheli/sapte-sfintii-arhangheli-mihail-gavriil-rafail-2.jpg
Stay updated: subscribe by email for free TO OUR NEW WEBSITE www.catholicsstrivingforholiness.org (PUT YOUR EMAIL IN THE SUBSCRIBE WIDGET).
We are also in www.fb.com/Catholicsstrivingforholiness. Kindly help more people in their Christian life by liking our page and inviting your family, friends and relatives to do so as well. Thanks in advance and God bless you and your loved ones! Fr. Rolly Arjonillo