Sept. 15: OUR LADY OF SORROWS. WHY DO WE CHRISTIANS CONSIDER MARY AS OUR MOTHER? Gospel commentaries.
Sept. 15:
WHY DO WE CHRISTIANS CONSIDER MARY AS OUR MOTHER?
We are not orphans. Jesus gave His Mother to be our Mother.
Gospel explanation.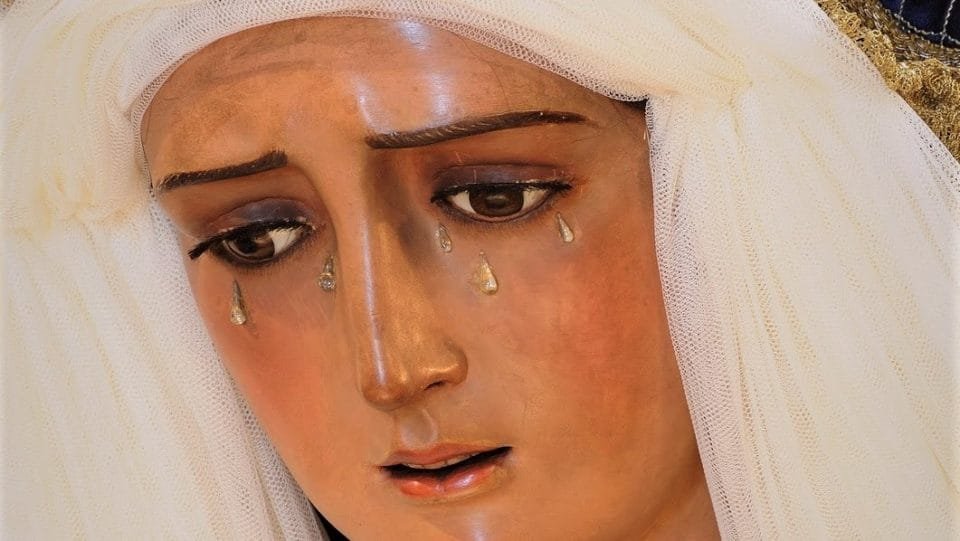 Jesus gives us Mary as our Mother
GOSPEL READING:
John 19:25–27
"Standing by the cross of Jesus were his mother and his mother's sister, Mary the wife of Clopas, and Mary Magdalene. When Jesus saw his mother and the disciple there whom he loved he said to his mother, "Woman, behold, your son." Then he said to the disciple, "Behold, your mother." And from that hour the disciple took her into his home."
GOSPEL EXPLANATION.
Our Lord's gesture in entrusting his Blessed Mother to the disciple's care, has a dual meaning.

For one thing it expresses his filial love for the Virgin Mary.
St Augustine sees it as a lesson Jesus gives us on how to keep the fourth commandment: "Here is a lesson in morals. He is doing what he tells us to do and, like a good Teacher, he instructs his own by example, that it is the duty of good children to take care of their parents; as though the wood on which his dying members were fixed were also the chair of the teaching Master" (St Augustine, In Ioann. Evang., 119, 2).

Our Lord's words also declare that Mary is our Mother:

"The Blessed Virgin also advanced in her pilgrimage of faith, and faithfully persevered in her union with her Son unto the Cross, where she stood, in keeping with the divine plan, enduring with her only begotten Son the intensity of his suffering, associating herself with his sacrifice in her mother's heart, and lovingly consenting to the immolation of this victim who was born of her. Finally, she was given by the same Christ Jesus dying on the Cross as a mother to his disciple" (Vatican II, Lumen gentium, 58).

All Christians, who are represented in the person of John, are children of Mary.

By giving us his Mother to be our Mother, Christ demonstrates his love for his own to the end (cf. Jn 13:1).
Our Lady's acceptance of John as her son shows her motherly care for us:
"the Son of God, and your Son, from the Cross indicated a man to you, Mary, and said: 'Behold, your son' (Jn 19:26). And in that man he entrusted to you every person, he entrusted everyone to you. And you, who at the moment of the Annunciation, concentrated the whole programme of your life in those simple words: 'Behold I am the handmaid of the Lord; let it be to me according to your word' (Lk 1:38): embrace everyone, draw close to everyone, seek everyone out with motherly care. Thus is accomplished what the last Council said about your presence in the mystery of Christ and the Church. In a wonderful way you are always found in the mystery of Christ, your only Son, because you are present wherever men and women, his brothers and sisters, are present, wherever the Church is present" (John Paul II, Homily in the Basilica of Guadalupe, 27 January 1979).
VIDEO COMMENTARY
TOPIC 2: HOW DO YOU DEAL WITH GRIEF?
First Reading: 1 Timothy 3:14-16
Responsorial Psalm: Psalms 111:1-2, 3-4, 5-6
Gospel: John 19:25-27 or Luke 2:33-35
Today is the Memorial to Our Lady of Sorrows. Our Blessed Mother Mary was a picture of grief as she gazed at her son on the foot of His cross suffering intensely. There are no words to describe the anguish and grief she must have felt as she held her Son in her arms in His death. We see this immortalized in the Pieta of Michaelangelo. Pieta means compassion or suffering with. Indeed, anyone who has loved has also suffered greatly.
TOPIC 2: DO MOTHERS "EXPERIENCE" THE SEVEN SORROWS OF MARY?
Stay updated: subscribe by email for free TO OUR NEW WEBSITE www.catholicsstrivingforholiness.org (PUT YOUR EMAIL IN THE SUBSCRIBE WIDGET).
We are also in www.fb.com/Catholicsstrivingforholiness. Kindly help more people in their Christian life by liking our page and inviting your family, friends and relatives to do so as well. Thanks in advance and God bless you and your loved ones! Fr. Rolly Arjonillo