Sept. 14: EXALTATION OF THE HOLY CROSS. History and reflection.
Sept. 14: EXALTATION OF THE HOLY CROSS.
History and reflection.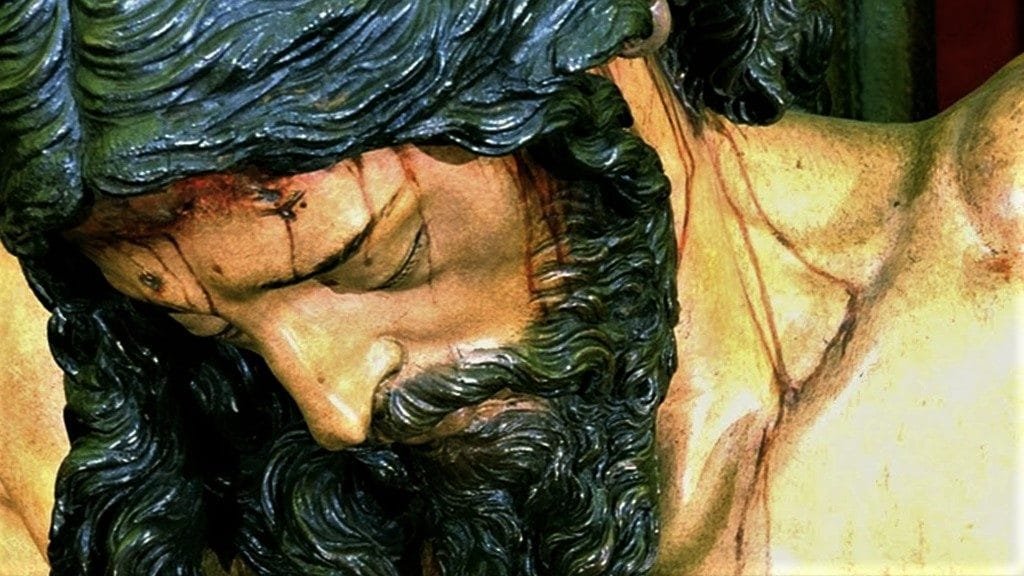 We should glory in the cross of our Lord Jesus Christ, in whom is our salvation, life and resurrection, through whom we are saved and delivered.

Entrance Antiphon of the Mass
Today, our Mother Church sings and exalts of the triumph of the Holy Cross, the instrument of our salvation. The celebration of the feast of the Exaltation of the Holy Cross began in Rome at the end of the 7th century. In the old liturgical calendar of the Catholic Church, the feast of the Invention of the Cross was celebrated on May 3, commemorating St. Helena's discovery of the sacred wood of the Cross in Jerusalem.
Today's feast however commemorates the Exaltation of the Cross, celebrating above all the circumstances during which the Byzantine Emperor Heraclius (545-641 c. AD) recovered from the Persians the True Cross of Our Lord Jesus Christ which they had carried off.
During Heraclius' invasion of the capital, Khosrau II, King of the Persians, fled from his house, Dastagird (near Baghdad). Meanwhile, some of the Persian dignitaries freed Khosrau's eldest son Kavadh II, whom he had imprisoned, and proclaimed him King on the night of 23–24 February, 628. However, Kavadh was mortally ill and was concerned that Heraclius should protect his infant son, Ardeshir. As his token of goodwill, Kavadh sent the True Cross with a peace negotiator to ask Heraclius for peace in 628.
Dear friends, in order to follow Christ, the Christian must take up his cross and become obedient with Christ, who was obedient until death, even death on the Cross. However, we should not consider Christ's Cross in a pessimistic or negative manner, from which we have to hastily flee at all costs. Today's feast reminds us of the redemptive triumph Our Lord worked on our behalf on the Cross, which is the expression of Our Lord's immense love for us, of life, of joy, of victory over death, sin and evil.
Let us meditate on the following words of St. Josemaria on a meditation given on May 3, 1964 (Latin phrases translation and caps mine) and with the help of Our Lady, make the firm resolution of daily embracing and loving the Cross which Our Lord places on our shoulder as a sign of predilection and trust on us in co-redeeming with Him in this life.
"My children, you can see I'm not exaggerating. THE CROSS STILL IS A SYMBOL OF DEATH, INSTEAD OF BEING A SIGN OF LIFE. PEOPLE STILL FLEE FROM THE CROSS AS IF IT WERE A GALLOWS, WHEN IT IS A THRONE OF GLORY. CHRISTIANS STILL REJECT THE CROSS AND IDENTIFY IT WITH SUFFERING, INSTEAD OF IDENTIFYING IT WITH LOVE. YOU AND I HAVE TO GO OUT IN SEARCH OF THE CROSS, TO SEEK IT OUT (YOU UNDERSTAND ME), IN ORDER TO LOVE IT, TO RECEIVE IT WITH OUR ARMS WIDE OPEN, WHENEVER IT COMES – THAT IS THE THIRD SOLUTION I MENTIONED EARLIER; THAT IS OUR WAY.
A Cross from which he reigns: oportet illum regnare ("it is necessary that He must reign"- 1 Cor 15:25)! From which he manifests his greatness, his immense greatness, eternal, majestic, all-conquering. But we must be small: illum oportet crescere, me autem minui ("it is necessary that He must increase and that I must decrease"- Jn 3:30). My children, you know from your own experience that the Father does not deceive you. I have so often told you and written for you, what I have experienced in this poor life of mine: that suffering is not suffering when we embrace it in union with Jesus. The Cross is not something to run away from, but something we have to receive with love. And then the cross is Christ's. He carries it, and therefore it isn't heavy. That's why I get a bit indignant when people speak so much about the cross, and crosses. You'll tell me it's the habitual way of speaking in ascetical works, and it's true. But I'm not convinced. No, Lord, no! IN THE SPIRIT OF OPUS DEI, THE CROSS AND CROSSES ARE JOY, HONOUR, IMPROVEMENT, PERFECTION, HOLINESS. JOY HERE AND VICTORY IN THE NEXT WORLD!
That was the idea I wanted to obtain as the fruit of this morning's prayer: not only for you, but for all my children whom God calls to this supernatural enterprise. Thirty-six years of failure in my own poor life, and every day I find myself worse off! Where would I be if I didn't love the Cross? Where would I be if I didn't live upon the Cross? THE CROSS IS NOT JUST A SYMBOL, BUT THE EXPRESSION OF TRIUMPH: THE THRONE OF MY GOD, THE THRONE OF A VICTORIOUS KING (St. Josemaria)."
PHOTO SOURCE: https://secretosdetorreciudad.files.wordpress.com/2012/08/cristo-de-sciancalepore-en-torreciudad.jpg
Stay updated: subscribe by email for free TO OUR NEW WEBSITE www.catholicsstrivingforholiness.org (PUT YOUR EMAIL IN THE SUBSCRIBE WIDGET).
We are also in www.fb.com/Catholicsstrivingforholiness. Kindly help more people in their Christian life by liking our page and inviting your family, friends and relatives to do so as well. Thanks in advance and God bless you and your loved ones! Fr. Rolly Arjonillo