Reflection homily for the 2nd Sunday of Advent Year B. "PREPARE THE WAY FOR THE LORD."
Reflection homily for the 2nd Sunday of Advent Year B. "PREPARE THE WAY FOR THE LORD."
OUTLINE
1. "Prepare the way for the Lord."
"In the desert prepare the way for the Lord!" This is the central theme today's readings from the Book of the Prophet Isaiah (Is 40:1–5, 9–11):
"A voice cries out: In the desert prepare the way of the Lord! Make straight in the wasteland a highway for our God!"
 and the Gospel (Mk 1:1–8).
"As it is written in Isaiah the prophet: Behold, I am sending my messenger ahead of you; he will prepare your way. A voice of one crying out in the desert: 'Prepare the way of the Lord, make straight his paths.' John the Baptist appeared in the desert proclaiming a baptism of repentance for the forgiveness of sins."
2. By making "straight his paths": Advent, a call to conversion and Confession
God comes to save us and we have to remove all those things in our life which impede this advent (God's coming and indwelling in our soul) which we hope for and which will bring forth "new heavens and new earth" (2nd reading (2 Pt 3:8–14).
But the day of the Lord will come like a thief, and then the heavens will pass away with a mighty roar and the elements will be dissolved by fire, and the earth and everything done on it will be found out…But according to his promise we await new heavens and a new earth in which righteousness dwells.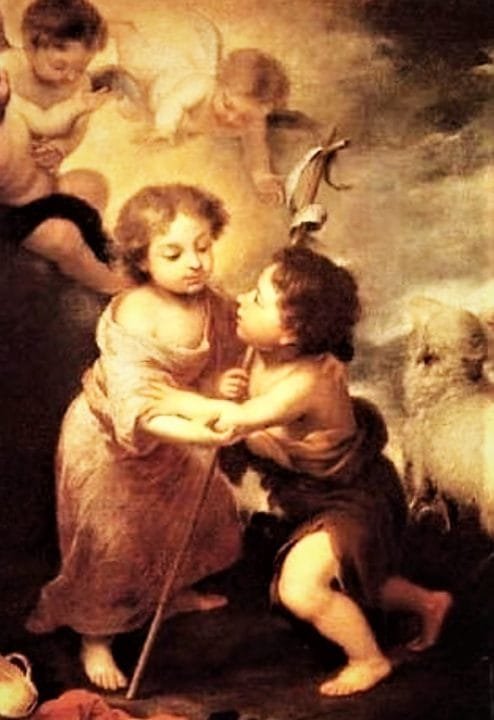 During these days, we must employ the means to approach God, undergoing a spiritual conversion and renewal:
By turning away from sin, repenting for them and asking God's forgiveness;
By making "straight his paths," making the "mountains and hills low," "levelling the uneven ground" (Cfr. 1st reading: Isaiah 40:4-5) that is, by discerning in our life what is crooked and deviated, separating us from God's will, be it the "mountains and hills" of our pride, our arrogance, self-sufficiency, insolence, lust, envy, vanity, greed, laziness, so as to rectify, overcome them, and return to Our Lord;
And by conducting "ourselves in in holiness and devotion, waiting for and hastening the coming of the day of God;"
All these by going to the Sacrament of Reconciliation or Confession, so as to receive God's pardon and mercy, and be able to worthily relive the Mystery of the Son of God who became man so that we might become children of God.
3. Advent, a call to judge and use rightly the things of this world so as to perceive God's saving message.
For this, we must put distance  ̶ as signified by the "desert" in the 1st reading and the Gospel ̶  between us and the mundane things and worldly attitude in this life if we wish to perceive and live God's saving voice and will for each one of us, as expressed in the prayer after Communion.
"Replenished by the food of spiritual nourishment, we humbly beseech you, O Lord, that, through our partaking in this mystery, you may teach us to judge wisely the things of earth and hold firm to the things of heaven."
It is also necessary that we advance in our life of prayer during this season, dedicating moments daily to have a dialogue with God, so as to attune ourselves with what He is trying to tell us so that Advent would be a real time of grace and of presence of God in our lives. As Pope Benedict XVI wrote: 
The essential meaning of the word adventus was: GOD IS HERE, HE HAS NOT WITHDRAWN FROM THE WORLD, HE HAS NOT DESERTED US. EVEN IF WE CANNOT SEE AND TOUCH HIM AS WE CAN TANGIBLE REALITIES, HE IS HERE AND COMES TO VISIT US IN MANY WAYS. (Homily, Nov. 28, 2009)."
God is with us, here and now, but He oftentimes goes unnoticed for those who do not seek Him. "Understand this well: there is something holy, something divine, hidden in the most ordinary situations, and it is up to each one of you to discover it" (St. Josemaria, "Conversations", n. 114).
"Almighty and merciful God, may no earthly undertaking hinder those who set out in haste to meet your Son, but may our learning of heavenly wisdom gain us admittance to his company" (Collect of the 2nd Sunday of Advent).
A Blessed 2nd week of Advent to all! Fr. Rolly Arjonillo.
FOR THE 2ND SUNDAY OF ADVENT YEAR B REFLECTION HOMILY, CLICK HERE AND HERE.

SEE AS WELL:
2ND SUNDAY OF ADVENT YEAR B 2020 MASS PRAYERS AND READINGS HERE.
AND
"ADVENT 2: WHAT'S THE BEST WAY TO PREPARE FOR CHRISTMAS?"