PRAYER TO ST. JOSEPH BEFORE AND AFTER MASS.
PRAYER TO ST. JOSEPH
BEFORE & AFTER MASS: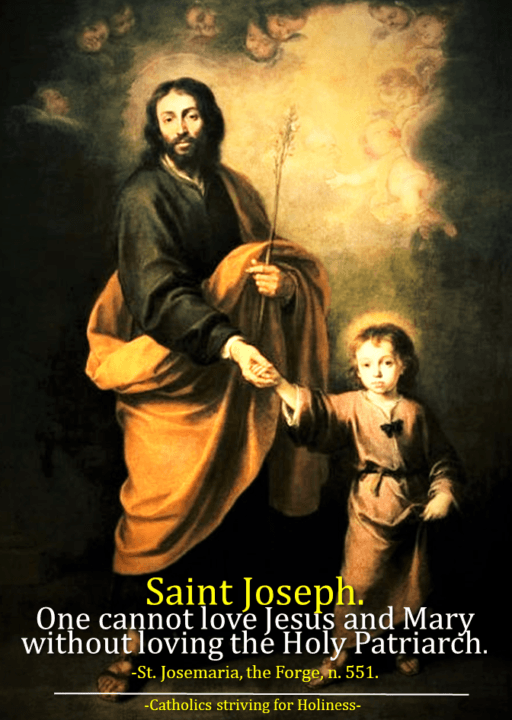 BEFORE MASS:
O Blessed Joseph, happy man, to whom it was given not only to see and to hear that God Whom many kings longed to see, and saw not, to hear, and heard not; but also to carry Him in your arms, to embrace Him, to clothe Him, and guard and defend Him.
V Pray for us, O Blessed Joseph.
R That we may be made worthy of the promises of Christ.
O God, Who has given us a royal priesthood, we beseech Thee, that as Blessed Joseph was found worthy to touch with his hands, and to bear in his arms, Thy only-begotten Son, born of the Virgin Mary, so may we be made fit, by cleanness of heart and blamelessness of life, to minister at Thy holy altar; may we, this day, with reverent devotion partake of the Sacred Body and Blood of Your Only-begotten Son, and may we in the world to come be accounted worthy of receiving an everlasting reward.
Through the same Christ our Lord. Amen.
AFTER MASS:
O Guardian of virgins and father, Saint Joseph, to whose faithful custody Innocence itself, Christ Jesus, and Mary, Virgin of virgins, was committed; I pray and beseech thee by each of these dear pledges, Jesus and Mary, that, being preserved from all uncleanness, I may with spotless mind, pure heart, and a chaste body, ever serve Jesus and Mary most chastely all the days of my life. Amen.