PRACTICAL TIPS IN PREPARATION FOR THE SOLEMNITY OF "CORPUS CHRISTI". AV summary and full text.
PREPARATION FOR THE SOLEMNITY OF THE BODY AND BLOOD OF OUR LORD JESUS CHRIST ("CORPUS CHRISTI"). SOME PRACTICAL TIPS.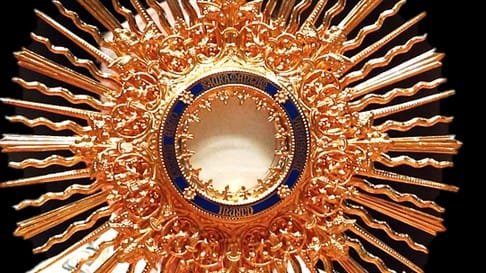 This coming Sunday, we will celebrate the Solemnity of the Body of Blood of Our Lord Jesus Christ, or simply "Corpus Christi" (in some places, though, it is celebrated on Thursday, to commemorate the institution of the sacrament of the Holy Eucharist during Holy Thursday) during which processions will take place all over the world with the Blessed Sacrament taken out of the tabernacle and placed on magnificent monstrances in order to bless the people who come out to the streets of the different cities to adore and thank God.
It is a joyous and festive celebration which aims at adoring and thanking Our Lord Jesus Christ in the Holy Eucharist for His immense love, fulfilling His words: "I am with you always, till the end of the age (Mc 28:20)".
"When you contemplate the Sacred Host exposed on the altar in the monstrance, think how great is the love, the tenderness of Christ. My way to understand it is by thinking of the love I have for you: if I could be far away, working, and at the same time at the side of each one of you, how gladly I would do it!
But Christ really can do it! He loves us with a love that is infinitely greater than the love that all the hearts of the world could hold; and he has stayed with us so that we can join ourselves at any time to his most Sacred Humanity, and so that he can help us, console us, strengthen us, so that we may be faithful "

(St. Josemaria, Forge, n. 839).
His LOVE FOR US LED HIM TO SEEK UNION WITH THE BELOVED, INVENTING A WAY TO BE WITH US ALWAYS THROUGH HIS REAL, TRUE AND SUBSTANTIAL PRESENCE OF OUR LORD JESUS CHRIST, IN HIS BODY AND BLOOD TOGETHER WITH HIS SOUL AND DIVINITY, THROUGH THE MIRACLE OF TRANSUBSTANTIATION DURING THE HOLY MASS.
"Take it; this is my body." Then he took a cup, gave thanks, and gave it to them, and they all drank from it. He said to them, "This is my blood of the covenant, which will be shed for many (Mk 14:22-24)." "I am the living bread which came down from heaven; if any one eats of this bread, he will live for ever; and the bread which I shall give for the life of the world is my flesh (Jn 6:51)."
It is a REAL PRESENCE and not a symbolic one (as other Christians would erroneously affirm). As the Catechism n. 1374 teaches:
"In the most blessed sacrament of the Eucharist "the body and blood, together with the soul and divinity, of our Lord Jesus Christ and, therefore, the whole Christ is truly, really, and substantially contained.' 'This presence is called 'real' – by which is not intended to exclude the other types of presence as if they could not be 'real' too, but because IT IS PRESENCE IN THE FULLEST SENSE: THAT IS TO SAY, IT IS A SUBSTANTIAL PRESENCE BY WHICH CHRIST, GOD AND MAN, MAKES HIMSELF WHOLLY AND ENTIRELY PRESENT.'"
During these days, we could PREPARE OURSELVES for the coming solemnity BY GROWING IN OUR LOVE FOR JESUS IN THE HOLY EUCHARIST. How? Here are some tips:
Make ACTS OF FAITH, HOPE, LOVE AND THANKSGIVING TO OUR LORD JESUS CHRIST, throughout the day, IMPLORING HIM, at the same time, TO INCREASE OUR FAITH IN HIS REAL PRESENCE in the Holy Eucharist. For example: "I believe Lord, help my unbelief"; "My Lord and my God, I adore you, I hope in you, I love you"; "Make me believe more and more in you, hope in you, and love you." ("Adoro te devote")
One could also make frequent VISITS to our Lord in the Blessed Sacrament in the church or oratory of one's school, office or village and spend time to talk to Him.
Or if there is no church or oratory nearby, one can UNITE HIMSELF SPIRITUALLY with Our Lord in the nearest tabernacle, saying lots of SPIRITUAL COMMUNION (see pic). Spiritual communions can be said as well all throughout the day as means to live presence of God. "Go perseveringly to the Tabernacle, either bodily or in your heart, so as to feel safe and calm: but also in order to feel loved… and to love (St. Josemaria, Forge, n. 837)."
One might also want to go to HOLY MASS FREQUENTLY during the week, taking good care of the interior and exterior preparations and putting MORE PIETY, ATTENTION AND DEVOTION and ACTIVELY PARTICIPATING during the Holy Mass. It is also necessary to make sure that the SOUL is IN STATE OF GRACE before receiving Holy Communion.
Aware of the fact that one has just received God, the Author of Grace, in Communion, it is fitting to spend some minutes of THANKSGIVING after the Holy Mass.
Dear friends, LET US THANK OUR LORD, WHO OUT OF LOVE FOR US, REMAINED FOR US ENCLOSED IN THE TABERNACLE SO THAT WE MAY APPROACH, FIND AND DEAL WITH HIM MUCH EASIER. As a manifestion of our faith in His real presence in the Holy Eucharist and our love for Him, let us offer some details of affection to Our Lord in the Blessed Sacrament, preparing ourselves for the forthcoming solemnity. LET US THEN ASK OUR LADY, THE FIRST TABERNACLE, EUCHARISTIC WOMAN, TO HELP US BECOME EUCHARISTIC SOULS.
WATCH THIS BEAUTIFUL AV SUMMARY. Best with sound. AUDIO CREDIT: Philippine Madrigal Singers, "Anima Christi," with permission from Mark Carpio.
or if you do not have an FB account, watch on Youtube below
Stay updated: subscribe by email for free TO OUR NEW WEBSITE www.catholicsstrivingforholiness.org (PUT YOUR EMAIL IN THE SUBSCRIBE WIDGET).
We are also in www.fb.com/Catholicsstrivingforholiness. Kindly help more people in their Christian life by liking our page and inviting your family, friends and relatives to do so as well. Thanks in advance and God bless you and your loved ones! Fr. Rolly Arjonillo