POPE FRANCIS ON THE 1ST SUNDAY OF ADVENT YEAR C.
POPE FRANCIS ON THE 1ST SUNDAY OF ADVENT YEAR C.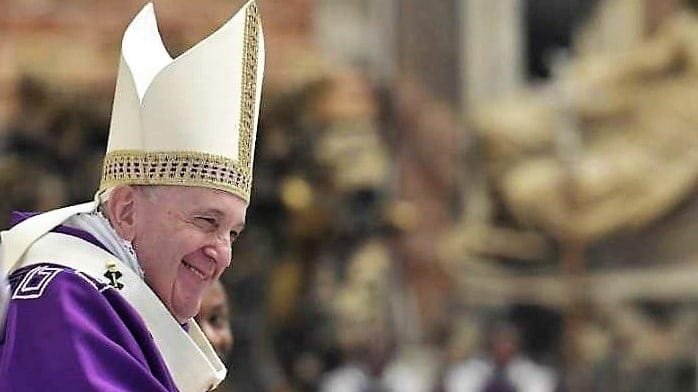 ANGELUS
Saint Peter's Square
Sunday, 28 November 2021
_____________________________
Dear brothers and sisters, buongiorno!
The Gospel of today's liturgy, the First Sunday of Advent, speaks to us about the Lord's coming at the end of time. Jesus announces bleak and distressing events, but precisely at this point He invites us not to be afraid. Why? Because everything will be okay? No, but because He will come. Jesus will return as He promised. This is what he says: "Stand erect and raise your heads because your redemption is at hand" (Lk 21:28). It is nice to hear this encouraging Word: stand up straight and raise our heads because right during those moments when everything seems to be coming to an end, the Lord comes to save us. We await Him with joy, even in the midst of tribulations, during life's crises and the dramatic events of history. We await Him.
But how do we raise our heads and not become absorbed with difficulties, suffering and defeat? Jesus points the way with a strong reminder: "Beware that your hearts do not become drowsy… Be vigilant at all times and pray" (Lk 21:34, 36).
"Be vigilant": vigilance. Let us focus on this important aspect of the Christian life. From the words of Christ, we see that vigilance is tied to alertness: be alert, do not get distracted, that is, stay awake! Vigilance means this: not to allow our hearts to become lazy or our spiritual life to soften into mediocrity. Be careful because we can become "sleepy Christians" – and we know there are many Christians who are asleep, who are anesthetized by spiritual worldliness – Christians without spiritual fervor, without intensity in prayer, without enthusiasm for mission, without passion for the Gospel; Christians who always look inwards, incapable of looking to the horizon. And this leads to "dozing off": to move things along by inertia, to fall into apathy, indifferent to everything except what is comfortable for us. This is a sad life going forward this way since there is no happiness.
We need to be vigilant so that our daily life does not become routine, and, as Jesus says, so we are not burdened by life's anxieties (cf. v. 34). So today is a good moment to ask ourselves: what weighs on my heart? What weighs on my spirit? What makes me go to sit in the lazy chair? It is sad to see Christians "in the armchair"! What are the mediocrities that paralyze me, the vices that crush me to the ground and prevent me from raising my head? And regarding the burdens that weigh on the shoulders of our brothers and sisters, am I aware of them or indifferent to them? These are good questions to ask ourselves, because they help guard our hearts against apathy. What then is apathy? It is a great enemy of the spiritual life and also of Christian life. Apathy is a type of laziness that makes us slide into sadness, it takes away zest for life and the will to do things. It is a negative spirit that traps the soul in apathy, robbing it of its joy. It starts with sadness sliding downwards so that there is no joy. The Book of Proverbs says: "With all vigilance guard your heart, for in it are the sources of life" (Prov 4:23). Guard your heart: that means to be vigilant! Stay awake and guard your heart.
And let us add an essential ingredient: the secret to being vigilant is prayer. In fact, Jesus says: "Be vigilant at all times and pray" (Lk 21:36). Prayer is what keeps the lamp of the heart lit. This is especially true when we feel that our enthusiasm has cooled down. Prayer re-lights it, because it brings us back to God, to the center of things. Prayer reawakens the soul from sleep and focuses it on what matters, on the purpose of existence. Even during our busiest days, we must not neglect prayer. The prayer of the heart can be helpful for us, repeating often brief invocations. For example, during Advent, we could make a habit of saying, "Come, Lord Jesus." Only these words, but repeating them: "Come, Lord Jesus". This time of preparation leading to Christmas is beautiful: we think of the nativity scene and Christmas, so let us say from the heart: "Come, Lord Jesus". Let us repeat this prayer all throughout the day: the soul will remain vigilant! "Come, Lord Jesus", is a prayer we can all say together three times. "Come, Lord Jesus", "Come, Lord Jesus", "Come, Lord Jesus".
And now we pray to the Madonna: may she who awaited the Lord with a vigilant heart accompany us during our Advent journey.
SOURCE: https://www.vatican.va/content/francesco/en/angelus/2021/documents/papa-francesco_angelus_20211128.html
EMPHASIS MINE.
ANGELUS
Saint Peter's Square
Sunday, 2 December 201
---
Dear Brothers and Sisters, Good morning!
Today Advent begins, the liturgical time which prepares us for Christmas, inviting us to lift our gaze and open our hearts to welcome Jesus. During Advent we do not just live in anticipation of Christmas; we are also called to rekindle the anticipation of the glorious return of Christ — when he will return at the end of time — preparing ourselves, with consistent and courageous choices, for the final encounter with him. We remember Christmas, we await the glorious return of Christ, and also our personal encounter: the day in which the Lord will call.
During these four weeks we are called to leave behind a resigned and routine way of life and to go forth, nourishing hope, nourishing dreams for a new future. This Sunday's Gospel (cf. Lk 21:25-28, 34-36) goes in this very direction and puts us on guard against allowing ourselves to be oppressed by an egocentric lifestyle or by the phrenetic pace of our days. Jesus' words resonate in a particularly incisive way: "take heed to yourselves lest your hearts be weighed down with dissipation and drunkenness and cares of this life, and that day come upon you suddenly … But watch at all times, praying" (vv. 34, 36).
To be mindful and to pray: this is how to live the time between now and Christmas. To be mindful and to pray. Inner listlessness comes from always turning around ourselves and being blocked by our own life, with its problems, its joy, and suffering, but always turning around ourselves. And this is wearying; this is dull, this closes us off to hope. Here lies the root of the lethargy and laziness that the Gospel speaks about. Advent invites us to a commitment to vigilance, looking beyond ourselves, expanding our mind and heart in order to open ourselves up to the needs of people, of brothers and sisters, and to the desire for a new world. It is the desire of many people tormented by hunger, by injustice and by war. It is the desire of the poor, the weak, the abandoned. This is a favourable time to open our hearts, to ask ourselves concrete questions about how and for whom we expend our lives.
The second attitude to best experience the time of awaiting the Lord is that of prayer. Arise, "look up and raise your heads, because your redemption is drawing near" (v. 28), the Gospel of Luke cautions. It is about standing up and praying, turning our thoughts and our hearts to Jesus who is about to come. One stands when awaiting something or someone. We await Jesus and we wish to await him in prayer which is closely linked to vigilance. Praying, awaiting Jesus, opening oneself to others, being mindful, not withdrawn in ourselves. But if we think of Christmas in the light of consumerism, of seeing what I can buy in order to do this and that, of a worldly celebration, Jesus will pass by and we will not find him. We await Jesus and we wish to await him in prayer which is closely linked to vigilance.
But what is the horizon of our prayerful anticipation? In the Bible the voices of the prophets are especially revealing to us. Today it is that of Jeremiah who speaks to the people who had been harshly tried by exile and who risked losing their very identity. We Christians too, who are also the People of God, run the risk of becoming worldly and of losing our identity, indeed of 'paganizing' the Christian way. Therefore, we need the Word of God through which the prophet proclaims: "Behold, the days are coming, says the Lord, when I will fulfil the promise I made … I will cause a righteous Branch to spring forth for David; and he shall execute justice and righteousness in the land" (Jer 33:14-15). And that righteous branch is Jesus. It is Jesus who comes and whom we await. May the Virgin Mary, who leads us to Jesus, a woman of expectation and prayer, help us to strengthen our hope in the promises of her Son Jesus, in order to enable us to understand that through the travail of history, God always remains steadfast and uses human errors, too, to manifest his mercy.
SOURCE: https://www.vatican.va/content/francesco/en/angelus/2018/documents/papa-francesco_angelus_20181202.html
EMPHASIS MINE.
---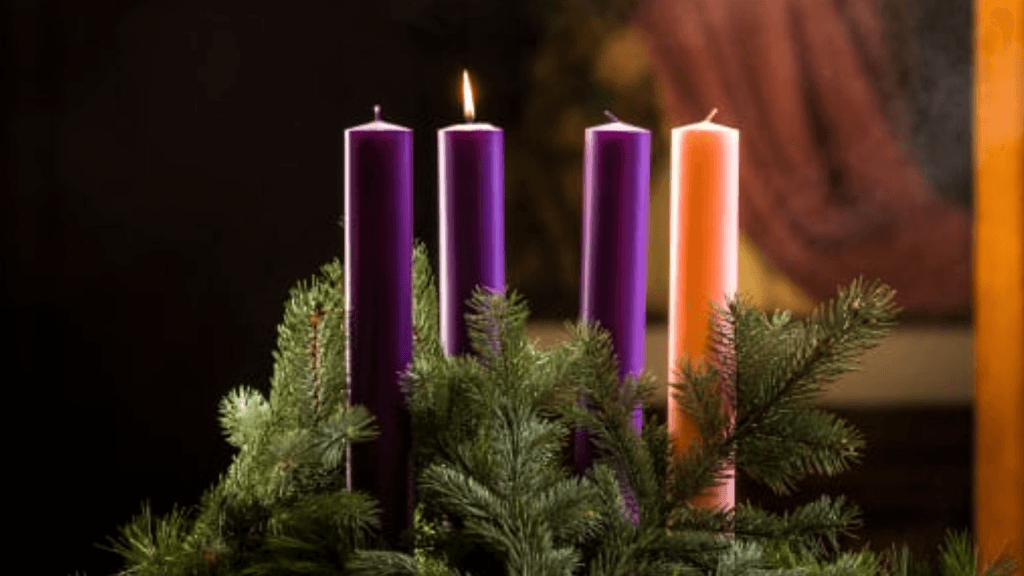 HOMILY
Cathedral of Bangui (Central African Republic)
Sunday, 29 November 2015
---
On this first Sunday of Advent, the liturgical season of joyful expectation of the Saviour and a symbol of Christian hope, God has brought me here among you, in this land, while the universal Church is preparing for the opening of the Jubilee Year of Mercy, which we inaugurated here today. I am especially pleased that my pastoral visit coincides with the opening of this Jubilee Year in your country. […]
But like the Apostles Peter and John on their way to the Temple, who had neither gold nor silver to give to the paralytic in need, I have come to offer God's strength and power; for these bring us healing, set us on our feet and enable us to embark on a new life, to "go across to the other side" (cf. Lk 8:22).
Jesus does not make us cross to the other side alone; instead, he asks us to make the crossing with him, as each of us responds to his or her own specific vocation. We need to realize that making this crossing can only be done with him, by freeing ourselves of divisive notions of family and blood in order to build a Church which is God's family, open to everyone, concerned for those most in need. This presupposes closeness to our brothers and sisters; it implies a spirit of communion. It is not primarily a question of financial means; it is enough just to share in the life of God's people, in accounting for the hope which is in us (cf. 1 Pet 3:15), in testifying to the infinite mercy of God who, as the Responsorial Psalm of this Sunday's liturgy makes clear, is "good [and] instructs sinners in the way" (Ps 24:8). Jesus teaches us that our heavenly Father "makes the sun rise on the evil and on the good" (Mt 5:45). Having experienced forgiveness ourselves, we must forgive others in turn. This is our fundamental vocation: "You, therefore, must be perfect, as your heavenly Father is perfect" (Mt 5:48).
One of the essential characteristics of this vocation to perfection is the love of our enemies, which protects us from the temptation to seek revenge and from the spiral of endless retaliation. Jesus placed special emphasis on this aspect of the Christian testimony (cf. Mt 5:46-47). Those who evangelize must therefore be first and foremost practitioners of forgiveness, specialists in reconciliation, experts in mercy. This is how we can help our brothers and sisters to "cross to the other side" – by showing them the secret of our strength, our hope, and our joy, all of which have their source in God, for they are grounded in the certainty that he is in the boat with us. As he did with the apostles at the multiplication of the loaves, so too the Lord entrusts his gifts to us, so that we can go out and distribute them everywhere, proclaiming his reassuring words: "Behold, the days are coming when I will fulfil the promise I made to the house of Israel and the house of Judah" (Jer 33:14).
In the readings of this Sunday's liturgy, we can see different aspects of this salvation proclaimed by God; they appear as signposts to guide us on our mission. First of all, the happiness promised by God is presented as justice. Advent is a time when we strive to open our hearts to receive the Saviour, who alone is just and the sole Judge able to give to each his or her due. Here as elsewhere, countless men and women thirst for respect, for justice, for equality, yet see no positive signs on the horizon. These are the ones to whom he comes to bring the gift of his justice (cf. Jer 33:15). He comes to enrich our personal and collective histories, our dashed hopes and our sterile yearnings. And he sends us to proclaim, especially to those oppressed by the powerful of this world or weighed down by the burden of their sins, that "Judah will be saved and Jerusalem will dwell securely. And this is the name by which it shall be called, 'The Lord is our righteousness'" (Jer 33:16). Yes, God is righteousness; God is justice. This, then, is why we Christians are called in the world to work for a peace founded on justice.
The salvation of God which we await is also flavoured with love. In preparing for the mystery of Christmas, we relive the pilgrimage which prepared God's people to receive the Son, who came to reveal that God is not only righteousness, but also and above all love (cf. 1 Jn 4:8). In every place, even and especially in those places where violence, hatred, injustice and persecution hold sway, Christians are called to give witness to this God who is love. In encouraging the priests, consecrated men and woman, and committed laity who, in this country live, at times heroically, the Christian virtues, I realize that the distance between this demanding ideal and our Christian witness is at times great. For this reason I echo the prayer of Saint Paul: "Brothers and sisters, may the Lord make you increase and abound in love to one another and to all men and women" (1 Th 3:12). Thus what the pagans said of the early Christians will always remain before us like a beacon: "See how they love one another, how they truly love one another" (Tertullian, Apology, 39, 7).
Finally, the salvation proclaimed by God has an invincible power which will make it ultimately prevail. After announcing to his disciples the terrible signs that will precede his coming, Jesus concludes: "When these things begin to take place, look up and raise your heads, because your redemption is drawing near" (Lk 21:28). If Saint Paul can speak of a love which "grows and overflows", it is because Christian witness reflects that irresistible power spoken of in the Gospel. It is amid unprecedented devastation that Jesus wishes to show his great power, his incomparable glory (cf. Lk 21:27) and the power of that love which stops at nothing, even before the falling of the heavens, the conflagration of the world or the tumult of the seas. God is stronger, more powerful, than all else. This conviction gives to the believer serenity, courage and the strength to persevere in good amid the greatest hardships. Even when the powers of Hell are unleashed, Christians must rise to the summons, their heads held high, and be ready to brave blows in this battle over which God will have the last word. And that word will be one of love and peace!
To all those who make unjust use of the weapons of this world, I make this appeal: lay down these instruments of death! Arm yourselves instead with righteousness, with love and mercy, the authentic guarantors of peace. As followers of Christ, dear priests, religious and lay pastoral workers, here in this country, with its suggestive name, situated in the heart of Africa and called to discover the Lord as the true centre of all that is good, your vocation is to incarnate the very heart of God in the midst of your fellow citizens. May the Lord deign to "strengthen your hearts in holiness, that you may be blameless before our God and Father at the coming of our Lord Jesus with all his saints" (1 Th 3:13). Reconciliation, forgiveness, love and peace! Amen.
SOURCE: https://www.vatican.va/content/francesco/en/homilies/2015/documents/papa-francesco_20151129_repcentrafricana-omelia-cattedrale-bangui.html
EMPHASIS MINE.
Stay updated: subscribe by email for free TO OUR NEW WEBSITE www.catholicsstrivingforholiness.org (PUT YOUR EMAIL IN THE SUBSCRIBE WIDGET).
We are also in www.fb.com/Catholicsstrivingforholiness. Kindly help more people in their Christian life by liking our page and inviting your family, friends and relatives to do so as well. Thanks in advance and God bless you and your loved ones! Fr. Rolly Arjonillo