POPE FRANCIS ON THE 14TH SUNDAY IN ORDINARY TIME YEAR C.
POPE FRANCIS ON THE
14TH SUNDAY IN ORDINARY TIME YEAR C.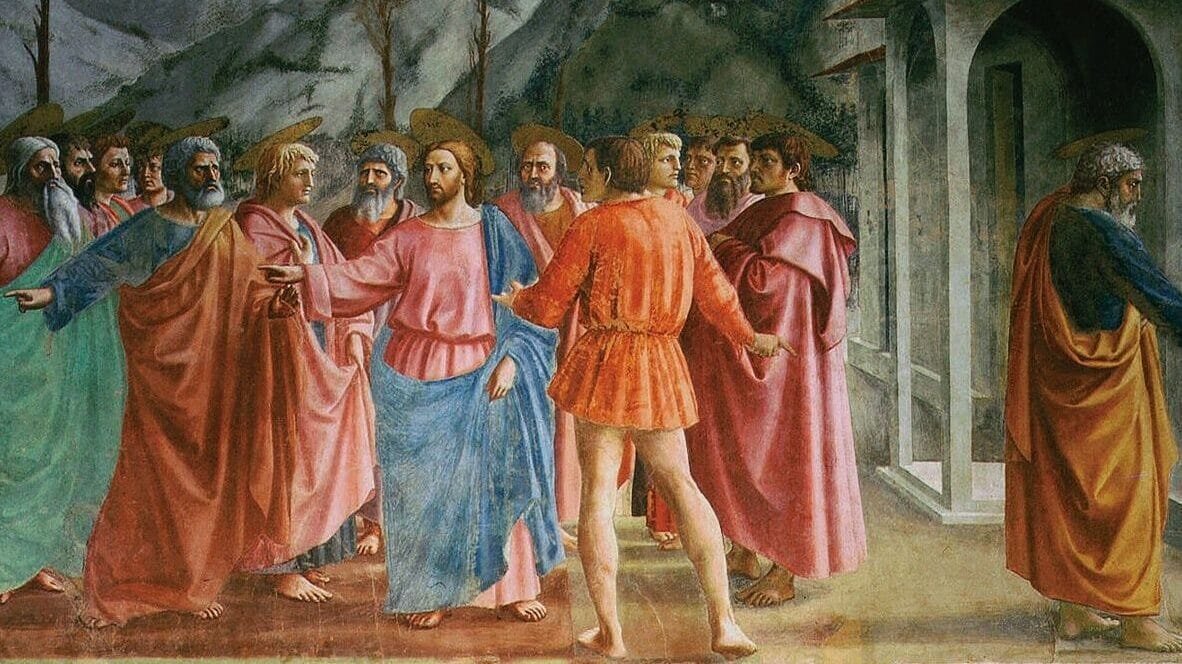 ANGELUS
Saint Peter's Square
14th Sunday in Ordinary Time Year C, 7 July 2019
---
Dear Brothers and Sisters Good morning!
Today's Gospel passage (cf. Lk 10:1-12, 17-20) presents Jesus who sends 72 disciples on mission, in addition to the 12 Apostles. The number 72 likely refers to all the nations. Indeed, in the Book of Genesis 72 different nations are mentioned (cf. 10:1-32). Thus, this conveyance prefigures the Church's mission to proclaim the Gospel to all peoples. Jesus says to those disciples: "The harvest is plentiful, but the labourers are few; pray therefore the Lord of the harvest to send out labourers into his harvest!" (Lk 10:2).
This request by Jesus is always valid. We must always pray to the "Lord of the harvest", namely, God the Father, that he send labourers into his field which is the world. And each of us must do so with an open heart, with a missionary attitude; our prayer must not be limited only to our needs, to our necessities: a prayer is truly Christian if it also has a universal dimension.
In sending out the 72 disciples, Jesus gives them precise instructions which express the characteristics of the mission. The first, as we have already seen, is: pray; the second: go; and then: carry no purse, no bag…; say, 'Peace be to this house' … remain in the same house… do not go from house to house… heal the sick in it and say to them, 'The kingdom of God has come near to you'". And if they do not receive you, go out into the streets and take your leave (cf. vv. 2-10). These imperatives show that the mission is based on prayer; that it is itinerant: it is not idle; it is itinerant; that it requires separation and poverty; that it brings peace and healing, signs of the closeness of the Kingdom of God; that it is not proselytism but proclamation and witness; and that it also requires frankness and the evangelical freedom to leave while highlighting the responsibility of having rejected the message of salvation, but without condemnation and cursing.
If lived in these terms, the mission of the Church will be characterized by joy. And how does this passage end? The 72 "returned with joy" (cf. v. 17). It is not an ephemeral joy, which flows from the success of the mission; on the contrary, it is a joy rooted in the promise that — as Jesus says: "your names are written in heaven" (v. 20). With this expression he means inner joy, and the indestructible joy that is born out of the awareness of being called by God to follow his Son. That is, the joy of being his disciples. Today, for example, each of us, here in the Square, can think of the name we received on the day of Baptism: that name is "written in heaven", in the heart of God the Father. And it is the joy of his gift that makes a missionary of every disciple, those who walk in the company of the Lord Jesus, who learn from him to unsparingly expend themselves for others, free of oneself and of one's possessions.
Together let us invoke the maternal protection of Mary Most Holy, that she support the mission of Christ's disciples in every place; the mission to proclaim to all that God loves us, wants to save us, and calls us to join his Kingdom.
Source: https://www.vatican.va/content/francesco/en/angelus/2019/documents/papa-francesco_angelus_20190707.html
Emphasis mine.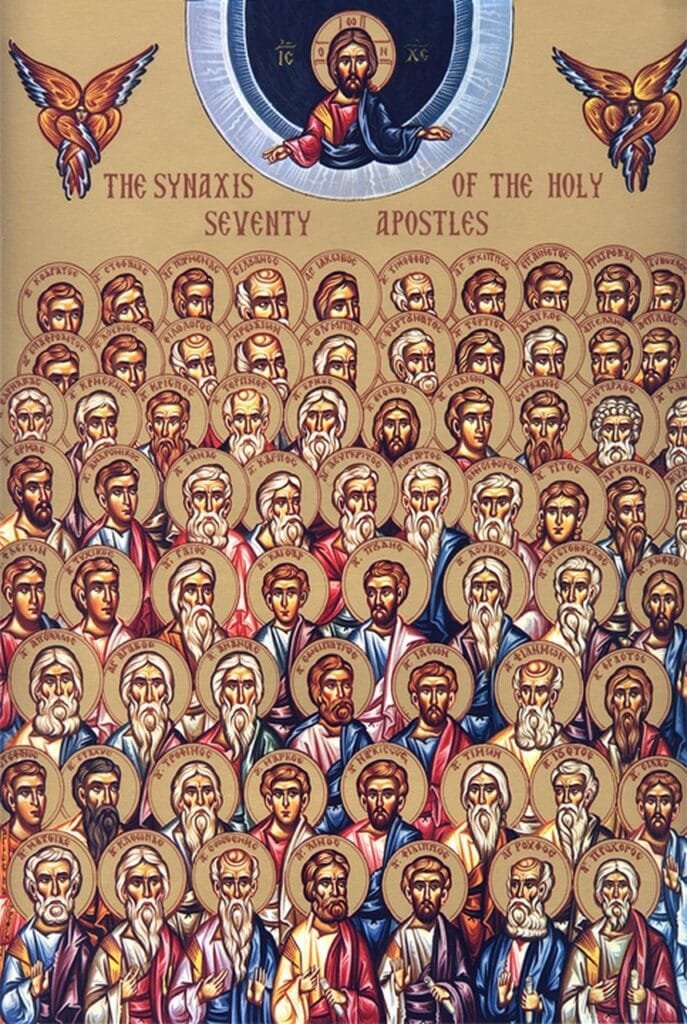 ANGELUS
Saint Peter's Square
14th Sunday in Ordinary Time Year C, 3 July 2016
---
Dear Brothers and Sisters, Good morning!
Today's Gospel passage, taken from the tenth Chapter of the Gospel of Luke (vv. 1-12, 17-20), makes us consider how necessary it is to invoke God, "the Lord of harvest to send out laborers" (v. 2). The "laborers" whom Jesus speaks of are the missionaries of the Kingdom of God, whom he himself calls and sends on "ahead of him, two by two, into every town and place where he himself was about to come" (v. 1). Their task is to proclaim a message of salvation addressed to everyone. Missionaries always proclaim a message of salvation to everyone; not only those missionaries who go afar, but we too, [are] Christian missionaries who express a good word of salvation. This is the gift that Jesus gives us with the Holy Spirit. This message is to say: "The kingdom of God has come near to you" (v. 9), because God has "come near" to us through Jesus; God became one of us; in Jesus, God reigns in our midst, his merciful love overcomes sin and human misery.
This is the Good News that the "laborers" must bring to everyone: a message of hope and comfort, of peace and charity. When Jesus sends the disciples ahead of him into the villages, he tells them: "first, say 'Peace be to this house!' […]; heal the sick in it" (vv. 5, 9). All of this signifies that the Kingdom of God is built day by day and already offers on this earth its fruits of conversion, of purification, of love and of comfort among men. It is a beautiful thing! Building day by day this Kingdom of God that is to be made. Do not destroy, build!
With what spirit must disciples of Jesus carry out this mission? First of all they must be aware of the difficult and sometimes hostile reality that awaits them. Jesus minces no words about this! Jesus says: "I send you out as lambs in the midst of wolves" (v. 3). This is very clear. Hostility is always at the beginning of persecutions of Christians; because Jesus knows that the mission is blocked by the work of evil. For this reason, the laborer of the Gospel will strive to be free from every kind of human conditioning, carrying neither purse nor bag nor sandals (cf. v. 4), as Jesus counseled, so as to place reliance solely in the power of the Cross of Jesus Christ. This means abandoning every motive of personal advantage, careerism or hunger for power, and humbly making ourselves instruments of the salvation carried out by Jesus' sacrifice.
A Christian's mission in the world is splendid, it is a mission intended for everyone, it is a mission of service, excluding no one; it requires a great deal of generosity and above all setting one's gaze and heart facing on High, to invoke the Lord's help. There is a great need for Christians who joyfully witness to the Gospel in everyday life. The disciples, sent out by Jesus, "returned with joy" (v. 17). When we do this, our heart fills with joy. This expression makes me think of how much the Church rejoices, she revels when her children receive the Good News thanks to the dedication of so many men and women who daily proclaim the Gospel: priests — those brave parish priests whom we all know —, nuns, consecrated women, missionary men and women…. I ask myself — listen to the question —: how many of you young people who are now present today in the Square, hear the Lord's call to follow him? Fear not! Be courageous and bring to others this guiding light of apostolic zeal that these exemplary disciples have given to us.
Let us pray to the Lord, through the intercession of the Virgin Mary, that the Church may never lack generous hearts that work to bring everyone the love and kindness of our heavenly Father.
Source: https://www.vatican.va/content/francesco/en/angelus/2016/documents/papa-francesco_angelus_20160703.html
Emphasis mine.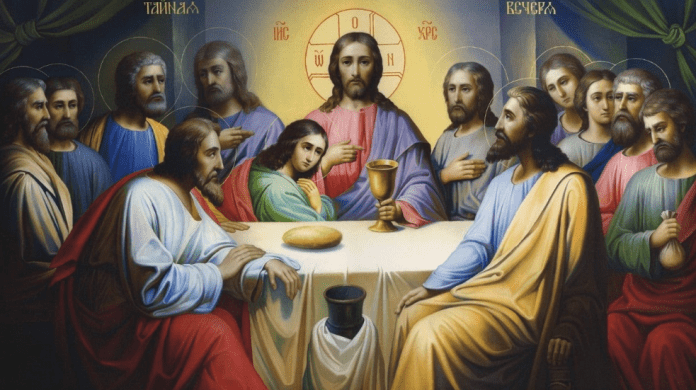 ANGELUS
St Peter's Square
Sunday, 7 July 2013
_______________________
Dear Brothers and Sisters! Good morning!
First of all I would like to share with you the joy of having met, yesterday and today, a special pilgrimage for the Year of Faith of seminarians and novices. I ask you to pray for them, that love of Christ may always grow in their lives and that they may become true missionaries of the Kingdom of God.
The Gospel this Sunday (Lk 10:1-12, 17-20) speaks to us about this: the fact that Jesus is not a lone missionary, he does not want to fulfil his mission alone, but involves his disciples. And today we see that in addition to the twelve Apostles he calls another 72, and sends them to the villages, two by two, to proclaim that the Kingdom of God is close at hand. This is very beautiful! Jesus does not want to act alone, he came to bring the love of God into the world and he wants to spread it in the style of communion, in the style of brotherhood. That is why he immediately forms a community of disciples, which is a missionary community. He trains them straight away for the mission, to go forth.
But pay attention: their purpose is not to socialize, to spend time together, no, their purpose is to proclaim the Kingdom of God, and this is urgent! And it is still urgent today! There is no time to be lost in gossip, there is no need to wait for everyone's consensus, what is necessary is to go out and proclaim. To all people you bring the peace of Christ, and if they do not welcome it, you go ahead just the same. To the sick you bring healing, because God wants to heal man of every evil. How many missionaries do this, they sow life, health, comfort to the outskirts of the world. How beautiful it is! Do not live for yourselves, do not live for yourselves, but live to go forth and do good! There are many young people today in the Square: think of this, ask yourselves this: is Jesus calling me to go forth, to come out of myself to do good? To you, young people, to you boys and girls I ask: you, are you brave enough for this, do you have the courage to hear the voice of Jesus? It is beautiful to be missionaries!… Ah, you are good! I like this!
These 72 disciples, whom Jesus sent out ahead of him, who were they? Who do they represent? If the Twelve were the Apostles, and also thus represent the Bishops, their successors, these 72 could represent the other ordained ministries, priests and deacons; but more broadly we can think of the other ministries in the Church, of catechists, of the lay faithful who engage in parish missions, of those who work with the sick, with different kinds of disadvantaged and marginalized people; but always as missionaries of the Gospel, with the urgency of the Kingdom that is close at hand. Everyone must be a missionary, everyone can hear that call of Jesus and go forth and proclaim the Kingdom!
The Gospel says that those 72 came back from their mission full of joy, because they had experienced the power of Christ's Name over evil. Jesus says it: to these disciples He gives the power to defeat the evil one. But he adds: "Do not rejoice in this, that the spirits are subject to you; but rejoice that your names are written in heaven" (Lk 10:20). We should not boast as if we were the protagonists: there is only one protagonist, it is the Lord! The Lord's grace is the protagonist! He is the one hero! And our joy is just this: to be his disciples, his friends. May Our Lady help us to be good agents of the Gospel.
Dear friends, be glad! Do not be afraid of being joyful! Don't be afraid of joy! That joy which the Lord gives us when we allow him to enter our life. Let us allow him to enter our lives and invite us to go out to the margins of life and proclaim the Gospel. Don't be afraid of joy. Have joy and courage!
Source: https://www.vatican.va/content/francesco/en/angelus/2013/documents/papa-francesco_angelus_20130707.html
Emphasis mine.
Stay updated: subscribe by email for free TO OUR NEW WEBSITE www.catholicsstrivingforholiness.org (PUT YOUR EMAIL IN THE SUBSCRIBE WIDGET).
We are also in www.fb.com/Catholicsstrivingforholiness. Kindly help more people in their Christian life by liking our page and inviting your family, friends and relatives to do so as well. Thanks in advance and God bless you and your loved ones! Fr. Rolly Arjonillo