POPE FRANCIS ON PALM SUNDAY YEAR C
POPE FRANCIS ON PALM SUNDAY YEAR C.
CELEBRATION OF PALM SUNDAY OF THE PASSION OF THE LORD
HOMILY OF HIS HOLINESS POPE FRANCIS ON PALM SUNDAY
St Peter's Square
Palm Sunday, 10 April 2022
---
On Calvary, two ways of thinking collided.  In the Gospel, the words of the crucified Jesus are in sharp contrast with the words of those who crucified him. The latter keep saying: "Save yourself". The leaders of the people said: "Let him save himself, if he is the Christ of God, his Chosen One" (Lk 23:35). The soldiers said the same thing: "If you are the King of the Jews, save yourself" (v. 37). Finally, one of the criminals, echoing their words, said to him: "Are you not the Christ? Save yourself" (v. 39).  Save yourself. Take care of yourself. Think of yourself. Not of others, but only of your own well-being, your own success, your own interests: your possessions, your power, your image.  Save yourself.  This is the constant refrain of the world that crucified the Lord. Let us think about it.
Against this self-centred mindset is God's way of thinking. The mantra "save yourself" collides with the words of the Saviour who offers his self. Like his adversaries, Jesus speaks three times in today's Gospel (cf. vv. 34.43.46). Yet he did not claim anything for himself; indeed, he did not even defend or justify himself. He prayed to the Father and offered mercy to the good thief. One of his words, in particular, marked the difference with regard to the mantra "save yourself". He said: "Father, forgive them" (v. 34).
Let us reflect on the Lord's words. When did he say them? At a very specific moment: while he was being crucified, as he felt the nails piercing his wrists and feet. Let us try to imagine the excruciating pain he suffered. At that moment, amid the most searing physical pain of his Passion, Christ asked forgiveness for those who were piercing him. At times like that, we would scream out and give vent to all our anger and suffering. But Jesus said: Father, forgive them.
Unlike the other martyrs about whom the Bible speaks (cf. 2 Mac 7:18-19), Jesus did not rebuke his executioners or threaten punishments in the name of God; rather, he prayed for the evildoers. Fastened to the gibbet of humiliation, his attitude of giving became that of forgiving.
Brothers and sisters, God does the same thing with us.  When we cause suffering by our actions, God suffers yet has only one desire: to forgive us. In order to appreciate this, let us gaze upon the crucified Lord. It is from his painful wounds, from the streams of blood caused by the nails of our sinfulness that forgiveness gushes forth. Let us look to Jesus on the cross and realize that greater words were never spoken: Father, forgive. Let us look to Jesus on the cross and realize that we have never been looked upon with a more gentle and compassionate gaze. Let us look to Jesus on the cross and understand that we have never received a more loving embrace. Let us look to the crucified Lord and say: "Thank you, Jesus: you love me and always forgive me, even at those times when I find it hard to love and forgive myself".
There, as he was being crucified, at the height of his pain, Jesus himself obeyed the most demanding of his commandments: that we love our enemies. Let us think about someone who, in our own lives, injured, offended or disappointed us; someone who made us angry, who did not understand us or who set a bad example.  How often we spend time looking back on those who have wronged us! How often we think back and lick the wounds that other people, life itself and history have inflicted on us. Today, Jesus teaches us not to remain there, but to react, to break the vicious circle of evil and sorrow. To react to the nails in our lives with love, to the buffets of hatred with the embrace of forgiveness. As disciples of Jesus, do we follow the Master or do we follow our own desire to strike back? This is a question we have to ask ourselves. Do we follow the Master or not?
If we want to test whether we truly belong to Christ, let us look at how we behave toward those who have hurt us.  The Lord asks us to respond not as we feel, or as everyone else does, but in the way he acts toward us. He asks us to break out of the mindset that says: "I will love you if you love me; I will be your friend if you are my friend; I will help you if you help me". Rather, we are to show compassion and mercy to everyone, for God sees a son or a daughter in each person. He does not separate us into good and bad, friends and enemies. We are the ones who do this, and we make God suffer. For him, all of us are his beloved children, children whom he desires to embrace and forgive. Just as in the parable of the wedding feast, where the father of the groom sends his servants into the streets and says: "Invite everybody: white, black, good and bad, everybody, the healthy, the sick, everybody…" (cf. Mt 22:9-10). The love of Jesus is for everyone; everyone has the same privilege: that of being loved and forgiven.
Father, forgive them for they know not what they do. According to the Gospel, Jesus "kept saying" this (cf. v. 34). He did not say it once for all as he was being nailed to the cross; instead, he spent all his time on the cross with these words on his lips and in his heart. God never tires of forgiving. We need to understand this, not just in our minds, but also in our hearts. God never tires of forgiving. We are the ones who get tired of asking forgiveness. But he never tires of forgiving. He does not put up with us for a while and then change his mind, as we are tempted to do.  Jesus – so the Gospel of Luke teaches us – came into the world to bring us forgiveness for our sins (cf. Lk 1:77). In the end, he gave us a clear command: to proclaim forgiveness of sins to everyone in his name (cf. Lk 24:47). Let us never grow tired of proclaiming God's forgiveness: we priests, of administering it; all Christians, of receiving it and bearing witness to it. Let us never grow tired when it comes to God's forgiveness.
Father, forgive them for they know not what they do. Let us observe one more thing. Jesus not only asked that they be forgiven, but also mentioned the reason why: for they know not what they do. How could that be? Those who crucified him had premeditated his killing, organized his arrest and trials, and now they were standing on Calvary to witness his death. Yet Christ justifies those violent men by saying: they know not. That is how Jesus acts in our regard: he makes himself our advocate.  He does not set himself against us, but for us and against our sins. His words make us think: for they know not. It is the ignorance of the heart, which all of us have as sinners.
When we resort to violence, we show that we no longer know anything about God, who is our Father, or even about others, who are our brothers and sisters. We lose sight of why we are in the world and even end up committing senseless acts of cruelty. We see this in the folly of war, where Christ is crucified yet another time. Christ is once more nailed to the Cross in mothers who mourn the unjust death of husbands and sons. He is crucified in refugees who flee from bombs with children in their arms. He is crucified in the elderly left alone to die; in young people deprived of a future; in soldiers sent to kill their brothers and sisters. Christ is being crucified there, today.
Father, forgive them for they know not what they do. Many people heard these extraordinary words, but only one person responded to them. He was a criminal, crucified next to Jesus. We can imagine that the mercy of Christ stirred up in him one last hope and led him to speak these words: "Jesus, remember me" (Lk 23:42). As if to say: "Everyone else has forgotten me, yet you keep thinking of those who crucify you. With you, then, there is also a place for me". The good thief accepted God as his life was ending, and in this way, his life began anew. In the hell of this world, he saw heaven opening up: "Today you will be with me in Paradise" (v. 43). This is the marvel of God's forgiveness, which turned the last request of a man condemned to death into the first canonization of history.
Brothers and sisters, in the course of this week, let us cling to the certainty that God can forgive every sin. He forgives everyone. He can bridge every distance, and turn all mourning into dancing (cf. Ps 30:12). The certainty that with Jesus there is always a place for everyone. That with Christ things are never over. That with him, it is never too late. With God, we can always come back to life.  Take courage! Let us journey toward Easter with his forgiveness. For Christ constantly intercedes for us before the Father (cf. Heb 7:25). Gazing upon our violent and tormented world, he never tires of repeating: Father, forgive them for they know not what they do. Let us now do the same, in silence, in our hearts, and repeat: Father, forgive them for they know not what they do.
Source: https://www.vatican.va/content/francesco/en/homilies/2022/documents/20220410-omelia-palme.html
Emphasis mine.
HOMILY OF HIS HOLINESS POPE FRANCIS ON PALM SUNDAY
St Peter's Basilica
35th World Youth Day
Sunday, 5 April 2020
---
Jesus "emptied himself, taking the form of a servant" (Phil 2:7). Let us allow these words of the Apostle Paul to lead us into these holy days, when the word of God, like a refrain, presents Jesus as servant: on Holy Thursday, he is portrayed as the servant who washes the feet of his disciples; on Good Friday, he is presented as the suffering and victorious servant (cf. Is 52:13); and tomorrow we will hear the prophecy of Isaiah about him: "Behold my servant, whom I uphold" (Is 42:1). God saved us by serving us. We often think we are the ones who serve God. No, he is the one who freely chose to serve us, for he loved us first. It is difficult to love and not be loved in return. And it is even more difficult to serve if we do not let ourselves be served by God.
But – just one question – how did the Lord serve us? By giving his life for us. We are dear to him; we cost him dearly. Saint Angela of Foligno said she once heard Jesus say: "My love for you is no joke". His love for us led him to sacrifice himself and to take upon himself our sins. This astonishes us: God saved us by taking upon himself all the punishment of our sins. Without complaining, but with the humility, patience and obedience of a servant, and purely out of love. And the Father upheld Jesus in his service. He did not take away the evil that crushed him, but rather strengthened him in his suffering so that our evil could be overcome by good, by a love that loves to the very end.
The Lord served us to the point of experiencing the most painful situations of those who love: betrayal and abandonment.
Betrayal. Jesus suffered betrayal by the disciple who sold him and by the disciple who denied him. He was betrayed by the people who sang hosanna to him and then shouted: "Crucify him!" (Mt 27:22). He was betrayed by the religious institution that unjustly condemned him and by the political institution that washed its hands of him. We can think of all the small or great betrayals that we have suffered in life. It is terrible to discover that a firmly placed trust has been betrayed. From deep within our heart a disappointment surges up that can even make life seem meaningless. This happens because we were born to be loved and to love, and the most painful thing is to be betrayed by someone who promised to be loyal and close to us. We cannot even imagine how painful it was for God who is love.
Let us look within. If we are honest with ourselves, we will see our infidelities. How many falsehoods, hypocrisies and duplicities! How many good intentions betrayed! How many broken promises! How many resolutions left unfulfilled! The Lord knows our hearts better than we do. He knows how weak and irresolute we are, how many times we fall, how hard it is for us to get up and how difficult it is to heal certain wounds. And what did he do in order to come to our aid and serve us? He told us through the Prophet: "I will heal their faithlessness; I will love them deeply" (Hos 14:5). He healed us by taking upon himself our infidelity and by taking from us our betrayals. Instead of being discouraged by the fear of failing, we can now look upon the crucifix, feel his embrace, and say: "Behold, there is my infidelity, you took it, Jesus, upon yourself. You open your arms to me, you serve me with your love, you continue to support me… And so I will keep pressing on".
Abandonment. In today's Gospel, Jesus says one thing from the Cross, one thing alone: "My God, my God, why have you forsaken me?" (Mt 27:46). These are powerful words. Jesus had suffered the abandonment of his own, who had fled. But the Father remained for him. Now, in the abyss of solitude, for the first time he calls him by the generic name "God". And "in a loud voice" he asks the question "why?", the most excruciating "why?": "Why did you too abandon me?". These words are in fact those of a Psalm (cf. 22:2); they tell us that Jesus also brought the experience of extreme desolation to his prayer. But the fact remains that he himself experienced that desolation: he experienced the utmost abandonment, which the Gospels testify to by quoting his very words.
Why did all this take place? Once again, it was done for our sake, to serve us. So that when we have our back to the wall, when we find ourselves at a dead end, with no light and no way of escape, when it seems that God himself is not responding, we should remember that we are not alone. Jesus experienced total abandonment in a situation he had never before experienced in order to be one with us in everything. He did it for me, for you, for all of us; he did it to say to us: "Do not be afraid, you are not alone. I experienced all your desolation in order to be ever close to you". That is the extent to which Jesus served us: he descended into the abyss of our most bitter sufferings, culminating in betrayal and abandonment. Today, in the tragedy of a pandemic, in the face of the many false securities that have now crumbled, in the face of so many hopes betrayed, in the sense of abandonment that weighs upon our hearts, Jesus says to each one of us: "Courage, open your heart to my love. You will feel the consolation of God who sustains you".
Dear brothers and sisters, what can we do in comparison with God, who served us even to the point of being betrayed and abandoned? We can refuse to betray him for whom we were created, and not abandon what really matters in our lives. We were put in this world to love him and our neighbours. Everything else passes away, only this remains. The tragedy we are experiencing at this time summons us to take seriously the things that are serious, and not to be caught up in those that matter less; to rediscover that life is of no use if not used to serve others. For life is measured by love. So, in these holy days, in our homes, let us stand before the Crucified One – look upon the Crucified One! – the fullest measure of God's love for us, and before the God who serves us to the point of giving his life, and, – fixing our gaze on the Crucified One – let us ask for the grace to live in order to serve. May we reach out to those who are suffering and those most in need. May we not be concerned about what we lack, but what good we can do for others.
Behold my servant, whom I uphold. The Father, who sustained Jesus in his Passion also supports us in our efforts to serve. Loving, praying, forgiving, caring for others, in the family and in society: all this can certainly be difficult. It can feel like a via crucis. But the path of service is the victorious and life giving path by which we were saved. I would like to say this especially to young people, on this Day which has been dedicated to them for thirty-five years now. Dear friends, look at the real heroes who come to light in these days: they are not famous, rich and successful people; rather, they are those who are giving themselves in order to serve others. Feel called yourselves to put your lives on the line. Do not be afraid to devote your life to God and to others; it pays! For life is a gift we receive only when we give ourselves away, and our deepest joy comes from saying yes to love, without ifs and buts. To truly say yes to love, without ifs and buts. As Jesus did for us.
© Copyright – Libreria Editrice Vaticana
SOURCE: http://w2.vatican.va/content/francesco/en/homilies/2020/documents/papa-francesco_20200405_omelia-palme.html
---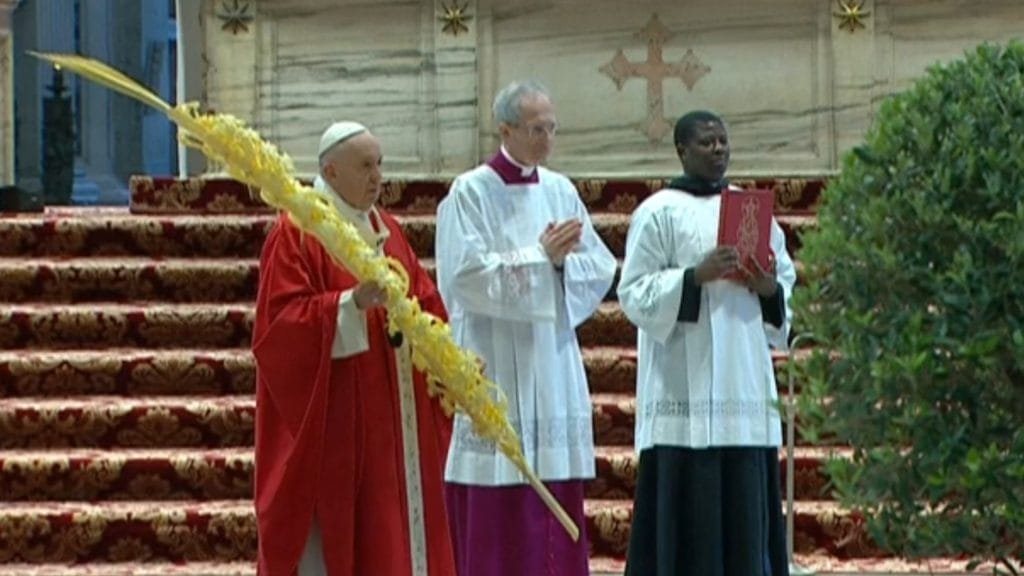 HOMILY OF HIS HOLINESS POPE FRANCIS
Saint Peter's Square
XXXI World Youth Day
Sunday, 20 March 2016
"Blessed is he who comes in the name of the Lord!" (cf. Lk 19:38), the crowd of Jerusalem exclaimed joyfully as they welcomed Jesus. We have made that enthusiasm our own: by waving our olive and palm branches we have expressed our praise and our joy, our desire to receive Jesus who comes to us. Just as he entered Jerusalem, so he desires to enter our cities and our lives. As he did in the Gospel, riding on a donkey, so too he comes to us in humility; he comes "in the name of the Lord". Through the power of his divine love he forgives our sins and reconciles us to the Father and with ourselves.
Jesus is pleased with the crowd's showing their affection for him. When the Pharisees ask him to silence the children and the others who are acclaiming him, he responds: "I tell you, if these were silent, the very stones would cry out" (Lk 19:40). Nothing could dampen their enthusiasm for Jesus' entry. May nothing prevent us from finding in him the source of our joy, true joy, which abides and brings peace; for it is Jesus alone who saves us from the snares of sin, death, fear and sadness.
Today's liturgy teaches us that the Lord has not saved us by his triumphal entry or by means of powerful miracles. The Apostle Paul, in the second reading, epitomizes in two verbs the path of redemption: Jesus "emptied" and "humbled" himself (Phil 2:7-8). These two verbs show the boundlessness of God's love for us. Jesus emptied himself: he did not cling to the glory that was his as the Son of God, but became the Son of man in order to be in solidarity with us sinners in all things; yet he was without sin. Even more, he lived among us in "the condition of a servant" (v. 7); not of a king or a prince, but of a servant. Therefore he humbled himself, and the abyss of his humiliation, as Holy Week shows us, seems to be bottomless.
The first sign of this love "without end" (Jn 13:1) is the washing of the feet. "The Lord and Master" (Jn 13:14) stoops to his disciples' feet, as only servants would have done. He shows us by example that we need to allow his love to reach us, a love which bends down to us; we cannot do any less, we cannot love without letting ourselves be loved by him first, without experiencing his surprising tenderness and without accepting that true love consists in concrete service.
But this is only the beginning. The humiliation of Jesus reaches its utmost in the Passion: he is sold for thirty pieces of silver and betrayed by the kiss of a disciple whom he had chosen and called his friend. Nearly all the others flee and abandon him; Peter denies him three times in the courtyard of the temple. Humiliated in his spirit by mockery, insults and spitting, he suffers in his body terrible brutality: the blows, the scourging and the crown of thorns make his face unrecognizable. He also experiences shame and disgraceful condemnation by religious and political authorities: he is made into sin and considered to be unjust. Pilate then sends him to Herod, who in turn sends him to the Roman governor. Even as every form of justice is denied to him, Jesus also experiences in his own flesh indifference, since no one wishes to take responsibility for his fate. And I think of the many people, so many outcasts, so many asylum seekers, so many refugees, all of those for whose fate no one wishes to take responsibility. The crowd, who just a little earlier had acclaimed him, now changes their praise into a cry of accusation, even to the point of preferring that a murderer be released in his place. And so the hour of death on the cross arrives, that most painful form of shame reserved for traitors, slaves and the worst kind of criminals. But isolation, defamation and pain are not yet the full extent of his deprivation. To be totally in solidarity with us, he also experiences on the Cross the mysterious abandonment of the Father. In his abandonment, however, he prays and entrusts himself: "Father, into your hands I commit my spirit" (Lk 23:46). Hanging from the wood of the cross, beside derision he now confronts the last temptation: to come down from the Cross, to conquer evil by might and to show the face of a powerful and invincible God. Jesus, however, even here at the height of his annihilation, reveals the true face of God, which is mercy. He forgives those who are crucifying him, he opens the gates of paradise to the repentant thief and he touches the heart of the centurion. If the mystery of evil is unfathomable, then the reality of Love poured out through him is infinite, reaching even to the tomb and to hell. He takes upon himself all our pain that he may redeem it, bringing light to darkness, life to death, love to hatred.
God's way of acting may seem so far removed from our own, that he was annihilated for our sake, while it seems difficult for us to even forget ourselves a little. He comes to save us; we are called to choose his way: the way of service, of giving, of forgetfulness of ourselves. Let us walk this path, pausing in these days to gaze upon the Crucifix; it is the "royal seat of God". I invite you during this week to gaze often upon this "royal seat of God", to learn about the humble love which saves and gives life, so that we may give up all selfishness, and the seeking of power and fame. By humbling himself, Jesus invites us to walk on his path. Let us turn our faces to him, let us ask for the grace to understand at least something of the mystery of his obliteration for our sake; and then, in silence, let us contemplate the mystery of this Week.

---
© Copyright – Libreria Editrice Vaticana
SOURCE: http://w2.vatican.va/content/francesco/en/homilies/2016/documents/papa-francesco_20160320_omelia-palme.html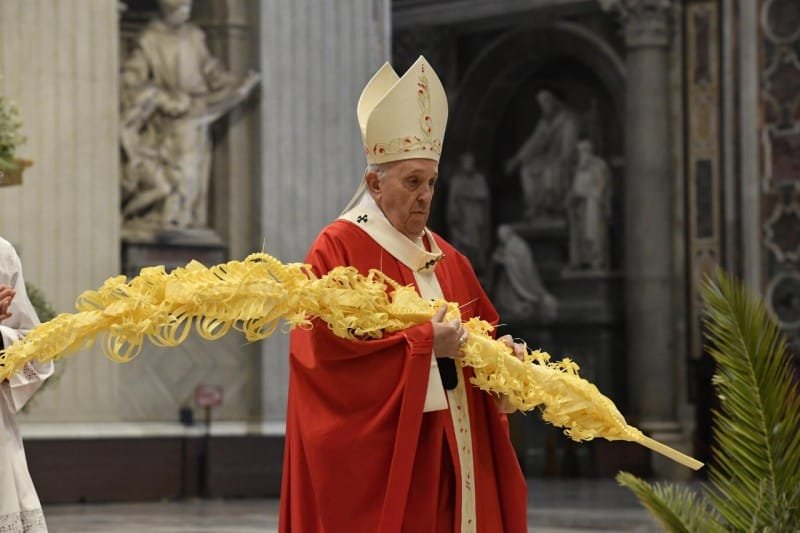 HOMILY OF POPE FRANCIS
Saint Peter's Square
XXVIII World Youth Day
Palm Sunday Year C, 24 March 2013
1. Jesus enters Jerusalem. The crowd of disciples accompanies him in festive mood, their garments are stretched out before him, there is talk of the miracles he has accomplished, and loud praises are heard: "Blessed is the King who comes in the name of the Lord. Peace in heaven and glory in the highest!" (Lk 19:38).
Crowds, celebrating, praise, blessing, peace: joy fills the air. Jesus has awakened great hopes, especially in the hearts of the simple, the humble, the poor, the forgotten, those who do not matter in the eyes of the world. He understands human sufferings, he has shown the face of God's mercy, and he has bent down to heal body and soul.
This is Jesus. This is his heart which looks to all of us, to our sicknesses, to our sins. The love of Jesus is great. And thus he enters Jerusalem, with this love, and looks at us. It is a beautiful scene, full of light – the light of the love of Jesus, the love of his heart – of joy, of celebration.
At the beginning of Mass, we too repeated it. We waved our palms, our olive branches. We too welcomed Jesus; we too expressed our joy at accompanying him, at knowing him to be close, present in us and among us as a friend, a brother, and also as a King: that is, a shining beacon for our lives. Jesus is God, but he lowered himself to walk with us. He is our friend, our brother. He illumines our path here. And in this way we have welcomed him today. And here the first word that I wish to say to you: joy! Do not be men and women of sadness: a Christian can never be sad! Never give way to discouragement! Ours is not a joy born of having many possessions, but from having encountered a Person: Jesus, in our midst; it is born from knowing that with him we are never alone, even at difficult moments, even when our life's journey comes up against problems and obstacles that seem insurmountable, and there are so many of them! And in this moment the enemy, the devil, comes, often disguised as an angel, and slyly speaks his word to us. Do not listen to him! Let us follow Jesus! We accompany, we follow Jesus, but above all we know that he accompanies us and carries us on his shoulders. This is our joy, this is the hope that we must bring to this world. Please do not let yourselves be robbed of hope! Do not let hope be stolen! The hope that Jesus gives us.
2. The second word. Why does Jesus enter Jerusalem? Or better: how does Jesus enter Jerusalem? The crowds acclaim him as King. And he does not deny it, he does not tell them to be silent (cf. Lk 19:39-40). But what kind of a King is Jesus? Let us take a look at him: he is riding on a donkey, he is not accompanied by a court, he is not surrounded by an army as a symbol of power. He is received by humble people, simple folk who have the sense to see something more in Jesus; they have that sense of the faith which says: here is the Saviour. Jesus does not enter the Holy City to receive the honours reserved to earthly kings, to the powerful, to rulers; he enters to be scourged, insulted and abused, as Isaiah foretold in the First Reading (cf. Is 50:6). He enters to receive a crown of thorns, a staff, a purple robe: his kingship becomes an object of derision. He enters to climb Calvary, carrying his burden of wood. And this brings us to the second word: Cross. Jesus enters Jerusalem in order to die on the Cross. And it is precisely here that his kingship shines forth in godly fashion: his royal throne is the wood of the Cross! It reminds me of what Benedict XVI said to the Cardinals: you are princes, but of a king crucified. That is the throne of Jesus. Jesus takes it upon himself… Why the Cross? Because Jesus takes upon himself the evil, the filth, the sin of the world, including the sin of all of us, and he cleanses it, he cleanses it with his blood, with the mercy and the love of God. Let us look around: how many wounds are inflicted upon humanity by evil! Wars, violence, economic conflicts that hit the weakest, greed for money that you can't take with you and have to leave. When we were small, our grandmother used to say: a shroud has no pocket. Love of power, corruption, divisions, crimes against human life and against creation! And – as each one of us knows and is aware – our personal sins: our failures in love and respect towards God, towards our neighbour and towards the whole of creation. Jesus on the Cross feels the whole weight of the evil, and with the force of God's love he conquers it, he defeats it with his resurrection. This is the good that Jesus does for us on the throne of the Cross. Christ's Cross embraced with love never leads to sadness, but to joy, to the joy of having been saved and of doing a little of what he did on the day of his death.
3. Today in this Square, there are many young people: for twenty-eight years Palm Sunday has been World Youth Day! This is our third word: youth! Dear young people, I saw you in the procession as you were coming in; I think of you celebrating around Jesus, waving your olive branches. I think of you crying out his name and expressing your joy at being with him! You have an important part in the celebration of faith! You bring us the joy of faith and you tell us that we must live the faith with a young heart, always: a young heart, even at the age of seventy or eighty. Dear young people! With Christ, the heart never grows old! Yet all of us, all of you know very well that the King whom we follow and who accompanies us is very special: he is a King who loves even to the Cross and who teaches us to serve and to love. And you are not ashamed of his Cross! On the contrary, you embrace it, because you have understood that it is in giving ourselves, in giving ourselves, in emerging from ourselves that we have true joy and that, with his love, God conquered evil. You carry the pilgrim Cross through all the Continents, along the highways of the world! You carry it in response to Jesus' call: "Go, make disciples of all nations" (Mt 28:19), which is the theme of World Youth Day this year. You carry it so as to tell everyone that on the Cross Jesus knocked down the wall of enmity that divides people and nations, and he brought reconciliation and peace. Dear friends, I too am setting out on a journey with you, starting today, in the footsteps of Blessed John Paul II and Benedict XVI. We are already close to the next stage of this great pilgrimage of the Cross. I look forward joyfully to next July in Rio de Janeiro! I will see you in that great city in Brazil! Prepare well – prepare spiritually above all – in your communities, so that our gathering in Rio may be a sign of faith for the whole world. Young people must say to the world: to follow Christ is good; to go with Christ is good; the message of Christ is good; emerging from ourselves, to the ends of the earth and of existence, to take Jesus there, is good! Three points, then: joy, Cross, young people.
Let us ask the intercession of the Virgin Mary. She teaches us the joy of meeting Christ, the love with which we must look to the foot of the Cross, the enthusiasm of the young heart with which we must follow him during this Holy Week and throughout our lives. May it be so.
Source: https://www.vatican.va/content/francesco/en/homilies/2013/documents/papa-francesco_20130324_palme.html
Stay updated: subscribe by email for free TO OUR NEW WEBSITE www.catholicsstrivingforholiness.org (PUT YOUR EMAIL IN THE SUBSCRIBE WIDGET).
We are also in www.fb.com/Catholicsstrivingforholiness. Kindly help more people in their Christian life by liking our page and inviting your family, friends and relatives to do so as well. Thanks in advance and God bless you and your loved ones! Fr. Rolly Arjonillo