POPE FRANCIS EASTER VIGIL HOMILY
POPE FRANCIS EASTER VIGIL HOMILY.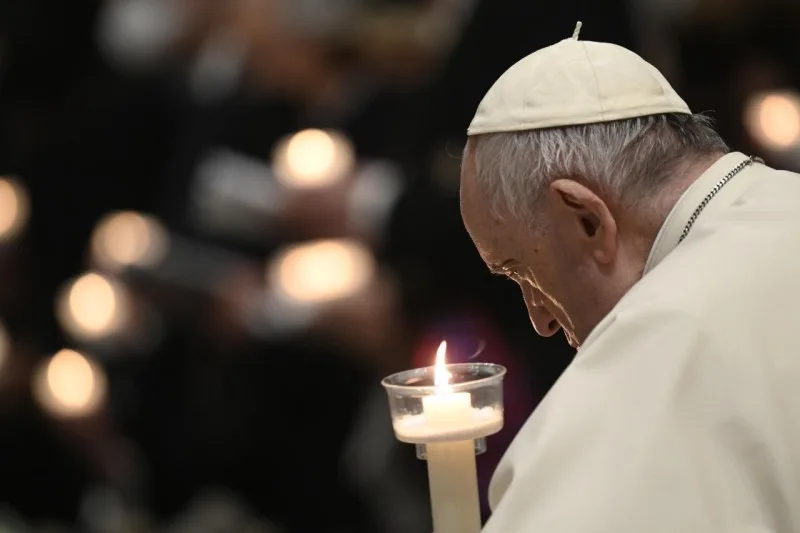 EASTER VIGIL IN THE HOLY NIGHT OF EASTER
HOMILY OF HIS HOLINESS POPE FRANCIS
St Peter's Basilica
Holy Saturday, 8 April 2023
---
The night is drawing to a close and the first light of dawn is appearing upon the horizon as the women set out toward Jesus' tomb. They make their way forward, bewildered and dismayed, their hearts overwhelmed with grief at the death that took away their Beloved. Yet upon arriving and seeing the empty tomb, they turn around and retrace their steps. They leave the tomb behind and run to the disciples to proclaim a change of course: Jesus is risen and awaits them in Galilee. In their lives, those women experienced Easter as a Pasch, a passage. They pass from walking sorrowfully towards the tomb to running back with joy to the disciples to tell them not only that the Lord is risen, but also that they are to set out immediately to reach a destination, Galilee. There they will meet the Risen Lord. The rebirth of the disciples, the resurrection of their hearts, passes through Galilee. Let us enter into this journey of the disciples from the tomb to Galilee.
The Gospel tells us that the women went "to see the tomb" (Mt 28:1). They think that they will find Jesus in the place of death and that everything is over, forever. Sometimes we too may think that the joy of our encounter with Jesus is something belonging to the past, whereas the present consists mostly of sealed tombs: tombs of disappointment, bitterness and distrust, of the dismay of thinking that "nothing more can be done", "things will never change", "better to live for today", since "there is no certainty about tomorrow". If we are prey to sorrow, burdened by sadness, laid low by sin, embittered by failure or troubled by some problem, we also know the bitter taste of weariness and the absence of joy.
At times, we may simply feel weary about our daily routine, tired of taking risks in a cold, hard world where only the clever and the strong seem to get ahead. At other times, we may feel helpless and discouraged before the power of evil, the conflicts that tear relationships apart, the attitudes of calculation and indifference that seem to prevail in society, the cancer of corruption – there is a great deal of it, the spread of injustice, the icy winds of war. Then too, we may have come face to face with death, because it robbed us of the presence of our loved ones or because we brushed up against it in illness or a serious setback. Then it is easy to yield to disillusionment, once the wellspring of hope has dried up. In these or similar situations – each of us knows our own plights, our paths come to a halt before a row of tombs, and we stand there, filled with sorrow and regret, alone and powerless, repeating the question, "Why?" That chain of "why"…
The women at Easter, however, do not stand frozen before the tomb; rather, the Gospel tells us, "they went away quickly from the tomb, fearful yet overjoyed, and ran to announcethis to his disciples" (v. 8). They bring the news that will change life and history forever: Christ is risen! (v. 6). At the same time, they remember to convey the Lord's summons to the disciples to go to Galilee, for there they will see him (cf. v. 7). Let us ask ourselves today, brothers and sisters: what does it mean to go to Galilee? Two things: on the one hand, to leave the enclosure of the Upper Room and go to the land of the Gentiles (cf. Mt 4:15), to come forth from hiding and to open themselves up to mission, to leave fear behind and to set out for the future. On the other hand, and this is very beautiful, to return to the origins, for it was precisely in Galilee that everything began. There the Lord had met and first called the disciples. So, to go to Galilee means to return to the grace of the beginnings, to regain the memory that regenerates hope, the "memory of the future" bestowed on us by the Risen One.
This, then, is what the Pasch of the Lord accomplishes: it motivates us to move forward, to leave behind our sense of defeat, to roll away the stone of the tombs in which we often imprison our hope, and to look with confidence to the future, for Christ is risen and has changed the direction of history. Yet, to do this, the Pasch of the Lord takes us back to the grace of our own past; it brings us back to Galilee, where our love story with Jesus began, where the first call took place. In other words, it asks us to relive that moment, that situation, that experience in which we met the Lord, experienced his love and received a radiantly new way of seeing ourselves, the world around us and the mystery of life itself. Brothers and sisters, to rise again, to start anew, to take up the journey, we always need to return to Galilee, that is, to go back, not to an abstract or ideal Jesus, but to the living, concrete and palpable memory of our first encounter with him. Yes, to go forward we need to go back, to remember; to have hope, we need to revive our memory. This is what we are asked to do: to remember and go forward! If you recover that first love, the wonder and joy of your encounter with God, you will keep advancing. So remember, and keep moving forward.
Remember your own Galilee and walk towards it, for it is the "place" where you came to know Jesus personally, where he stopped being just another personage from a distant past, but a living person: not some distant God but the God who is at your side, who more than anyone else knows you and loves you. Brother, sister, remember Galilee, your Galilee, and your call. Remember the Word of God who at a precise moment spoke directly to you. Remember that powerful experience of the Spirit; that great joy of forgiveness experienced after that one confession; that intense and unforgettable moment of prayer; that light that was kindled within you and changed your life; that encounter, that pilgrimage… Each of us knows where our Galilee is located. Each of us knows the place of his or her interior resurrection, that beginning and foundation, the place where things changed. We cannot leave this in the past; the Risen Lord invites us to return there to celebrate Easter. Remember your Galilee. Remind yourself. Today, relive that memory. Return to that first encounter. Think back on what it was like, reconstruct the context, time and place. Remember the emotions and sensations; see the colours and savour the taste of it. For it is when you forgot that first love, when you failed to remember that first encounter, that the dust began to settle on your heart. That is when you experienced sorrow and, like the disciples, you saw the future as empty, like a tomb with a stone sealing off all hope. Yet today, brother, sister, the power of Easter summons you to roll away every stone of disappointment and mistrust. The Lord is an expert in rolling back the stones of sin and fear. He wants to illuminate your sacred memory, your most beautiful memory, and to make you relive that first encounter with him. Remember and keep moving forward. Return to him and rediscover the grace of God's resurrection within you! Return to Galilee. Return to your Galilee.
Dear brothers and sisters, let us follow Jesus to Galilee, encounter him and worship him there, where he is waiting for each of us. Let us revive the beauty of that moment when we realized that he is alive and we made him the Lord of our lives. Let us return to Galilee, the Galilee of our first love. Let each of us return to his or her own Galilee, to the place where we first encountered him. Let us rise to new life!
---
Copyright © Dicastero per la Comunicazione – Libreria Editrice Vaticana
Source: https://www.vatican.va/content/francesco/en/homilies/2023/documents/20230408-omelia-veglia-pasquale.html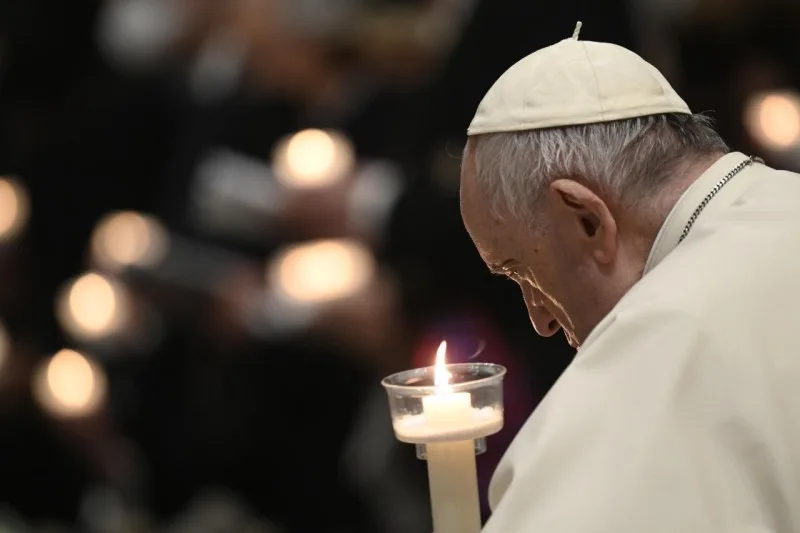 HIS HOLINESS POPE FRANCIS
Vatican Basilica
Holy Saturday, Easter Vigil Homily, 16 April 2022
---
Many writers have evoked the beauty of starlit nights. The nights of war, however, are riven by streams of light that portend death. On this night, brothers and sisters, let us allow the women of the Gospel to lead us by the hand, so that, with them, we may glimpse the first rays of the dawn of God's life rising in the darkness of our world. As the shadows of night were dispelled before the quiet coming of the light, the women set out for the tomb, to anoint the body of Jesus. There they had a disconcerting experience. First, they discovered that the tomb was empty; then they saw two figures in dazzling garments who told them that Jesus was risen. Immediately they ran back to proclaim the news to the other disciples (cf. Lk 24:1-10). They saw, they heard, they proclaimed. With these three verbs, may we too enter into the passover of the Lord from death to life.
The women saw. The first proclamation of the resurrection was not a statement to be unpacked, but a sign to be contemplated. In a burial ground, near a grave, in a place where everything should be orderly and peaceful, the women "found the stone rolled away from the tomb; but when they went in, they did not find the body" (vv. 2-3). Easter begins by upsetting our expectations. It comes with the gift of a hope that surprises and amazes us. Yet it is not easy to welcome that gift. At times – we must admit – this hope does not find a place in our hearts. Like the women in the Gospel, we are overtaken by questions and doubts, and our first reaction before the unexpected sign is one of fear: "They were terrified and bowed their faces to the ground" (v. 5).
All too often we look at life and reality with downcast eyes; we fix our gaze only on this passing day, disenchanted by the future, concerned only with ourselves and our needs, settled into the prison of our apathy, even as we keep complaining that things will never change. In this way, we halt before the tomb of resignation and fatalism; we bury the joy of living. Yet tonight the Lord wants to give us different eyes, alive with hope that fear, pain and death will not have the last word over us. Thanks to Jesus' paschal mystery, we can make the leap from nothingness to life. "Death will no longer be able to rob our life" (K. RAHNER), for that life is now completely and eternally embraced by the boundless love of God. True, death can fill us with dread; it can paralyze us. But the Lord is risen! Let us lift up our gaze, remove the veil of sadness and sorrow from our eyes, and open our hearts to the hope that God brings!
In the second place, the women heard. After they had seen the empty tomb, the two men in dazzling garments said to them, "Why do you look for the living among the dead? He is not here, but has risen" (vv. 5-6). We do well to listen to those words and to repeat them: He is not here! Whenever we think we have understood everything there is to know about God, and can pigeonhole him in our own ideas and categories, let us repeat to ourselves: He is not here! Whenever we seek him only in times of trouble and moments of need, only to set him aside and forget about him in the rest of our daily life and decisions, let us repeat: He is not here! And whenever we think we can imprison him in our words and our customary ways of thinking and acting, and neglect to seek him in the darkest corners of life, where people weep, struggle, suffer and hope, let us repeat: He is not here!
May we too hear the question asked of the women: "Why do you look for the living among the dead?" We cannot celebrate Easter if we continue to be dead; if we remain prisoners of the past; if in our lives we lack the courage to let ourselves be forgiven by God who forgives everything; if we fail to change, to break with the works of evil, to decide for Jesus and his love. If we continue to reduce faith to a talisman, making God a lovely memory from times past, instead of encountering him today as the living God who desires to change us and to change our world. A Christianity that seeks the Lord among the ruins of the past and encloses him in the tomb of habit is a Christianity without Easter. Yet the Lord is risen! Let us not tarry among the tombs, but run to find him, the Living One! Nor may we be afraid to seek him also in the faces of our brothers and sisters, in the stories of those who hope and dream, in the pain of those who we suffer: God is there!
Finally, the women proclaimed. What did they proclaim? The joy of the resurrection. Easter did not occur simply to console those who mourned the death of Jesus, but to open hearts to the extraordinary message of God's triumph over evil and death. The light of the resurrection was not meant to let the women bask in a transport of joy, but to generate missionary disciples who "return from the tomb" (v. 9) in order to bring to all the Gospel of the risen Christ. That is why, after seeing and hearing, the women ran to proclaim to the disciples the joy of the resurrection. They knew that the others might think they were mad; indeed, the Gospel says that the women's words "seemed to them an idle tale" (v. 11). Yet those women were not concerned for their reputation, for preserving their image; they did not contain their emotions or measure their words. Their hearts were enflamed only with the desire to convey the news, the proclamation: "The Lord is risen!".
How beautiful is a Church that can run this way through the streets of our world! Without fear, without schemes and stratagems, but solely with the desire to lead everyone to the joy of the Gospel. That is what we are called to do: to experience the risen Christ and to share the experience with others; to roll away the stone from the tomb where we may have enclosed the Lord, in order to spread his joy in the world. Let us make Jesus, the Living One, rise again from all those tombs in which we have sealed him. Let us set him free from the narrow cells in which we have so often imprisoned him. Let us awaken from our peaceful slumber and let him disturb and inconvenience us. Let us bring him into our everyday lives: through gestures of peace in these days marked by the horrors of war, through acts of reconciliation amid broken relationships, acts of compassion towards those in need, acts of justice amid situations of inequality and of truth in the midst of lies. And above all, through works of love and fraternity.
Brothers and sisters our hope has a name: the name of Jesus. He entered the tomb of our sin; he descended to those depths where we feel most lost; he wove his way through the tangles of our fears, bore the weight of our burdens and from the dark abyss of death restored us to life and turned our mourning into joy. Let us celebrate Easter with Christ! He is alive! Today, too, he walks in our midst, changes us and sets us free. Thanks to him, evil has been robbed of its power; failure can no longer hold us back from starting anew; and death has become a passage to the stirrings of new life. For with Jesus, the Risen Lord, no night will last forever; and even in the darkest night, in that darkness, the morning star continues to shine.
In this darkness that you are experiencing, Mr Mayor and dear Parliamentarians, the thick darkness of war, of cruelty, all of us are praying, praying with you and for you this night. We are praying for all the suffering. We can give you only our fellowship and our prayer and say to you: "Courage! We accompany you!" And also to say to you the greatest thing we are celebrating today: Christòs voskrés! Christ is risen!
Source: https://www.vatican.va/content/francesco/en/homilies/2022/documents/20220416-omelia-veglia-pasquale.html
Emphasis mine.

"GOD MAKES EVERYTHING WORK UNTO THE GOOD."
HOMILY OF HIS HOLINESS POPE FRANCIS
St Peter's Basilica
Holy Saturday, 11 April 2020
"After the Sabbath" (Mt 28:1), the women went to the tomb. This is how the Gospel of this holy Vigil began: with the Sabbath. It is the day of the Easter Triduum that we tend to neglect as we eagerly await the passage from Friday's cross to Easter Sunday's Alleluia. This year, however, we are experiencing, more than ever, the great silence of Holy Saturday. We can imagine ourselves in the position of the women on that day. They, like us, had before their eyes the drama of suffering, of an unexpected tragedy that happened all too suddenly. They had seen death and it weighed on their hearts. Pain was mixed with fear: would they suffer the same fate as the Master? Then too there was fear about the future and all that would need to be rebuilt. A painful memory, a hope cut short. For them, as for us, it was the darkest hour.
Yet in this situation, the women did not allow themselves to be paralyzed. They did not give in to the gloom of sorrow and regret, they did not morosely close in on themselves, or flee from reality. They were doing something simple yet extraordinary: preparing at home the spices to anoint the body of Jesus. They did not stop loving; in the darkness of their hearts, they lit a flame of mercy. Our Lady spent that Saturday, the day that would be dedicated to her, in prayer and hope. She responded to sorrow with trust in the Lord. Unbeknownst to these women, they were making preparations, in the darkness of that Sabbath, for "the dawn of the first day of the week", the day that would change history. Jesus, like a seed buried in the ground, was about to make new life blossom in the world; and these women, by prayer and love, were helping to make that hope flower. How many people, in these sad days, have done and are still doing what those women did, sowing seeds of hope! With small gestures of care, affection, and prayer.
At dawn, the women went to the tomb. There the angel says to them: "Do not be afraid. He is not here; for he has risen" (vv. 5-6). They hear the words of life even as they stand before a tomb… And then they meet Jesus, the giver of all hope, who confirms the message and says: "Do not be afraid" (v. 10). Do not be afraid, do not yield to fear: This is the message of hope. It is addressed to us, today. These are the words that God repeats to us this very night.
Tonight we acquire a fundamental right that can never be taken away from us: the right to hope. It is a new and living hope that comes from God. It is not mere optimism; it is not a pat on the back or an empty word of encouragement. It is a gift from heaven, which we could not have earned on our own. Over these weeks, we have kept repeating, "All will be well", clinging to the beauty of our humanity and allowing words of encouragement to rise up from our hearts. But as the days go by and fears grow, even the boldest hope can dissipate. Jesus' hope is different. He plants in our hearts the conviction that God is able to make everything work unto good because even from the grave he brings life.
The grave is the place where no one who enters ever leaves. But Jesus emerged for us; he rose for us, to bring life where there was death, to begin a new story in the very place where a stone had been placed. He, who rolled away the stone that sealed the entrance of the tomb, can also remove the stones in our hearts. So, let us not give in to resignation; let us not place a stone before hope. We can and must hope because God is faithful. He did not abandon us; he visited us and entered into our situations of pain, anguish, and death. His light dispelled the darkness of the tomb: today he wants that light to penetrate even to the darkest corners of our lives. Dear sister, dear brother, even if in your heart you have buried hope, do not give up: God is greater. Darkness and death do not have the last word. Be strong, for with God nothing is lost!
Courage. This is a word often spoken by Jesus in the Gospels. Only once do others say it, to encourage a person in need: "Courage; rise, [Jesus] is calling you!" (Mk 10:49). It is he, the Risen One, who raises us up from our neediness. If, on your journey, you feel weak and frail, or fall, do not be afraid, God holds out a helping hand and says to you: "Courage!". You might say, as did Don Abbondio (in Manzoni's novel), "Courage is not something you can give yourself" (I Promessi Sposi, XXV). True, you cannot give it to yourself, but you can receive it as a gift. All you have to do is open your heart in prayer and roll away, however slightly, that stone placed at the entrance to your heart so that Jesus' light can enter. You only need to ask him: "Jesus, come to me amid my fears and tell me too: Courage!" With you, Lord, we will be tested but not shaken. And, whatever sadness may dwell in us, we will be strengthened in hope, since with you the cross leads to the resurrection because you are with us in the darkness of our nights; you are certainty amid our uncertainties, the word that speaks in our silence, and nothing can ever rob us of the love you have for us.
This is the Easter message, a message of hope. It contains a second part, the sending forth. "Go and tell my brethren to go to Galilee" (Mt 28:10), Jesus says. "He is going before you to Galilee" (v. 7), the angel says. The Lord goes before us. It is encouraging to know that he walks ahead of us in life and in death; he goes before us to Galilee, that is, to the place which for him and his disciples evoked the idea of daily life, family and work. Jesus wants us to bring hope there, to our everyday life. For the disciples, Galilee was also the place of remembrance, for it was the place where they were first called. Returning to Galilee means remembering that we have been loved and called by God. We need to resume the journey, reminding ourselves that we are born and reborn thanks to an invitation given gratuitously to us out of love. This is always the point from which we can set out anew, especially in times of crisis and trial.
But there is more. Galilee was the farthest region from where they were: from Jerusalem. And not only geographically. Galilee was also the farthest place from the sacredness of the Holy City. It was an area where people of different religions lived: it was the "Galilee of the Gentiles" (Mt 4:15). Jesus sends them there and asks them to start again from there. What does this tell us? That the message of hope should not be confined to our sacred places but should be brought to everyone. For everyone is in need of reassurance, and if we, who have touched "the Word of life" (1 Jn 1:1) do not give it, who will? How beautiful it is to be Christians who offer consolation, who bear the burdens of others and who offer encouragement: messengers of life in a time of death! In every Galilee, in every area of the human family to which we all belong and which is part of us – for we are all brothers and sisters – may we bring the song of life! Let us silence the cries of death, no more wars! May we stop the production and trade of weapons, since we need bread, not guns. Let the abortion and killing of innocent lives end. May the hearts of those who have enough be open to filling the empty hands of those who do not have the bare necessities.
Those women, in the end, "took hold" of Jesus' feet (Mt 28:9); feet that had traveled so far to meet us, to the point of entering and emerging from the tomb. The women embraced the feet that had trampled death and opened the way of hope. Today, as pilgrims in search of hope, we cling to you, Risen Jesus. We turn our backs on death and open our hearts to you, for you are Life itself.
[00479-EN.01] [Original text: Italian]
© Libreria Editrice Vatican
---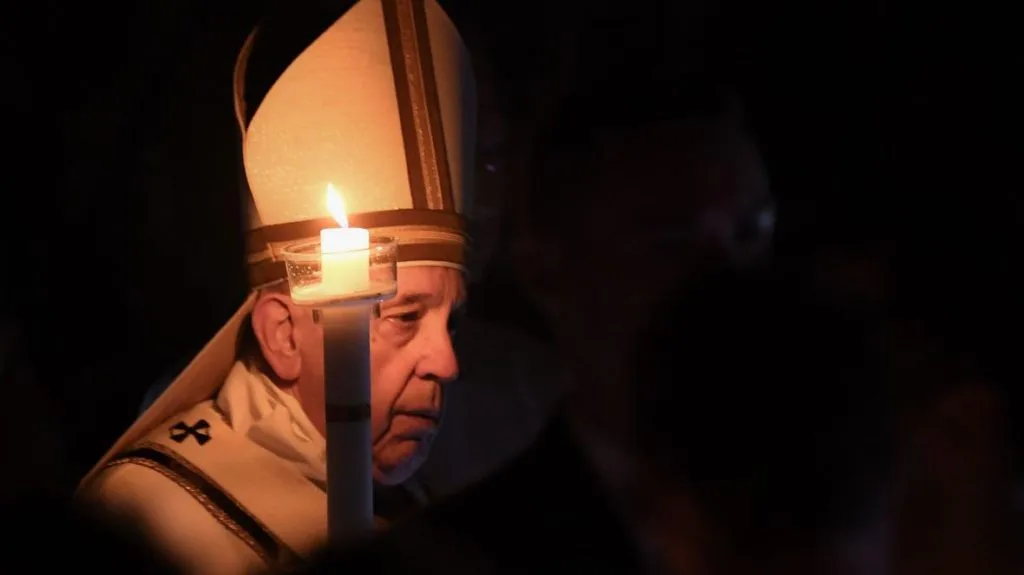 EASTER VIGIL IN THE HOLY NIGHT OF EASTER
HOMILY OF HIS HOLINESS POPE FRANCIS
"Why do you seek the living among the dead?"
Vatican Basilica
Holy Saturday, 20 April 2019
1. The women bring spices to the tomb, but they fear that their journey is in vain, since a large stone bars the entrance to the sepulcher. The journey of those women is also our own journey; it resembles the journey of salvation that we have made this evening. At times, it seems that everything comes up against a stone: the beauty of creation against the tragedy of sin; liberation from slavery against infidelity to the covenant; the promises of the prophets against the listless indifference of the people. So too, in the history of the Church and in our own personal history. It seems that the steps we take never take us to the goal. We can be tempted to think that dashed hope is the bleak law of life.
Today however we see that our journey is not in vain; it does not come up against a tombstone. A single phrase astounds the woman and changes history: "Why do you seek the living among the dead?" (Lk 24:5). Why do you think that everything is hopeless, that no one can take away your own tombstones? Why do you give into resignation or failure? Easter, brothers and sisters, is the feast of tombstones taken away, rocks rolled aside. God takes away even the hardest stones against which our hopes and expectations crash: death, sin, fear, worldliness. Human history does not end before a tombstone, because today it encounters the "living stone" (cf. 1 Pet 2:4), the risen Jesus. We, as Church, are built on him, and, even when we grow disheartened and tempted to judge everything in the light of our failures, he comes to make all things new, to overturn our every disappointment. Each of us is called tonight to rediscover in the Risen Christ the one who rolls back from our heart the heaviest of stones. So let us first ask: What is the stone that I need to remove, what is the name of this stone?
Often what blocks hope is the stone of discouragement. Once we start thinking that everything is going badly and that things can't get worse, we lose heart and come to believe that death is stronger than life. We become cynical, negative and despondent. Stone upon stone, we build within ourselves a monument to our own dissatisfaction: the sepulcher of hope. Life becomes a succession of complaints and we grow sick in spirit. A kind of tomb psychology takes over: everything ends there, with no hope of emerging alive. But at that moment, we hear once more the insistent question of Easter: Why do you seek the living among the dead? The Lord is not to be found in resignation. He is risen; he is not there. Don't seek him where you will never find him: he is not the God of the dead but of the living (cf. Mk 22:32). Do not bury hope!
There is another stone that often seals the heart shut: the stone of sin. Sin seduces; it promises things easy and quick, prosperity and success, but then leaves behind only solitude and death. Sin is looking for life among the dead, for the meaning of life in things that pass away. Why do you seek the living among the dead? Why not make up your mind to abandon that sin which, like a stone before the entrance to your heart, keeps God's light from entering in? Why not prefer Jesus, the true light (cf. Jn 1:9), to the glitter of wealth, career, pride and pleasure? Why not tell the empty things of this world that you no longer live for them, but for the Lord of life?
2. Let us return to the women who went to Jesus' tomb. They halted in amazement before the stone that was taken away. Seeing the angels, they stood there, the Gospel tells us, "frightened, and bowed their faces to the ground" (Lk 24:5). They did not have the courage to look up. And how often do we do the same thing? We prefer to remain huddled within our shortcomings, cowering in our fears. It is odd, but why do we do this? Not infrequently because, glum and closed up within ourselves, we feel in control, for it is easier to remain alone in the darkness of our heart than to open ourselves to the Lord. Yet only he can raise us up. A poet once wrote: "We never know how high we are. Till we are called to rise" (E. Dickinson). The Lord calls us to get up, to rise at his word, to look up and to realize that we were made for heaven, not for earth, for the heights of life and not for the depths of death: Why do you seek the living among the dead?
God asks us to view life as he views it, for in each of us he never ceases to see an irrepressible kernel of beauty. In sin, he sees sons and daughters to be restored; in death, brothers and sisters to be reborn; in desolation, hearts to be revived. Do not fear, then: the Lord loves your life, even when you are afraid to look at it and take it in hand. In Easter he shows you how much he loves that life: even to the point of living it completely, experiencing anguish, abandonment, death and hell, in order to emerge triumphant to tell you: "You are not alone; put your trust in me!".
Jesus is a specialist at turning our deaths into life, our mourning into dancing (cf. Ps 30:11). With him, we too can experience a Pasch, that is, a Passover – from self-centredness to communion, from desolation to consolation, from fear to confidence. Let us not keep our faces bowed to the ground in fear, but raise our eyes to the risen Jesus. His gaze fills us with hope, for it tells us that we are loved unfailingly, and that however much we make a mess of things, his love remains unchanged. This is the one, non-negotiable certitude we have in life: his love does not change. Let us ask ourselves: In my life, where am I looking? Am I gazing at graveyards, or looking for the Living One?
3. Why do you seek the living among the dead? The women hear the words of the angels, who go on to say: "Remember what he told you while he was still in Galilee" (Lk 24:6). Those woman had lost hope, because they could not recall the words of Jesus, his call that took place in Galilee. Having lost the living memory of Jesus, they kept looking at the tomb. Faith always needs to go back to Galilee, to reawaken its first love for Jesus and his call: to remember him, to turn back to him with all our mind and all our heart. To return to a lively love of the Lord is essential. Otherwise, ours is a "museum" faith, not an Easter faith. Jesus is not a personage from the past; he is a person living today. We do not know him from history books; we encounter him in life. Today, let us remember how Jesus first called us, how he overcame our darkness, our resistance, our sins, and how he touched our hearts with his word.
Brothers and sisters, let us return to Galilee.
The women, remembering Jesus, left the tomb. Easter teaches us that believers do not linger at graveyards, for they are called to go forth to meet the Living One. Let us ask ourselves: In my life, where am I going? Sometimes we go only in the direction of our problems, of which there are plenty, and go to the Lord only for help. But then, it is our own needs, not Jesus, to guide our steps. We keep seeking the Living One among the dead. Or again, how many times, once we have encountered the Lord, do we return to the dead, digging up regrets, reproaches, hurts and dissatisfactions, without letting the Risen One change us?
Dear brothers and sisters: let us put the Living One at the centre of our lives. Let us ask for the grace not to be carried by the current, the sea of our problems; the grace not to run aground on the shoals of sin or crash on the reefs of discouragement and fear. Let us seek him, let us allow ourselves to be sought out by him, let us seek him in all things and above all things. And with him, we will rise again.

© Copyright – Libreria Editrice Vaticana
TEXT SOURCE:
http://w2.vatican.va/content/francesco/en/homilies/2019/documents/papa-francesco_20190420_omelia-vegliapasquale.html
EMPHASIS MINE.
---
HOMILY OF HIS HOLINESS POPE FRANCIS
THE EMPTY TOMB.
Vatican Basilica
Holy Saturday, 31 March 2018
We began this celebration outside, plunged in the darkness of the night and the cold. We felt an oppressive silence at the death of the Lord, a silence with which each of us can identify, a silence that penetrates to the depths of the heart of every disciple, who stands wordless before the cross.
These are the hours when the disciple stands speechless in pain at the death of Jesus. What words can be spoken at such a moment? The disciple keeps silent in the awareness of his or her own reactions during those crucial hours in the Lord's life. Before the injustice that condemned the Master, his disciples were silent. Before the calumnies and the false testimony that the Master endured, his disciples said nothing. During the trying, painful hours of the Passion, his disciples dramatically experienced their inability to put their lives on the line to speak out on behalf of the Master. What is more, not only did they not acknowledge him: they hid, they escaped, they kept silent (cf. Jn 18:25-27).
It is the silent night of the disciples who remained numb, paralyzed and uncertain of what to do amid so many painful and disheartening situations. It is also that of today's disciples, speechless in the face of situations we cannot control, that make us feel and, even worse, believe that nothing can be done to reverse all the injustices that our brothers and sisters are experiencing in their flesh.
It is the silent night of those disciples who are disoriented because they are plunged in a crushing routine that robs memory, silences hope and leads to thinking that "this is the way things have always been done". Those disciples who, overwhelmed, have nothing to say and end up considering "normal" and unexceptional the words of Caiaphas: "Can you not see that it is better for you to have one man die for the people than to have the whole nation destroyed?" (Jn 11:50).
Amid our silence, our overpowering silence, the stones begin to cry out (cf. Lk 19:40)[1] and to clear the way for the greatest message that history has ever heard: "He is not here, for he has been raised" (Mt 28:6). The stone before the tomb cried out and proclaimed the opening of a new way for all. Creation itself was the first to echo the triumph of life over all that had attempted to silence and stifle the joy of the Gospel. The stone before the tomb was the first to leap up and in its own way intone a song of praise and wonder, of joy and hope, in which all of us are invited to join.
Yesterday, we joined the women in contemplating "the one who was pierced" (cf. Jn 19:36; cf. Zech 12:10). Today, with them, we are invited to contemplate the empty tomb and to hear the words of the angel: "Do not be afraid… for he has been raised" (Mt 28:5-6). Those words should affect our deepest convictions and certainties, the ways we judge and deal with the events of our daily lives, especially the ways we relate to others. The empty tomb should challenge us and rally our spirits. It should make us think, but above all it should encourage us to trust and believe that God "happens" in every situation and every person, and that his light can shine in the least expected and most hidden corners of our lives. He rose from the dead, from that place where nobody waits for anything, and now he waits for us – as he did the women – to enable us to share in his saving work. On this basis and with this strength, we Christians place our lives and our energy, our intelligence, our affections and our will, at the service of discovering, and above all creating, paths of dignity.
He is not here… he is risen! This is the message that sustains our hope and turns it into concrete gestures of charity. How greatly we need to let our frailty be anointed by this experience! How greatly we need to let our faith be revived! How greatly we need our myopic horizons to be challenged and renewed by this message! Christ is risen, and with him he makes our hope and creativity rise, so that we can face our present problems in the knowledge that we are not alone.
To celebrate Easter is to believe once more that God constantly breaks into our personal histories, challenging our "conventions", those fixed ways of thinking and acting that end up paralyzing us. To celebrate Easter is to allow Jesus to triumph over the craven fear that so often assails us and tries to bury every kind of hope.
The stone before the tomb shared in this, the women of the Gospel shared in this, and now the invitation is addressed once more to you and to me. An invitation to break out of our routines and to renew our lives, our decisions and our existence. An invitation that must be directed to where we stand, what we are doing and what we are, with the "power ratio" that is ours. Do we want to share in this message of life or do we prefer simply to continue standing speechless before events as they happen?
He is not here… he is raised! And he awaits you in Gaiilee. He invites you to go back to the time and place of your first love and he says to you: Do not be afraid, follow me.
[1] "I tell you, if these were silent, the stones would shout out".
SOURCE: https://www.vatican.va/content/francesco/en/homilies/2018/documents/papa-francesco_20180331_omelia-veglia-pasquale.html
EMPHASIS MINE.
---
Stay updated: subscribe by email for free TO OUR NEW WEBSITE www.catholicsstrivingforholiness.org (PUT YOUR EMAIL IN THE SUBSCRIBE WIDGET).
We are also in www.fb.com/Catholicsstrivingforholiness. Kindly help more people in their Christian life by liking our page and inviting your family, friends and relatives to do so as well. Thanks in advance and God bless you and your loved ones! Fr. Rolly Arjonillo