POPE BENEDICT XVI WONDERFUL REFLECTION ON THE 3RD WEEK OF SUNDAY YEAR B, GAUDETE SUNDAY.
POPE BENEDICT XVI WONDERFUL REFLECTION ON THE 3RD WEEK OF SUNDAY YEAR B, GAUDETE SUNDAY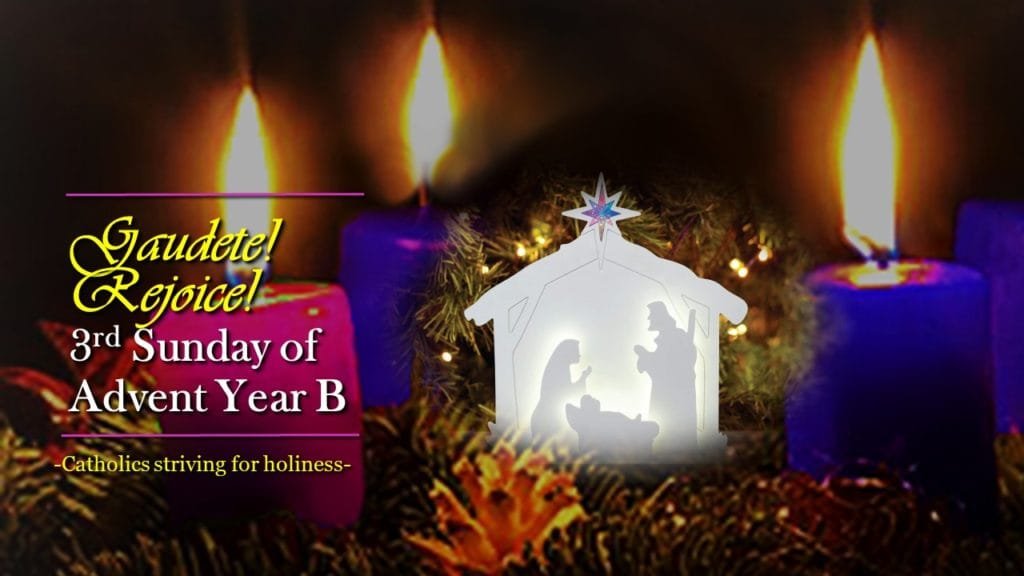 ANGELUS ADDRESS
11 December 2011
Dear Brothers and Sisters,
The liturgical texts for this Season of Advent renew the invitation to us to live in expectation of Jesus and not to stop looking forward to his coming so as to keep ourselves open and ready to encounter him. Heartfelt watchfulness, which Christians are always called to practise in their daily life, characterizes in particular this season in which we prepare joyfully for the mystery of Christmas (cf. Preface of Advent II).
The external environment proposes the usual commercial messages, although perhaps to a lesser degree because of the economic crisis. Christians are asked to live Advent without allowing themselves be distracted by the bright lights but knowing how to give things their proper value and how to fix their inner gaze on Christ. Indeed if we persevere in "watching in prayer, our hearts filled with wonder and praise" (ibid.), our eyes will be able to recognize in him the true light of the world that comes to dispel our gloom.
The liturgy of this Sunday, known as "Gaudete " Sunday, is a special invitation to us to joyfulness, to a vigilance that is not sad but happy. "Gaudete in Domino semper", St Paul wrote: "Rejoice in the Lord always" (Phil 4:4). True joy is not a fruit of "divertirsi" [having a good time] understood in the etymological sense of the word di-vertere (di-version), that is, shirking the commitments of life and one's responsibilities.
True joy is linked to something deeper. Of course, in the all too often frenetic pace of daily life it is important to find time for rest and relaxation, but true joy is linked to our relationship with God. Those who have encountered Christ in their own lives feel a serenity and joy in their hearts that no one and no situation can take from them. St Augustine understood this very well; in his quest for truth, peace and joy, after seeking them in vain in many things he concluded with his famous words: "and our heart is restless until it rests in God" (cf. Confessions, I, 1, 1).
True joy is not merely a passing state of mind or something that can be achieved with the person's own effort; rather it is a gift, born from the encounter with the living Person of Jesus and, making room within ourselves, from welcoming the Holy Spirit who guides our lives. It is the invitation of the Apostle Paul who says: "May the God of peace himself sanctify you wholly; and may your spirit and soul and body be kept sound and blameless at the coming of our Lord Jesus Christ " (1 Thess 5:23).
In this Season of Advent let us reinforce our conviction that the Lord has come among us and ceaselessly renews his comforting, loving and joyful presence. We should trust in him; as St Augustine says further, in the light of his own experience: the Lord is closer to us than we are to ourselves: "interior intimo meo et superior summo meo" ("higher than my highest and more inward than my innermost self") (Confessions III, 6, 11).
Let us entrust our journey to the Immaculate Virgin whose spirit is exulted in God our Saviour. May she guide our hearts in joyful expectation of the coming of Jesus, an expectation full of prayer and good works.
SOURCE: http://www.vatican.va/content/benedict-xvi/en/angelus/2011/documents/hf_ben-xvi_ang_20111211.html
EMPHASIS MINE.
---
ANGELUS ADDRESS
14 December 2008
Dear Brothers and Sisters,
This Sunday, the Third Sunday in the Season of Advent, is called "Gaudete Sunday": "rejoice", because the Entrance Antiphon of Holy Mass takes up St Paul's words in the Letter to the Philippians where it says: "Rejoice in the Lord always; again, I will say, Rejoice". And immediately after he explains the reason, because "The Lord is at hand" (Phil 4: 4-5). This is the reason for joy. But what does "the Lord is at hand" mean? In what sense must we understand this "closeness" of God? The Apostle Paul, writing to the Christians of Philippi, is evidently thinking of Christ's return and invites them to rejoice because it is certain. Yet, St Paul in his Letter to the Thessalonians, warns that no one can know the moment of the Lord's coming (cf. 1 Thes 5: 1-2) and puts people on guard against any kind of alarmism, as if Christ's return were imminent (cf. 2 Thes 2: 1-2). Thus the Church, illumined by the Holy Spirit, already at that time understood increasingly better that God's "closeness" is not a question of space and time but rather of love: love brings people together! This coming Christmas will remind us of this fundamental truth of our faith and in front of the manger we shall be able to savour Christian joy contemplating in the newborn Jesus the Face of God who made himself close to us out of love.
In this light, it gives me real pleasure to renew the beautiful tradition of the Blessing of the Christ Child figurines, the miniature statues of the Baby Jesus to be placed in the manger. I address you in particular, dear boys and girls of Rome, who have come this morning with your Baby Jesus figurines that I now bless. I invite you to join me, following attentively this prayer:
God, our Father
you so loved humankind
that you sent us your only Son Jesus,
born of the Virgin Mary,
to save us and lead us back to you.

We pray that with your Blessing
these images of Jesus,
who is about to come among us,
may be a sign of your presence and
love in our homes.

Good Father,
give your Blessing to us too,
to our parents, to our families and
to our friends.

Open our hearts,
so that we may be able to
receive Jesus in joy,
always do what he asks
and see him in all those
who are in need of our love.

We ask you this in the name of Jesus,
your beloved Son
who comes to give the world peace.

He lives and reigns forever and ever.
Amen.
And now let us recite together the prayer of the Angelus Domini, invoking Mary's intercession so that Jesus, whose birth brings God's Blessing to mankind, may be lovingly welcomed in all homes, in Rome and throughout the world.
SOURCE: http://www.vatican.va/content/benedict-xvi/en/angelus/2008/documents/hf_ben-xvi_ang_20081214.html
EMPHASIS MINE.
FOR THE
3RD SUNDAY MASS PRAYERS AND READINGS YEAR B, CLICK HERE
3RD SUNDAY OF ADVENT YEAR B REFLECTION HOMILY, GAUDETE OR REJOICE SUNDAY, CLICK HERE, HERE, AND HERE.
SEE AS WELL: "ADVENT 3: GOD WANTS US TO BE HAPPY"
---
ANGELUS ADDRESS
11 December 2005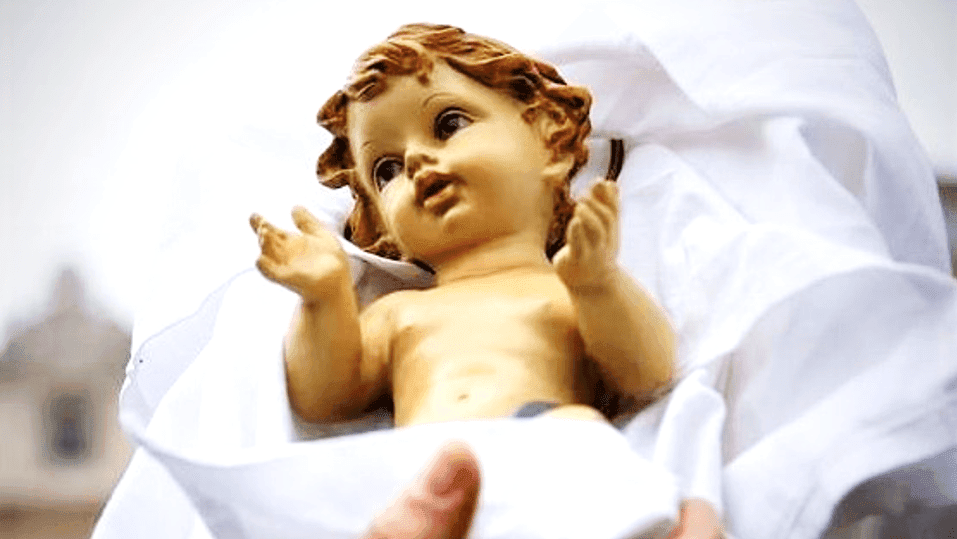 Dear Brothers and Sisters,
After celebrating the Solemnity of the Immaculate Conception of Mary, we enter during these days into the evocative atmosphere of immediate preparation for Holy Christmas, and we already see the tree set up here. In today's consumer society, this period has unfortunately suffered a sort of commercial "pollution" that risks changing its authentic spirit, marked by recollection, moderation and joy, which is not external but intimate.
It is thus providential that almost as a portal to Christmas there should be the feast of the one who is the Mother of Jesus and who, better than anyone else, can lead us to know, love and adore the Son of God made man.
Let us therefore allow her to accompany us; may her sentiments prompt us to prepare ourselves with heartfelt sincerity and openness of spirit to recognize in the Child of Bethlehem the Son of God who came into the world for our redemption. Let us walk together with her in prayer and accept the repeated invitation that the Advent liturgy addresses to us to remain in expectation – watchful and joyful expectation –, for the Lord will not delay: he comes to set his people free from sin.
Following a beautiful and firmly-rooted tradition, many families set up their Crib immediately after the Feast of the Immaculate Conception, as if to relive with Mary those days full of trepidation that preceded the birth of Jesus. Putting up the Crib at home can be a simple but effective way of presenting faith, to pass it on to one's children.
The Crib helps us contemplate the mystery of God's love that was revealed in the poverty and simplicity of the Bethlehem Grotto. St Francis of Assisi was so taken by the mystery of the Incarnation that he wanted to present it anew at Greccio in the living Nativity scene, thus beginning an old, popular tradition that still retains its value for evangelization today.
Indeed, the Crib can help us understand the secret of the true Christmas because it speaks of the humility and merciful goodness of Christ, who "though he was rich he made himself poor" for us (II Cor 8: 9).
His poverty enriches those who embrace it and Christmas brings joy and peace to those who, like the shepherds in Bethlehem, accept the Angel's words: "Let this be a sign to you: in a manger you will find an infant wrapped in swaddling clothes" (Lk 2: 12). This is still the sign for us too, men and women of the third millennium. There is no other Christmas.
Soon, as did beloved John Paul II, I too will bless the figurines of the Baby Jesus that the children of Rome will place in the Crib in their homes. With this act of Blessing, I would like to invoke the help of the Lord so that all Christian families will prepare to celebrate the coming Christmas celebrations with faith. May Mary help us enter into the true spirit of Christmas.
SOURCE: http://www.vatican.va/content/benedict-xvi/en/angelus/2005/documents/hf_ben-xvi_ang_20051211.html
EMPHASIS MINE.