POPE BENEDICT XVI ON CHRISTMAS
POPE BENEDICT XVI ON CHRISTMAS 2009-2012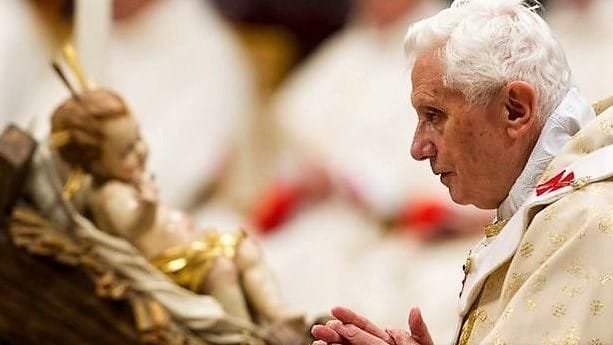 Below you have homilies given by Pope Benedict during the Christmas Midnight Mass from 2009 to 2012 for your personal prayer and meditation.
WHERE GOD IS NOT GLORIFIED, THERE IS NO PEACE
MIDNIGHT MASS
Saint Peter's Basilica
Saturday, 24 December 2012
Dear Brothers and Sisters!
Again and again the beauty of this Gospel touches our hearts: a beauty that is the splendour of truth. Again and again it astonishes us that God makes himself a child so that we may love him, so that we may dare to love him, and as a child trustingly lets himself be taken into our arms. It is as if God were saying: I know that my glory frightens you, and that you are trying to assert yourself in the face of my grandeur. So now I am coming to you as a child, so that you can accept me and love me.
I am also repeatedly struck by the Gospel writer's almost casual remark that there was no room for them at the inn. Inevitably the question arises, what would happen if Mary and Joseph were to knock at my door. Would there be room for them? And then it occurs to us that Saint John takes up this seemingly chance comment about the lack of room at the inn, which drove the Holy Family into the stable; he explores it more deeply and arrives at the heart of the matter when he writes: "he came to his own home, and his own people received him not" (Jn 1:11). The great moral question of our attitude towards the homeless, towards refugees and migrants, takes on a deeper dimension: do we really have room for God when he seeks to enter under our roof? Do we have time and space for him? Do we not actually turn away God himself? We begin to do so when we have no time for God. The faster we can move, the more efficient our time-saving appliances become, the less time we have. And God? The question of God never seems urgent. Our time is already completely full. But matters go deeper still. Does God actually have a place in our thinking? Our process of thinking is structured in such a way that he simply ought not to exist. Even if he seems to knock at the door of our thinking, he has to be explained away. If thinking is to be taken seriously, it must be structured in such a way that the "God hypothesis" becomes superfluous. There is no room for him. Not even in our feelings and desires is there any room for him. We want ourselves. We want what we can seize hold of, we want happiness that is within our reach, we want our plans and purposes to succeed. We are so "full" of ourselves that there is no room left for God. And that means there is no room for others either, for children, for the poor, for the stranger. By reflecting on that one simple saying about the lack of room at the inn, we have come to see how much we need to listen to Saint Paul's exhortation: "Be transformed by the renewal of your mind" (Rom 12:2). Paul speaks of renewal, the opening up of our intellect (nous), of the whole way we view the world and ourselves. The conversion that we need must truly reach into the depths of our relationship with reality. Let us ask the Lord that we may become vigilant for his presence, that we may hear how softly yet insistently he knocks at the door of our being and willing. Let us ask that we may make room for him within ourselves, that we may recognize him also in those through whom he speaks to us: children, the suffering, the abandoned, those who are excluded and the poor of this world.
There is another verse from the Christmas story on which I should like to reflect with you – the angels' hymn of praise, which they sing out following the announcement of the new-born Saviour: "Glory to God in the highest and on earth peace among men with whom he is pleased." God is glorious. God is pure light, the radiance of truth and love. He is good. He is true goodness, goodness par excellence. The angels surrounding him begin by simply proclaiming the joy of seeing God's glory. Their song radiates the joy that fills them. In their words, it is as if we were hearing the sounds of heaven. There is no question of attempting to understand the meaning of it all, but simply the overflowing happiness of seeing the pure splendour of God's truth and love. We want to let this joy reach out and touch us: truth exists, pure goodness exists, pure light exists. God is good, and he is the supreme power above all powers. All this should simply make us joyful tonight, together with the angels and the shepherds.
Linked to God's glory on high is peace on earth among men. Where God is not glorified, where he is forgotten or even denied, there is no peace either. Nowadays, though, widespread currents of thought assert the exact opposite: they say that religions, especially monotheism, are the cause of the violence and the wars in the world. If there is to be peace, humanity must first be liberated from them. Monotheism, belief in one God, is said to be arrogance, a cause of intolerance, because by its nature, with its claim to possess the sole truth, it seeks to impose itself on everyone. Now it is true that in the course of history, monotheism has served as a pretext for intolerance and violence. It is true that religion can become corrupted and hence opposed to its deepest essence, when people think they have to take God's cause into their own hands, making God into their private property. We must be on the lookout for these distortions of the sacred. While there is no denying a certain misuse of religion in history, yet it is not true that denial of God would lead to peace. If God's light is extinguished, man's divine dignity is also extinguished. Then the human creature would cease to be God's image, to which we must pay honour in every person, in the weak, in the stranger, in the poor. Then we would no longer all be brothers and sisters, children of the one Father, who belong to one another on account of that one Father. The kind of arrogant violence that then arises, the way man then despises and tramples upon man: we saw this in all its cruelty in the last century. Only if God's light shines over man and within him, only if every single person is desired, known and loved by God is his dignity inviolable, however wretched his situation may be. On this Holy Night, God himself became man; as Isaiah prophesied, the child born here is "Emmanuel", God with us (Is 7:14). And down the centuries, while there has been misuse of religion, it is also true that forces of reconciliation and goodness have constantly sprung up from faith in the God who became man. Into the darkness of sin and violence, this faith has shone a bright ray of peace and goodness, which continues to shine.
So Christ is our peace, and he proclaimed peace to those far away and to those near at hand (cf. Eph 2:14, 17). How could we now do other than pray to him: Yes, Lord, proclaim peace today to us too, whether we are far away or near at hand. Grant also to us today that swords may be turned into ploughshares (Is 2:4), that instead of weapons for warfare, practical aid may be given to the suffering. Enlighten those who think they have to practise violence in your name, so that they may see the senselessness of violence and learn to recognize your true face. Help us to become people "with whom you are pleased" – people according to your image and thus people of peace.
Once the angels departed, the shepherds said to one another: Let us go over to Bethlehem and see this thing that has happened for us (cf. Lk 2:15). The shepherds went with haste to Bethlehem, the Evangelist tells us (cf. 2:16). A holy curiosity impelled them to see this child in a manger, who the angel had said was the Saviour, Christ the Lord. The great joy of which the angel spoke had touched their hearts and given them wings.
Let us go over to Bethlehem, says the Church's liturgy to us today. Trans-eamus is what the Latin Bible says: let us go "across", daring to step beyond, to make the "transition" by which we step outside our habits of thought and habits of life, across the purely material world into the real one, across to the God who in his turn has come across to us. Let us ask the Lord to grant that we may overcome our limits, our world, to help us to encounter him, especially at the moment when he places himself into our hands and into our heart in the Holy Eucharist.
Let us go over to Bethlehem: as we say these words to one another, along with the shepherds, we should not only think of the great "crossing over" to the living God, but also of the actual town of Bethlehem and all those places where the Lord lived, ministered and suffered. Let us pray at this time for the people who live and suffer there today. Let us pray that there may be peace in that land. Let us pray that Israelis and Palestinians may be able to live their lives in the peace of the one God and in freedom. Let us also pray for the countries of the region, for Lebanon, Syria, Iraq and their neighbours: that there may be peace there, that Christians in those lands where our faith was born may be able to continue living there, that Christians and Muslims may build up their countries side by side in God's peace.
The shepherds made haste. Holy curiosity and holy joy impelled them. In our case, it is probably not very often that we make haste for the things of God. God does not feature among the things that require haste. The things of God can wait, we think and we say. And yet he is the most important thing, ultimately the one truly important thing. Why should we not also be moved by curiosity to see more closely and to know what God has said to us? At this hour, let us ask him to touch our hearts with the holy curiosity and the holy joy of the shepherds, and thus let us go over joyfully to Bethlehem, to the Lord who today once more comes to meet us. Amen.
SOURCE: http://www.vatican.va/content/benedict-xvi/en/homilies/2012/documents/hf_ben-xvi_hom_20121224_christmas.html
EMPHASIS MINE.
GOD'S HUMILITY AND SIMPLICITY IN THE CHILD JESUS
MIDNIGHT MASS
Saint Peter's Basilica
Saturday, 24 December 2011
Dear Brothers and Sisters!
The reading from Saint Paul's Letter to Titus that we have just heard begins solemnly with the word "apparuit", which then comes back again in the reading at the Dawn Mass: apparuit – "there has appeared". This is a programmatic word, by which the Church seeks to express synthetically the essence of Christmas. Formerly, people had spoken of God and formed human images of him in all sorts of different ways. God himself had spoken in many and various ways to mankind (cf. Heb 1:1 – Mass during the Day). But now something new has happened: he has appeared. He has revealed himself. He has emerged from the inaccessible light in which he dwells. He himself has come into our midst. This was the great joy of Christmas for the early Church: God has appeared. No longer is he merely an idea, no longer do we have to form a picture of him on the basis of mere words. He has "appeared". But now we ask: how has he appeared? Who is he in reality? The reading at the Dawn Mass goes on to say: "the kindness and love of God our Saviour for mankind were revealed" (Tit 3:4). For the people of pre-Christian times, whose response to the terrors and contradictions of the world was to fear that God himself might not be good either, that he too might well be cruel and arbitrary, this was a real "epiphany", the great light that has appeared to us: God is pure goodness. Today too, people who are no longer able to recognize God through faith are asking whether the ultimate power that underpins and sustains the world is truly good, or whether evil is just as powerful and primordial as the good and the beautiful which we encounter in radiant moments in our world. "The kindness and love of God our Saviour for mankind were revealed": this is the new, consoling certainty that is granted to us at Christmas.
In all three Christmas Masses, the liturgy quotes a passage from the Prophet Isaiah, which describes the epiphany that took place at Christmas in greater detail: "A child is born for us, a son given to us and dominion is laid on his shoulders; and this is the name they give him: Wonder-Counsellor, Mighty-God, Eternal-Father, Prince-of-Peace. Wide is his dominion in a peace that has no end" (Is 9:5f.). Whether the prophet had a particular child in mind, born during his own period of history, we do not know. But it seems impossible. This is the only text in the Old Testament in which it is said of a child, of a human being: his name will be Mighty-God, Eternal-Father. We are presented with a vision that extends far beyond the historical moment into the mysterious, into the future. A child, in all its weakness, is Mighty God. A child, in all its neediness and dependence, is Eternal Father. And his peace "has no end". The prophet had previously described the child as "a great light" and had said of the peace he would usher in that the rod of the oppressor, the footgear of battle, every cloak rolled in blood would be burned (Is 9:1, 3-4).
God has appeared – as a child. It is in this guise that he pits himself against all violence and brings a message that is peace. At this hour, when the world is continually threatened by violence in so many places and in so many different ways, when over and over again there are oppressors' rods and bloodstained cloaks, we cry out to the Lord: O mighty God, you have appeared as a child and you have revealed yourself to us as the One who loves us, the One through whom love will triumph. And you have shown us that we must be peacemakers with you. We love your childish estate, your powerlessness, but we suffer from the continuing presence of violence in the world, and so we also ask you: manifest your power, O God. In this time of ours, in this world of ours, cause the oppressors' rods, the cloaks rolled in blood and the footgear of battle to be burned, so that your peace may triumph in this world of ours.
Christmas is an epiphany – the appearing of God and of his great light in a child that is born for us. Born in a stable in Bethlehem, not in the palaces of kings. In 1223, when Saint Francis of Assisi celebrated Christmas in Greccio with an ox and an ass and a manger full of hay, a new dimension of the mystery of Christmas came to light. Saint Francis of Assisi called Christmas "the feast of feasts" – above all other feasts – and he celebrated it with "unutterable devotion" (2 Celano 199; Fonti Francescane, 787). He kissed images of the Christ-child with great devotion and he stammered tender words such as children say, so Thomas of Celano tells us (ibid.). For the early Church, the feast of feasts was Easter: in the Resurrection Christ had flung open the doors of death and in so doing had radically changed the world: he had made a place for man in God himself. Now, Francis neither changed nor intended to change this objective order of precedence among the feasts, the inner structure of the faith centred on the Paschal Mystery. And yet through him and the character of his faith, something new took place: Francis discovered Jesus' humanity in an entirely new depth. This human existence of God became most visible to him at the moment when God's Son, born of the Virgin Mary, was wrapped in swaddling clothes and laid in a manger. The Resurrection presupposes the Incarnation. For God's Son to take the form of a child, a truly human child, made a profound impression on the heart of the Saint of Assisi, transforming faith into love. "The kindness and love of God our Saviour for mankind were revealed" – this phrase of Saint Paul now acquired an entirely new depth. In the child born in the stable at Bethlehem, we can as it were touch and caress God. And so the liturgical year acquired a second focus in a feast that is above all a feast of the heart.
This has nothing to do with sentimentality. It is right here, in this new experience of the reality of Jesus' humanity that the great mystery of faith is revealed. Francis loved the child Jesus, because for him it was in this childish estate that God's humility shone forth. God became poor. His Son was born in the poverty of the stable. In the child Jesus, God made himself dependent, in need of human love, he put himself in the position of asking for human love – our love. Today Christmas has become a commercial celebration, whose bright lights hide the mystery of God's humility, which in turn calls us to humility and simplicity. Let us ask the Lord to help us see through the superficial glitter of this season, and to discover behind it the child in the stable in Bethlehem, so as to find true joy and true light.
Francis arranged for Mass to be celebrated on the manger that stood between the ox and the ass (cf. 1 Celano 85; Fonti 469). Later, an altar was built over this manger, so that where animals had once fed on hay, men could now receive the flesh of the spotless lamb Jesus Christ, for the salvation of soul and body, as Thomas of Celano tells us (cf. 1 Celano 87; Fonti 471). Francis himself, as a deacon, had sung the Christmas Gospel on the holy night in Greccio with resounding voice. Through the friars' radiant Christmas singing, the whole celebration seemed to be a great outburst of joy (1 Celano 85.86; Fonti 469, 470). It was the encounter with God's humility that caused this joy – his goodness creates the true feast.
Today, anyone wishing to enter the Church of Jesus' Nativity in Bethlehem will find that the doorway five and a half metres high, through which emperors and caliphs used to enter the building, is now largely walled up. Only a low opening of one and a half metres has remained. The intention was probably to provide the church with better protection from attack, but above all to prevent people from entering God's house on horseback. Anyone wishing to enter the place of Jesus' birth has to bend down. It seems to me that a deeper truth is revealed here, which should touch our hearts on this holy night: if we want to find the God who appeared as a child, then we must dismount from the high horse of our "enlightened" reason. We must set aside our false certainties, our intellectual pride, which prevents us from recognizing God's closeness. We must follow the interior path of Saint Francis – the path leading to that ultimate outward and inward simplicity which enables the heart to see. We must bend down, spiritually we must as it were go on foot, in order to pass through the portal of faith and encounter the God who is so different from our prejudices and opinions – the God who conceals himself in the humility of a newborn baby. In this spirit let us celebrate the liturgy of the holy night, let us strip away our fixation on what is material, on what can be measured and grasped. Let us allow ourselves to be made simple by the God who reveals himself to the simple of heart. And let us also pray especially at this hour for all who have to celebrate Christmas in poverty, in suffering, as migrants, that a ray of God's kindness may shine upon them, that they – and we – may be touched by the kindness that God chose to bring into the world through the birth of his Son in a stable. Amen.
SOURCE: http://www.vatican.va/content/benedict-xvi/en/homilies/2011/documents/hf_ben-xvi_hom_20111224_christmas.html
EMPHASIS MINE
MIDNIGHT MASS
Saint Peter's Basilica
Saturday, 24 December 2010
Dear Brothers and Sisters!
"You are my son, this day I have begotten you" – with this passage from Psalm 2 the Church begins the liturgy of this holy night. She knows that this passage originally formed part of the coronation rite of the kings of Israel. The king, who in himself is a man like others, becomes the "Son of God" through being called and installed in his office. It is a kind of adoption by God, a decisive act by which he grants a new existence to this man, drawing him into his own being. The reading from the prophet Isaiah that we have just heard presents the same process even more clearly in a situation of hardship and danger for Israel: "To us a child is born, to us a son is given. The government will be upon his shoulder" (Is 9:6). Installation in the office of king is like a second birth. As one newly born through God's personal choice, as a child born of God, the king embodies hope. On his shoulders the future rests. He is the bearer of the promise of peace. On that night in Bethlehem this prophetic saying came true in a way that would still have been unimaginable at the time of Isaiah. Yes indeed, now it really is a child on whose shoulders government is laid. In him the new kingship appears that God establishes in the world. This child is truly born of God. It is God's eternal Word that unites humanity with divinity. To this child belong those titles of honour which Isaiah's coronation song attributes to him: Wonderful Counsellor, Mighty God, Everlasting Father, Prince of Peace (Is 9:6). Yes, this king does not need counsellors drawn from the wise of this world. He bears in himself God's wisdom and God's counsel. In the weakness of infancy, he is the mighty God and he shows us God's own might in contrast to the self-asserting powers of this world.
Truly, the words of Israel's coronation rite were only ever rites of hope which looked ahead to a distant future that God would bestow. None of the kings who were greeted in this way lived up to the sublime content of these words. In all of them, those words about divine sonship, about installation into the heritage of the peoples, about making the ends of the earth their possession (Ps 2:8) were only pointers towards what was to come – as it were signposts of hope indicating a future that at that moment was still beyond comprehension. Thus the fulfilment of the prophecy, which began that night in Bethlehem, is both infinitely greater and in worldly terms smaller than the prophecy itself might lead one to imagine. It is greater in the sense that this child is truly the Son of God, truly "God from God, light from light, begotten not made, of one being with the Father". The infinite distance between God and man is overcome. God has not only bent down, as we read in the Psalms; he has truly "come down", he has come into the world, he has become one of us, in order to draw all of us to himself. This child is truly Emmanuel – God-with-us. His kingdom truly stretches to the ends of the earth. He has truly built islands of peace in the world-encompassing breadth of the holy Eucharist. Wherever it is celebrated, an island of peace arises, of God's own peace. This child has ignited the light of goodness in men and has given them strength to overcome the tyranny of might. This child builds his kingdom in every generation from within, from the heart. But at the same time it is true that the "rod of his oppressor" is not yet broken, the boots of warriors continue to tramp and the "garment rolled in blood" (Is 9:4f) still remains. So part of this night is simply joy at God's closeness. We are grateful that God gives himself into our hands as a child, begging as it were for our love, implanting his peace in our hearts. But this joy is also a prayer: Lord, make your promise come fully true. Break the rods of the oppressors. Burn the tramping boots. Let the time of the garments rolled in blood come to an end. Fulfil the prophecy that "of peace there will be no end" (Is 9:7). We thank you for your goodness, but we also ask you to show forth your power. Establish the dominion of your truth and your love in the world – the "kingdom of righteousness, love and peace".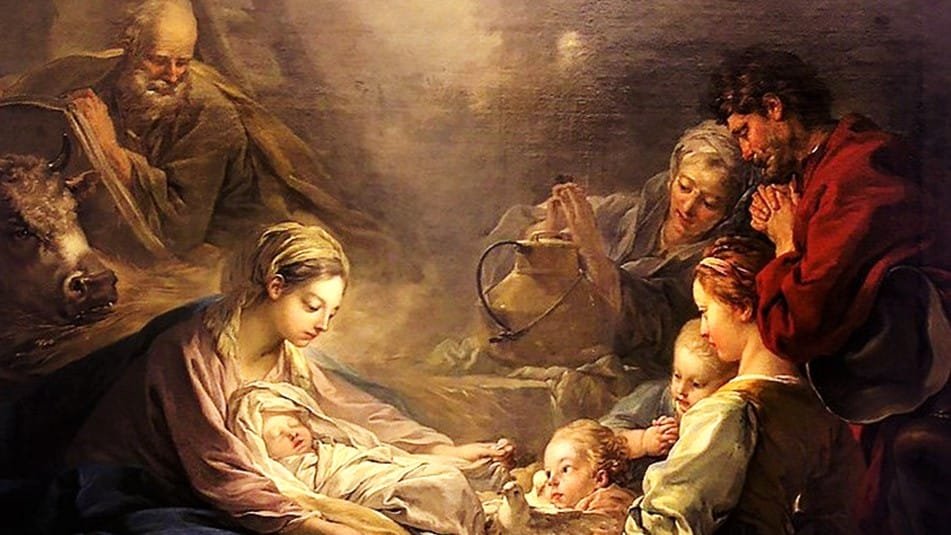 "Mary gave birth to her first-born son" (Lk 2:7). In this sentence Saint Luke recounts quite soberly the great event to which the prophecies from Israel's history had pointed. Luke calls the child the "first-born". In the language which developed within the sacred Scripture of the Old Covenant, "first-born" does not mean the first of a series of children. The word "first-born" is a title of honour, quite independently of whether other brothers and sisters follow or not. So Israel is designated by God in the Book of Exodus (4:22) as "my first-born Son", and this expresses Israel's election, its singular dignity, the particular love of God the Father. The early Church knew that in Jesus this saying had acquired a new depth, that the promises made to Israel were summed up in him. Thus the Letter to the Hebrews calls Jesus "the first-born", simply in order to designate him as the Son sent into the world by God (cf. 1:5-7) after the ground had been prepared by Old Testament prophecy. The first-born belongs to God in a special way – and therefore he had to be handed over to God in a special way – as in many religions – and he had to be ransomed through a vicarious sacrifice, as Saint Luke recounts in the episode of the Presentation in the Temple. The first-born belongs to God in a special way, and is as it were destined for sacrifice. In Jesus' sacrifice on the Cross this destiny of the first-born is fulfilled in a unique way. In his person he brings humanity before God and unites man with God in such a way that God becomes all in all. Saint Paul amplified and deepened the idea of Jesus as first-born in the Letters to the Colossians and to the Ephesians: Jesus, we read in these letters, is the first-born of all creation – the true prototype of man, according to which God formed the human creature. Man can be the image of God because Jesus is both God and man, the true image of God and of man. Furthermore, as these letters tell us, he is the first-born from the dead. In the resurrection he has broken down the wall of death for all of us. He has opened up to man the dimension of eternal life in fellowship with God. Finally, it is said to us that he is the first-born of many brothers. Yes indeed, now he really is the first of a series of brothers and sisters: the first, that is, who opens up for us the possibility of communing with God. He creates true brotherhood – not the kind defiled by sin as in the case of Cain and Abel, or Romulus and Remus, but the new brotherhood in which we are God's own family. This new family of God begins at the moment when Mary wraps her first-born in swaddling clothes and lays him in a manger. Let us pray to him: Lord Jesus, who wanted to be born as the first of many brothers and sisters, grant us the grace of true brotherhood. Help us to become like you. Help us to recognize your face in others who need our assistance, in those who are suffering or forsaken, in all people, and help us to live together with you as brothers and sisters, so as to become one family, your family.
At the end of the Christmas Gospel, we are told that a great heavenly host of angels praised God and said: "Glory to God in the highest and on earth peace among men with whom he is pleased!" (Lk 2:14). The Church, in the Gloria, has extended this song of praise, which the angels sang in response to the event of the holy night, into a hymn of joy at God's glory – "we praise you for your glory". We praise you for the beauty, for the greatness, for your goodness, which becomes visible to us this night. The appearing of beauty, of the beautiful, makes us happy without our having to ask what use it can serve. God's glory, from which all beauty derives, causes us to break out in astonishment and joy. Anyone who catches a glimpse of God experiences joy, and on this night we see something of his light. But the angels' message on that holy night also spoke of men: "Peace among men with whom he is pleased". The Latin translation of the angels' song that we use in the liturgy, taken from Saint Jerome, is slightly different: "peace to men of good will". The expression "men of good will" has become an important part of the Church's vocabulary in recent decades. But which is the correct translation? We must read both texts together; only in this way do we truly understand the angels' song. It would be a false interpretation to see this exclusively as the action of God, as if he had not called man to a free response of love. But it would be equally mistaken to adopt a moralizing interpretation as if man were so to speak able to redeem himself by his good will. Both elements belong together: grace and freedom, God's prior love for us, without which we could not love him, and the response that he awaits from us, the response that he asks for so palpably through the birth of his son. We cannot divide up into independent entities the interplay of grace and freedom, or the interplay of call and response. The two are inseparably woven together. So this part of the angels' message is both promise and call at the same time. God has anticipated us with the gift of his Son. God anticipates us again and again in unexpected ways. He does not cease to search for us, to raise us up as often as we might need. He does not abandon the lost sheep in the wilderness into which it had strayed. God does not allow himself to be confounded by our sin. Again and again he begins afresh with us. But he is still waiting for us to join him in love. He loves us, so that we too may become people who love, so that there may be peace on earth.
Saint Luke does not say that the angels sang. He states quite soberly: the heavenly host praised God and said: "Glory to God in the highest" (Lk 2:13f.). But men have always known that the speech of angels is different from human speech, and that above all on this night of joyful proclamation it was in song that they extolled God's heavenly glory. So this angelic song has been recognized from the earliest days as music proceeding from God, indeed, as an invitation to join in the singing with hearts filled with joy at the fact that we are loved by God. Cantare amantis est, says Saint Augustine: singing belongs to one who loves. Thus, down the centuries, the angels' song has again and again become a song of love and joy, a song of those who love. At this hour, full of thankfulness, we join in the singing of all the centuries, singing that unites heaven and earth, angels and men. Yes, indeed, we praise you for your glory. We praise you for your love. Grant that we may join with you in love more and more and thus become people of peace. Amen.
http://www.vatican.va/content/benedict-xvi/en/homilies/2010/documents/hf_ben-xvi_hom_20101224_christmas.html
EMPHASIS MINE
MIDNIGHT MASS
Saint Peter's Basilica
Saturday, 24 December 2009
Dear Brothers and Sisters!
"A child is born for us, a son is given to us" (Is 9:5). What Isaiah prophesied as he gazed into the future from afar, consoling Israel amid its trials and its darkness, is now proclaimed to the shepherds as a present reality by the Angel, from whom a cloud of light streams forth: "To you is born this day in the city of David a Saviour, who is Christ the Lord" (Lk 2:11). The Lord is here. From this moment, God is truly "God with us". No longer is he the distant God who can in some way be perceived from afar, in creation and in our own consciousness. He has entered the world. He is close to us. The words of the risen Christ to his followers are addressed also to us: "Lo, I am with you always, to the close of the age" (Mt 28:20). For you the Saviour is born: through the Gospel and those who proclaim it, God now reminds us of the message that the Angel announced to the shepherds. It is a message that cannot leave us indifferent. If it is true, it changes everything. If it is true, it also affects me. Like the shepherds, then, I too must say: Come on, I want to go to Bethlehem to see the Word that has occurred there. The story of the shepherds is included in the Gospel for a reason. They show us the right way to respond to the message that we too have received. What is it that these first witnesses of God's incarnation have to tell us?
The first thing we are told about the shepherds is that they were on the watch – they could hear the message precisely because they were awake. We must be awake, so that we can hear the message. We must become truly vigilant people. What does this mean? The principal difference between someone dreaming and someone awake is that the dreamer is in a world of his own. His "self" is locked into this dreamworld that is his alone and does not connect him with others. To wake up means to leave that private world of one's own and to enter the common reality, the truth that alone can unite all people. Conflict and lack of reconciliation in the world stem from the fact that we are locked into our own interests and opinions, into our own little private world. Selfishness, both individual and collective, makes us prisoners of our interests and our desires that stand against the truth and separate us from one another. Awake, the Gospel tells us. Step outside, so as to enter the great communal truth, the communion of the one God. To awake, then, means to develop a receptivity for God: for the silent promptings with which he chooses to guide us; for the many indications of his presence. There are people who describe themselves as "religiously tone deaf". The gift of a capacity to perceive God seems as if it is withheld from some. And indeed – our way of thinking and acting, the mentality of today's world, the whole range of our experience is inclined to deaden our receptivity for God, to make us "tone deaf" towards him. And yet in every soul, the desire for God, the capacity to encounter him, is present, whether in a hidden way or overtly. In order to arrive at this vigilance, this awakening to what is essential, we should pray for ourselves and for others, for those who appear "tone deaf" and yet in whom there is a keen desire for God to manifest himself. The great theologian Origen said this: if I had the grace to see as Paul saw, I could even now (during the Liturgy) contemplate a great host of angels (cf. in Lk 23:9). And indeed, in the sacred liturgy, we are surrounded by the angels of God and the saints. The Lord himself is present in our midst. Lord, open the eyes of our hearts, so that we may become vigilant and clear-sighted, in this way bringing you close to others as well!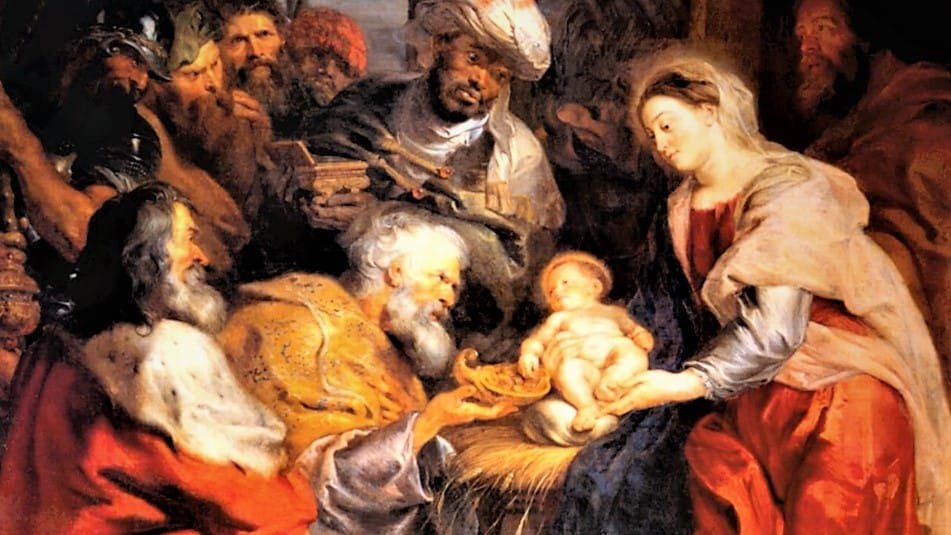 Let us return to the Christmas Gospel. It tells us that after listening to the Angel's message, the shepherds said one to another: "'Let us go over to Bethlehem' … they went at once" (Lk 2:15f.). "They made haste" is literally what the Greek text says. What had been announced to them was so important that they had to go immediately. In fact, what had been said to them was utterly out of the ordinary. It changed the world. The Saviour is born. The long-awaited Son of David has come into the world in his own city. What could be more important? No doubt they were partly driven by curiosity, but first and foremost it was their excitement at the wonderful news that had been conveyed to them, of all people, to the little ones, to the seemingly unimportant. They made haste – they went at once. In our daily life, it is not like that. For most people, the things of God are not given priority, they do not impose themselves on us directly. And so the great majority of us tend to postpone them. First we do what seems urgent here and now. In the list of priorities God is often more or less at the end. We can always deal with that later, we tend to think. The Gospel tells us: God is the highest priority. If anything in our life deserves haste without delay, then, it is God's work alone. The Rule of Saint Benedict contains this teaching: "Place nothing at all before the work of God (i.e. the divine office)". For monks, the Liturgy is the first priority. Everything else comes later. In its essence, though, this saying applies to everyone. God is important, by far the most important thing in our lives. The shepherds teach us this priority. From them we should learn not to be crushed by all the pressing matters in our daily lives. From them we should learn the inner freedom to put other tasks in second place – however important they may be – so as to make our way towards God, to allow him into our lives and into our time. Time given to God and, in his name, to our neighbour is never time lost. It is the time when we are most truly alive, when we live our humanity to the full.
Some commentators point out that the shepherds, the simple souls, were the first to come to Jesus in the manger and to encounter the Redeemer of the world. The wise men from the East, representing those with social standing and fame, arrived much later. The commentators go on to say: this is quite natural. The shepherds lived nearby. They only needed to "come over" (cf. Lk 2:15), as we do when we go to visit our neighbours. The wise men, however, lived far away. They had to undertake a long and arduous journey in order to arrive in Bethlehem. And they needed guidance and direction. Today too there are simple and lowly souls who live very close to the Lord. They are, so to speak, his neighbours and they can easily go to see him. But most of us in the world today live far from Jesus Christ, the incarnate God who came to dwell amongst us. We live our lives by philosophies, amid worldly affairs and occupations that totally absorb us and are a great distance from the manger. In all kinds of ways, God has to prod us and reach out to us again and again, so that we can manage to escape from the muddle of our thoughts and activities and discover the way that leads to him. But a path exists for all of us. The Lord provides everyone with tailor-made signals. He calls each one of us, so that we too can say: "Come on, 'let us go over' to Bethlehem – to the God who has come to meet us. Yes indeed, God has set out towards us. Left to ourselves we could not reach him. The path is too much for our strength. But God has come down. He comes towards us. He has travelled the longer part of the journey. Now he invites us: come and see how much I love you. Come and see that I am here. Transeamus usque Bethlehem, the Latin Bible says. Let us go there! Let us surpass ourselves! Let us journey towards God in all sorts of ways: along our interior path towards him, but also along very concrete paths – the Liturgy of the Church, the service of our neighbour, in whom Christ awaits us.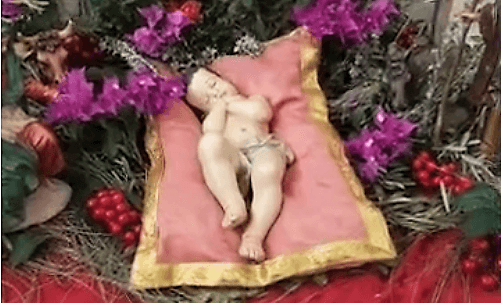 Let us once again listen directly to the Gospel. The shepherds tell one another the reason why they are setting off: "Let us see this thing that has happened." Literally the Greek text says: "Let us see this Word that has occurred there." Yes indeed, such is the radical newness of this night: the Word can be seen. For it has become flesh. The God of whom no image may be made – because any image would only diminish, or rather distort him – this God has himself become visible in the One who is his true image, as Saint Paul puts it (cf. 2 Cor 4:4; Col 1:15). In the figure of Jesus Christ, in the whole of his life and ministry, in his dying and rising, we can see the Word of God and hence the mystery of the living God himself. This is what God is like. The Angel had said to the shepherds: "This will be a sign for you: you will find a babe wrapped in swaddling clothes and lying in a manger" (Lk 2:12; cf. 2:16). God's sign, the sign given to the shepherds and to us, is not an astonishing miracle. God's sign is his humility. God's sign is that he makes himself small; he becomes a child; he lets us touch him and he asks for our love. How we would prefer a different sign, an imposing, irresistible sign of God's power and greatness! But his sign summons us to faith and love, and thus it gives us hope: this is what God is like. He has power, he is Goodness itself. He invites us to become like him. Yes indeed, we become like God if we allow ourselves to be shaped by this sign; if we ourselves learn humility and hence true greatness; if we renounce violence and use only the weapons of truth and love. Origen, taking up one of John the Baptist's sayings, saw the essence of paganism expressed in the symbol of stones: paganism is a lack of feeling, it means a heart of stone that is incapable of loving and perceiving God's love. Origen says of the pagans: "Lacking feeling and reason, they are transformed into stones and wood" (in Lk 22:9). Christ, though, wishes to give us a heart of flesh. When we see him, the God who became a child, our hearts are opened. In the Liturgy of the holy night, God comes to us as man, so that we might become truly human. Let us listen once again to Origen: "Indeed, what use would it be to you that Christ once came in the flesh if he did not enter your soul? Let us pray that he may come to us each day, that we may be able to say: I live, yet it is no longer I that live, but Christ lives in me (Gal 2:20)" (in Lk 22:3).
Yes indeed, that is what we should pray for on this Holy Night. Lord Jesus Christ, born in Bethlehem, come to us! Enter within me, within my soul. Transform me. Renew me. Change me, change us all from stone and wood into living people, in whom your love is made present and the world is transformed. Amen.
SOURCE: http://www.vatican.va/content/benedict-xvi/en/homilies/2009/documents/hf_ben-xvi_hom_20091224_christmas.html
EMPHASIS MINE
© Copyright 2011 – Libreria Editrice Vaticana