WHAT IS HEAVEN LIKE(3)? THE JOY OF HAVING GOD IN OUR SOUL IN GRACE.
WHAT IS HEAVEN LIKE (3)?:
A FORETASTE OF HEAVEN HERE ON EARTH: THE JOY OF HAVING GOD IN OUR SOUL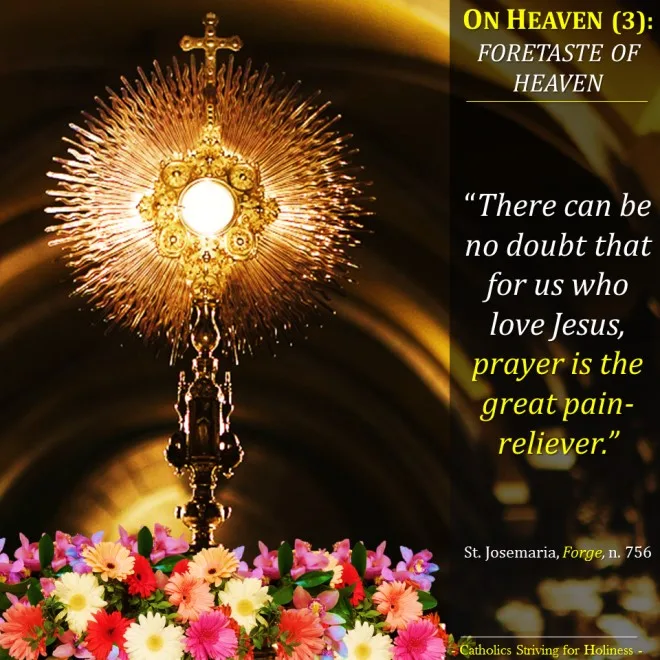 What do you feel within you after receiving God in the Holy Communion, or after being absolved from your sins in the Sacrament of Confession, or just by being in front of Our Lord in the Tabernacle, talking to Him, telling Him your joys, your problems…?
Many people, young and old alike, have affirmed and experienced an immense and profound joy as well as interior peace after praying and after receiving the Sacraments of Confession and of the Holy Eucharist.
I can recall several occasions when women and men who had been separated from God for months, years or even various decades, had shed tears of joy -yes, men cry as well! I just finished talking with one for 1 1/2 hours-, after receiving the God's pardon in the Sacrament of Confession –the Sacrament of Joy, according to St. Josemaria- and expressed their happiness upon being united with God anew.
You and I have also experienced a profound interior happiness, peace and serenity, every time we receive Our Lord in Holy Communion with the best interior dispositions and aware that the Author of Divine Grace is physically present in our soul; or when we visit and talk to Our Lord in the Tabernacle or in front of the Blessed Sacrament, especially during moments of great difficulties and after entrusting all our problems into His hands. "There can be no doubt that FOR US WHO LOVE JESUS, PRAYER IS THE GREAT PAIN-RELIEVER (St. Josemaria, Forge n.756)."
ALL THE HAPPINESS, RELIEF, SERENITY AND PROFOUND PEACE WHICH ARISE FROM PRAYER and the SACRAMENTS OF CONFESSION and of the HOLY EUCHARIST are but a FORETASTE of the ETERNAL BLISS AND PEACE which GOD has reserved in HEAVEN and which has already begun on earth when one strives to keep God in his soul.
Dear friends: If you haven't experienced these yet, I sincerely encourage you then to SEEK GOD IN PRAYER, IN CONFESSION AND IN THE HOLY EUCHARIST. I assure you that in those moments, you will savor a bit of the everlasting happiness and peace in Heaven.
Have a nice day and God bless you and your loved ones!
TEXTS FOR MEDITATION:
"So you have sorrow now, but I will see you again and your hearts will rejoice, and no one will take your joy from you. (John 16:22)"
"For a Christian, joy is a treasure. Only by offending God do we lose it, because sin is the fruit of selfishness, and selfishness is the root of sadness. Even then, a bit of joy survives under the debris of our soul: the knowledge that neither God nor his Mother can ever forget us. If we repent, if an act of sorrow springs from our heart, if we purify ourselves in the holy sacrament of penance, God comes out to meet and forgive us. Then there can be no sadness whatsoever. Then there is every right "to rejoice because your brother was dead and has come back to life, was lost and has been found (St. Josemaría, "Christ is Passing By" n. 178)."
"Without the Holy Eucharist there would be no happiness in this world; life would be insupportable. When we receive Holy Communion, we receive our joy and our happiness. The good God, wishing to give Himself to us in the Sacrament of His Love, gave us a vast and great desire, which He alone can satisfy. In the presence of this beautiful Sacrament, we are like a person dying of thirst by the side of a river — he would only need to bend his head; like a person still remaining poor, close to a great treasure — he need only stretch out his hand. He who communicates loses himself in God like a drop of water in the ocean. They can no more be separated (St. John Ma. Vianney)."
"Each time we are reunited in the Eucharist, we are strengthened in holiness and renewed in happiness, for happiness and holiness are the inevitable consequences of being with God. When we are nourished by the Living Bread which has come down from heaven, we become more like Our Resurrected Saviour, who is the fountain of our joy, a joy which is for all people (Lk 2:10). May happiness and holiness always abound in your life and flourish in your homes. And may the Eucharist…be the center of our life, the source of our happiness and holiness (St. John Paul II, Homily, Feb. 2, 1981)."
"The Sacrament of Reconciliation is closely linked to the Eucharist. Confession entails the awareness of being sinners, with faith in God's mercy. Jesus purifies us with his Blood shed on the Cross for us so that we can participate more faithfully in the Sacrifice of Calvary that is made present each day in the Holy Mass.
Both sacraments fill the soul with joy and peace, just as the good thief, who could see Jesus with his own eyes on Calvary, felt impelled out of contrition to acknowledge his sins, and thus attained eternal salvation.
I insist: Confession has a very important role in our Christian life because it is a sacrament of joy and the entrance way to the peace and happiness found in the Eucharist (Bishop Javier Echevarria, Prelate of Opus Dei, Interview by Zenit, Sept. 12, 2011)."
PHOTO SOURCE: https://catholicsstrivingforholiness.files.wordpress.com/2015/11/57fb5-beautifulmonstrance.jpg
Stay updated: subscribe by email for free TO OUR NEW WEBSITE www.catholicsstrivingforholiness.org (PUT YOUR EMAIL IN THE SUBSCRIBE WIDGET).
We are also in www.fb.com/Catholicsstrivingforholiness. Kindly help more people in their Christian life by liking our page and inviting your family, friends and relatives to do so as well. Thanks in advance and God bless you and your loved ones! Fr. Rolly Arjonillo