Dec. 25: CHRISTMAS NOVENA DAY 9 GOSPEL, COMMENTARY AND READING FROM ST. LEO THE GREAT.
Dec. 25: CHRISTMAS NOVENA DAY 9 GOSPEL, COMMENTARY AND READING FROM ST. LEO THE GREAT.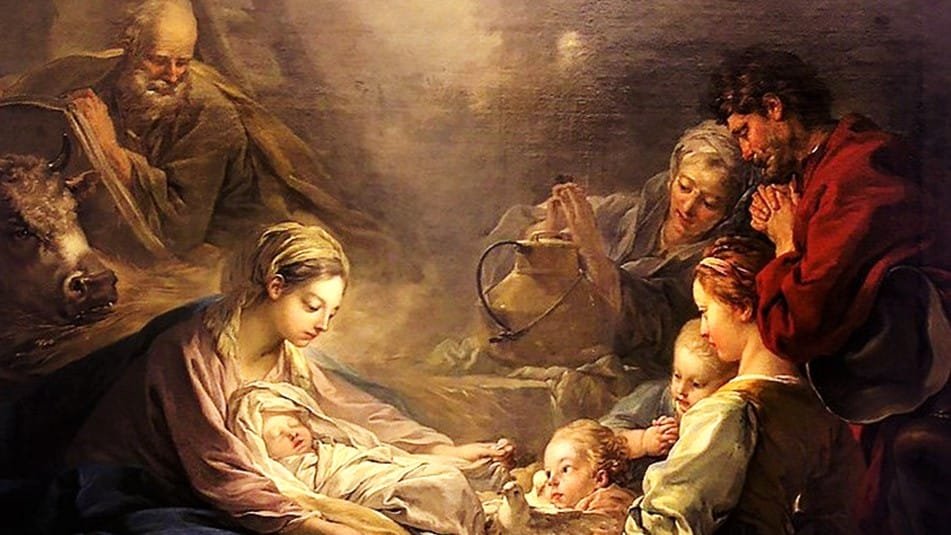 GOSPEL OF CHRISTMAS MASS AT MIDNIGHT
Lk 2:1–14
In those days a decree went out from Caesar Augustus that the whole world should be enrolled. This was the first enrollment, when Quirinius was governor of Syria. So all went to be enrolled, each to his own town. And Joseph too went up from Galilee from the town of Nazareth to Judea, to the city of David that is called Bethlehem, because he was of the house and family of David, to be enrolled with Mary, his betrothed, who was with child. While they were there, the time came for her to have her child, and she gave birth to her firstborn son. She wrapped him in swaddling clothes and laid him in a manger, because there was no room for them in the inn.
Now there were shepherds in that region living in the fields and keeping the night watch over their flock. The angel of the Lord appeared to them and the glory of the Lord shone around them, and they were struck with great fear. The angel said to them, "Do not be afraid; for behold, I proclaim to you good news of great joy that will be for all the people. For today in the city of David a savior has been born for you who is Christ and Lord. And this will be a sign for you: you will find an infant wrapped in swaddling clothes and lying in a manger." And suddenly there was a multitude of the heavenly host with the angel, praising God and saying: "Glory to God in the highest and on earth peace to those on whom his favor rests."
The Angel had said to the shepherds: "This will be a sign for you: you will find a babe wrapped in swaddling clothes and lying in a manger" (Lk 2:12; cf. 2:16). God's sign, the sign given to the shepherds and to us, is not an astonishing miracle. God's sign is his humility. God's sign is that he makes himself small; he becomes a child; he lets us touch him and he asks for our love. How we would prefer a different sign, an imposing, irresistible sign of God's power and greatness! But his sign summons us to faith and love, and thus it gives us hope: this is what God is like. He has power, he is Goodness itself. He invites us to become like him. Yes indeed, we become like God if we allow ourselves to be shaped by this sign; if we ourselves learn humility and hence true greatness; if we renounce violence and use only the weapons of truth and love. Origen, taking up one of John the Baptist's sayings, saw the essence of paganism expressed in the symbol of stones: paganism is a lack of feeling, it means a heart of stone that is incapable of loving and perceiving God's love. Origen says of the pagans: "Lacking feeling and reason, they are transformed into stones and wood" (in Lk 22:9). Christ, though, wishes to give us a heart of flesh. When we see him, the God who became a child, our hearts are opened. In the Liturgy of the holy night, God comes to us as man, so that we might become truly human. Let us listen once again to Origen: "Indeed, what use would it be to you that Christ once came in the flesh if he did not enter your soul? Let us pray that he may come to us each day, that we may be able to say: I live, yet it is no longer I that live, but Christ lives in me (Gal 2:20)" (in Lk 22:3).
Yes indeed, that is what we should pray for on this Holy Night. Lord Jesus Christ, born in Bethlehem, come to us! Enter within me, within my soul. Transform me. Renew me. Change me, change us all from stone and wood into living people, in whom your love is made present and the world is transformed. Amen.
CSFH VIDEO COMMENTARY
THE JOY OF CHRISTMAS
CHRISTMAS READING
From a sermon by Saint Leo the Great, pope
Christian, remember your dignity
Dearly beloved, today our Savior is born; let us rejoice. Sadness should have no place on the birthday of life. The fear of death has been swallowed up; life brings us joy with the promise of eternal happiness.
No one is shut out from this joy; all share the same reason for rejoicing. Our Lord, victor over sin and death, finding no man free from sin, came to free us all. Let the saint rejoice as he sees the palm of victory at hand. Let the sinner be glad as he receives the offer of forgiveness. Let the pagan take courage as he is summoned to life.
In the fullness of time, chosen in the unfathomable depths of God's wisdom, the Son of God took for himself our common humanity in order to reconcile it with its creator. He came to overthrow the devil, the origin of death, in that very nature by which he had overthrown mankind.
And so at the birth of our Lord the angels sing in joy: Glory to God in the highest, and they proclaim peace to his people on earth as they see the heavenly Jerusalem being built from all the nations of the world. When the angels on high are so exultant at this marvelous work of God's goodness, what joy should it not bring to the lowly hearts of men?
Beloved, let us give thanks to God the Father, through his Son, in the Holy Spirit, because in his great love for us he took pity on us, and when we were dead in our sins he brought us to life with Christ, so that in him we might be a new creation. Let us throw off our old nature and all its ways and, as we have come to birth in Christ, let us renounce the works of the flesh.
Christian, remember your dignity, and now that you share in God's own nature, do not return by sin to your former base condition. Bear in mind who is your head and of whose body you are a member. Do not forget that you have been rescued from the power of darkness and brought into the light of God's kingdom.
Through the sacrament of baptism you have become a temple of the Holy Spirit. Do not drive away so great a guest by evil conduct and become again a slave to the devil, for your liberty was bought by the blood of Christ.
COLLECT
O God, who have made this most sacred night radiant with the splendor of the true Light, grant, we pray, that we who have known the mysteries of his light on earth may also delight in his gladness in heaven. Who lives and reigns with you.
VIDEO REFLECTION: DO YOU GIVE LOVE ON CHRISTMAS DAY AND EVERYDAY? OUR CHALLENGE TODAY IS TO LOVE.
In our humanness, we can never understand why people can be so different from us – in views, temperament, demeanor, beliefs, attitudes. We oftentimes judge others by the way they communicate themselves to us – their words, their actions.Today's gospel reading (JOHN 1:1-18) does not mention about the Nativity. The Bethlehem scene was the reading in last night's Christmas vigil mass (Matthew 1:18-25). Just as we reveal ourselves by how we speak, God has revealed himself through Jesus, His Word.
READING SOURCE: http://divineoffice.org/1225-or/?date=20151225
PHOTO MINE: Niño Jesús de Pozoalbero (Spain)
Stay updated: subscribe by email for free TO OUR NEW WEBSITE www.catholicsstrivingforholiness.org (PUT YOUR EMAIL IN THE SUBSCRIBE WIDGET).
We are also in www.fb.com/Catholicsstrivingforholiness. Kindly help more people in their Christian life by liking our page and inviting your family, friends and relatives to do so as well. Thanks in advance and God bless you and your loved ones! Fr. Rolly Arjonillo