Oct. 22: ST. JOHN PAUL II, PRAY FOR US! Short bio and AV summary.
OCT. 22:
ST. JOHN PAUL II, PRAY FOR US! Short bio and AV summary.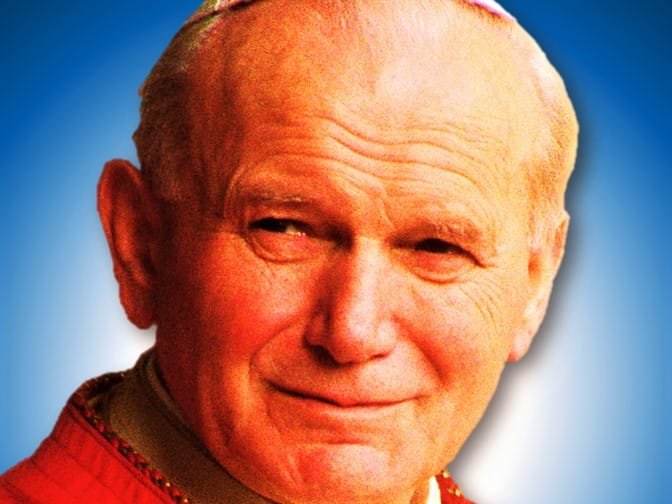 Charles Joseph Wotjtyła later known as Saint John Paul II, was born in 1920 in Wadowice, Poland. After his ordination to the priesthood and theological studies in Rome, he returned to his homeland and resumed various pastoral and academic tasks. He became first auxiliary bishop and, in 1964, Archbishop of Krakow and took part in the Second Vatican Council. On October 16, 1978 he was elected pope and took the name John Paul II. His exceptional apostolic zeal, particularly for families, young people and the sick, led him to numerous pastoral visits throughout the world. Among the many fruits which he has left as a heritage to the Church are above all his rich Magisterium and the promulgation of the Catechism of the Catholic Church as well as the Code of Canon Law for the Latin Church and for the Eastern Churches. In Rome on April 2, 2005, the eve of the Second Sunday of Easter (or of Divine Mercy), he departed peacefully in the Lord.
"Everyone knows John Paul II: his face, his characteristic way of moving and speaking; his immersion in prayer and his spontaneous cheerfulness. Many of his words have become indelibly engraved in our memories, starting with the passionate cry with which he introduced himself to the people at the beginning of his pontificate: 'Open wide the doors to Christ, and be not afraid of him!' Or this saying: 'No one can live a trial life; no one can love experimentally.' An entire pontificate is condensed in words like these. It is as though he would like to open the doors for Christ everywhere and wishes to open up to people the gate that leads to true life, to true love."
– Pope Emeritus Benedict XVI
HAPPY FEASTDAY OF ST. JOHN PAUL II!
Let us thank God for choosing him as a faithful instrument in helping us grow more in love with Jesus! And let us ask St. John Paul II that "we may open our hearts to the saving grace of Christ, the sole Redeemer of mankind" (Opening prayer, Mass proper). Let us also thank Our Mother Mary, Our Lady of Fatima, whom our saint loved a lot and to whom he consecrated his entire life -Totus tuus!-, for protecting him from death on May 13, 1981, & St. John Paul II for all he had done for the Catholic Church and the world.
GOOD DAY FRIENDS!
O God, who are rich in mercy
and who willed that Saint John Paul the Second
should preside as Pope over your universal Church,
grant, we pray, that instructed by his teaching,
we may open our hearts to the saving grace of Christ,
the sole Redeemer of mankind.
Who lives and reigns with you in the unity of the Holy Spirit,
one God, for ever and ever.
Collect prayer, Mass proper
AUDIO CREDIT: William Byrd – Civitas Sancti Tui by The Tudor Consort is licensed under a Attribution 3.0 International License.
SEE AS WELL
ST. JOHN PAUL II's GREAT SERMON DURING HIS INAUGURATION in https://catholicsstrivingforholiness.org/oct-22-st-john-paul-ii-do-not-be-afraid-open-wide-the-doors-for-christ-inaugural-sermon/
and
PRAYER TO ST. JOHN PAUL II in https://catholicsstrivingforholiness.org/prayer-to-st-john-paul-ii/
Stay updated: subscribe by email for free TO OUR NEW WEBSITE www.catholicsstrivingforholiness.org (PUT YOUR EMAIL IN THE SUBSCRIBE WIDGET).
We are also in www.fb.com/Catholicsstrivingforholiness. Kindly help more people in their Christian life by liking our page and inviting your family, friends and relatives to do so as well. Thanks in advance and God bless you and your loved ones! Fr. Rolly Arjonillo