MONDAY OF THE 1ST WEEK IN ORDINARY TIME GOSPEL, COMMENTARY AND READING. "COME, I WILL MAKE YOU FISHERS OF MEN" (Mk 1:14-20).
MONDAY OF THE 1ST WEEK IN ORDINARY TIME GOSPEL, COMMENTARY AND READING. "COME, I WILL MAKE YOU FISHERS OF MEN" (Mk 1:14-20).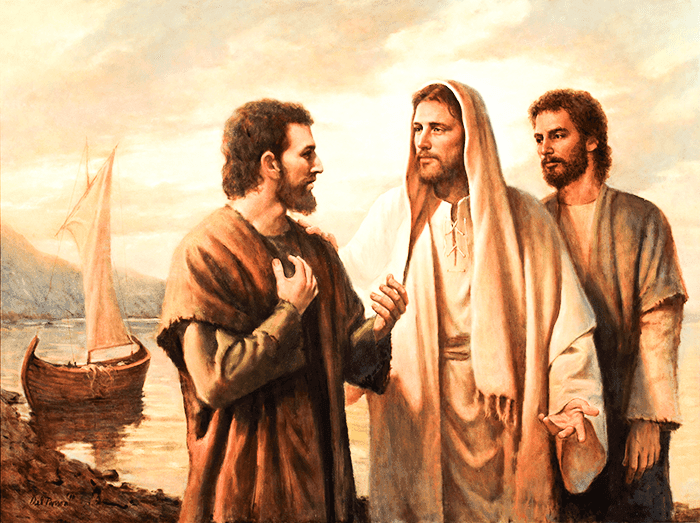 GOSPEL OF MONDAY OF THE 1ST WEEK IN ORDINARY TIME
Mk 1:14–20

After John had been arrested, Jesus came to Galilee proclaiming the gospel of God: "This is the time of fulfillment. The kingdom of God is at hand. Repent, and believe in the gospel."
As he passed by the Sea of Galilee, he saw Simon and his brother Andrew casting their nets into the sea; they were fishermen. Jesus said to them, "Come after me, and I will make you fishers of men."
Then they abandoned their nets and followed him. He walked along a little farther and saw James, the son of Zebedee, and his brother John. They too were in a boat mending their nets. Then he called them. So they left their father Zebedee in the boat along with the hired men and followed him.
GOSPEL COMMENTARY
Today's Gospel insists on our need for conversion, our need to change our attitude and conduct for it is a prerequisite for receiving the Kingdom of God.
John Paul II underlines the importance of conversion for entry into the Kingdom of God:

'Therefore, the Church professes and proclaims conversion. Conversion to God always consists in discovering his mercy, that is, in discovering that love which is patient and kind (cf. 1 Cor 13:4) as only the Creator and Father can be; the love to which the 'God and Father of our Lord Jesus Christ' (2 Cor 1:3) is faithful to the uttermost consequences in the history of his covenant with man: even to the Cross and to the death and resurrection of the Son. Conversion to God is always the fruit of the 'rediscovery' of this Father, who is rich in mercy.
"Authentic knowledge of the God of mercy, the God of tender love, is a constant and inexhaustible source of conversion, not only as a momentary interior act but also as a permanent attitude, as a state of mind. Those who come to know God in this way, who 'see' him in this way, can live only in a state of being continually converted to him. They live, therefore, in statu conversionis and it is this state of conversion which marks out the most profound element of the pilgrimage of every man and woman on earth in statu viatoris [state of travellers]" (John Paul II, Dives in misericordia, 13).

At the same time, Jesus sought out and called some of those who would later form part of his Chosen Twelve on which He will build His Church.

Jesus needs instruments: generous, docile and apostolic men and women to follow Him, live His life, and seek souls to bring them close to God.
And with the words, "Come after me, and I will make you fishers of men," Jesus does not only direct Himself to His Apostles but to each and everyone of us. Are we willing to follow Him as the Apostles did?
Attend to the pleas of your people with heavenly care, o Lord, we pray, that they may see what must be done, and gain strength to do what they have seen. Through our Lord.

Collect prayer 1st week in Ordinary Time
VIDEO COMMENTARY
TOPIC: CAN YOU SAY THAT YOU HAVE CHANGED FOR THE BETTER?
In today's gospel reading (Mark 1:14-20), Jesus begins his public ministry. We draw from the lines Jesus spoke: "The right time has come and the Kingdom of God is near! Turn away from your sins and believe the Good News!" These words are very simple, and yet profound. It may very well summarize the whole Gospel message for it speaks about change.
---
READING FROM WRITINGS OF SAINTS
All wisdom comes from the Word of God on high
From a letter of Pope St Clement I to the Corinthians
We shall pray without ceasing to the Creator of all things, and beg him to preserve the number of his elect throughout the whole world, through his beloved son Jesus Christ, and not let a single one of them fall away.
Through him you called us from darkness into light and gave us the knowledge of the glory of your name. He taught us to hope in you, from whom all creation has its being. He opened our eyes so that we would recognise you, most high among the highest, holy and surrounded by holiness. You put an end to the pride of the arrogant, you frustrate the plans of the gentiles, you raise up the lowly and bring down those who are exalted. You give riches and give poverty, you dispense both death and life. You succour every spirit, you are the God of all flesh. You behold what is hidden in the depths, you see all that men do. You give help to those in peril and rescue to those without hope. You create all that has breath and watch over it; you multiply the peoples of the earth, and from among them you choose those who love you through Jesus Christ your beloved Son, through whom you give us wisdom, holiness, and honour.
We beg you, Lord, to be our help and our support. Free us from our troubles; take pity on the lowly; raise up those who have fallen; give help to the poor, health to the sick, and bring home those who have wandered away. Feed the hungry, ransom captives, give strength to the weak and courage to the faint-hearted. Let all peoples come to know that you alone are God, that Jesus Christ is your son, and that we are your people and the sheep of your flock. For by your acts you made visible the everlasting structure of the Universe and set the Earth on its foundations. For all generations you have been faithful and just in your judgements, and wonderful in your power and majesty. Wisely you have created, and wisely you have kept things in being. All that we see shows your goodness; to all who trust in you, you are faithful, kind, and merciful. Forgive us our wickednesses and injustices, our sins and our transgressions.
Do not weigh down your servants with the burden of their sins, but purify us and direct the paths we take so that we go forward in purity and innocence of heart, so that all that we do is good and acceptable to you and to those who lead us.
Come, Lord, let your face shine upon us so that we may peacefully enjoy all good things. May your powerful hand be a roof over our heads and may your strength preserve us from all wrongdoing. Free us, Lord, from those who hate us without cause. Give peace and harmony to us and to all the inhabitants of the Earth, as you gave them to our fathers who called on you with trust and faith. You alone can give us these gifts and confer these favours on us. We put our trust in you through Jesus Christ, our high priest, the guardian of our souls. Through him be glory and majesty to you now and through all generations until the end of time. Amen.
Stay updated: subscribe by email for free TO OUR NEW WEBSITE www.catholicsstrivingforholiness.org (PUT YOUR EMAIL IN THE SUBSCRIBE WIDGET).
We are also in www.fb.com/Catholicsstrivingforholiness. Kindly help more people in their Christian life by liking our page and inviting your family, friends and relatives to do so as well. Thanks in advance and God bless you and your loved ones! Fr. Rolly Arjonillo