MAY 31: HAPPY FEAST OF THE VISITATION OF OUR LADY!
MAY 31: HAPPY FEAST OF THE VISITATION OF OUR LADY!
Dear brethren in Happy Feast of the Visitation of Our Lady to her cousin, Elisabeth.
We all want and should aspire to have a personal and loving relationship with God the Father, God the Son, and God the Holy Spirit. This is what having interior life is all about and the reason why God created us as rational creatures ─with reason and free will─ capable of loving and thereby, equipped with the choice of entering into communion with God here and in the life after next. And love is indispensable if we want to progress in the path of loving intimacy with God, of holiness, which as St. Josemaria put it, is the "plenitude of love".
IF WE WANT TO ADVANCE RAPIDLY IN OUR PERSONAL AND LOVING RELATIONSHIP WITH THE THREE PERSONS OF THE BLESSED TRINITY, LET US GO TO OUR MOTHER MARY: DAUGHTER OF GOD THE FATHER, MOTHER OF GOD THE SON, SPOUSE OF GOD THE HOLY SPIRIT.
OUR LADY HAD THIS INTIMATE, LOVING AND PERSONAL RELATIONSHIP WITH EACH OF THE PERSONS OF THE BLESSED TRINITY. This is so because she is "full of grace" and is humble. She is "blessed among all women" having been prepared by God the Father, immediately after the downfall of our first parents, (cfr. Gen 3:14-15), to carry within her the Only Begotten Son, Our Lord Jesus Christ through the action of the Holy Spirit.
IF WE WANT TO PROGRESS EXPEDITIOUSLY IN OUR PRINCIPAL MISSION TO ADORE, PRAISE, SERVE AND LOVE THE MOST HOLY TRINITY, OUR MOTHER MARY CAN TEACH US HOW, LEAD AND ACCOMPANY US ALONG THE WAY because she walked along this path and preceded us. She was faithful, generous and docile to the promptings of the Holy Spirit, giving her full assent to God the Father's will to be the Mother of Our Lord Jesus Christ.
Moreover, here's what's IMPRESSIVE about Our Lady which we see in her encounter with Elizabeth her cousin, who with her old age, was carrying St. John the Baptist in her womb. Our Lady, FULLY AWARE THAT SHE BEARS WITHIN HER THE SON OF GOD, GOES OUT OF HER WAY, TRAVELS A LONG AND TIRESOME DISTANCE…IN ORDER TO SERVE AND HELP HER COUSIN! THE MOTHER OF GOD, A SERVANT! SUCH EXAMPLE OF GREAT FRATERNAL CHARITY, SERVICE and HUMILITY, as She herself proclaims her lowliness in the Magnificat: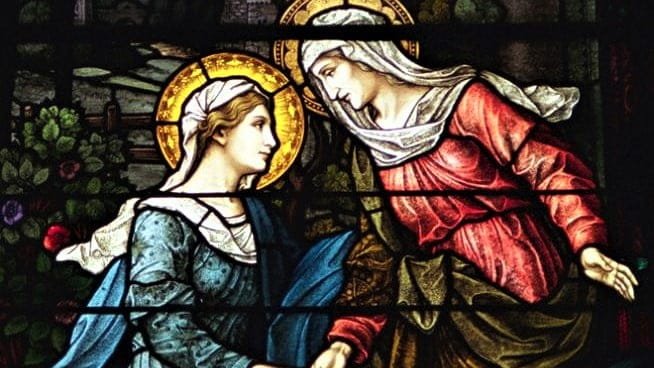 "My soul proclaims the greatness of the Lord; my spirit rejoices in God my Savior, for he has looked with favor on his lowly servant. From this day all generations will call me blessed: the Almighty has done great things for me, and holy is his Name…".
Dear friends: as we end this Marian month of May in which we have tried to show her our filial love and affection, offering daily small flowers of prayers and interior struggle to Our Mother in Heaven, let us thank her for all the benefits God has granted us through her intercession! As Pope Benedict XVI said:
True Marian devotion never obscures or diminishes faith and love for Jesus Christ Our Savior, the one Mediator between God and mankind. On the contrary, entrustment to Our Lady is a privileged path, tested by numerous saints, for a more faithful following of the Lord. Consequently, let us entrust ourselves to her with filial abandonment!
(31 May 2006)
Let us ask her help in this great feast so that WE, HER CHILDREN, MAY STRIVE DAILY TO ATTAIN AN EVER MORE PERSONAL, INTIMATE AND LOVING RELATIONSHIP WITH GOD THE FATHER, GOD THE SON AND GOD THE HOLY SPIRIT WHOM WE CARRY WITHIN OUR SOUL IN GRACE:
"We fly to thy patronage, O Holy Mother of God, despise not our petitions, but in your mercy, hear and answer me. Amen."
See as well: May 31 Feast of the Visitation of Our Lady
Mass prayers and readings here.
Gospel commentary here, here and here.
Pope Francis' reflection on the Visitation of Our Lady here.
ORIGINAL PHOTO SOURCE: Maria Heimsuchung in pinterest.com
Stay updated: subscribe by email for free TO OUR NEW WEBSITE www.catholicsstrivingforholiness.org (PUT YOUR EMAIL IN THE SUBSCRIBE WIDGET).
We are also in www.fb.com/Catholicsstrivingforholiness. Kindly help more people in their Christian life by liking our page and inviting your family, friends and relatives to do so as well. Thanks in advance and God bless you and your loved ones! Fr. Rolly Arjonillo