LOVE JESUS IN THE MOST HOLY EUCHARIST: PREPARE YOURSELF FOR THE HOLY MASS.
LOVE JESUS IN THE HOLY EUCHARIST!
PREPARE YOURSELF WELL FOR THE HOLY MASS!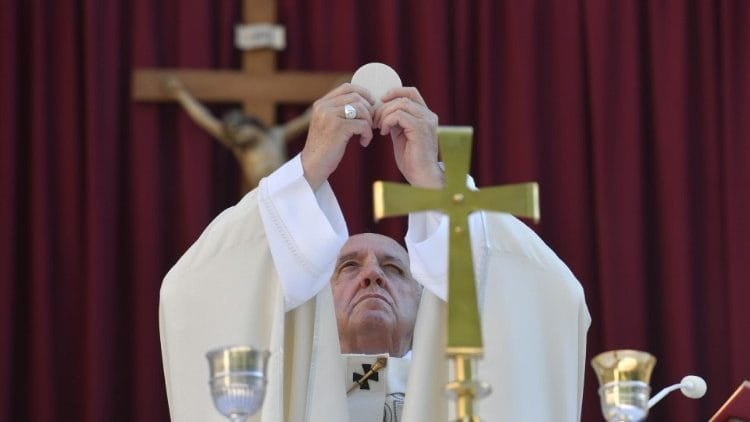 It would be good to ask ourselves once in a while: how do we love Jesus in the Holy Eucharist?
As I was doing my mental prayer regarding the preparation and love for Jesus in the Holy Mass, I remembered the feeling of delight upon seeing my UP College of Medicine classmates' photos in FB, now highly successful doctors in the US, in a recent party, everyone looking at their best: well-groomed and dressed elegantly for the occasion. Then, I thought: IF PEOPLE PREPARE THEMSELVES WELL TO BE AT THEIR BEST FOR A SPECIAL OCCASION, WHATEVER IT MAY BE, WE, TOO, ─OUT OF DELICACY AND LOVE FOR OUR LORD, AND CONVINCED OF THE SUPREME DIGNITY OF THE SACRAMENT OF THE HOLY EUCHARIST─, SHOULD MAKE AN EFFORT TO PREPARE OURSELVES BOTH INTERIORLY AND EXTERIORLY, EVERYTIME WE GO TO HOLY MASS.
Speaking about the divine nature and importance of the Holy Eucharist, Pope Francis said: The Holy Mass
"is not a social act, a good social act; it is not a gathering of the faithful to pray together. It is something else. In the liturgy, GOD IS PRESENT," BUT IT IS A CLOSER PRESENCE. IN THE MASS, IN FACT, "THE PRESENCE OF THE LORD IS REAL, TRULY REAL. (Homily at Santa Marta, Feb 10, 2014)." The "Eucharistic Celebration is MUCH MORE THAN A SIMPLE BANQUET: it is EXACTLY THE MEMORIAL OF JESUS' PASCHAL SACRIFICE, THE MYSTERY AT THE CENTER OF SALVATION. "Memorial" does not simply mean a remembrance, a mere memory; it means that EVERY TIME WE CELEBRATE THIS SACRAMENT WE PARTICIPATE IN THE MYSTERY OF THE PASSION, DEATH, AND RESURRECTION OF CHRIST. The Eucharist is THE SUMMIT OF GOD'S SAVING ACTION: THE LORD JESUS, BY BECOMING BREAD BROKEN FOR US, POURS UPON US ALL OF HIS MERCY AND HIS LOVE, SO AS TO RENEW OUR HEARTS, OUR LIVES, AND OUR WAY OF RELATING WITH HIM AND WITH THE BRETHREN (General Audience, Feb. 12, 2014)."
St. Josemaria in a homily said:
"WE ARE GOING TO RECEIVE OUR LORD. ON THIS EARTH, WHEN WE RECEIVE AN IMPORTANT PERSON, WE BRING OUT THE BEST — lights, music, formal dress. HOW SHOULD WE PREPARE TO RECEIVE CHRIST INTO OUR SOUL? HAVE WE EVER THOUGHT ABOUT HOW WE WOULD BEHAVE IF WE COULD ONLY RECEIVE HIM ONCE IN A LIFETIME?
When I was a child, frequent communion was still not a widespread practice. I remember how people used to prepare to go to communion. EVERYTHING HAD TO BE JUST RIGHT, BODY AND SOUL: THE BEST CLOTHES, HAIR WELL-COMBED — EVEN PHYSICAL CLEANLINESS WAS IMPORTANT — MAYBE EVEN A FEW DROPS OF COLOGNE… THESE WERE MANIFESTATIONS OF LOVE, FULL OF FINESSE AND REFINEMENT, ON THE PART OF MANLY SOULS WHO KNEW HOW TO REPAY LOVE WITH LOVE (Christ is Passing By, n. 91, caps mine)."
With these ideas, dear brethren, we can perhaps resolve to SHOW DETAILS OF LOVE TO OUR LORD, PREPARING OURSELVES BOTH INTERIORLY AND EXTERIORLY. How? Here are some practical tips:
INTERIORLY:
If we are going to a Sunday morning Mass, we can start preparing at NIGHTTIME saying interiorly ACTS OF FAITH, HOPE, LOVE, CONTRITION AND SPIRITUAL COMMUNIONS (see previous post).
One can exert effort as well to arrive 5 minutes or so before the Mass starts so that during this time one can say PRAYERS COMPOSED BY SAINTS in preparation for the Holy Mass. For example: PRAYER OF ST. THOMAS AQUINAS in https://www.ewtn.com/expert/answers/prayers_for_Mass.htm
If we want to receive Our Lord in the Holy Communion, let us make sure that we are in the STATE OF GRACE. If not, Our Lord will be willing to give us a big hug and forgive us in the Sacrament of Confession.
EXTERIORLY:
Convinced that we are going to witness God's special and real presence during the Holy Mass, let us try TO BE AT OUR BEST FOR OUR LORD (and not for our vanity's sake). Hence, we can put an effort TO WEAR DECENT, CLEAN CLOTHES APT FOR THE OCCASION. In some churches in the Philippines, I have seen plaques outside the church, depicting which clothes are not to be worn inside the church out of respect for Our Lord and so as to live the virtue of modesty as well.
It is also a good reminder to show our respect towards to Blessed Sacrament, by making a pious GENUFLECTION in front of the Tabernacle.
Since the Church is a place of prayer, we could try to keep an attitude of RECOLLECTION and SILENCE, avoiding unnecessary conversations and perhaps putting our cellphones in the silent mode ? , in order to help others pray and avoid distractions during the Holy Mass.
Dear friends, these are some suggestions which one could freely choose to practice in order to prepare himself well for this wondrous mystery and Sacrament of Love and Thanksgiving, always with the intention of doing them out of respect and love for Our Lord's real presence in the Holy Eucharist, convinced that during the Holy Mass, we are witnessing OUR LORD'S PASSION, DEATH AND RESURRECTION. Let us ask the help of Our Mother so that we may fall in love more with Jesus ─ with the Blessed Trinity─ present in the Holy Mass.