JUST A FRIENDLY REMINDER :) THE PROPER ATTIRE INSIDE THE CHURCH.
JUST A FRIENDLY REMINDER 🙂
THE PROPER ATTIRE INSIDE THE CHURCH.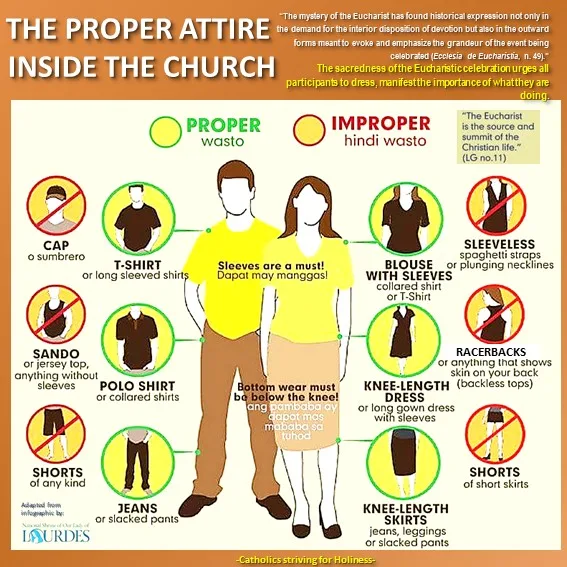 Note that this is just the bare minimum taking into account that the infographic is for persons living in tropical countries . Of course, one COULD dress up DECENTLY and PROPERLY FOR GOD if one COULD AND WANTS to. He deserves the best from us and we want to give Him the best of us, not only interiorly but exteriorly as well 😀 Let us then glorify God in body and soul: with our entire being.
+++
This post only reminds that it is important to dress up as dignified and decent as one could according to one's situation and circumstances, out of respect and love for Our Lord, and considering the dignity of the Holy Mass. Our Lord will appreciate it if one does so for Him.
If people could dress up decently for God and do not do so, then there is something wrong. One the other hand, if some people do not have the bare minimum, let it be clear that they are always welcome in the Church, and they should never be ashamed to go and praise God for it is their presence which matters most to God. As such, if one encounters an unkempt person in the Church, he should be glad of the other's presence instead of falling into criticism. Moreoever, it is best to remember that one of the corporal works of mercy is to clothe the "naked". As such, we could also form the resolution to donate to charity our clothes which we no longer use so that they who do not have, might have something decent.
This post is educational and does not aim to be discriminatory nor provocative.
More info on CHURCH AND MASS ETIQUETTE. TOP 9 REMINDERS in https://catholicsstrivingforholiness.org/top-9-reminders-on-church-and-mass-etiquette-loving-jesus-in-the-holy-eucharist/
Happy weekend and God bless!
Cordially inviting you to visit and like our FB page in www.fb.com/CatholicsstrivingforHoliness or sign-up to our new website, www.catholicsstrivingforholiness.org, so we can have a wider apostolic reach and thus help more people in their Christian life. Thanks! Fr. Rolly A., priest of Opus Dei.
Thanks and God bless!
Fr. Rolly Arjonillo
Source: National Shrine of Lourdes infographic, modified to fit in a square pic.
SEE AS WELL
VIDEO COMMENTARY ON THE PARABLE OF THE MARRIAGE FEAST AND THE WEDDING GARMENT