July 31: ST. IGNATIUS OF LOYOLA, Founder of the Society of Jesus.
July 31:
ST. IGNATIUS OF LOYOLA,
Founder of the Society of Jesus.
Short bio, the importance of spiritual reading, prayers.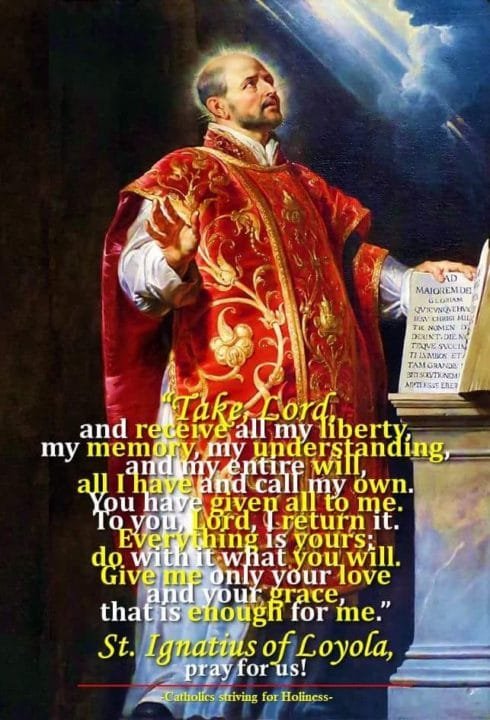 OUTLINE
1.      Short biography
Born as the youngest of 13 children of a noble and wealthy family in Loyola, Spain, and baptized as Iñigo ─which he will later change into Ignatius (1491-1556) in Paris─, he became a soldier although his father wanted him to pursue an ecclesiastical career. He was fascinated by the adventurous lives of his elder brothers who had military careers. Serving his relative, D. Antonio Manrique, Duke of Nájera and vicar of the King of Navarre, he fought against the French defending the Castle of Pamplona until he suffered from a battle wound caused by a cannon fire on May 20, 1521.
While he was recovering in Loyola, without any novels of chivalry and military exploits on hand and which he would have preferred to read, he read books on the lives of saints, but above all, on the life of Christ instead.
This eventually brought him closer to Christ, the Eternal and Universal King to whom he wanted to render tribute and serve, instead of a temporal king.
He underwent a profound conversion and went to a pilgrimage to Jerusalem, spending some days in the Abbey of Montserrat where he changed his lavish stately clothes to those of a poor beggar, and consecrating himself to Our Lady.
He also made a general confession and received his first spiritual formation from a Benedictine monk.
He spent a year in Manresa, living a life of prayer and penance and doing apostolate and works of mercy in hospitals. In a nearby cave, illumined by God, he wrote his first spiritual experiences, norms and meditations which will later form part of his renowned "Spiritual Exercises", referred to by Pope Pius XI as the sagest book for directing souls.
Upon his return from his pilgrimage to Jerusalem, he was convinced that theological formation is necessary in order to carry out the apostolic tasks which God wanted from him so at 33 years of age, he started learning Latin in Barcelona, transferring later to the universities of Alcala and Salamanca.
On February 1528, he went to the University of Paris where he later obtained his doctorate in Philosophy on April 1534 and where he gathered his first followers; Fabio, Xavier, Lainez, Salmerón, Rodrigues, Bobadilla and with them, made vows of apostolate, poverty and chastity. Together with Ignatius, they shall be the future pillars of the Society of Jesus which is dedicated to the greater glory of God and to the service of the Church, in total obedience to the Pope.
The Society was approved by Paul III on September 27, 1540 and from then on, has done an immense good to the Universal Church throughout these centuries with their apostolic and evangelizing missions all over the world, academic formation of the clergy, founding of numerous universities and schools, social initiatives for the benefit of the poor etc.
St. Ignatius died in Rome on July 31, 1556 and was canonized by Pope Gregory XV on 1622.
2. The importance of spiritual reading
Dear friends: Before ending, let us also reflect on THE IMPORTANCE OF SPIRITUAL READING. If you have noticed, ST. IGNATIUS' CONVERSION WAS KINDLED BY GOD'S GRACE THROUGH THE READING OF SPIRITUAL BOOKS, especially books on the lives of the saints and the life of Our Lord Jesus Christ. And his is not a unique case:
SPIRITUAL READING HAS TRANSFORMED A LOT OF MEN and WOMEN
INTO SAINTS throughout these centuries.
On this regard, we can propose it to ourselves as a daily act of piety: Why not dedicate at least 10 minutes a day to read a good spiritual book which will nurture our soul? You may ask your spiritual director to recommend you a good book which will ignite your heart towards the path of conversion, holiness and love of God and of all souls, as it did to St. Ignatius!
3. Prayers
LET US THANK GOD FOR ALL THE GOOD ST. IGNATIUS OF LOYOLA AND HIS SPIRITUAL CHILDREN HAVE DONE TO THE CHURCH AND TO THE SOCIETY ALL OVER THE WORLD THROUGHOUT THESE CENTURIES.
As Pope Benedict XVI wrote of him:
"Saint Ignatius of Loyola was first and foremost a man of God who in his life put God, his greatest glory and his greatest service, first. He was a profoundly prayerful man for whom the daily celebration of the Eucharist was the heart and crowning point of his day. Thus, he left his followers a precious spiritual legacy that must not be lost or forgotten. Precisely because he was a man of God, Saint Ignatius was a faithful servant of the Church, in which he saw and venerated the Bride of the Lord and the Mother of Christians. And the special vow of obedience to the Pope, which he himself describes as 'our first and principal foundation' (MI, Series III, I., p. 162), was born from his desire to serve the Church in the most beneficial way possible. (22 April 2006)"
LET US THANK ALL THE JESUITS ALL OVER THE WORLD FOR THEIR HEROIC SELF-GIVING, HOLINESS, APOSTOLIC ZEAL AND FIDELITY TO THEIR VOCATION.
LET US PRAY THAT ALL THE JESUITS MAY BE FAITHFUL TO THE CHARISMS OF THEIR FOUNDER, TO THEIR VOWS OF CHASTITY, POVERTY, APOSTOLATE AND
OBEDIENCE TO THE ROMAN PONTIFF.
LET US ASK GOD THROUGH THE INTERCESSION OF OUR LADY, QUEEN OF APOSTLES, TO SEND MORE VOCATIONS NOT ONLY FOR THE SOCIETY OF JESUS BUT FOR
ALL THE RELIGIOUS CONGREGATIONS AND INSTITUTIONS THROUGHOUT THE WORLD.
With the words of St. Ignatius, let us pray:
"Take, Lord, and receive all my liberty,
my memory, my understanding, and my entire will, all I have and call my own. You have given all to me. To you, Lord, I return it. Everything is yours; do with it what you will. Give me only your love and your grace, that is enough for me."
"O my God, teach me to be generous
to serve you as you deserve to be served
to give without counting the cost
to fight without fear of being wounded
to work without seeking rest
and to spend myself without expecting any reward
but the knowledge that I am doing your holy will.
Amen."
Cordially inviting you to like our FB page in http://www.facebook.com/CatholicsstrivingforHoliness and share our posts to help more people in their Christian life. Thanks! Fr. Rolly A.
Stay updated: subscribe by email for free TO OUR NEW WEBSITE www.catholicsstrivingforholiness.org (PUT YOUR EMAIL IN THE SUBSCRIBE WIDGET).
We are also in www.fb.com/Catholicsstrivingforholiness. Kindly help more people in their Christian life by liking our page and inviting your family, friends and relatives to do so as well. Thanks in advance and God bless you and your loved ones! Fr. Rolly Arjonillo