July 16: OUR LADY OF MT. CARMEL. DEVOTION OF THE SCAPULAR AND PROMISES.
JULY 16: OUR LADY OF MT. CARMEL. THE DEVOTION TO HER SCAPULAR AND PROMISES.
Summary vid + full text.
OUTLINE (CLICK ON BLUE LINKS)
The feast we celebrate commemorates the apparition of the Blessed Virgin on July 16, 1251 to St. Simon Stock, the first General of the Carmelite Order.
Mary promised special blessings and indulgences throughout the centuries for all those who wear her scapular. This devotion began in England and has received the solemn approval of the Church and the constant blessings of the Popes.
1. WHAT DID OUR LADY TELL ST. SIMON STOCK IN HER APPARITION?
"RECEIVE, MY BELOVED SON, THIS SCAPULAR OF THY ORDER; IT IS THE SPECIAL SIGN OF MY FAVOR, WHICH I HAVE OBTAINED FOR THEE AND FOR THY CHILDREN OF MOUNT CARMEL. HE WHO DIES CLOTHED WITH THIS HABIT SHALL BE PRESERVED FROM ETERNAL FIRE. IT IS THE BADGE OF SALVATION, A SHIELD IN TIME OF DANGER, AND A PLEDGE OF SPECIAL PEACE AND PROTECTION."
2. THE PROMISES OF OUR LADY.
Our Lady promised grace and special blessings for those who devoutly wear her scapular. In particular:
She promised THE GRACE OF FINAL PERSEVERANCE, that is, THE SPECIAL HELP FOR THOSE WHO ARE NOT IN THE STATE OF GRACE TO REPENT IN THE LAST MOMENT OF THEIR LIFE.
Furthermore, the SABBATINE PRIVILEGE is added to this promise. This privilege consists in THE EARLY LIBERATION FROM PURGATORY, THROUGH THE SPECIAL INTERCESSION AND PETITION OF THE VIRGIN MARY, WHICH SHE GRACIOUSLY EXERCISES IN FAVOR OF HER DEVOTED SERVANTS PREFERENTIALLY ON THE DAY CONSECRATED TO HER, SATURDAY (from the word "Sabbath", hence, sabbatine).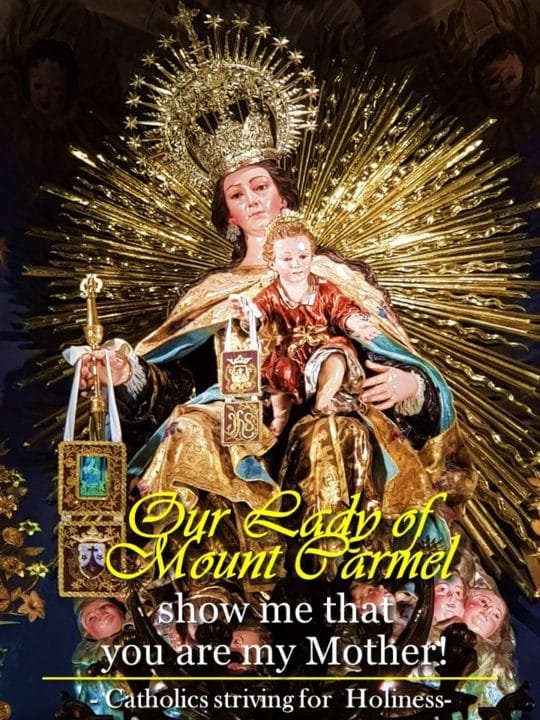 3. PRACTICAL TIPS:
In order to benefit from the graces promised by Our Lady, the scapular of Our Lady of Mt. Carmel has to be DULY INVESTED BY A PRIEST.
If worn out, torn, or as preferred, the scapular CAN BE REPLACED BY A MEDAL with the image of OUR LADY OF MT. CARMEL on one side and of the SACRED HEART OF JESUS on the other side. Investiture need not be repeated. Just ask a priest to bless the medal.
The scapular is not an amulet nor a lucky charm (!). Rather, it is:

a SIGN of Our Lady's maternal love and protection for us;
a SYMBOL of the wedding garment of grace we should have in our soul;
and a PLEDGE which carries with it particular obligations such as devotion to her Immaculate Heart and imitation of all Our Lady's virtues, in particular, her humility, chastity (according to one's state in life) and piety.
St. John Paul II recalled in an intimate way the special help and protection he himself received from the Blessed Mother through his devotion to Our Lady of Mount Carmel in an audience with the youth in a parish in Rome dedicated to Our Lady of Mt. Carmel, saying:
I SHOULD TELL YOU – HE SAID TO THEM – THAT IN MY YOUTH, WHEN I WAS ABOUT YOUR AGE, SHE HELPED ME A GREAT DEAL. I CANNOT SAY TO WHAT DEGREE EXACTLY, BUT I BELIEVE IT WAS TO A VERY GREAT EXTENT. SHE HELPED ME TO GAIN THE GRACE PROPER TO MY AGE IN LIFE, THE GRACE TO UNDERSTAND MY VOCATION…I OWE A GREAT DEAL IN MY EARLY YOUTH TO MY DEVOTION TO THE CARMELITE SCAPULAR. A MOTHER'S CONSTANT DILIGENCE AND CONCERN FOR THE CLOTHES OF HER CHILDREN IS BEAUTIFUL TO SEE. SHE ALWAYS WANTS THEM WELL-DRESSED. WHEN HER CHILDREN'S GARMENTS ARE TORN THE MOTHER MAKES AN EFFORT TO REPAIR THEM. THE BLESSED MOTHER OF MOUNT CARMEL AND OF THE HOLY SCAPULAR SPEAKS TO US OF HER MATERNAL CARE, HER CONCERN TO CLOTHE US SPIRITUALLY WITH THE GRACE OF GOD AND TO HELP US ALWAYS KEEP OUR GARMENTS WHITE.
Dear friends, if you still do not wear the Scapular of Our Lady of Mt. Carmel, I ENCOURAGE YOU TO HAVE ONE AND ASK YOUR PARISH PRIEST TO INVEST IT ON YOU, not only as a sign of Our Mother's love and a pledge to imitate her virtues, but also as a manifestation of our filial love and devotion to Our Lady, who only wants the best for her children.
"WEAR ON YOUR BREAST THE HOLY SCAPULAR OF MOUNT CARMEL. THERE ARE MANY EXCELLENT MARIAN DEVOTIONS, BUT FEW ARE AS DEEP-ROOTED AMONG THE FAITHFUL AND SO RICHLY BLESSED BY THE POPES. BESIDES, HOW MOTHERLY IS THE SABBATINE PRIVILEGE (St. Josemaria Escrivá, The Way, 500)."
Let us end this short consideration with St. John Paul II's words:
MAY OUR LADY OF MOUNT CARMEL BE WITH YOU ALWAYS. MAY SHE BE THE STAR THAT GUIDES YOU AND NEVER DISAPPEARS FROM YOUR HORIZON. MAY SHE LEAD YOU NOW, THROUGHOUT YOUR LIFE AND AT ITS COMPLETION TO A SAFE HAVEN
(St. John Paul II, Address, 9 November 1982).
Holy Mary, Mother of God, pray for us sinners, now and at the hour of our death! Amen.
PHOTO SOURCE: Our Lady of Mt. Carmel of the Iglesia of Santo Angel, Seville (Spain) in http://web.islapasion.net/uploads/contents/060714143016(22).JPG
SEE AS WELL:
HAPPY FEAST OF OUR LADY OF MT. CARMEL: A MEDITATION

A SHORT PRAYER TO OUR LADY OF MOUNT CARMEL
Stay updated: subscribe by email for free TO OUR NEW WEBSITE www.catholicsstrivingforholiness.org (PUT YOUR EMAIL IN THE SUBSCRIBE WIDGET).
We are also in www.fb.com/Catholicsstrivingforholiness. Kindly help more people in their Christian life by liking our page and inviting your family, friends and relatives to do so as well. Thanks in advance and God bless you and your loved ones! Fr. Rolly Arjonillo