WEDNESDAY IN THE 4TH WEEK OF LENT READINGS AND REFLECTION: JESUS SPEAKS OF HIS DIVINITY (Jn 5:17–30).
WEDNESDAY IN THE 4TH WEEK OF LENT READINGS AND REFLECTION:
JESUS TESTIFIES TO HIS DIVINITY.
(Jn 5:17–30).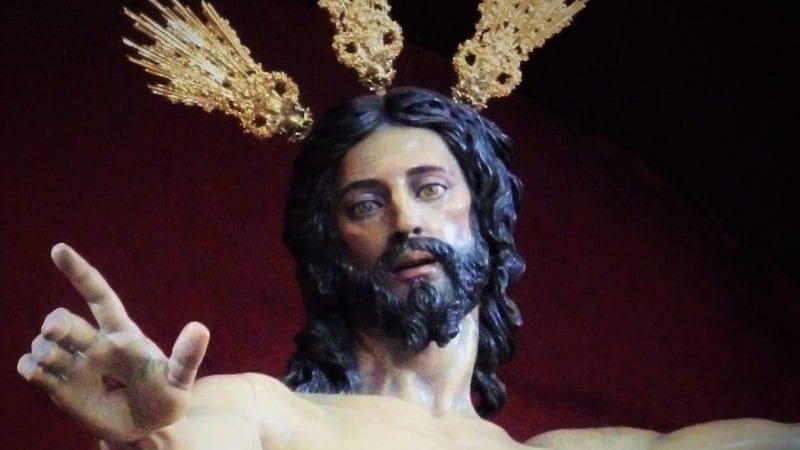 WEDNESDAY IN THE 4TH WEEK OF LENT


MASS READINGS
1st Reading Is 49:8–15
Responsorial Psalm Psalms 145:8-9, 13CD-14, 17-18
Verse Before the Gospel John 11:25A, 26
Gospel John 5:17-30
READING I
Is 49:8–15
Thus says the Lord: In a time of favor I answer you, on the day of salvation I help you; and I have kept you and given you as a covenant to the people, to restore the land and allot the desolate heritages, saying to the prisoners: Come out! To those in darkness: Show yourselves! Along the ways they shall find pasture, on every bare height shall their pastures be. They shall not hunger or thirst, nor shall the scorching wind or the sun strike them; for he who pities them leads them and guides them beside springs of water. I will cut a road through all my mountains, and make my highways level. See, some shall come from afar, others from the north and the west, and some from the land of Syene. Sing out, O heavens, and rejoice, O earth, break forth into song, you mountains. For the Lord comforts his people and shows mercy to his afflicted.
But Zion said, "The Lord has forsaken me; my Lord has forgotten me." Can a mother forget her infant, be without tenderness for the child of her womb? Even should she forget, I will never forget you.

VERSE BEFORE THE GOSPEL
I am the resurrection and the life, said the Lord: he who believes in me will not die forever.
Jesus answered the Jews: "My Father is at work until now, so I am at work." For this reason they tried all the more to kill him, because he not only broke the sabbath but he also called God his own father, making himself equal to God.
Jesus answered and said to them, "Amen, amen, I say to you, the Son cannot do anything on his own, but only what he sees the Father doing; for what he does, the Son will do also. For the Father loves the Son and shows him everything that he himself does, and he will show him greater works than these, so that you may be amazed. For just as the Father raises the dead and gives life, so also does the Son give life to whomever he wishes. Nor does the Father judge anyone, but he has given all judgment to the Son, so that all may honor the Son just as they honor the Father. Whoever does not honor the Son does not honor the Father who sent him. Amen, amen, I say to you, whoever hears my word and believes in the one who sent me has eternal life and will not come to condemnation, but has passed from death to life. Amen, amen, I say to you, the hour is coming and is now here when the dead will hear the voice of the Son of God, and those who hear will live. For just as the Father has life in himself, so also he gave to the Son the possession of life in himself. And he gave him power to exercise judgment, because he is the Son of Man. Do not be amazed at this, because the hour is coming in which all who are in the tombs will hear his voice and will come out, those who have done good deeds to the resurrection of life, but those who have done wicked deeds to the resurrection of condemnation.
"I cannot do anything on my own; I judge as I hear, and my judgment is just, because I do not seek my own will but the will of the one who sent me."
GOSPEL REFLECTION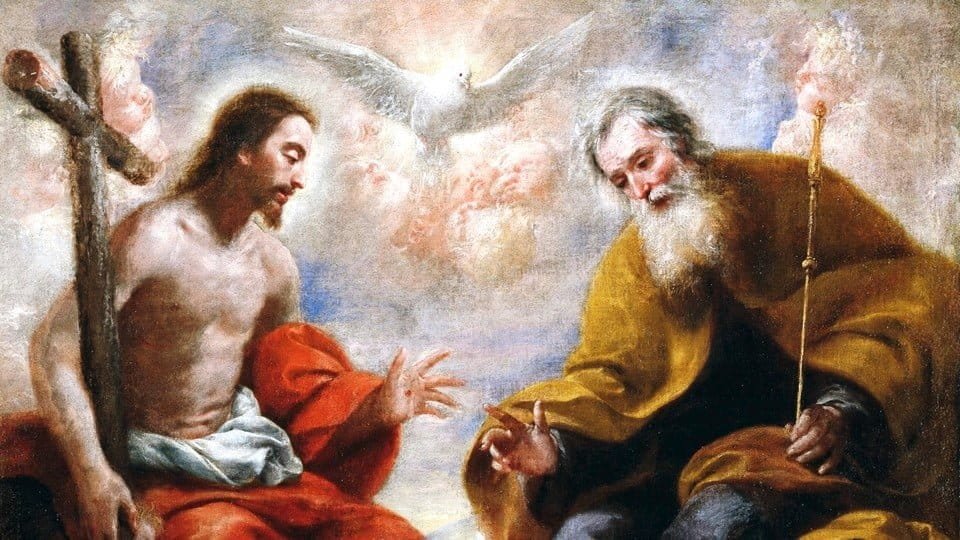 ---
16-18 The Law of Moses established the sabbath as a weekly day of rest. Through keeping the sabbath the Jews felt they were imitating God, who rested from the work of creation on the seventh day.

St Thomas Aquinas observes that Jesus rejects this strict interpretation:

"(The Jews), in their desire to imitate God, did nothing on the sabbath, as if God on that day had ceased absolutely to act. It is true that he rested on the sabbath from his work of creating new creatures, but he is always continually at work, maintaining them in existence… God is the cause of all things in the sense that he also maintains them in existence; for if for one moment he were to stop exercising his power, at that very moment everything that nature contains would cease to exist" (Comm. on St John, in loc.).

"My Father is working still, and I am working": We have already seen that God is continually acting. Since the Son acts together with the Father, who with the Holy Spirit are the one and only God, our Lord Jesus Christ, the Son of God, can say that he is always working.

These words of Jesus contain an implicit reference to his divinity: the Jews realize this and they want to kill him because they consider it blasphemous. "We all call God our Father, who is in heaven (Is 63:16; 64:8). Therefore, they were angry, not at this, that he said God was his Father, but that he said it in quite another way than men. Notice: the Jews understand what Arians do not understand. Arians affirm the Son to be not equal to the Father, and that was why their heresy was driven from the Church. Here, even the blind, even the slayers of Christ, understand the words of Christ" (St Augustine, In Ioann. Evang., 17, 16).
We call God our Father because through grace we are his adopted children; Jesus Christ calls him his Father because he is his Son by nature. This is why he says after the Resurrection: "I am ascending to my Father and your Father" (Jn 20:17), making a clear distinction between the two ways of being a son of God.

Christ defends his action
19 Jesus speaks of the equality and also the distinction between Father and Son. The two are equal: all the Son's power is the Father's, all the Son does the Father does; but they arc two distinct persons: which is why the Son does what he has seen the Father do.

These words of our Lord should not he taken to mean that the Son sees what the Father does and then does it himself, like a disciple imitating his master; he says what he says to show that the Father's powers are communicated to the Son through generation.
The word "see" is used because men come to know things through the senses, particularly through the sight; to say that the Son sees what the Father does is a way of referring to all the powers which he receives from him for all eternity (cf. St Thomas Aquinas, Comm. on St John, in loc.).

20-21 When he says that the Father shows the Son "all that he himself is doing", this means that Christ can do the same as the Father. Thus, when Jesus does things which are proper to God, he is testifying to his divinity through them (cf. Jn 5:36).

"Greater works": this may be a reference to the miracles Jesus will work during his lifetime and to his authority to execute judgment. But the miracle of Jesus was his own Resurrection, the cause and pledge of our own (cf. 1 Cor 15:20ff), and our passport to supernatural life. Christ, like his Father, has unlimited power to communicate life. This teaching is developed in vv. 22-29.

22-30 Authority to judge has also been given by the Father to the Incarnate Word.

Whoever does not believe in Christ and in his word will be condemned (cf. 3:18). We must accept Jesus Christ's lordship; by doing so we honour the Father; if we do not know the Son we do not know the Father who sent him (v. 23).

Through accepting Christ, through accepting his word, we gain eternal life and are freed from condemnation. He, who has taken on human nature which he will retain for ever, has been established as our judge, and his judgment is just, because he seeks to fulfil the Will of the Father who sent him, and he does nothing on his own account: in other words, his human will is perfectly at one with his divine will; which is why Jesus can say that he does not do his own will but the Will of him who sent him.

22 God, being Creator of the world, is the supreme Judge of all creation. He alone can know with absolute certainty whether the people and things he has created achieve the end he has envisaged for them. Jesus Christ, the Incarnate Word, has received divine authority (cf. Mt 11:27; 28:18; Dan 7:14), including authority to judge mankind. Now, it is God's will that everyone should be saved: Christ did not come to condemn the world but to save it (cf. Jn 12:47). Only someone who refuses to accept the divine mission of the Son puts himself outside the pale of salvation. As the Church's Magisterium teaches: "He claimed judicial power as received from his Father, when the Jews accused him of breaking the sabbath by the miraculous cure of a sick man… In this power is included the right of rewarding and punishing all men, even in this life" (Pius XI, Quas primas, Dz-Sch 3677). Jesus Christ, therefore, is the Judge of the living and the dead, and will reward everyone according to his works (cf. 1 Pet 1:17).

"We have, I admit, a rigorous account to give of our sins; but who will be our judge? The Father… has given all judgment to the Son. Let us he comforted: the eternal Father has placed our cause in the hands of our Redeemer himself. St Paul encourages us, saying, Who is [the judge] who is to condemn us? It is Jesus Christ, who died… who indeed intercedes for us (Rom 8:34). It is the Saviour himself, who, in order that he should not condemn us to eternal death, has condemned himself to death for our sake, and who, not content with this, still continues to intercede for us in heaven with God his Father" (St Alphonsus Liguori, The love of our Lord Jesus Christ reduced to practice, chap. 3).

24 There is also a close connexion between hearing the word of Christ and believing in him who has sent him, that is, in the Father. Whatever Jesus Christ says is divine revelation; therefore, accepting Jesus' words is equivalent to believing in God the Father: "He who believes in me, believes not in me, but in him who sent me… For I have not spoken on my own authority; the Father who sent me has himself given me commandment what to say and what to speak" (Jn 12:44, 49).

A person with faith is on the way to eternal life, because even in this earthly life he is sharing in divine life, which is eternal; but he has not yet attained eternal life in a definitive way (for he can lose it), nor in a full way: "Beloved, we are God's children now; it does not yet appear what we shall be, but we know that when he appears we shall be like him" (1 Jn 3:2). If a person stays firm in the faith and lives up to its demands, God's judgment will not condemn him but save him.
Therefore, it makes sense to strive, with the help of grace, to live a life consistent with the faith: "If men go to so much trouble and effort to live here a little longer, ought they not strive so much harder to live eternally?" (St Augustine, De verb. Dom. Serm., 64).

25-30 These vv. bring the first part of our Lord's discourse to a close (it runs from 5:19 to 5:47); its core is a revelation about his relationship with his Father. To understand the statement our Lord makes here we need to remember that, because he is a single (divine) person, a single subject of operations, a single I, he is expressing in human words not only his sentiments as a man but also the deepest dimension of his being: he is the Son of God, both in his generation in eternity by the Father, and in his generation in time through taking up human nature.

Hence Jesus Christ has a profound awareness (so profound that we cannot even imagine it) of his Sonship, which leads him to treat his Father with a very special intimacy, with love and also with respect; he is aware also of his equality with the Father; therefore when he speaks about the Father having given him life (v. 26) or authority (v. 27), it is not that he has received part of the Father's life or authority: he has received absolutely all of it, without the Father losing any.

"Do you perceive how their equality is shown and that they differ in one respect only, namely, that one is the Father, while the other is the Son? The expression 'he has given' implies this distinction only, and shows that all the other attributes are equal and without difference. From this it is clear that he does everything with as much authority and power as the Father and is not endowed with power from some outside source, for he has life as the Father has" (St John Chrysostom, Hom. on St John, 39, 3).

One of the amazing things about these passages of the Gospel is how Jesus Christ manages to express the sentiments of God-Man despite the limitations of human language: Christ, true God, true man, is a mystery which the Christian should contemplate even though he cannot understand it: he feels bathed in a light so strong that it is beyond understanding, yet fills his soul with faith and with a desire to worship his Lord.
VIDEO COMMENTARY
TOPIC: DO YOU UNDERSTAND HOW THE HOLY TRINITY WORKS IN YOUR LIFE?
1st Reading Isaiah 49:8-15Gospel John 5:17-30
Today's gospel reading follows immediately yesterday's story of a crippled man by the pool in Bethesda being healed by Jesus. Healing on a Sabbath day, even by doctors of the time, was prohibited under Mosaic Law. But Jesus, working on divine authority can never be bound by human law. He explains this authority to His opponents as coming from God, His Father. They refused to accept that Jesus is the Son of God, that He has been sent to speak and do on God's behalf.
Stay updated: subscribe by email for free TO OUR NEW WEBSITE www.catholicsstrivingforholiness.org (PUT YOUR EMAIL IN THE SUBSCRIBE WIDGET).
We are also in www.fb.com/Catholicsstrivingforholiness. Kindly help more people in their Christian life by liking our page and inviting your family, friends and relatives to do so as well. Thanks in advance and God bless you and your loved ones! Fr. Rolly Arjonillo