Jan. 28: ST. THOMAS AQUINAS. Short bio and reading.
January 28
ST. THOMAS AQUINAS, PRIEST AND DOCTOR OF THE CHURCH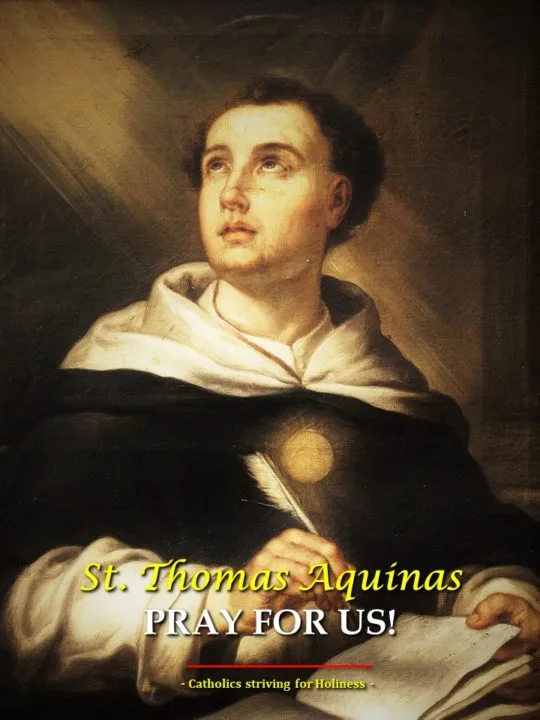 Dear friends, today we celebrate the memorial of St. Thomas Aquinas (1224-1274). St. Thomas received his education at the Abbey of Monte Cassino and at the University of Naples. In 1244 he joined the Dominican Order. Considered one of the greatest philosophers and theologians of all times, St. Thomas gained the title of "Angelic Doctor". He had an undisputed mastery of scholastic theology and a profound holiness of life. Pope Leo XIII declared him Patron of Catholic Schools. His monumental work, the "Summa Theologica was still unfinished when he died.
"As a young student at the Abbey of Monte Cassino, Saint Thomas kept asking his professor the same query: Who is God? Please explain to me what is God? Eventually Saint Thomas came to the conclusion that knowing God required more than teachers and books could provide. Knowing God is more than anything else a spiritual endeavour. The prayerful soul has to seek the truth with a clean and humble heart. We find, then, in the life of Saint Thomas a wonderful example of the fruitful harmony of faith and reason. Saint Thomas always sought the guidance of the Holy Spirit before he would begin to teach or to write. While engaged in his study of the sacrament of the Eucharist he spent many hours in prayer before the Tabernacle.
Blessed with an incredible intelligence, Saint Thomas brought about one of the most remarkable works of theology of all time. His fairly brief life was an impassioned pursuit of a profound understanding of God, man and Creation. Thanks to his deep knowledge of classical philosophy and the Fathers of the Church, Saint Thomas was able to devise a harmonious synthesis between faith and reason. In later centuries the Church has repeatedly pointed to Saint Thomas as a role model of fidelity to the Magisterium and the highest aspirations of the human mind and spirit.

Saint Thomas is an example of humility and rectitude of intention in professional work. One day while he was praying, Saint Thomas heard these words from the crucified Jesus: Thomas, you have written well of me. What reward do you wish for your work? Saint Thomas responded: Lord, I want nothing the but You (cf Fontes vitae Sancti Tomae, p. 108). Here we also see the wisdom and holiness of the saint.

Even though he had incredible talent and wisdom, Saint Thomas always kept in mind the smallness of his efforts in comparison to the immensity of God. It was after saying Holy Mass one day that Saint Thomas decided to leave unfinished his life's work, the Summa Theologiae. When asked why he had come to that decision he explained: After what God saw fit to show me on the feast of Saint Nicholas, it seems to me that everything which I have written is worthless. And so, I am unable to write any thing more (Bartolome de Capua, in the Neapolitan Process of Canonization, 79: Fontes vitae Sancti Tomae, p.3777). God is always more than anything which the human mind and heart can possibly conceive.
The Angelic Doctor teaches us how we should seek the Lord: with our intelligence, with the help of profound spiritual formation, with a life of love and prayer (cf John Paul II, Discourse at the Pontifical University of Saint Thomas Aquinas, 17 November 1979)."

EXCERPT FROM In Conversation with God, vol. VI.
Below you have the 2nd reading of today's Divine Office which I encourage you to consider in your personal prayer. In it, St. Thomas teaches us that IF WE WANT TO IMITATE THE VIRTUES OUR LORD JESUS CHRIST LIVED AND TAUGHT DURING HIS LIFE ON EARTH, ONE WAY OF DOING SO IS TO LOOK AT HIM ON THE CROSS, FOR THE PASSION OF CHRIST COMPLETELY SUFFICES TO FASHION OUR LIVES AND HIS DEATH ON THE CROSS EXEMPLIFIES EVERY VIRTUE.
Have a nice day and God bless! Fr. Rolly A., priest of Opus Dei.
---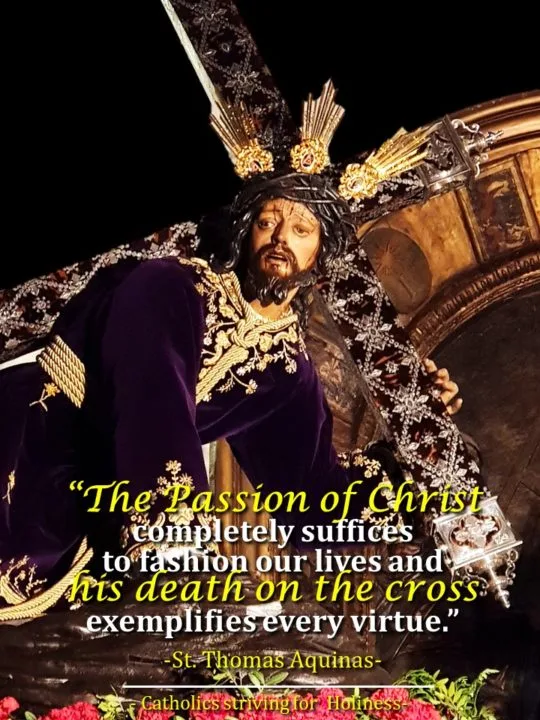 +++READING STARTS HERE. CAPS MINE.+++
THE CROSS EXEMPLIFIES EVERY VIRTUE
From a conference by Saint Thomas Aquinas, priest
Why did the Son of God have to suffer for us? There was a great need, and it can be considered in a twofold way: in the first place, as a remedy for sin, and secondly, as an example of how to act.
It is a REMEDY, for, in the face of all the evils which we incur on account of our sins, we have found relief through the passion of Christ. Yet, it is no less an example, FOR THE PASSION OF CHRIST COMPLETELY SUFFICES TO FASHION OUR LIVES. Whoever wishes to live perfectly should do nothing but disdain what Christ disdained on the cross and desire what he desired, for THE CROSS EXEMPLIFIES EVERY VIRTUE.
If you seek the example of LOVE: Greater love than this no man has, than to lay down his life for his friends. Such a man was Christ on the cross. And if he gave his life for us, then it should not be difficult to bear whatever hardships arise for his sake.
If you seek PATIENCE, you will find no better example than the cross. Great patience occurs in two ways: either when one patiently suffers much, or when one suffers things which one is able to avoid and yet does not avoid. Christ endured much on the cross, and did so patiently, because when he suffered he did not threaten; he was led like a sheep to the slaughter and he did not open his mouth. Therefore Christ's patience on the cross was great. In patience let us run for the prize set before us, looking upon Jesus, the author and perfecter of our faith who, for the joy set before him, bore his cross and despised the shame.
If you seek an example of HUMILITY, look upon the crucified one, for God wished to be judged by Pontius Pilate and to die.
If you seek an example of OBEDIENCE, follow him who became obedient to the Father even unto death. For just as by the DISOBEDIENCE of one man, namely, Adam, many were made sinners, so by the obedience of one man, many were made righteous.
If you seek AN EXAMPLE OF DESPISING EARTHLY THINGS, follow him who is the King of kings and the Lord of lords, in whom are hidden all the treasures of wisdom and knowledge. Upon the cross he was stripped, mocked, spat upon, struck, crowned with thorns, and given only vinegar and gall to drink.
Do not be attached, therefore, to clothing and riches, because they divided my garments among themselves. Nor to honors, for he experienced harsh words and scourgings. Nor to greatness of rank, for weaving a crown of thorns they placed it on my head. Nor to anything delightful, for in my thirst they gave me vinegar to drink.
Stay updated: subscribe by email for free TO OUR NEW WEBSITE www.catholicsstrivingforholiness.org (PUT YOUR EMAIL IN THE SUBSCRIBE WIDGET).
We are also in www.fb.com/Catholicsstrivingforholiness. Kindly help more people in their Christian life by liking our page and inviting your family, friends and relatives to do so as well. Thanks in advance and God bless you and your loved ones! Fr. Rolly Arjonillo