HOMILY/REFLECTION SIXTH SUNDAY OF EASTER YEAR B BY POPE BENEDICT XVI.
HOMILY/REFLECTION SIXTH SUNDAY OF EASTER YEAR B
BY POPE BENEDICT XVI.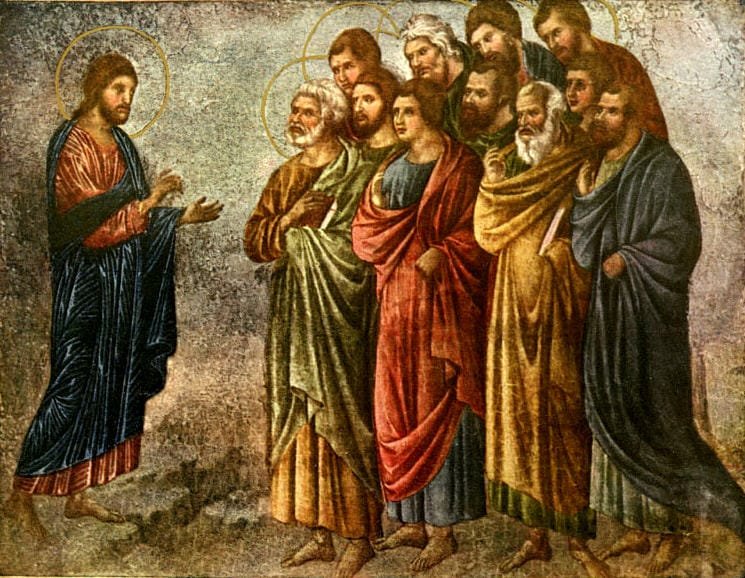 HOMILY OF HIS HOLINESS POPE BENEDICT XVI
"Il Prato" Park, Arezzo
Sixth Sunday of Easter Year B, 13 May 2012
Dear Brothers and Sisters,
It is a great joy for me to be able to break the Bread of the Word of God and of the Eucharist with you […]
Dear friends, the First Reading presents us with an important moment which manifests the universality of the Christian Message: in the house of Cornelius St Peter baptizes the first pagans. In the Old Testament, God wanted the blessing of Hebrew people not to be exclusive but extended to all nations. Ever since the call of Abraham he had said: "[B]y you all the families of the earth shall bless themselves" (Gen 12:3). Thus Peter, inspired from on High, understood that "God shows no partiality, but in every nation any one who fears him and does what is right is acceptable to him" (Acts 10:34-35). Peter's gesture becomes an image of the Church open to all of humanity. Following the great tradition of your Church and of your Communities, may you be genuine witnesses of God's love for men!
But how can we, in our weakness, carry this love? St John, in the Second Reading, tells us emphatically that liberation from sin and from its consequences does not come about by our own initiative, but of God's. It was not we who loved him but he who loved us and who took upon himself our sin and washed it away with the blood of Christ. God loved us first and wants us to enter into his communion of love, to collaborate in his work of redemption.
In the Gospel passage the invitation of the Lord resonates: "I chose you and appointed you that you should go and bear fruit and that your fruit should abide" (Jn 15:16). It is a message meant in a specific way for the Apostles but, in a broad sense, regards all the disciples of Jesus. The whole Church, all of us are sent out into the world to spread the Gospel Message and the good news of salvation. But it is always God's initiative; he calls us to various ministries, so that each one plays a proper role in the common good. He calls us to the ministerial priesthood, to the consecrated life, to married life, to working in the world: all are asked to respond generously to the Lord, sustained by his Word which comforts us: "You did not choose me, but I chose you" (ibid.).
Dear friends, I am aware of your Church's commitment to promoting Christian life. Be a leaven in society, be present as Christians, be active and consistent. […] The Word of God, that we have heard, is a powerful invitation to live God's love for everyone, and, among its distinctive values, the culture of this land includes solidarity, attention to the weakest, respect for the dignity of each person. Your capacity to welcome those who have come here recently in search of freedom and work, is well known. To show solidarity with the poor is to recognize the plan of God the Creator, who made us all one single family. […]
Witnessing to the love of God by paying attention to the weakest is tied to the defence of human life, from its conception to its natural end. In your Region, ensuring everyone dignity, health and fundamental rights, is justly considered an indispensable good. The defence of the family, through a just legislation able to protect the underprivileged, is always an important factor to ensure a strong social fabric and offers hope for the future. Just as in the Middle Ages, the Statutes of your cities became instruments which ensured inalienable rights to many, may they continue that task today, promoting a City with an ever more human face. The Church offers her contribution to this task so that the love of God may always be accompanied by love of neighbour.
Dear brothers and sisters, continue serving God and man according to Jesus' teaching, the shining example of your Saints and the tradition of your people. May the maternal protection of Our Lady of Consolation, whom you love and venerate, accompany and sustain you in this task. Amen.
© Copyright 2012 – Libreria Editrice Vaticana http://www.vatican.va/content/benedict-xvi/en/homilies/2012/documents/hf_ben-xvi_hom_20120513_arezzo.html
EMPHASIS MINE.
---
REGINA CÆLI
Saint Peter's Square
VI Sunday of Easter B, 21 May 2006
Dear Brothers and Sisters,
The book of the Acts of the Apostles recounts that Jesus, after his Resurrection, appeared to the disciples for 40 days and then "was lifted up, and a cloud took him out of their sight" (Acts 1: 9).
It is the Ascension, the feast we will celebrate on Thursday, 25 May, though in some countries it has been transferred to next Sunday.
The meaning of this final gesture of Jesus is twofold. In the first place, ascending on high, he clearly reveals his divinity:  he returns to where he came from, that is, to God, after having fulfilled his mission on earth. Moreover, Christ ascends into heaven with the humanity he has assumed and which he has resurrected from the dead:  that humanity is ours, transfigured, divinized, made eternal.

Therefore, the Ascension reveals the "most high calling" (Gaudium et Spes, n. 22) of every human person, called to eternal life in the Kingdom of God, kingdom of love, light and peace.
Celebrated on the feast of the Ascension is the World Day of Social Communications, initiated by the Second Vatican Council and now in its 40th year. This year's theme is:  "Media:  communication, communion, cooperation".
The Church looks with attention at the media, because it is an important vehicle to spread the Gospel and to favour solidarity between peoples, calling attention to the major problems that still mark them profoundly.
Today, for example, the "Walk the World" [to fight hunger] initiative of the United Nations World Food Programme, seeks to sensitize governments and public opinion on the need for concrete and timely action to guarantee to all, especially children, "freedom from hunger".
With prayer I am close to this demonstration, which is taking place in Rome and in other cities of some 100 nations.
I earnestly hope that, thanks to the contribution of all, the plague of hunger will be surmounted which still afflicts humanity, putting in great danger the hope of life of millions of people. I am thinking, above all, of the urgent and tragic situation in Darfur, Sudan, where strong difficulties persist to satisfy even the primary food needs of the population.

With the usual recitation of the Regina Caeli we particularly entrust today to the Virgin Mary our brothers and sisters oppressed by the scourge of hunger, all those who come to their aid and those who, through the means of social communication, contribute to consolidating between peoples the bonds of solidarity and peace.
We also pray to Our Lady to make fruitful the Apostolic Trip to Poland which, God willing, I will make from Thursday to next Sunday in memory of beloved John Paul II.
SOURCE: http://www.vatican.va/content/benedict-xvi/en/angelus/2006/documents/hf_ben-xvi_reg_20060521.html
EMPHASIS MINE.
Stay updated: subscribe by email for free TO OUR NEW WEBSITE www.catholicsstrivingforholiness.org (PUT YOUR EMAIL IN THE SUBSCRIBE WIDGET).
We are also in www.fb.com/Catholicsstrivingforholiness. Kindly help more people in their Christian life by liking our page and inviting your family, friends and relatives to do so as well. Thanks in advance and God bless you and your loved ones! Fr. Rolly Arjonillo